MSPs Checklist to Migrate Data From Box to Google Drive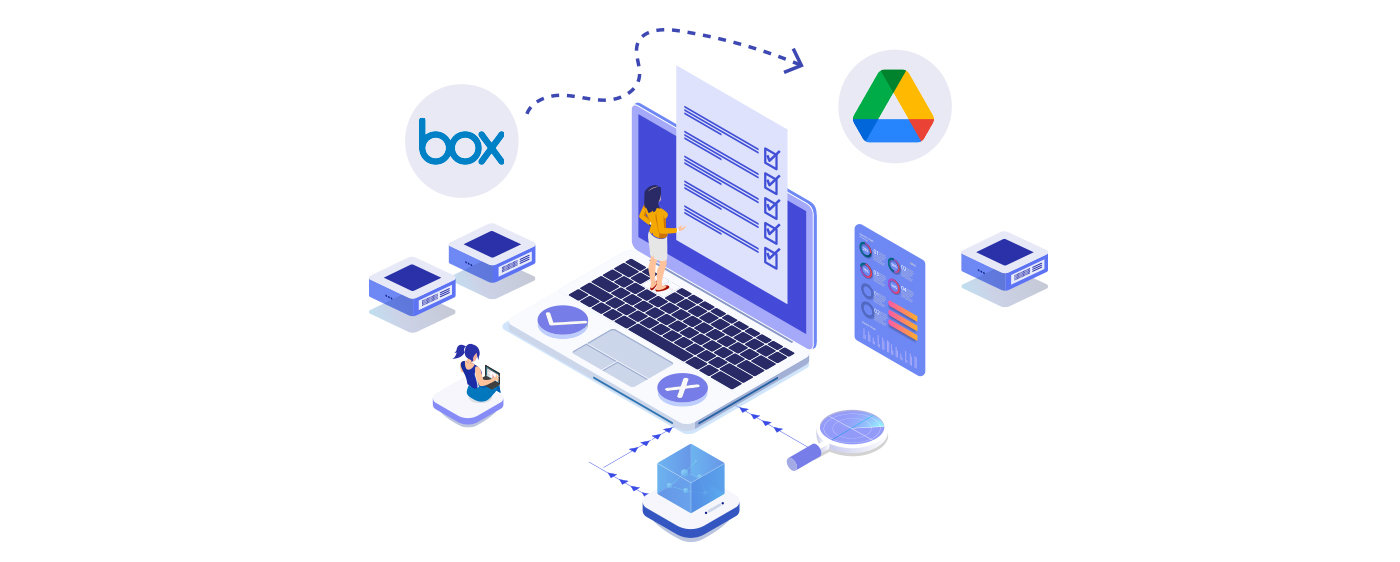 MSPs are often expected to provide affordable and scalable migration services while helping the customers plan the migration journey, assisting them throughout the process, and fixing any errors during the migration.
As a result, MSPs looking to provide Box to Google Drive migration services must consider several factors. Here is the checklist that can help MSPs to migrate data from Box to Google Drive successfully for all its customers while meeting their demands.
1. Find the Tool With MSP Program
Many migration tools available in the market can help businesses transfer files from Box to Google Drive. But not all the tools offer an MSP program. So, MSPs must check if the migration service offers a dedicated MSP program.
In addition to being the world's leading cloud storage migration platform, CloudFuze is also built to support MSP needs. Contact us to get to know more about the CloudFuze MSP program.
2. Work With Flexible Licensing Models
License flexibility is another factor to consider when choosing a data migration tool. For example, MSPs should choose a license model that is flexible enough to support any migration size or level, as the customer requirements from business to business.
CloudFuze's MSP partner program allows MSPs to extend the migration tool's license for additional customer migrations with volume discounts.
3. Design a Detailed Migration Plan
Creating a detailed plan and roadmap is one of the critical tasks on a Box to Google Drive migration checklist. MSPs should analyze the business requirements, specify migration timelines, and identify risks to avoid in this phase. Also, plan which items to migrate first and what needs to be done before you begin.
Make sure you design a comprehensive and customized migration plan that meets your client's objectives to transfer from Box to Google Drive while minimizing disruptions and downtime during the migration process.
4. Prioritize the Migration Features
The migration requirements vary from business to business, depending on their needs. For example, when migrating from Box to Google Drive, many features are associated with the data, such as permissions, comments, timestamps, versions, external shares, shared links, embedded links, and in-line comments.
Moving from Box to Google Drive is not just about transferring data but copying all associated features. So, understand from the client which features they want to migrate along with the data before initiating migration.
Using CloudFuze allows you to select the features of your choice depending on your client's needs.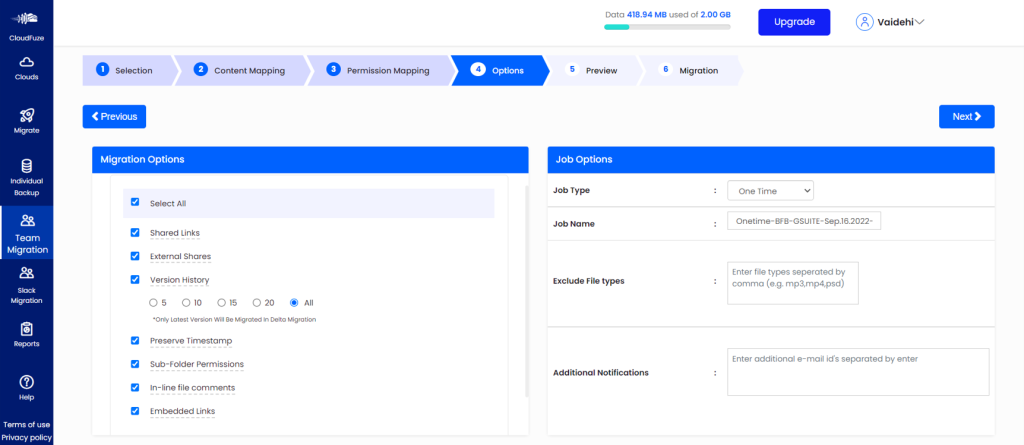 5. Map the User Permissions Accurately
Map the users in Box to those in Google Drive to migrate all the folder and file permissions accurately. Any small mistake can result in inaccurate data transfer between the source and the destination users, which delays the migration process and significantly affects performance.
During the move from Box to Google Drive, CloudFuze automatically maps all users based on their email addresses ensuring all the data and permissions are copied over and migrated to the right people.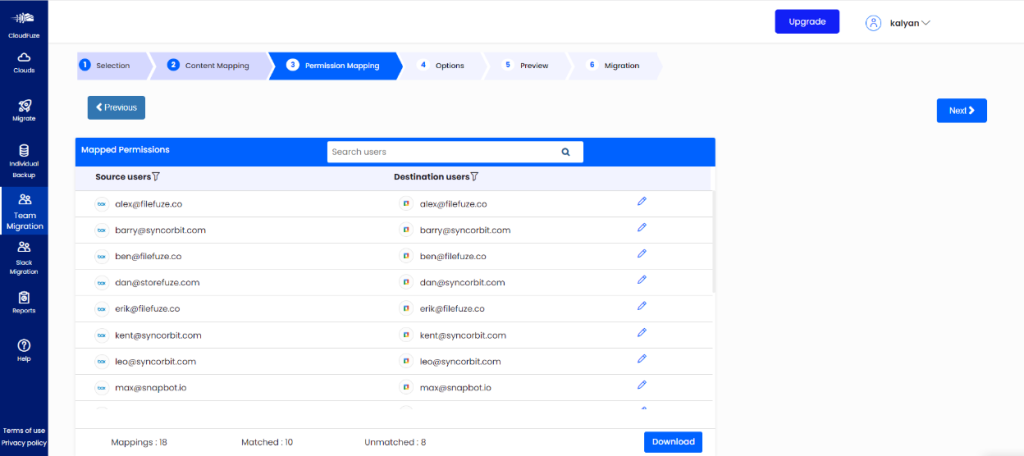 6. Choose the Environment Prior to Migration
Few tools offer migration only through their SaaS servers. However, few customers, such as government agencies or educational institutes for which data security is a top priority, would require to run the migration on their servers.
So, MSPs must choose a tool that can offer different environments to support their varied client needs. CloudFuze offers three different options to its customers:
Use CloudFuze on our SaaS servers
Use dedicated SaaS servers on the CloudFuze network
Deploy CloudFuze in the company's data centers
7. Understand Google Drive Limitations
The migration limitations depend on the destination cloud environment, i.e., to which you are migrating data. Similarly, migrating to Google Drive has certain limitations, such as daily data transfer limit, long folder path limit, etc., which affect the migration timeline and might result in data loss. So, before starting the migration, MSPs should know how to overcome the Box to Google Drive limitations.
CloudFuze, a Google migration partner, helps MSPs overcome these limitations with its advanced functionalities. Contact our migration experts to learn more about how CloudFuze bypasses the Google Drive limitations.
8. Don't Forget to Migrate Incremental Changes
Before you finish your customer Google Workspace migration, you must move all newly added or updated content. A delta migration can be used to transfer the new/modified content.
A delta migration is to be performed after the one-time customer data migration is complete. It detects new or modified content during the one-time migration and transfers it to the destination cloud.
9. Have Security Measures in Place
Data will be at the most risk during migration, so you must thoroughly check security and compliance.
MSPs must ensure that security measures are in place and client's data is secured throughout the migration process. Also, MSPs should ensure that they will not have access to the client data and is in safe hands. But finding the right tool that meets the security standards can be a challenge for MSPs.
With the security measures taken by CloudFuze to protect the users' data, MSPs can rest assured that the data migration is completely secure. Know more about CloudFuze platform security.
10. Validate the Data Migrated
MSPs must validate the migrated data once the migration is complete to confirm that the data in the destination cloud is the same as that of the source cloud and there is no data loss. This is because before your client makes the switch and starts using Google Drive, you should ensure everything is up to date.