Why Should Your Company Migrate to Google Workspace?
Choosing the right cloud platform is vital to operating your business with maximum efficiency and productivity. Collaboration among your team members is crucial to your business' success. So, many SMBs and enterprises are migrating to Google Workspace. Continue reading to learn more about the benefits of moving to Google Workspace and how to make the migration easier. 
1. Introduction
Choosing a cloud platform is a major decision that will significantly impact your business long term. It will change the way your entire company collaborates and innovates. Many companies have changed the traditional work environment in response to the pandemic, allowing their employees to work from home.
Remote working has been made easy with Google Workspace. Since its inception, several companies, businesses, government agencies, and non-profit organizations have benefited from Google Workspace (formerly G Suite).
Since Google continues to enhance its data privacy and security capabilities, businesses are finding the benefits of migrating to Google Workspace for a digital transformation well worth the effort while setting them up for accelerated growth and future success.
Migration to Google Workspace from on-prem or any other cloud, such as Dropbox, Box, Citrix ShareFile, and Egnyte, is complex for businesses to handle. This comprehensive guide will help you understand everything about Google Workspace you need to know before performing the migration.
2. Benefits of Migrating to Google Workspace
Here are some of the benefits of Google Workspace, which is why businesses across the globe are migrating from Dropbox, Box, Citrix ShareFile, or Egnyte to Google Drive.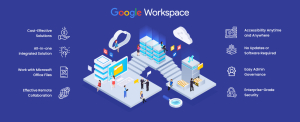 Using Google Workspace can help your company save costs. With Google Workspace Business Starter, you can use Google Workspace for only $6/user per license.



You will not be charged extra for email, storage, and many other apps. All the apps are integrated, and you pay a single price for everything.
All-in-one Integrated Solution
G Suite is an all-in-one solution that comprises several integrated apps. Gmail, Chat, Meet, Calendar, Docs, Google Drive, and other collaborative and productive apps are all integrated, allowing you to work on your daily tasks without switching between multiple platforms.
Work with Microsoft Office Files
When you upload Microsoft Office files to Google Drive, you can use Google Docs, Sheets, and Slides to directly edit, comment on, and collaborate on them. The file will be automatically saved in its original Microsoft Office format whenever you make changes.
Effective Remote Collaboration
Collaboration is essential for companies that operate globally or with employees in multiple locations. Users can access, edit, and comment on Google Docs, Sheets, and presentations using the Google Workspace collaboration platform, which improves workplace collaboration. Co-editing in real time allows you to get to the final version faster.
Accessibility Anytime and Anywhere
Google Workspace is accessible anywhere, anytime, and on any device. It allows you to save files in a single, secure, shared location that your entire team can access from any device, including PCs, tablets, and smartphones.
No Updates or Software Required
Google updates its Google Workspace applications frequently and introduces new features. Software updates and security patches for Google Workspace are automatically applied, so you don't have to worry about them.
The Google Workspace Admin Console is a useful tool that allows managers and business owners to manage their operations. The Admin Panel can be used to restrict access to accounts, devices, data, verification settings, and apps to verify that they are used appropriately.
Enterprise-Grade Security
High data security is one of the benefits of using Google Workspace. Google uses robust and industry-leading security measures in its data centers and cloud operations.2-step verification, AI detection of login tracking, state-of-the-art security, and complete forward secrecy are just a few security features.
3. Limitations of Performing a Google Workspace Migration
Google Drive migration comes with a set of limitations and challenges. If you want to transfer files to Google Drive, you must first know the migration limitations imposed by Google.
| Limit Type | Limit |
| --- | --- |
| Data upload limit per day per user | 750 GB |
| Individual file size upload limit | 5 TB |
| Maximum number of files and folders a Team Drive can contain | 400,00 |
| Maximum number of sub-folders a single Team Drive supports | 20 |
In addition to the limitations, let us look at some major challenges you may face in your Google G Suite migration:
Mapping the permission levels
Preserving versions, comments, timestamps, embedded links, shared links, and external links
Migrating TBs/PBs of data with no data loss
Minimize business disruptions while you make the switch
Keeping data safe and secure during the migration
Complying with data protection and privacy regulations
However, selecting the right Google Workspace migration tool and support team can make your Google Workspace data migration process simple and hassle-free.
CloudFuze, a Google migration partner, can help you overcome limitations and challenges that may occur during your migration to Google Workspace.
4. How can CloudFuze Help you Migrate to Google Workspace?
Migrating from on-prem or any cloud to flexible and digital platforms like Google Workspace doesn't have to be stressful when you have expert assistance available. To find out how CloudFuze Google Workspace data migration service can be best for your business, look at some of its benefits and features.
CloudFuze Google Workspace Migrate Platform Features
The following are the migration features that our tool supports:
| Features | Available |
| --- | --- |
| One-time migration | Yes |
| Delta migration | Yes |
| Root folder Permissions migration | Yes |
| Root file Permissions migration | Yes |
| Sub-folder permissions migration | yes |
| External Shares migration | yes |
| Shared Links migration | yes |
| Version history migration | yes |
| Selective versions migration | yes |
| Metadata migration | yes |
| Long-file name conversion | yes |
| In-line comment migration | yes |
| Special character replacement | yes |
| Long folder path | yes |
| Suppressing Email Notifications | yes |
| Comparison Delta | yes |
5. Benefits of partnering with CloudFuze to perform Google G Suite migration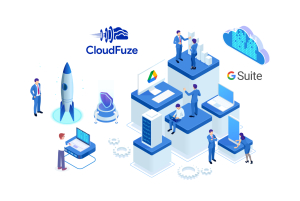 The CloudFuze Google Workspace Migrate platform is simple to understand, where you can easily map users and migrate data in just a few steps.
Our migration planning and execution are always customized for each customer, as each business is different. Regardless of your source cloud or large volumes of data to be migrated, our expert migration team creates and customizes a migration strategy that suits your company's needs.
Speeds the Migration Process
Using the CloudFuze G Suite migration tool, you can automate the process and migrate data much faster than any other tool.
CloudFuze migration tool can scale up or down on demand to meet unexpected workloads and minimize disruptions during the migration process without manual effort.
Managed Migration Support
We assign a dedicated migration team for each project who continuously monitors and manage the migration ensuring no data loss.
Based on the preferences set, the team will send migration status to the customers through emails or daily calls.
CloudFuze allows you to migrate data either on the CloudFuze SaaS or dedicated servers or install it on your company's data centers depending on your business needs.
CloudFuze is a secure cloud platform with robust measures to prevent unauthorized access and keeps your data safe throughout the migration process.
CloudFuze has helped many of the world's leading enterprises, universities, and non-profit organizations to migrate to Google Drive, including The Discovery. Access our Discovery case study here.
6. CloudFuze Google Workspace Migration Process
Migrating to a new cloud environment can be a daunting process. Even though Google provides migration guidance to new Workspace users, determining the migration processes specific to your company's needs can be difficult.
We have designed our Google G Suite migration process that fits businesses of all types and sizes while reducing downtime. Our data migration process comprises: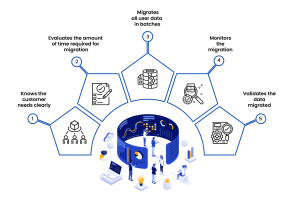 1. Knows the customer needs clearly
Before embarking on the Google Drive migration journey, we first understand the client migration needs clearly. For example, the number of users to be migrated, total data size, where the data need to be migrated (My Drive and Shared Drives), features to be migrated, and estimated timeline.
Our experts build the strategy that best suits them by assessing the source cloud data and knowing the customer needs.
2. Evaluates the amount of time required for migration
The time it takes to complete the data migration depends on many factors, such as the number of users, data size, folder-level complexity, Google Drive API rate limit, etc.
Our migration team considers all the factors that impact the migration time and give the customers an accurate timeline.
3. Migrates all user data in batches
By working closely with the client team, we segregate and migrate large amounts of data in batches to reduce migration delays and failures. Then will migrate the data in batches one by one based on priority.
4. Monitors the migration
As part of the CloudFuze managed migration, the migration team tracks the migration and updates the status through emails or daily calls to the client. The team with technical expertise will be able to handle any errors that may occur during the migration process.
5. Validates the data migrated
Once the migration is completed, we ask the end users of the client team to compare and validate whether all the data, along with the associated features, is migrated successfully.
CloudFuze marks the project as completed once the client confirms all folders and files with its features have been successfully migrated.
7. Planning to Migrate to Google Workspace
For SMBs and enterprises, Google Workspace has always been a great solution to improve their business performance and productivity. But selecting the right Google Workspace data migration service for your migration project is a complex and time-consuming task.
As experts in data migration, we deliver optimal service by identifying and implementing the most effective solutions for each client and working together. Contact our migration experts to learn more about migration to Google Workspace or for assistance with the expertise and support you require.