From strategizing to executing, the page provides complete information about Box to OneDrive migration. If you would like to migrate to SharePoint Online instead of OneDrive for Business, please refer this Box to SharePoint Online migration guide.
Box to OneDrive Migration: What Does It Mean to IT Teams?
To migrate files from Box to OneDrive, IT admins need to rely on a third-party tool like CloudFuze since manual migration cannot migrate sharing permissions or other Box-specific features.
The Box to OneDrive migration project becomes even difficult to manage for enterprises and organizations with more user accounts (employees or students).
The following are some of the challenges IT teams face while attempting to move files from Box to OneDrive.
Migrating large sets of Box data (often exceeding several terabytes)
Migrating sharing permissions (root and subfolders)
Converting and migrating Box-native features such as Notes to relevant formats in Microsoft 365
Migrating Box shared links, external shares, file version history, timestamps, etc.
Ensuring data security
Monitoring and tracking Box to OneDrive migration project progress
The sheer complexity of the migration is the primary reason why many companies hesitate to migrate to Microsoft 365 from other cloud service providers including Box. This is where CloudFuze has excelled in the past few years; helping some of the world's largest companies move to Microsoft 365 effortlessly.
About CloudFuze's Box to OneDrive Migration Tool
CloudFuze offers a quick, secure, and convenient way to transfer files from Box to OneDrive (Microsoft 365). The tool is especially useful for businesses, enterprises, universities, and other large organizations. CloudFuze is Microsoft's Gold Partner and has migrated some of the world's biggest companies to Microsoft 365.
CloudFuze Features at a Glance
Platform Features:
Backed by enterprise-grade infrastructure
RESTful API platform
Cloud-native architecture
Powerful admin controls
Multi-tenant ready
OAuth-based Box/Microsoft 365 accounts authentication
US-based SOC 1 and SOC 2 certified data centers
SaaS servers (ideal for small migrations), dedicated instances (for large migrations), and deployable in a customer's cloud or data center (ideal for enterprises, universities, and government agencies)
Migration Features:
One-time & delta (incremental) migration
Sub-folder permissions migration
Root file and folder permissions migration
File version history migration
External shares migration
Shared links migration
Box Notes conversion and migration
Custom feature development based on your need
Migrating From Box to OneDrive with CloudFuze
The following information talks more about the Box to OneDrive actual migration. We showed how CloudFuze can migrate files from Box to OneDrive using our web application screenshots.
You can continue reading the rest of the article or quickly contact us for a quote, live demo, or exploration call.
Planning the Box to OneDrive Migration
Planning plays a crucial role in the successful completion of the migration project. The following are some of the key areas to focus while contemplating to switch to OneDrive from Box.
What is the size of data to be moved?
How many users need to be migrated?
Understand how sharing and permissions are migrated
The total number of files to be transferred
Inquire and get to know about possible technical roadblocks
The average size of a file
Be clear and aware of the migration timelines
Understand the design of the target environment (OneDrive)
Prepare a user-onboarding plan for a smooth transition
The Size of Data to Be Moved
The total size of the data stored in a Box account impacts the migration project in a big way. The amount of money an organization is going to spend on the migration mostly depends on the size of the data. This number determines how much time it takes to move files from Box to OneDrive for Business.
The Number of Users in Box Account
User migration is something consumers don't have to worry. When it comes to business migrations, the number of users, along with the data size, influences costs and timelines.
If you don't know how to check the number of users and the total size of data in a Box business account, check the image below and follow the steps.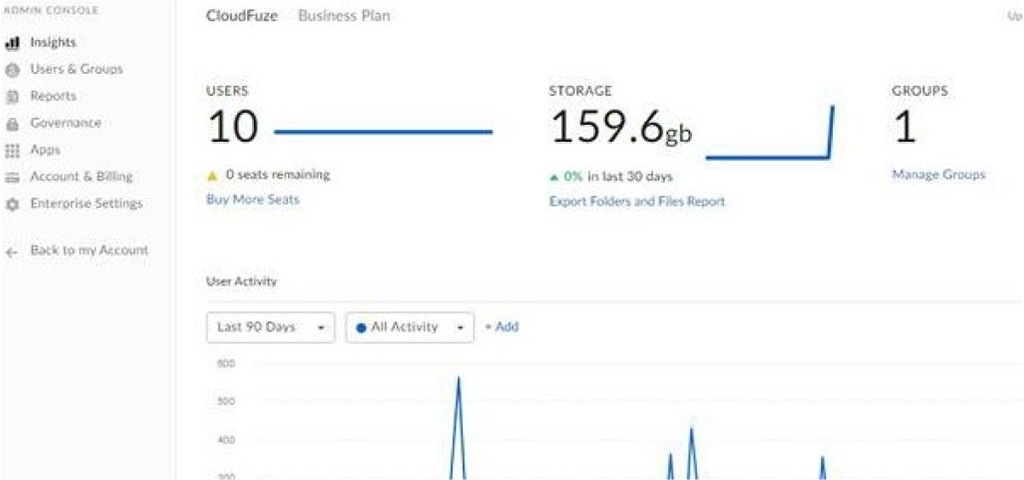 Login to your Box admin account
Click on the Admin Console link on the left navigation menu
You will find the total number of users and the data used in the Insights section
The Total Number of Folders and Files in Box Account
Irrespective of the data size, fewer folders mean quicker migration. Hundreds and thousands of files or a deep folder structure could increase the duration of migration.
Figuring out the number of files and assessing the folder structure before migration
help meet project timelines better.
The Average Size of File
Calculating the average size of a file in their Box account would also help organizations estimate file transfer speed accurately.
OneDrive for Business (Office 365) Environment
The following picture shows you how the individual and shared folders look like in Box and OneDrive.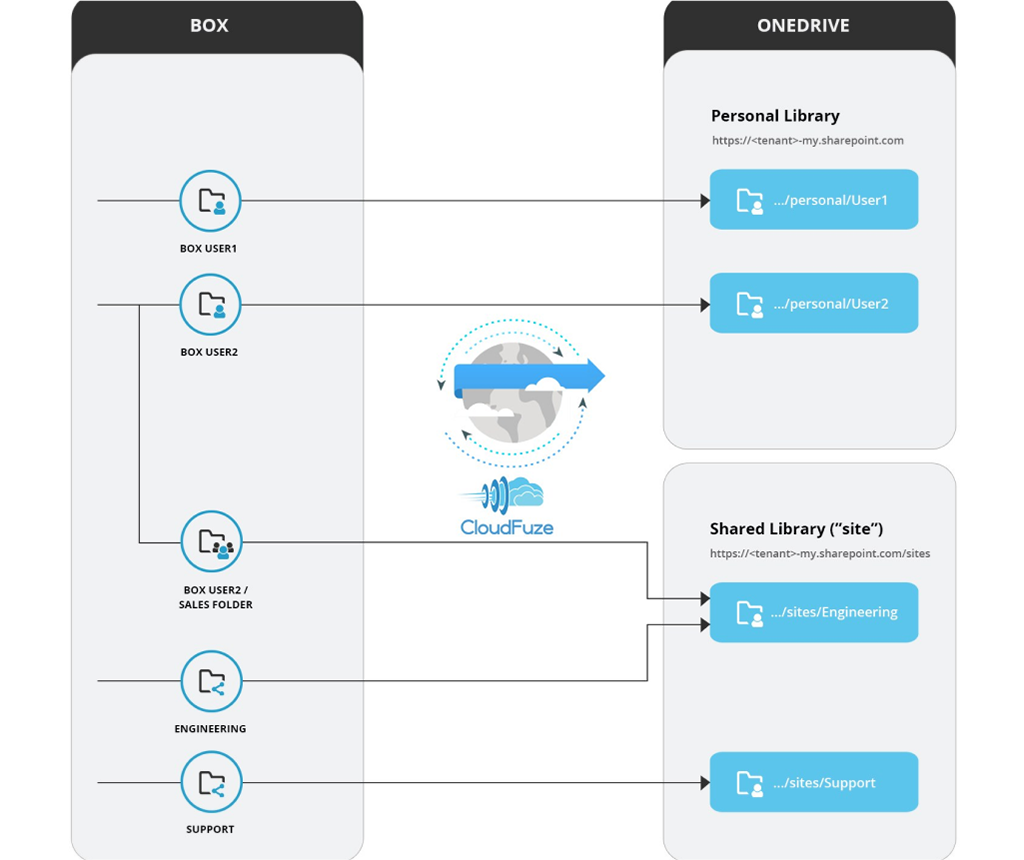 Permissions Migration
Retaining and migrating permissions and file sharing rules is the most critical part of a cloud storage migration project. Unlike single-user (personal) cloud storage platforms, enterprise content management systems have complex file sharing and access permissions between multiple users. CloudFuze's Box migration engine ensures secure delivery of not only files and folders but also the permissions.
Check the table to find out how user roles change when you move Box to OneDrive.
| Box | OneDrive |
| --- | --- |
| Owner | Owner |
| Co-Owner | Manager |
| Viewer Uploader | Edit |
| Previewer Uploader | Edit |
| Uploader | Edit |
| Editor | Edit |
| Previewer | Reload |
| Viewer | Reload |
The table below describes how sharing works in the respective document libraries of Box and OneDrive.
| Box | OneDrive |
| --- | --- |
| A file or folder with one owner and more than one contributor. | The file/folder goes into OneDrive personal library. Collaborators can find the file/folder in the Shared with Me section. |
| Files or folders with co-admins. | The files or the folders go into in the respective shared libraries. |
| Files or folders with external Box contributors. | Any content that belongs to Box users outside of an organization can't be transferred. |
Migration Challenges
Factors such as invalid characters in file names, complex file paths, and file upload limits make or break a successful migration. Hence, the IT team of an organization must pay a lot of attention to these technical elements. This Microsoft OneDrive/SharePoint resource can help IT admins or managers analyze their content that's currently in their Box account and assess the compatibility with OneDrive.
CloudFuze's migration platform tackles most of these problems effortlessly, thus making the transition from Box to OneDrive as smooth as possible.
The Time It Takes to Move Box Files to OneDrive
The duration of migration depends on several factors. We put up a list below for a quick reference.
The size of the data
The number of users
The number of files and folders
The average size of each file
The depth of folders and the complexity of the folder structure
Get in touch with CloudFuze for an accurate assessment of project timelines.
User Onboarding Plan
Organizations must work on an onboarding plan and have it aligned with the overall migration project. User adoption is one of the biggest post migration challenges that businesses usually face. Despite extensive training, some employees may resist using the new platform. It is advised that IT teams don't decommission Box abruptly. The ideal way of overcoming user adoption challenges is to provide early access of OneDrive to users, weeks before the migration is initiated. Extensive training may be required to make sure that employees begin using OneDrive correctly. Lack of platform knowledge could pose a serious security risk.
Migrate Files from Box to OneDrive with CloudFuze
By using CloudFuze to transfer your Box files to OneDrive, you are working with a fully supported system that boasts massive migration capabilities. The app can efficiently migrate petabytes of data and hundreds of users in just days, not months. CloudFuze is highly secure and backed by the state-of-the-art server infrastructure that transfers up to 7 terabytes of data in one hour.
Box to OneDrive Migration Guide
You must have a CloudFuze account to initiate the migration. You can create an account to test the service or for more details. If you need to migrate a lot of data or a big number of users, we recommend that you get in touch with our support team. Here is how you copy files from Box to OneDrive shown in the following simple steps.
1. Login to the CloudFuze Web App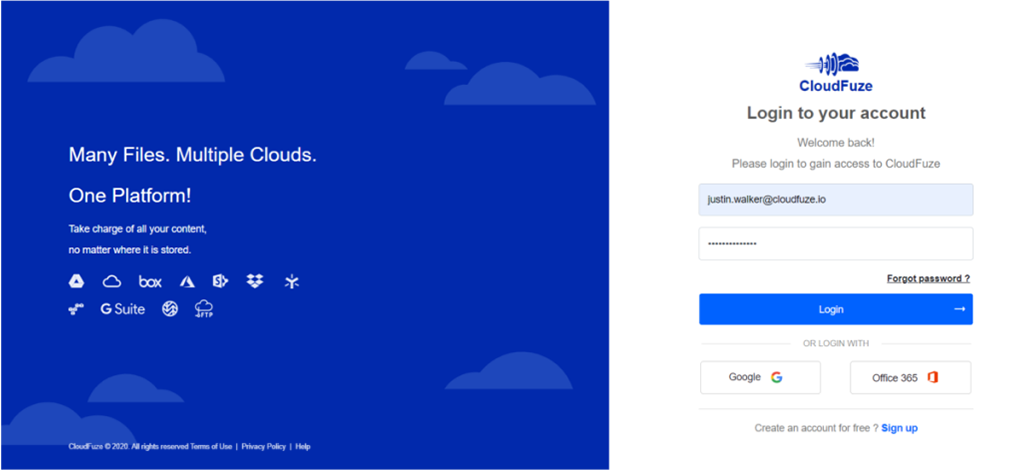 Once you create and log in to your account, you will be shown a list of cloud services supported by CloudFuze. To proceed, you must add your source (Box) and target (OneDrive for Business).
2. Add Your Source Cloud, Box or Box Business Account
Click on the Box icon and enter your admin login credentials to authorize the account. Keep in mind that CloudFuze uses OAuth protocol for cloud authorization. The platform can't access or save your Box login credentials.
3. Add Your Destination Cloud, OneDrive for Business

Click on the OneDrive for Business icon and authorize your account with admin credentials. In addition to OneDrive for Business, CloudFuze also supports Box and SharePoint Online migration.
4. Select Your Source (Box) and Destination (OneDrive for Business) Clouds

Click on the Team Migration icon on the left navigation menu and choose your source and target clouds. Please make sure that you chose Box as source and OneDrive as destination.
5. Map and Select Users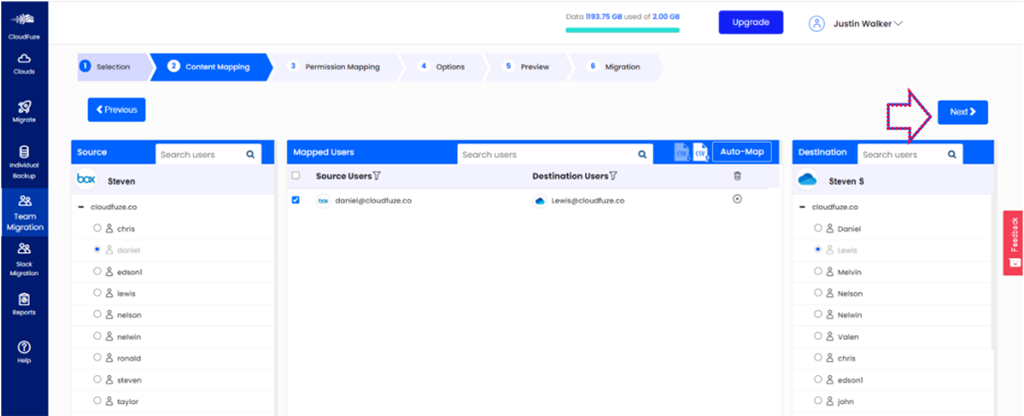 Click on the Auto Map button, which is seen in the middle of the page, to auto map users. Upon clicking on the Auto Map button, the system lists down all the users in Box that can be migrated. Choose a few users or all as per your requirement.
6. Preview and Initiate the Migration

Preview the migration job and click on Start Migration button. The migration will be initiated, and the status can be seen on this final page. Just click on the names of the migration jobs to see the detailed reports for each migration. That's it!
Box to OneDrive Migration FAQs
1. How quickly can I transfer files from Box to OneDrive?
As said earlier, Box file transfer speeds greatly depend on the number of users and the size of the data to be migrated. Besides, factors such as throttling and rate limitation from Box and OneDrive can affect migration speed.
2. I see two Box icons in the CloudFuze web application. What are they?
CloudFuze supports both personal (single-user) and business (multi-user) migration. Click on the Box icon under single user section if you are planning to migrate personal files and go with Box Business-Admin for a business/enterprise migration.
3. Will CloudFuze be able to convert Box Notes to MS Doc files?
Yes, CloudFuze supports Box Notes migration to OneDrive.
4. Will CloudFuze retain file versions after migration?
Yes, CloudFuze offers versioning migration as a core feature of the product.
5. What should I keep handy to initiate Box to OneDrive migration?
In case of a personal data migration, you need login credentials of Box and OneDrive. If it is a business migration, you would need Box admin or co-admin login credentials as well as global admin login information of OneDrive (Office 365).CloudFuze offers fully-managed enterprise content migration solutions for clients who don't wish to use the self-service model. Please chat with our support team or send an email to support@cloudfuze.com for more information.