How to Migrate Files From Box to Google Drive with Embedded Links
Knowing the file features within your Box cloud environment is essential when planning your Box to Google Drive migration. Like permissions and versions, embedded links are an important feature associated with Box files. The box allows you to link or embed other files in any files you want. Using these embedded links helps navigate other files/pages easily with a click.
Before you transfer from Box to Google Drive, know why it is important to migrate embedded links and how to migrate them from Box to Google Drive.

Why Migrate Embedded Links from Box to Google Drive?
As part of the migration process, business data must be migrated with embedded links along with permissions, timestamps, external shares, shared links, in-line comments, and versions. This is because users should not struggle to access the files in Google Drive like they used to do in Box.
For example, the team members have created and worked on different files for one project, added all the links in a single document, and shared them with the client for easy access. To maintain the same collaboration in the workplace among the team members and with client's businesses must ensure that all the Box files are migrated to Google Drive with embedded links.
How to Migrate Embedded Links from Box to Google Drive?
In order to move embedded links from Box to Google Drive, businesses require a tool that automatically finds the embedded links added in Box files and retains them in Google Drive as-is.
CloudFuze plays a vital part in helping companies achieve all their business migration needs with its customized migration approach. The tool migrates embedded inks, permissions, and other file features without downtime, making it an ideal business migration platform.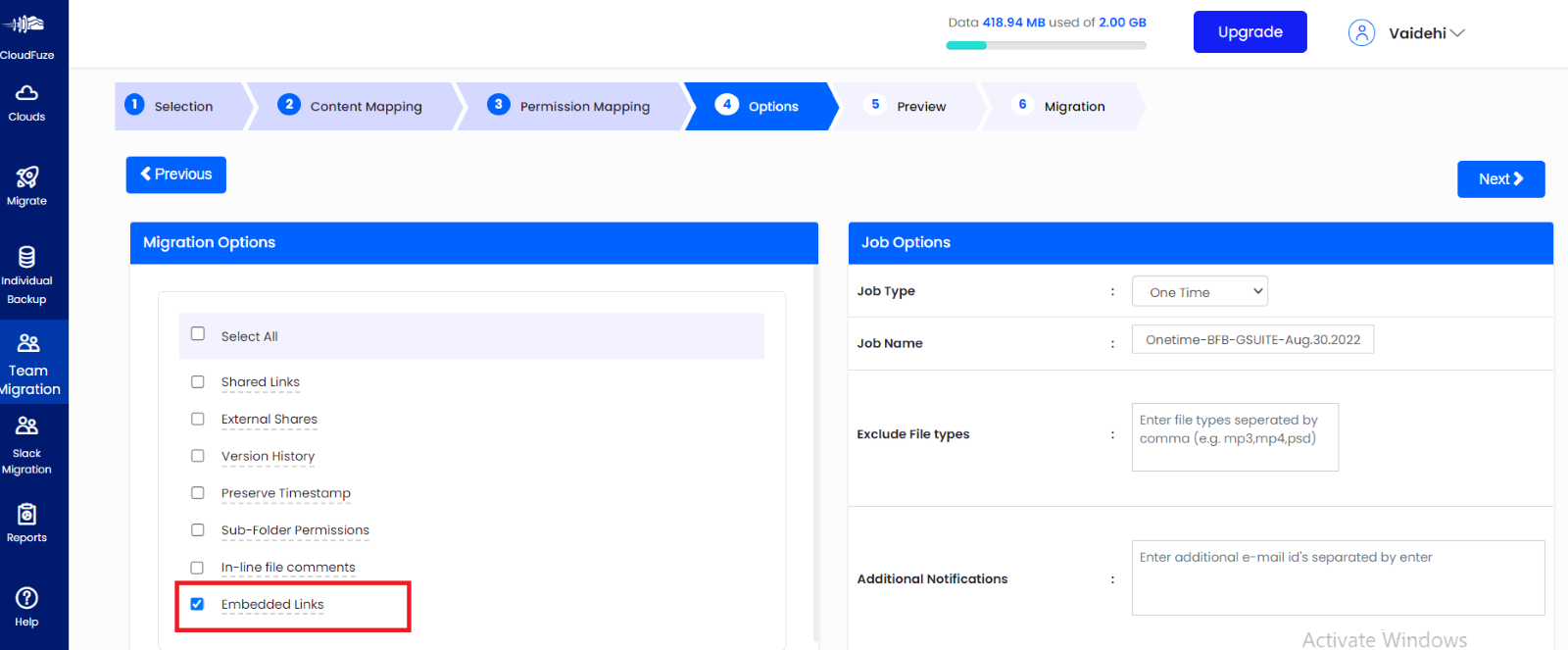 From the above, you can clearly automate the data migration from Box to Google Drive with all the features in just a few clicks using CloudFuze. On completing the migration, the CloudFuze tool generates a report with the total number of migrated links.
Contact our migration experts to see how the CloudFuze platform meets all your business needs to move files from Box to Google Drive.
Here is an example of migrating embedded links from Box to Google Drive, which is the same for Box to Google Shared drive migration.
In a Box file below, two links have been added to the text "webpages" and "interactivity".

Below we can see the "Teams" document with both the embedded links are migrated as-is using the CloudFuze migration tool.

In the same way, using CloudFuze you can migrate different embedded links added in different files such as .docx, .doc, .pptx, .ppt, .xlsx, and .xls. Request a live demo to see how CloudFuze carries out the migration process.