This article discusses Box to Google Drive  migration (Google Workspace/Formerly G Suite) in detail. The information is primarily intended to help IT admins and managers trying to migrate data from Box to Google Drive.
If you are a consumer user and wants to transfer files from Box to Google Drive, refer to our consumer migration guide.
Box to Google Drive Migration: What Does It Mean for IT Admins?
Switching between cloud collaboration suites has never been an easy task for IT professionals. The project becomes even more hectic and difficult for large companies and enterprises because of the sheer size of data and the number of users (employees or students).
The following are some of the biggest challenges IT admins face when it comes to migrating from Box to Google Drive.
Migrating large sets of data in Box (often in excess of several TBs)
Migrating sharing permissions
Migrating Box-specific features like Notes, shared links, external shares, versions, timestamps, etc.
Ensuring data security during migration
Managing time between regular IT-related and migration-specific tasks.
A Box to Google Drive Migration Tool Is Key to Your Migration Success. Without a third-party migration tool, it is nearly impossible to migrate sharing permissions and custom Box features such as Notes over to Google Drive.
Not only does a platform like CloudFuze help speed up and automate the migration process but also saves IT teams' time.
A robust migration engine coupled with a highly experienced and dedicated migration is what you need to be looking at to complete the migration smoothly.
About CloudFuze
CloudFuze is a industry-leading cloud office migration platform that helps large companies and enterprises migrate Box to Google Drive. CloudFuze worked with some of world's largest corporations, universities, and non-profit organizations and helped them to sail through the migration swiftly and securely.
Cloud Migration Platform Features
CloudFuze has the following features pertaining to Box to Google Drive business migration.
Users migration
Automatic user mapping and custom user/folder mapping via CSV
One-time and delta (incremental) migration
Document versions migration
Sharing permissions migration (root folder, sub-folder, and root file permissions)
Shared links and external shares migration
Migration and conversion of Box Notes
File and folder timestamps preservation
Available as SaaS, dedicated instance, and installable software in customers' cloud or data center
Box to Google Drive Migration Demo
The following steps shows you how to transfer files from Box to Google Drive using CloudFuze.
If you would like to a live demo instead, please contact our migration team. Alternatively, you may request us for a business trial account or quote.
Migration Prerequisites
A functional Box business account
A functional G Suite account
Box admin login credentials
G Suite admin login credentials
At least 1 user and some data to transfer
Simple steps to migrate all files from Box to Google Drive easily
1. Create a Cloudfuze Account and Login
Visit webapp.cloudfuze.com and create an account with your business email. As a business user, you can migrate up 3 users and a total of 6 GB of data during the trial period. If you have more files to copy from Box to Google Drive, we recommend reaching out to our migration team for a custom enterprise trial.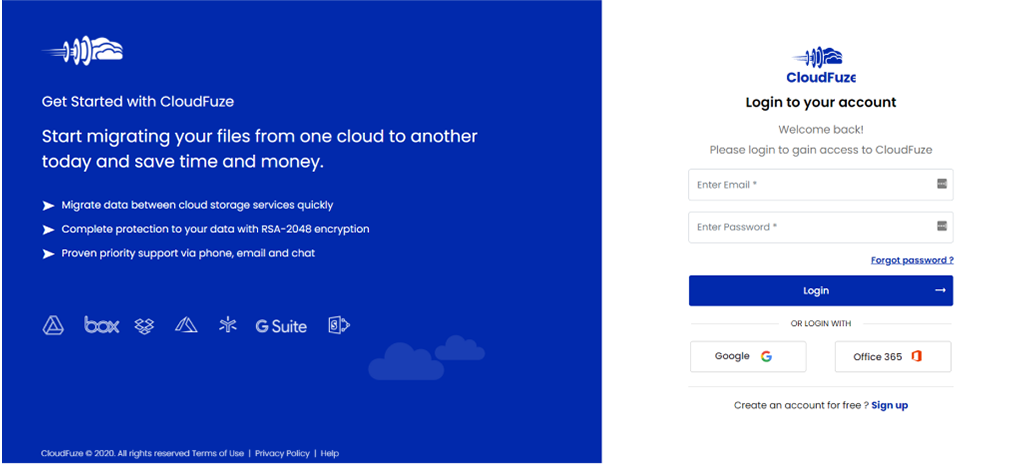 2. Add Your Box Account to CloudFuze
Locate the Box logo under the list of business clouds and click on it. Since it is a business migration, don't attempt to add clouds listed under the personal category.
The cloud addition process allows CloudFuze to have access to your Box data. The app needs that access to transfer files from Box to Google Drive.
Note that CloudFuze uses OAuth protocol to request access to your cloud accounts. The app neither stores your password information nor the data. Read more about CloudFuze security.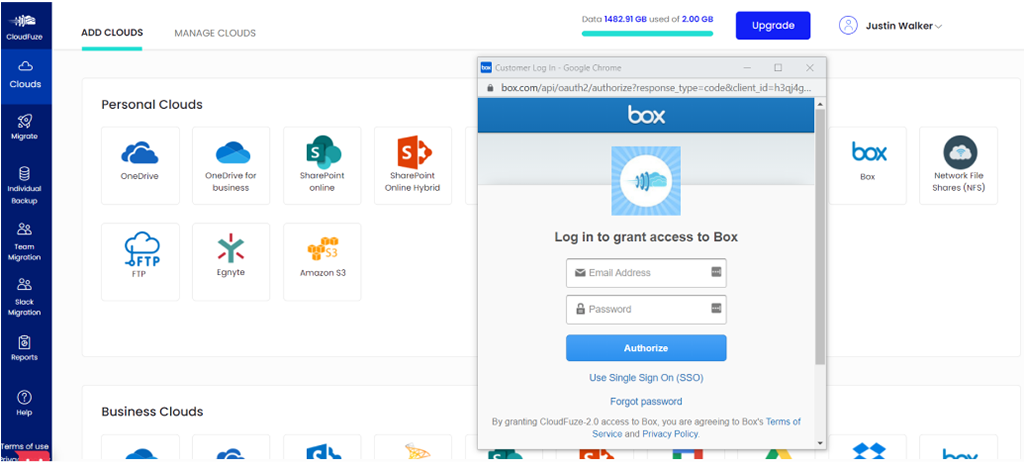 3. Now, Add and Authorize the G Suite Account
Follow the same cloud addition procedure as described above and add your G Suite. To successfully add G Suite to CloudFuze, you first need to install the CloudFuze app from the G Suite marketplace. Simply follow the on-screen instructions and you will be able to do that without a problem.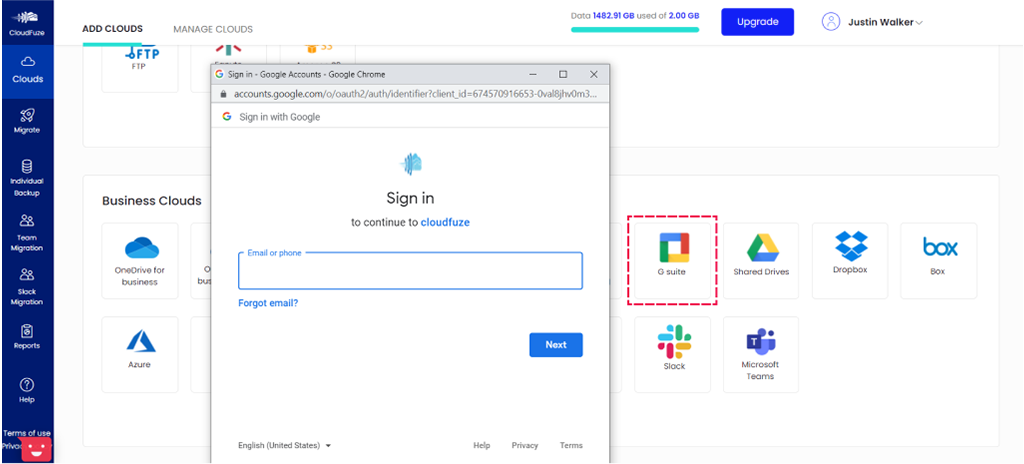 4. Verify Whether Clouds Were Added Successfully
Head to the Clouds section of the webapp by clicking on the cloud logo in the left navigation menu. You should be able to see both Box and G Suite accounts under the Manage Clouds tab.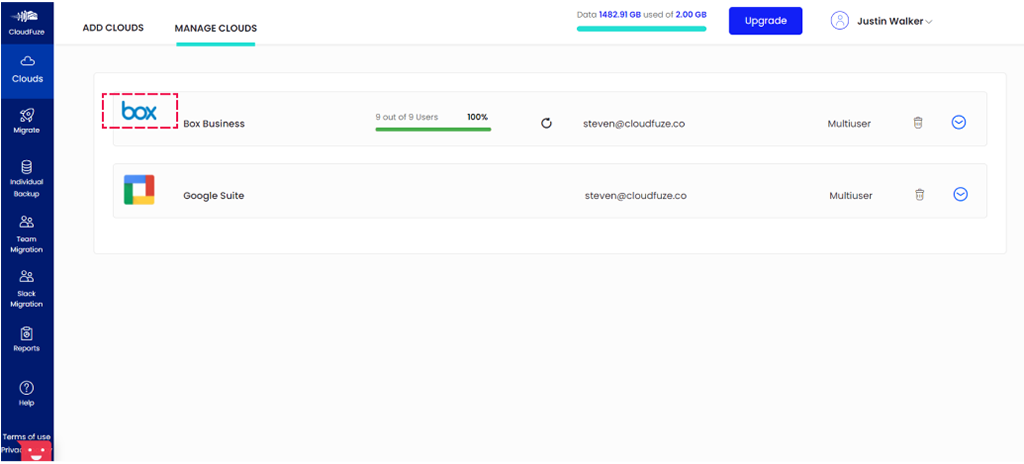 5. Choose Source and Destination Cloud Accounts (Box and Google Drive)
Once the clouds are added and ready, click on the Team Migration icon in the menu items on the left. Now, Select Box as the source and G Suite as destination/target. Double-check your selection here to ensure that you don't end up moving files from destination (Google Drive/G Suite) to source (Box).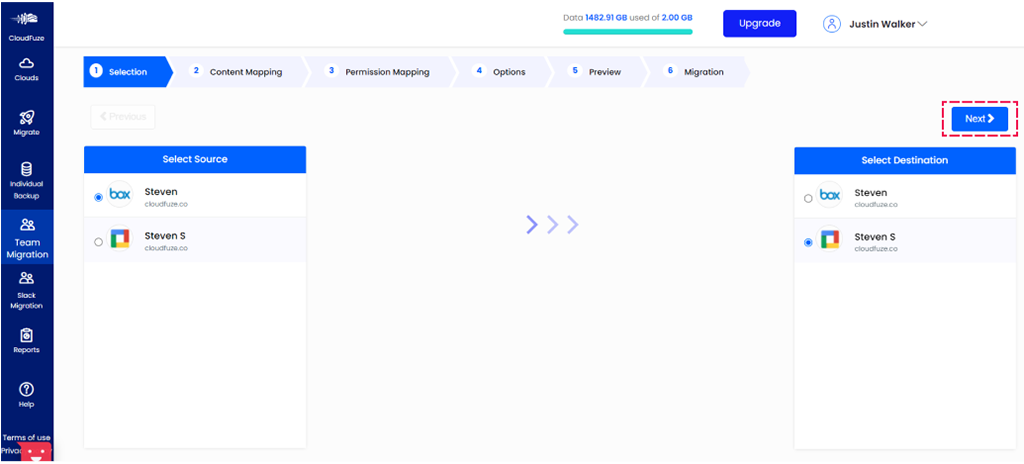 6. Choose Mapping Options
CloudFuze has a powerful mapping tool known as Auto-Map that matches Box and G Suite users based on the email alias. The app can match thousands of users instantly with just a click. In cases where Auto-Map can't be used, the manual or CSV method comes into the picture.
At this point, you can choose all the users or even a few users based on your migration need. In this demo, we migrated the entire data along with file-sharing permissions of a user named Chris.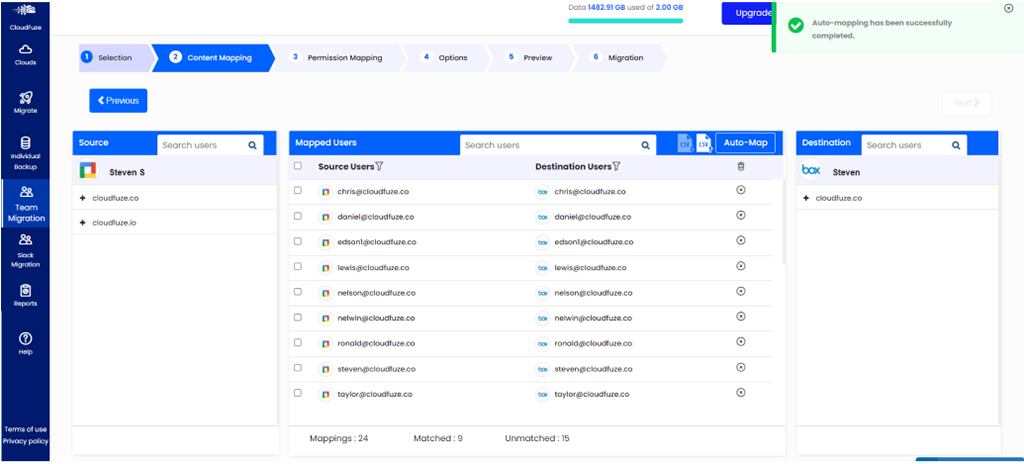 7. Choose Migration Options
Job Name: Enter a name for this migration job or leave the default
Job Type: Choose One Time if it is a first-time migration and delta for migrating incremental changes
Destination Path: Leave the default / to migrate content from root or enter folder path if you would like to transfer a specific folder
Additional Notification: By default, you will receive migration-related notifications and alerts on your email. Add an additional email address if you would like to send the migration status to multiple people
Migrate Shared Content: Select this if you wish to migrate Box shared content
Replace Special Characters With CloudFuze replaces a special character in Box file path with either an underscore or a hyphen to make it compatible with Google Drive
Choose your preferred character
Click on the Next button once you select the migration options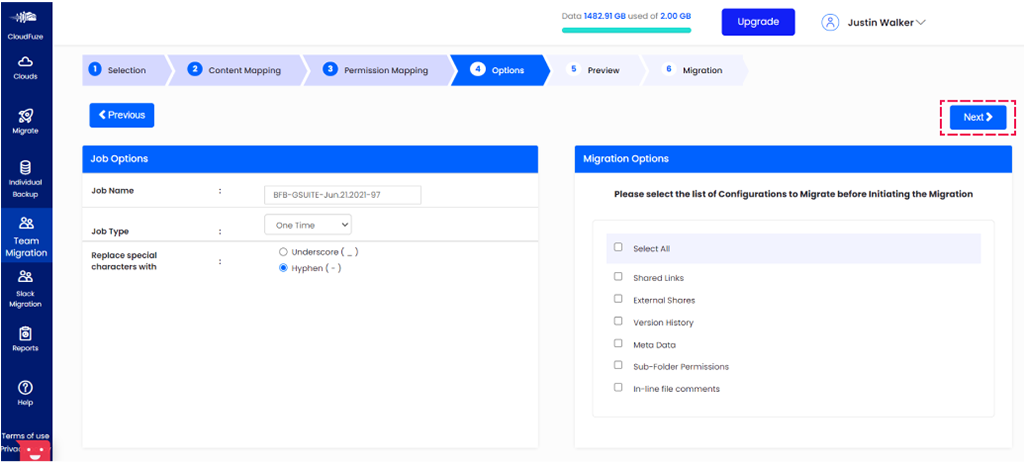 8. Preview the Migration
Check if everything is intact and click on the Start Migration button. This step will initiate the actual Box to Google Drive migration.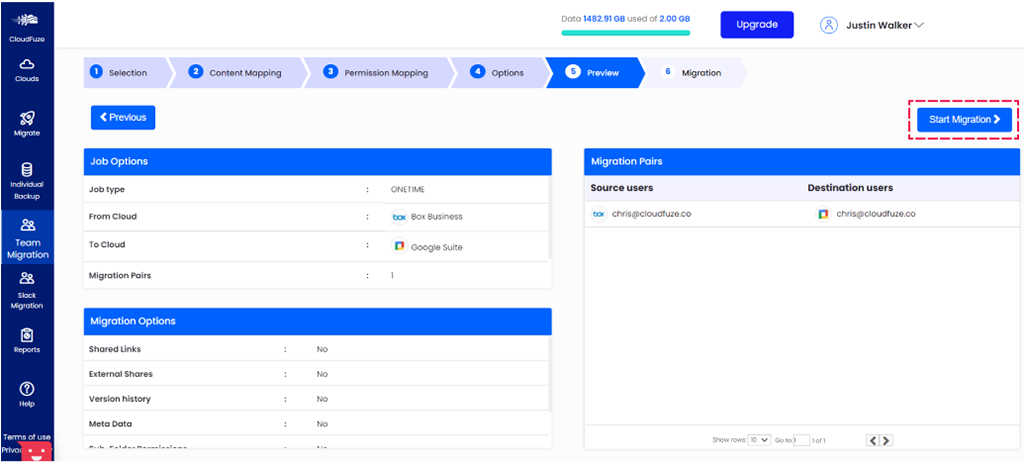 9. Check the Migration Status
Depending upon the size of the data and the number of users you are planning to migrate, the migration may take a few minutes to a few days. Unless you are migrating several TBs of data, Box to Google Drive migration should be completed well within a day or two.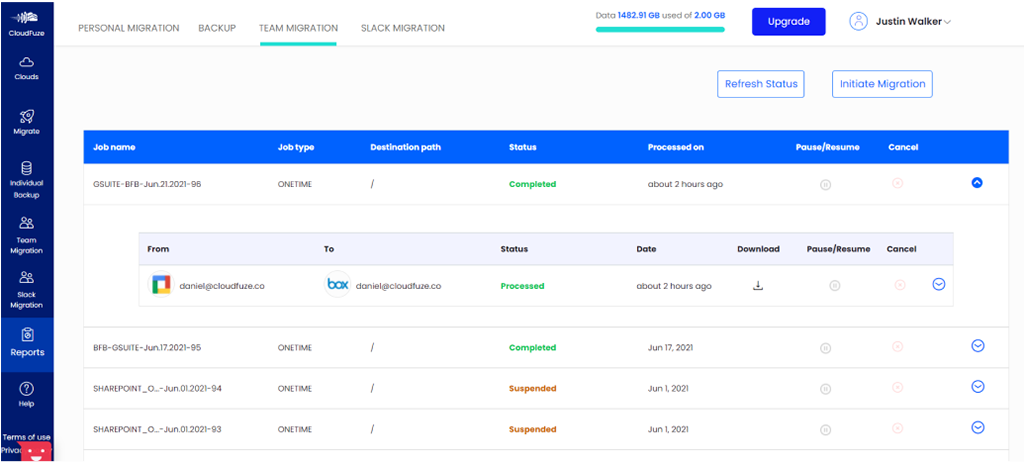 10. Download the Migration Report
Click on the Download button seen in the migration status row to access the migration report that contains the information of all the files and folders moved. You or your team can use it to audit the transferred content.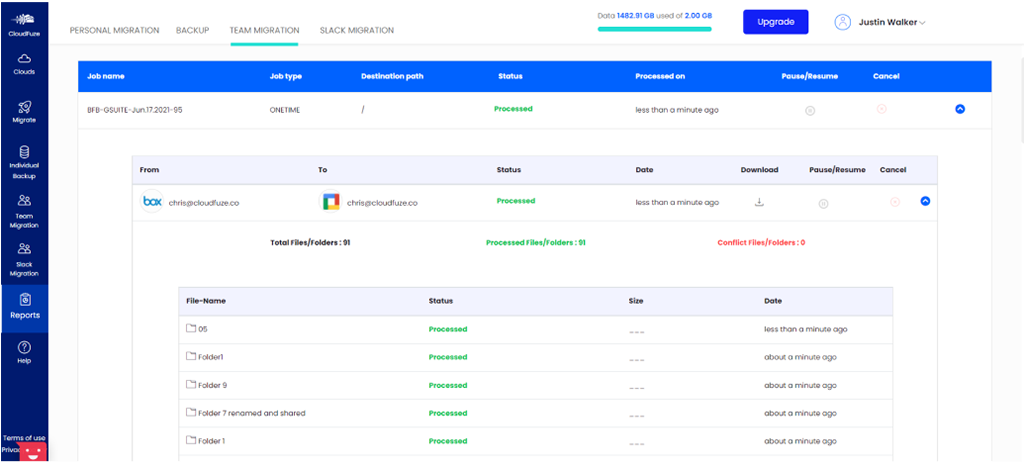 Box to Google Drive Migration FAQ
1. What is the pricing of Box to Google Drive migration?
Pricing depends on the total size of the data and the number of users your organization wants to migrate. CloudFuze offers migration on general SaaS servers, dedicated instances, and even can deploy it in a customer's cloud. The choice of server also plays a role in the pricing. We offer one-off licenses for business migrations. If the migration needs are recurring, then you may choose our annual licensing option.
2. Can CloudFuze migrate content from Box to Google Shared Drives (formerly Team Drives?)
In addition to Box to Google Drive, CloudFuze supports Box to Google Shared Drive migration. CloudFuze offers a complete Box to Google Drive file transfer solution for companies of all sizes.
3. Will CloudFuze migrate permissions?
Permission migration is our platform's major capability. The app can copy Box to Google Drive while ensuring folder structure and sharing permissions are retained. Read more about how CloudFuze migrates Box to Google Drive permissions.
4. What are migration timelines?
CloudFuze successfully migrated enterprises with several terabytes of data within a month or two. The speed of migration depends upon the size of the data you are planning to migrate. Reach out to our business migration team for accurate timelines.
5. Is our company's data safe?
As said earlier, CloudFuze neither stores your passwords nor the data. Your business data is complete safe. If you do not wish to wish to use CloudFuze as a SaaS product, you can have it installed on your own cloud or server.
6. Does CloudFuze support Box to Google Drive sync?
Yes. With CloudFuze, you can sync Box to Google Drive. If you plan to backup Box to Google Drive as a cloud-to-cloud sync solution, contact our migration team with your current Box data size and sync needs. Please note that sync is currently not available as a part of free trial.
7. How CloudFuze handles Box to Google Drive permissions and access levels?
Box has as many as 7 different types of permissions and access levels. Google Drive, on the other hand, has only 3. CloudFuze converts the 7 types of permissions into 3 based on relevancy. Learn more about how permissions are migrated from Box to Google Drive.
8. What happens to Box Notes during migration?
Notes is a feature native to Box. While migrating files from Box to Google Drive, CloudFuze converts Notes into doc files.
9. Does CloudFuze migrate Box Shared Links?
Yes, CloudFuze can migrate Box Shared Links to Google Drive.
10. What is the upper limit for users or data?
CloudFuze can migrate unlimited number of users and transfer unlimited data from Box to Google Drive. The data restrictions and cap that you see in the pricing page is only for consumer migrations.