10 Things You Should Check in a Box to Google Drive Migration Service
Cloud migration is a complex task that requires thorough planning and execution. You can make the transition as simple as possible with the right tools. 
But there are many Box to Google Drive migration tools available today on the market. So, IT Admins must know how to select the right tool that satisfies your business-specific needs. 
While evaluating which one to go with for your move from Box to Google Drive, ensure you check the following 10 things to confirm that you are partnering with the right migration service.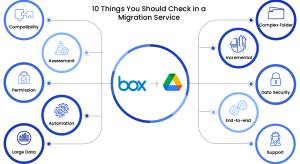 1. Compatibility

W

ith the Cloud Platforms

 
This is an essential aspect of the cloud migration tool you select. For example, you might want to transfer data from Box to Google Drive. While the tool does not need to deal with different cloud platforms, it needs to support the cloud environments you chose in your digital transformation plan. 
2.

Pre-Migration Assessment

 
A data migration tool must include a pre-migration assessment, usually offered as an add-on service on top of the core technology. This assessment helps you identify whether the tool can execute the migration journey successfully while addressing the issues that might prevent a migration task from running as expected. 
3. Supports Migrating Permissions and Other

Features
When migrating data from Box to Google Drive, it's important to preserve all folder and file permissions, versions, timestamps, shared links, and external links. So, you can access the data in Google Drive with the same permissions as in Box.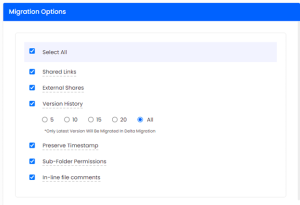 Ensure that the tool you pick can copy all the data attributes during the transfer from Box to Google Drive. 
4. If User Mapping is Done Automatically
User mapping is the most critical aspect to verify when moving Box files to Google Drive. Even a single mismatch in the user data can bring greater risks to the businesses. So, it is imperative to pick a data migration tool that offers a code-free way to map the users automatically and process the data migration.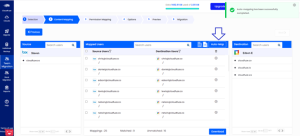 5. Capability to Process Large Data Volumes
Performance is the top priority for large projects requiring data to be moved in a reasonable amount of time. The larger the data to migrate, the longer the process takes. In addition, the speed and capacity of the data migration tool affect how long the migration operation will take. 
A customized data migration tool that can scale up and down according to the changing business data migration needs is the most simple and efficient option to transfer larger volumes of data, say, terabytes (TB) to petabytes (PB). 
6. Capability to Migrate Complex Folder Structure
Too many nested folders tend to create confusing structures that will be challenging to migrate to Google Drive. Check with the migration service if there is any limit or constraint to the number of deep sub-folders allowed for migration. 
Retaining the entire folder hierarchy is the core requirement of the data migration. Thus, an ideal migration tool should be able to migrate the exact folder structure irrespective of how deeper it is. 
Check out the features CloudFuze offers to migrate from Box to Google Shared Drives.
7. Incremental Changes Migration
Migrating data from Box to Google Drive might take a few weeks to a few months depending on the amount of data, number of users, folder structure, etc. Meanwhile, there will be many changes made to your Box business content. As a result, businesses shouldn't miss copying all the changes from Box to Google Drive.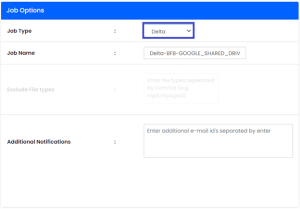 Choose a data migration tool that can migrate incremental changes (delta migration), i.e., the changes made since the last migration is initiated. 
8. Data Security During Migration
Since the security of business-essential data is critical, this is one of the most important things to check. Choose migration partners who make it obvious the level of security they provide for your data while it is in transit. Ensure that the tool doesn't view or store any of your passwords or data. This is especially important if you're migrating sensitive data that must comply with regulations. 
9. Support for End-to-End Migration Journey
Transferring files from Box to Google Drive is a complex undertaking for IT Admins and Managers. As a result, make sure your data migration partner provides dedicated migration support to successfully move your business data to Google Drive.  
To guarantee a seamless flow of operations, 24/7 customer service and availability to answer any business-critical issues should be high on the priority list. Other key elements to consider in the Box to Google Drive migration support are constant monitoring, performance optimization, and security checks. 
10. Post-Migration Support
Despite finding the right migration service provider, migration is a risky process. Some of the data might be get migrated or unavailable. The service provider should check and validate the post-migration reports and ensure that the data has been successfully migrated. 
If your business users notice any data is missing in the destination cloud, your migration partner should come into the picture and solve the issue quickly. 
With deep expertise in data migration services supporting over 40+ cloud platforms, CloudFuze experts ensure a successful move from Box to Google Drive that drives maximum benefit to the businesses.