How to Transfer Box to Google Drive With External Permissions

The Box allows you to share folders and files with people outside the organization (such as partners, vendors, clients, or customers). This allows us to collaborate simultaneously on files with external users and share ideas. Businesses must retain the permission levels as-is when transferring Box to Google Drive to ensure seamless collaboration between the team and the external users.
Before initiating the transfer from Box to Google Drive, learn how you can migrate external permissions/shares associated with specific files and folders.
Why Should You Migrate External Permissions?
When you transfer from Box to Google Drive with external sharing links, the location and URL of these links changes. Therefore, a new invitation needs to be sent to the users with permission to view this content.
Permissions are important, and it is also important to ensure that all your users and external users with whom the content is shared have access to the files they need after migrating to Google Drive.
As different contents will be shared with different people in the source cloud, manually resharing the links in the destination after the migration is complex and time taking process.
So, IT admins or key decision makers of the organization responsible for migration must ensure that external permissions are also migrated along with the data.
How to Migrate External Permissions From Box to Google Drive?
Migrating files from Box to Google Drive using the CloudFuze platform retains external sharing permissions and migrates shared links. So, users can access the migrated folders and files in Google Drive with the same permissions as in Box. Also, the users get notified of their respective email ids for each folder and file migrated.
In addition to shared links and external shares, CloudFuze allows you to migrate versions, timestamps, comments, and embedded links from Box to Google Drive.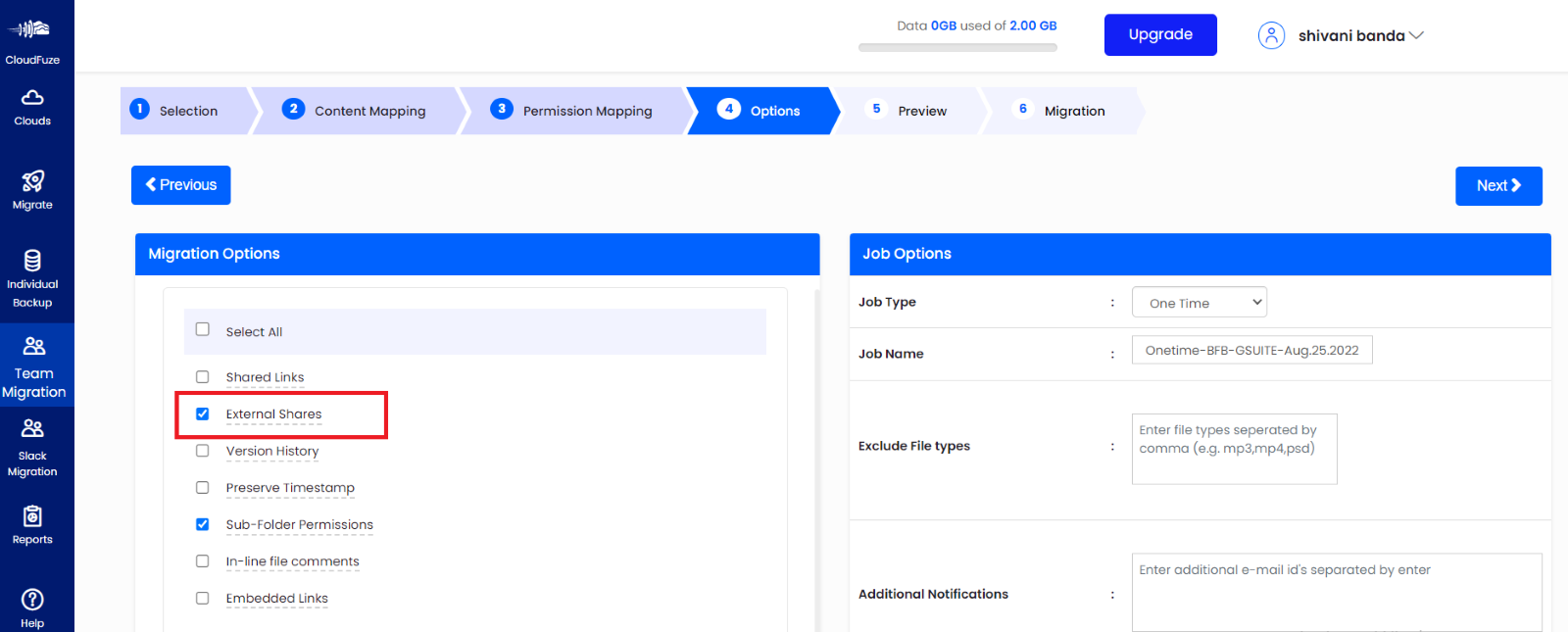 Whether you are migrating to Google My Drive and Shared drives, you can move all the data from Box with all the features in just a few steps.
Example of External Migration from Box to Google Drive
Let us consider an example where "Max" shares the Box file with external user "Harry".


File permissions to the external user "Harry" with the same access level are migrated, as shown in the image below.


Several third-party tools can help you move files from Box to Google Drive, but you may need specialized services to ensure all your data sets are moved seamlessly and securely.
A cloud migration tool like CloudFuze can seamlessly help you migrate from Box to Google Drive. It is robust, fully cloud-hosted, and offers several features to ensure a seamless transition. Contact us to start your Box to Google Drive migration journey today.