MultCloud Alternative to Migrate Data to Google Drive
MultCloud and CloudFuze both are unmistakable options for businesses planning to migrate to Google Drive. Both tools offer their own unique set of advantages to businesses of all sizes.
However, when it comes to choosing between the two, businesses and their IT teams must consider several factors, such as tool capabilities, to make an informed decision. Check this post to understand the value both tools offer.
1. User Migration Limit
It is important for enterprises with many users and a huge volume of data to choose a tool that can help scale up their migration based on their needs while ensuring zero downtime.
Since CloudFuze is much more focused on enterprise-level data transfers, businesses can migrate all their users and data to Google Drive concurrently.
2. Features Migration
While migrating data to Google Drive, businesses must transfer the features associated with the files and folders of their source cloud. Multcloud and CloudFuze offer these migration capabilities:
Permissions
Versions
Timestamps
Comments
Shared links
External links
Embedded links
With the CloudFuze migration tool, you can choose several other features you want to migrate along with the data just by selecting the options.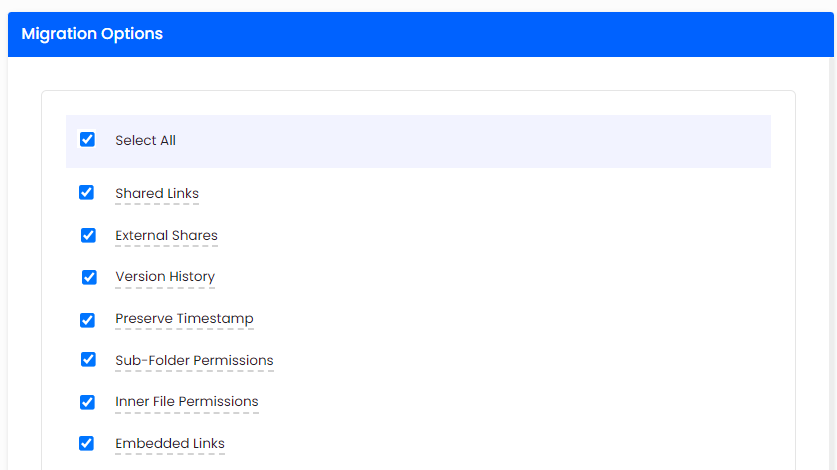 3. Migrating Cloud-Specific Files
Each cloud storage service has files in formats that are exclusive to them, and therefore aren't supported by other clouds. For example, Dropbox includes Dropbox Paper, and Box includes Box Notes, which Google Drive doesn't support. So, transferring these documents is the main challenge when moving from Dropbox and Box to Google Drive.
A MultCloud alternative, CloudFuze, automatically migrates Dropbox Paper (.paper) and Box Notes (.boxnote) to Google Drive in the .DOCX format as part of its migration services.
4. Delta Migration
Users often continue using the source cloud when the data migration is in progress. Therefore, companies with large volumes of data will have many incremental changes in the source cloud. Migrating all of them is essential to ensure that the data is up to date in the destination cloud before the user onboarding process.
When you initiate a delta migration, all incremental changes will be identified and migrated. So, delta migration must be run after the one-time migration before your business completely adopts Google Drive.
CloudFuze migrates all the incremental changes with zero downtime from any source cloud to Google Drive.
5. Migration Support
With Multcloud, you get 24/7 support throughout the migration process which helps avoid uncertainties that can raise the risk of migration issues. CloudFuze also offers 24/7 support in Google Workspace migration projects of all sizes. Businesses can also opt for CloudFuze's managed migration service which includes a dedicated team with proven expertise.
Our migration experts work with you at every stage, from pre-migration analysis and setting up the migration to completing the project. So, you can continue your business operations as usual without any interruptions.
Working with a Google migration partner, such as CloudFuze, can keep the risks at bay and ensure that the data migration to Google Drive is accurate without any data loss.
6. On-Prem Deployment
MultCloud and CloudFuze are the leading cloud storage migration services meeting all the industry-standard security and compliance regulations.  Large-sized organizations, such as government agencies and educational institutions place the topmost priority on data security. If you are representing such an organization,  you can choose to deploy CloudFuze on your server similar to a vast number of enterprises that have partnered with us for their migration needs. This approach of transferring data in a local on-prem environment helps ensure complete data security.
Contact us if you want to deploy our scalable migration platform and perform the Google Workspace migration on your private data centers.