MultCloud Alternative to Migrate Data to Google Drive
Although MultCloud is an excellent tool for migrating, backing up, and syncing data between different cloud storage platforms, it lacks some of the features which enterprises require when migrating data from Box and Dropbox to Google Drive. So, Which MultCloud alternative should you choose?
An ideal cloud migration service should be able to offer customized migration approaches/options that meet different business needs. The article presents an alternative to MultCloud's features and options that are currently lacking.
1. Users Migration Limit
Different migration tools will have different sets of limitations to migrating the number of users and data. Similarly, MultCloud limits the number of users that can be migrated from one cloud to another, even though it allows participants to easily move files from one cloud to another in a few steps.
Enterprises with many users and huge volumes of data should choose a tool that can help to scale up their migration based on their needs while ensuring minimal downtime.
Since CloudFuze is much more focused on enterprise-level data transfers, there is no such limit, and you can migrate all the users and data to Google Drive at the same time.
2. Features Migration
While migrating data to Google Drive, businesses must transfer the features associated with the files and folders of their source cloud. The common features that any cloud storage provider offers are:
Permissions
Versions
Timestamps
Comments
Shared links
External links
Embedded links
MultCloud preserves the migration date as the timestamps for each folder and file migrated when transferring data from any source cloud to Google Drive. On the other hand, CloudFuze copies and transfers all files' original and modified timestamps from Dropbox, Box, Egnyte, and Citrix ShareFile to Google Drive.
Besides, using the CloudFuze migration tool, you can choose the other features you want to migrate along with the data just by selecting the options.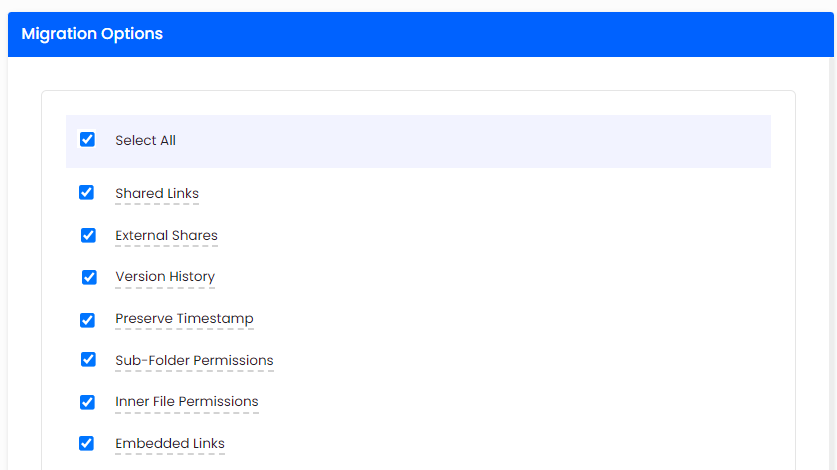 3. Migrating Cloud-Specific Files
Each cloud storage service will have unique file formats which no other may provide or support. For example, Dropbox includes Dropbox Paper, and Box includes Box Notes, which Google Drive doesn't support. So, transferring these documents is the main challenge when you move from Dropbox and Box to Google Drive.
A MultCloud alternative, CloudFuze, automatically migrates Dropbox Paper (.paper) and Box Notes (.boxnote) to Google Drive as Word documents (.docx) as part of its migration services.
4. Delta Migration
Users often continue using the source cloud when the data migration is in process. Therefore, companies with large volumes of data will have many changes in the source cloud, and migrating all of them is essential to ensure that the data is up to date in the destination cloud before start using it.
When you initiate a delta migration, it will scan for any new files that are added during one-time migration, as well as those that have been modified or updated. So, a delta migration must be run after the one-time migration before your business completely switches to Google Drive.
CloudFuze migrates all the delta changes with zero downtime from any source cloud to Google Drive compared to its competitors.
5. Managed Migration Support
With Multcloud, you can get 24/7 support, while CloudFuze offers you managed migration support on top of that. When you choose CloudFuze for managed migration services, you get a dedicated team with a unique combination of proven expertise and migration solutions to ensure a smooth process.
Our experts work with you at every stage, from pre-migration analysis and setting up the migration to completing the project. So, you can continue your business operations as usual without any interruptions.
Working with a Google migration partner, such as CloudFuze, can reduce risk and ensure that the data migration to Google Drive is accurate without any data loss.
6. On-Prem Deployment
MultCloud and CloudFuze are the leading cloud migration services meeting industry-standard security and compliance regulations. But suppose you are a large organization, a government agency, or an educational institution where data security is a top priority. In that case, you can choose to deploy CloudFuze on your server. It ensures 100% data security when the migration software is installed on-premises.
Contact us if you want to deploy our scalable migration platform and perform the Google Workspace migration on your private data centers.