Why CloudFuze is the Safest Platform to Copy Dropbox Files to Google Drive
Data security has been a critical concern through each step of the migration process when copying Dropbox files to Google Drive. Although cloud migration services take security measures, it is your responsibility to ensure that it meets your company's data security needs.
As a result, if you plan to copy Dropbox files to Google Drive, you must partner with the right cloud data migration service. Here are the top five reasons CloudFuze is the safest platform to choose to upload files from Dropbox to Google Drive.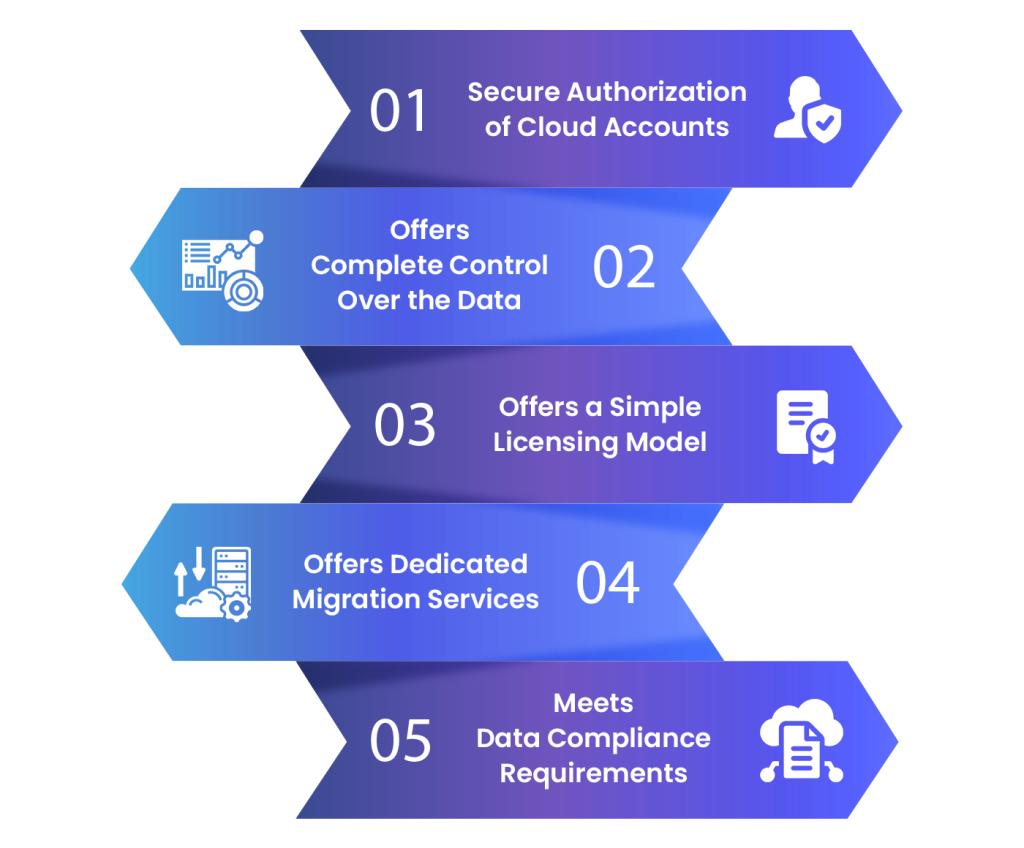 1. Secure Authorization of Cloud Accounts
Data migration software requires access to your source and destination clouds to move files from Dropbox to Google Drive. CloudFuze, on the other hand, uses the OAuth protocol to authorize your cloud admin accounts without requiring sharing the credentials with us.
OAuth ensures that CloudFuze can neither view and store your data nor access it in the same way you do. So, your passwords and data are completely safe. You can remove CloudFuze access to your cloud storage account whenever you want.
Partner with CloudFuze today to securely copy from Dropbox to Google Drive!
2. Offers Complete Control Over the Data
CloudFuze can be installed on your company's data centers to ensure no data leaves your network. Large corporations, institutions, and government agencies with highly sensitive information can benefit the most from this feature.
Furthermore, you can run your Dropbox to Google Drive on CloudFuze SaaS servers without spending extra money on dedicated resources. But CloudFuze also provides dedicated SaaS servers for businesses looking to ensure better performance and security.
Contact our experts and choose the best deployment model that fits your business's needs.
3. Offers a Simple Licensing Model
For companies, ITSPs, and MSPs, CloudFuze offers flexible licensing models that suit individual business needs and objectives from startups to enterprises. With volume discounts and easy licensing, partners can manage costs and reduce risk when preparing for large migrations.
Along with volume discounts, we offer recurring or pay-as-you-go licenses for MSPs. So, MSPs can now pay as they go for cloud data migration services instead of having to spend huge amounts of money upfront for licensing.
Check out more about the CloudFuze licensing agreement in detail before you purchase.
4. Offers Dedicated Migration Services
A dedicated migration team makes it an easy way to transfer Dropbox to Google Drive. The migration process is complex to handle, so it's best to work with a professional who has experience completing Google Drive migration projects. CloudFuze offers dedicated migration support to its customers to seamlessly migrate TBs/PBs of data from Dropbox to Google Drive.
5. Meets Data Compliance Requirements
When you transfer dropbox files to google drive, companies should adhere to compliance requirements during the migration process, depending on their country of operation.
For example, GDPR applies if you attempt to migrate data in the EU and other data protection rules in the US and UK.
The CloudFuze platform complies with GDPR standards, data residency requirements, and many other US, UK, and European security standards.