Why Use a Managed Migration Service to Move from Dropbox to Google Drive?
It is not an easy task to move from Dropbox to Google Drive with no data loss. You need expert assistance throughout the migration process to ensure safe and secure migration. Opting for managed migration services can save time and money by simplifying the process.
Depending on the migration needs, an ideal managed migration service can help organizations, from creating the migration strategy to monitoring, testing, and continuous support.
Here are some benefits of partnering with a managed migration service to migrate from Dropbox to Google Drive.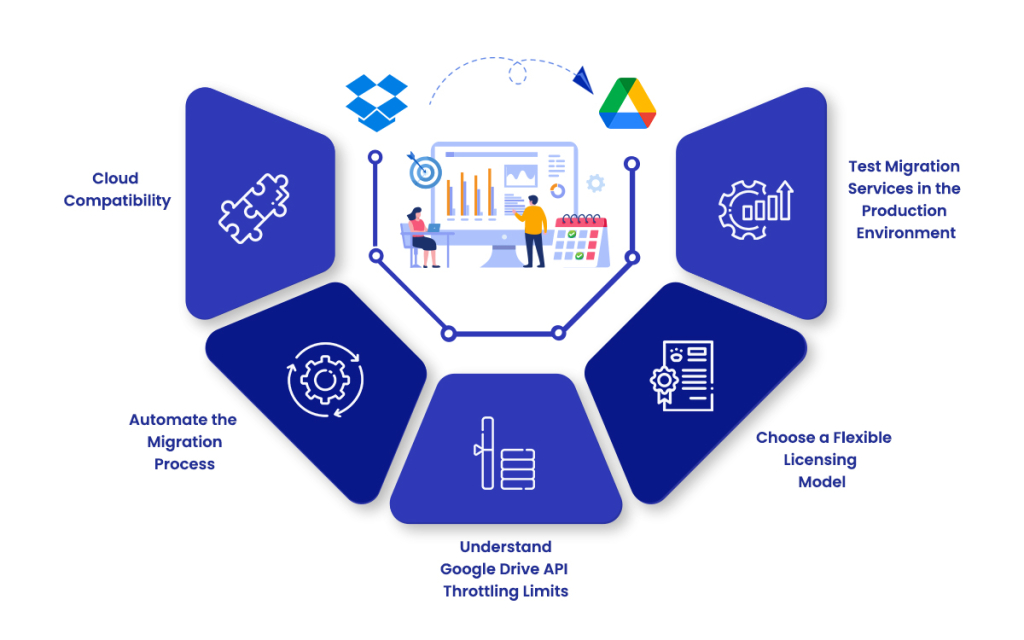 1. Develops a Solid Data Migration Plan
A poorly planned migration could make the migration longer than expected, incur additional costs, or may altogether fail the project sometimes. Partnering with a managed migration service provider with prior expertise working with businesses like yours can easily solve any of these complexities.
CloudFuze, an expert performing Dropbox to Google Drive migrations, can help you create a strategic migration plan and execute the process carefully.
2. Avoid Costly Migration Mistakes
A migration mistake can cost the company money and time and eliminate or reduce any anticipated benefits, including agility and speed. Google Drive migration is a complicated process; if you are unfamiliar with it, the migration would probably be at risk.

Some of the most common mistakes that businesses make when transferring Dropbox files to Google Drive include:
Not analyzing the source cloud data
Missing migrating file permissions and other features
Lack of understanding of Google Drive API throttling limits
Neglecting security aspects during migration, etc.
One mistake could end up being very costly and delay the migration process, but with the assistance of an expert cloud migration services provider, you can avoid them.
CloudFuze managed migration team can help you avoid migration mistakes with its proven expertise, skills, and tools.
3. Reduce Workflow Interruptions
Handling the data migration process could interrupt your business operations, as it requires complete focus. Partnering with a managed migration service can help reduce workflow interruptions during migration. This is because they manage the end-to-end migration process on your behalf.
Our dedicated migration team takes care of everything for your migration project to be successful. So, you can just sit back and focus on your day-to-day priorities without interruptions.
4. Monitor and Send Regular Updates on the Migration Status
Copying files from Dropbox to Google Drive involves challenges, but continuous monitoring throughout the migration process can make it a more seamless experience. A managed migration service monitors your data migration process continuously, which helps spot and eliminate errors immediately.
CloudFuze assigns a dedicated migration team to every single migration project, which continuously monitors and sends timely updates on the progress of the migration to the client.
5. Post Migration Support
In some cases, the migration might be completed, but the data transfer is not complete and accurate. For example, some files/folders might be missing in the destination cloud compared to the source cloud. Even post-migration data migration experts with technical expertise can help migrate the missing data.
With CloudFuze, SMBs, enterprises, and MSPs can take advantage of 24/7 data migration support (including post-migration support).
After our migration specialist completes your move from Dropbox to Google Drive, they will mark the project as completed only after confirming that the data transfer is accurate.