Box to Google Shared Drives Migration guide IT Admins
If you are an IT admin exploring migration tools to transfer your organization's data from Box to Google Shared Drives, you are the right place. In this article, we will explore how you can migrate from Box to Google Shared Drives quickly and securely using CloudFuze platform.
Please keep in mind that CloudFuze is among the very few solutions on the market that support Box to Google Shared Drive migration.
Migration Prerequisites:
A CloudFuze account (Enterprise trial available on request)
Box admin login credentials
Google Workspace (G Suite) admin login credentials
Step 1: Create a CloudFuze Account
Go to webapp.cloudfuze.com and create an account. CloudFuze offers a free trial account for users who wish to test the platform. Enterprise users with large and complex data migration needs can reach out to our migration team for a demo or quote.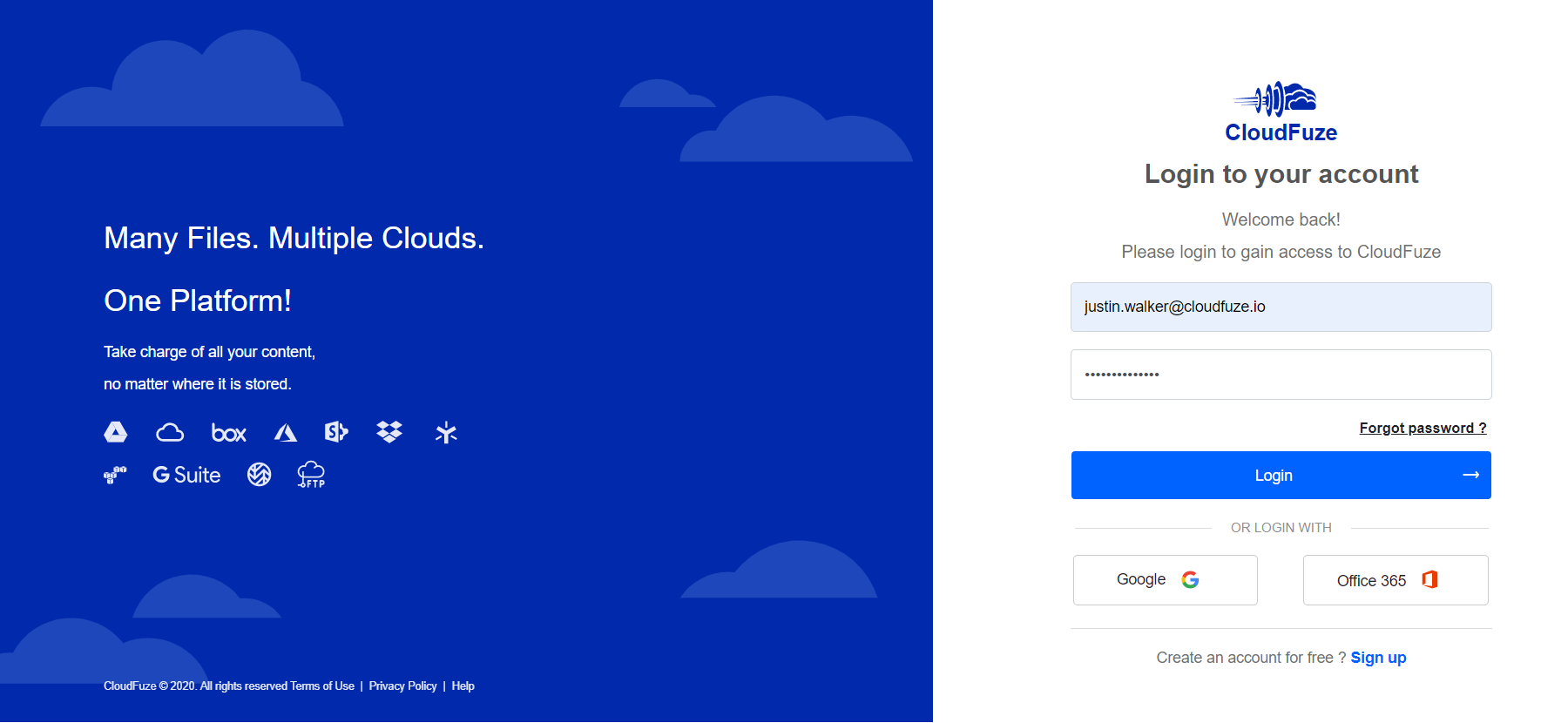 Step 2: Add Box Business or Box Enterprise Account
You need to add and authorize your company's Box account to CloudFuze in order to facilitate migration.
All you need to do is click on the Box logo in the business clouds list and enter the Box admin login credentials.

Step 3: Enter Box Admin Login Credentials
Enter the Box's super admin login details and click on the Authorize button.
Step 4:  Review Account Permissions and Provide Access
The following is the list of all permissions CloudFuze needs in order to map and migrate content.
Click on the Grant Access to Box button to complete the cloud addition process.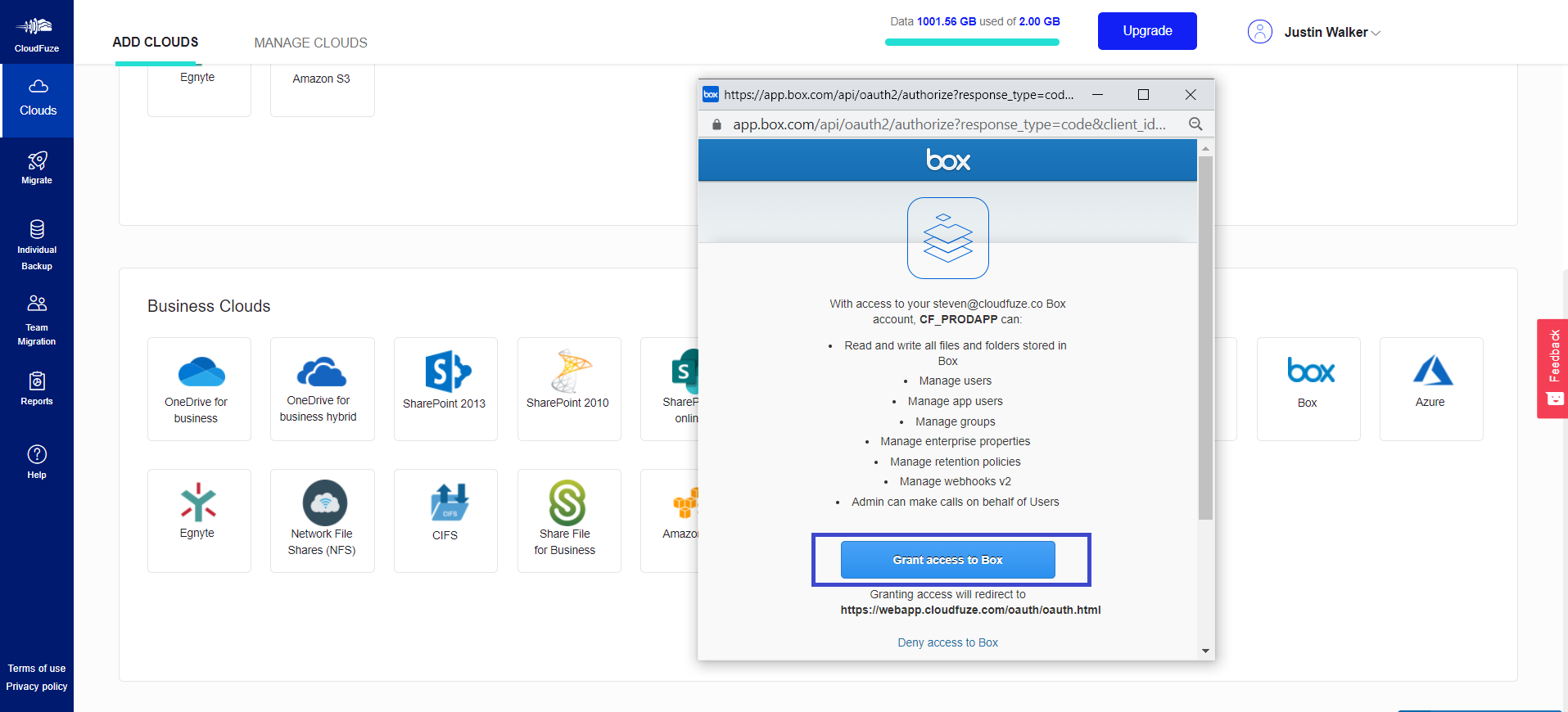 Step 5: Now, Add Shared Drives Account
Click on the Shared Drives logo in the business clouds list. Since this is Box to Google Shared Drives migration, we need to click on the Shared Drives logo.
If it is a Box to Google Drive migration, the G Suite logo must be clicked.

Step 6: Add and Authorize Google Account
Enter your Google Workspace account login details and authorize it the same way we authorized the Box account earlier.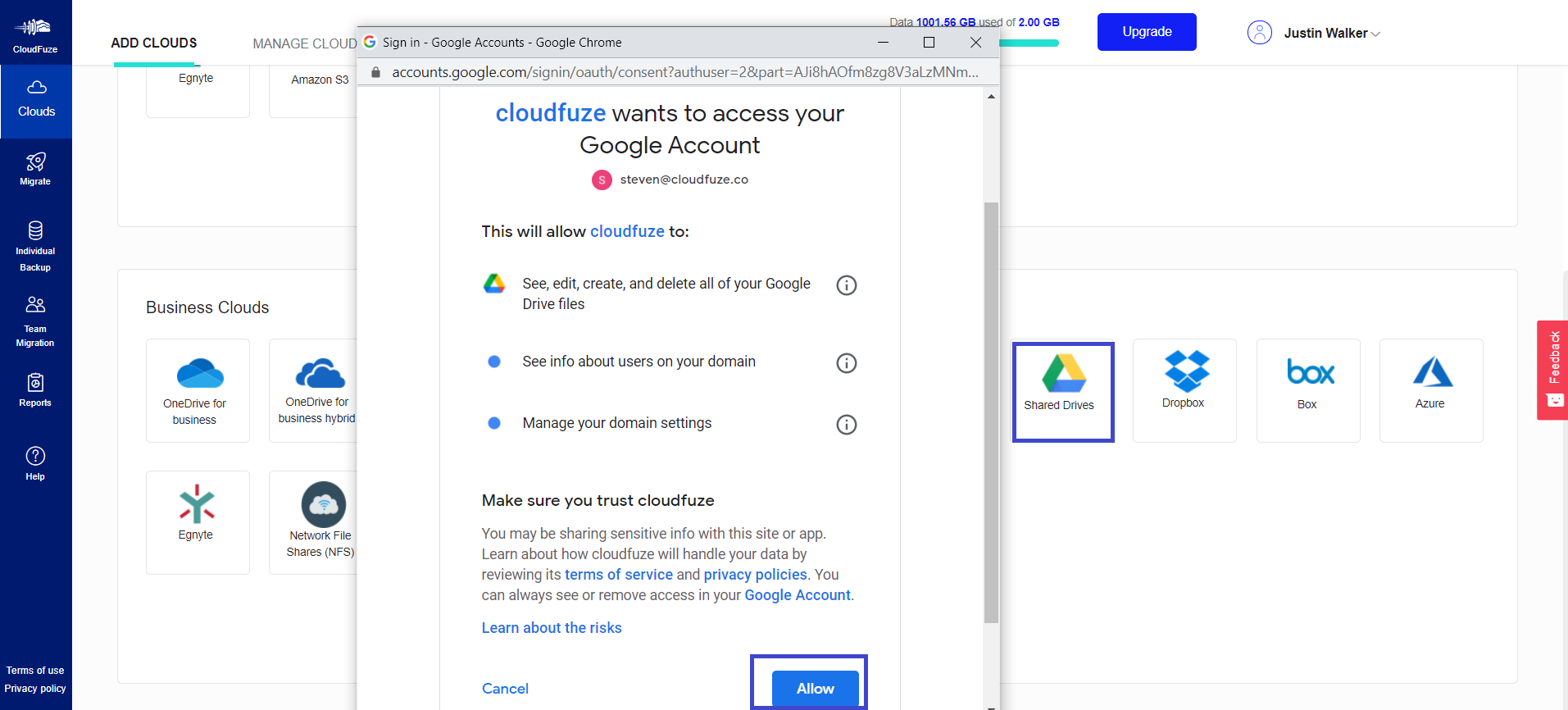 Step 7: Verify Whether Clouds Added
Go to the Clouds section by clicking on the Clouds logo. Then, check the Manage Clouds tab. You should be able to see both Box and Google Shared Drive accounts being added there.

Step 8: Start the Migration
Click on the Team Migration icon in the navigational menu on the left.

Step 9: Select Source and Destination Accounts
Choose Box as the source account and Shared Drives as the destination account.

Step 10: Upload an Excel File with the List of Users
A CSV file needs to be created and uploaded that has the list of all users in both Box and Google Shared Drive accounts.
This step can be confusing for first-time users of CloudFuze. Keep in mind that CloudFuze has a dedicated migration team that assists IT, admins, during every step of the migration.

Step 11:  Download in the CSV Format
Download in the CSV format and then upload again to CloudFuze. The CSV file then populates the list of users for migration.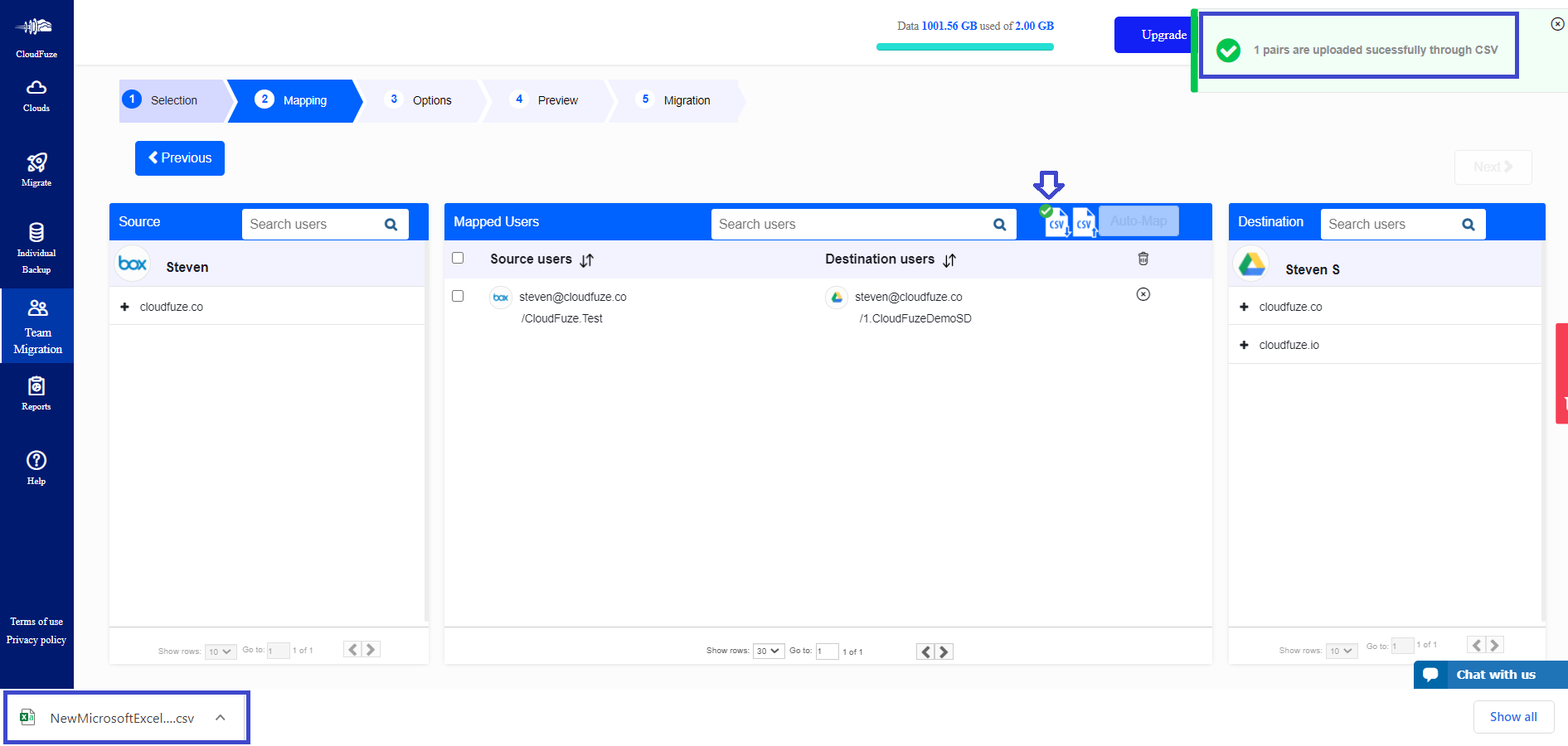 Step 12: Select Users to Migrate Data
Click on the users that you want to migrate from Box to Google Shared Drive accounts. There is no upper limit on how many users can be migrated. However, for this demo purpose, we migrated one Box user to Google Shared Drives.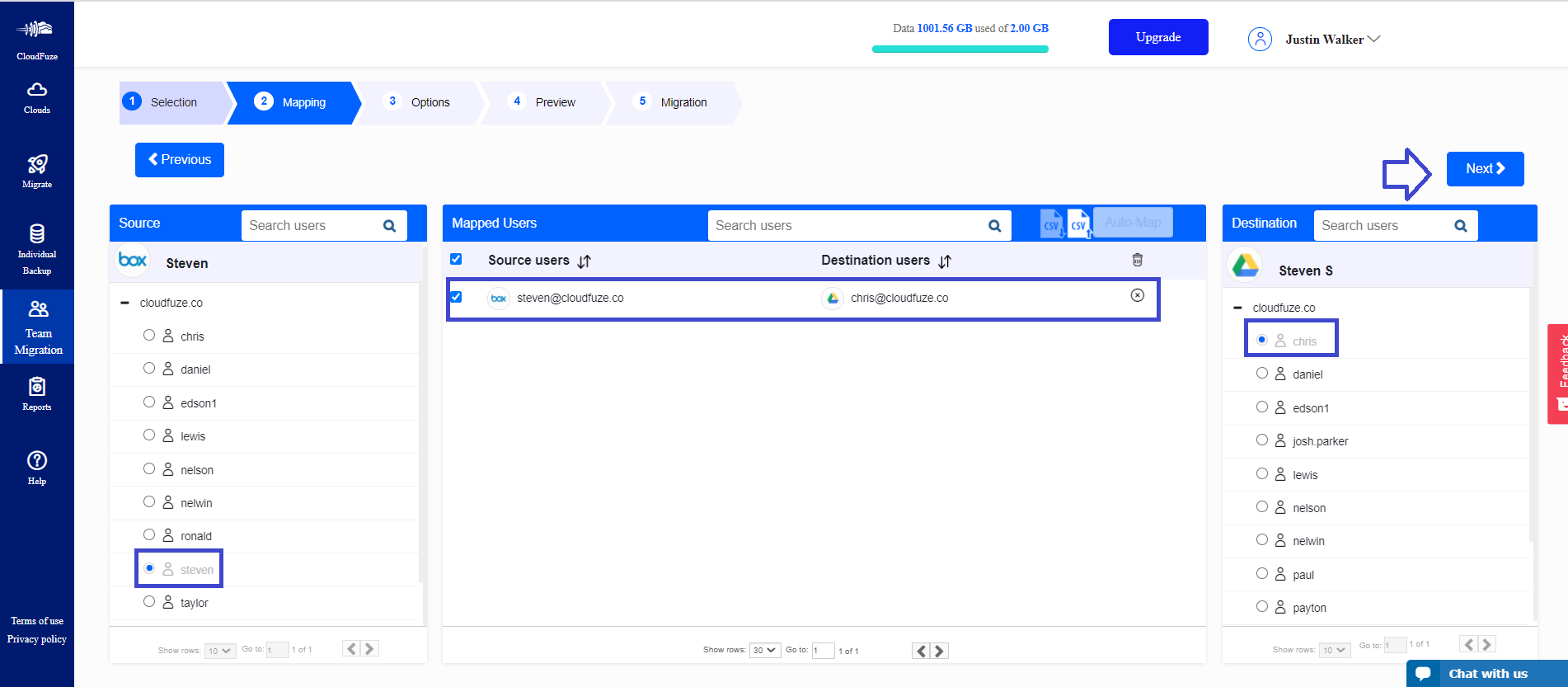 Step 13: Choose Migration Options
In this migration configuration page, you can give the migration job a name. You can enter additional email addresses for notifications.
Besides data, you can also migrate Shared Links, External Shares, sub-folder permissions, and in-file comments by ticking the appropriate option.
Step 14: Preview and Click on the Migration
Preview the migration options and click on the Start Migration once you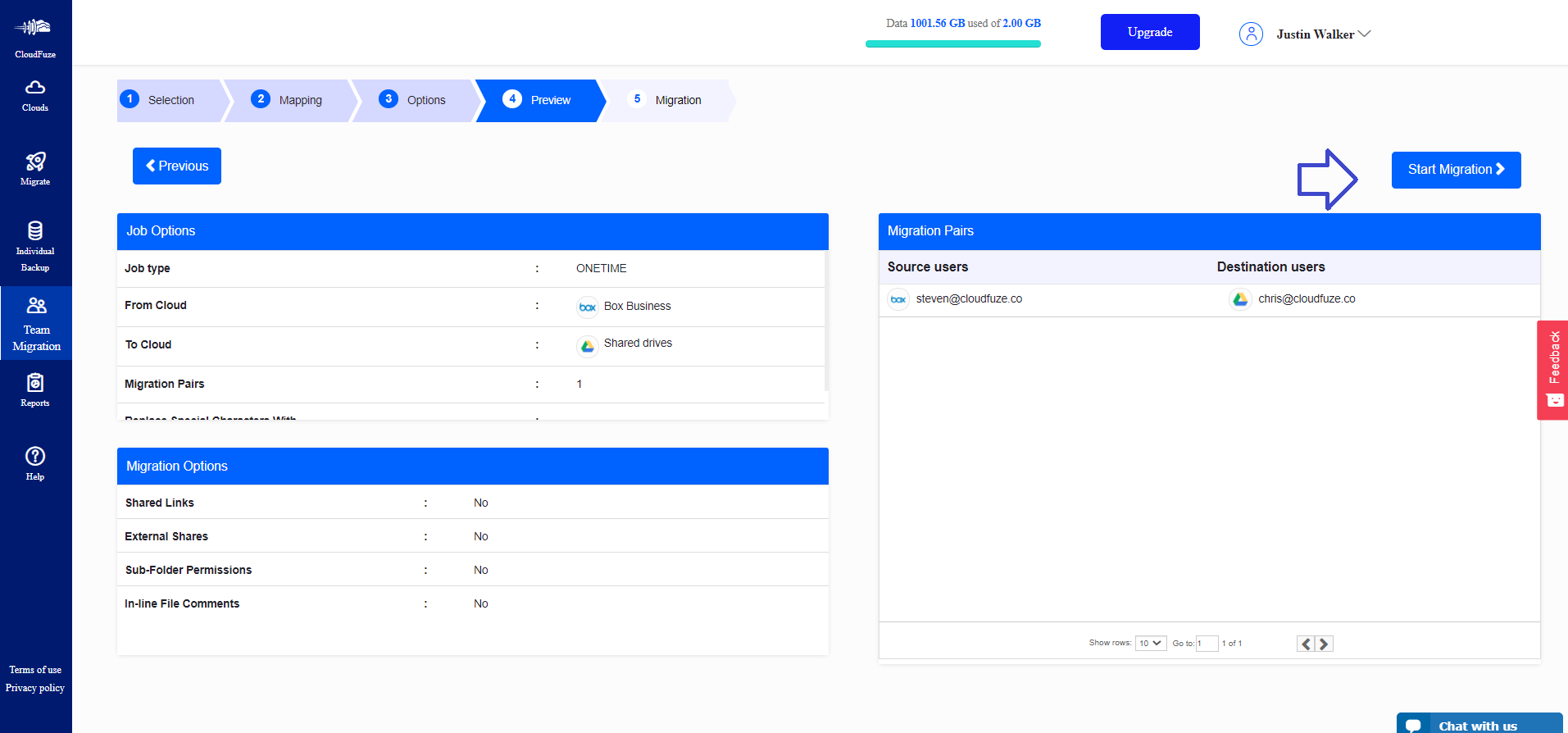 Step 15: Box to Google Shared Drives Migration Is in Progress
CloudFuze displays the status as In-Progress during the file migration process. In addition to this, you will also receive regular updates on the migration status in your email address.

Step 16: All the Data Has Been Migrated
Once the data has been migrated completed, the status will be changed to Processed.