Strategy To Migrate Content From Box to SharePoint During an M&A

Companies undergoing a merger or an acquisition that need to migrate content from Box to SharePoint must have a proper migration strategy. The strategy must address all the challenges, technical and non-technical, to ensure that the entire migration journey is smooth sailing.
This strategy guide includes a structured plan of action that can help companies of all sizes migrate content from Box to SharePoint strategically during a merger or acquisition.
1. Planning and Matching the Migration Timeline With the M&A Deadline
In most M&A cases, the company (merging with or acquired by another firm) must adhere to the timeline of the entire merger or acquisition undertaking. Therefore, it is critical to plan the Box to SharePoint migration (or Box to Microsoft 365 migration as a whole) timeline as per the M&A deadline.
The best practice to follow is segregating the migration into several batches and planning the migration timeline accordingly. Also include pre-migration analysis and delta migration stages in the migration timeline to measure the time-based progress of the migration project accurately.

Check out our migration timeline planner guide to get more clarity in migration timeline planning.
2. Transferring Permissions to Another Company's User Accounts
Mapping and migrating sharing permissions during a merger or an acquisition, in some cases, is not as simple as regular migration. For example, if your company is merging or being acquired by another firm, your IT team may need to map the permissions of certain users in Box to specific accounts in SharePoint Online of that firm.
The need for one company to share user permissions with another company as part of the alliance creates this type of permission mapping customization challenge.
With CloudFuze, you get the option to customize the mapping of sharing permissions from the source to the destination cloud.
Here is a screenshot of the Permission Mapping stage from the CloudFuze migration webapp: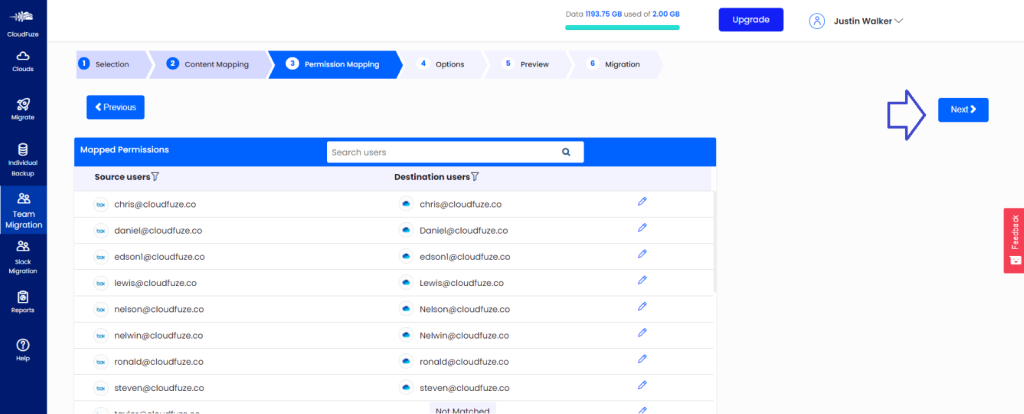 3. Mapping Users to the Acquiring Company's SharePoint Sites
Similar to customizing sharing permission migration, the company (being merged into or acquired by another firm) may need to map users and data to specific SharePoint Online Sites of the acquirer. Therefore, it is important to be highly specific in adding destination paths when mapping Box users to SharePoint Online in a CSV file.
Here is an example of mapping a user in Box to the path of a specific Site in SharePoint Online. It demonstrates the mapping of a user account in the source to a specific path of a Site in SharePoint Online.

4. Migrating Box Notes as Microsoft-Supported Documents in SharePoint
As part of migrating all content from Box to OneDrive and SharePoint for a complete M&A alliance, it is important to migrate Box-specific files, including Box Notes. However, since SharePoint Online (and Microsoft 365) does not support Box Notes, it is important to migrate and convert them into a supported format.
CloudFuze leads the cloud office migration market by offering accurate Box Notes migration. With the CloudFuze X-Change tool, you can migrate your company's Box Notes files as .DOCX files in SharePoint Online and OneDrive for Business.
Migrating crucial features, such as versions, timestamps, external shares, and shared links, is also critical to replicate the structure of the source cloud in the acquirer's destination environment.

5. Migrating Timestamps Strategically
What timestamps does the acquiring company prefer? It is crucial to plan upfront and choose the right timestamps to transfer. For example, the firm acquiring your company may choose to retain the originally modified timestamps to sort the files and folders accordingly.
CloudFuze supports the migration of originally modified timestamps as well as migrated timestamps. Check out our metadata migration guide to learn more.