Microsoft 365 Migration Timeline Planner for IT Admins

Migrating to Microsoft 365 within a strategic timeframe is crucial for many businesses. We have had past customers with the need to complete the migration on time for various business-focused reasons such as:
Lowering the number of source cloud users before annual plan renewal
Gaining cloud collaboration advantage over competitors quickly
Leaving the current source cloud altogether before the fiscal year-end
And for a successful on-time Office 365 migration completion, planning a proper timeline (like the one below) is necessary.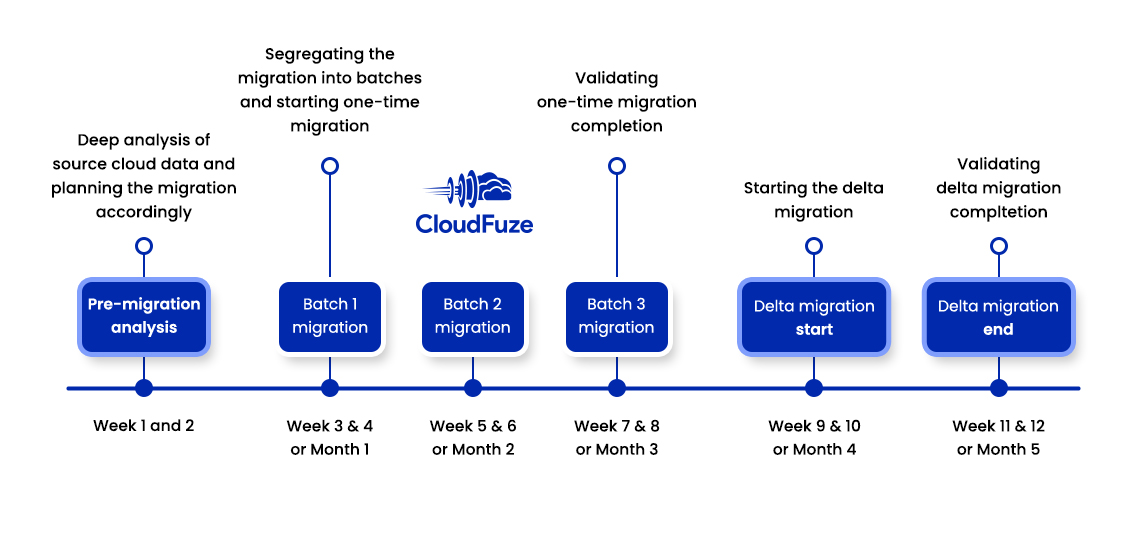 This guide focuses on helping IT admins plan a structured migration timeline.
Week 1 and 2: Pre-migration Analysis
Pre-migration tasks such as pre-migration analysis take at least a week, and therefore it is crucial to add them to the timeline and overall migration project roadmap.
We recommend choosing pre-migration analysis as the starting point of the migration timeline to set the right project completion expectations.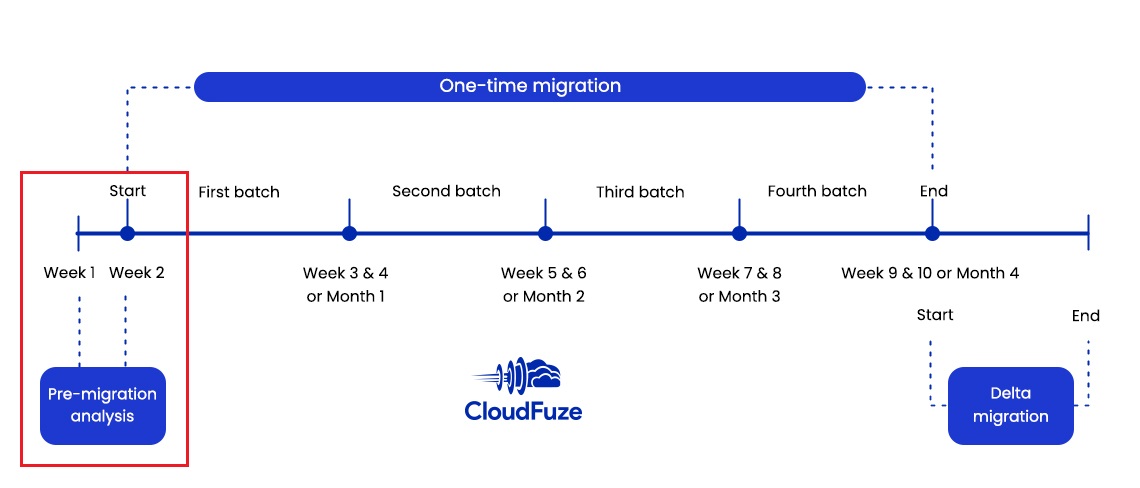 You may allocate more time for pre-migration analysis if your company's source cloud has an intricate data structure and complex migration requirements. For example, when migrating to Microsoft 365 from Box, analyzing Box-specific feature migration needs (e.g., migrating Box Notes) can add to the pre-migration analysis stage's overall time.
Week 3 and 4: Migration Plan Finalization and Initiation
Your company/IT team may already have a migration plan, but it is crucial to work with the migration partner to structure the plan further and finalize it.
We recommend setting up a two-week window for these tasks:
Analyzing the business impact of the migration plan
Segregating the migration in batches if many users are to be migrated
Working with the migration partner to set up dedicated instances
Deploying the Microsoft 365 migration tool for on-prem migration environment
Preparing SharePoint Online sites
Approving the migration partner to perform final checks and start the migration
Week 5, 6, 7, and 8: Running and Monitoring Batch-wise Migration
Depending on the size of the data and the overall number of users to be migrated to Microsoft 365, each migration batch may take a couple of weeks or even a month to complete. So, factor in the number of migration batches allocated for the migration project and the time window each batch takes.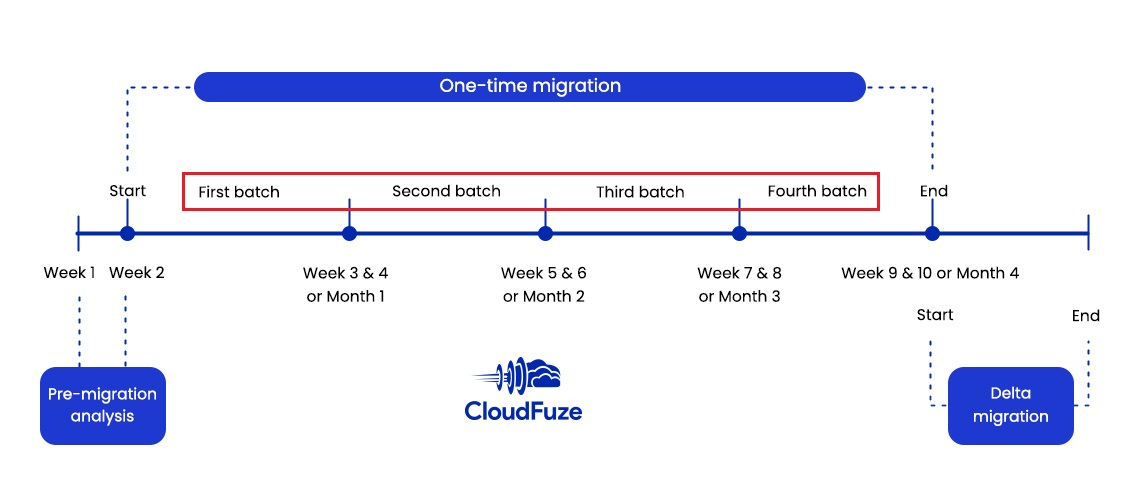 We also recommend allocating time for going through each migration report. Doing this helps your IT team rationalize migrated data efficiently.
Example of a migration report: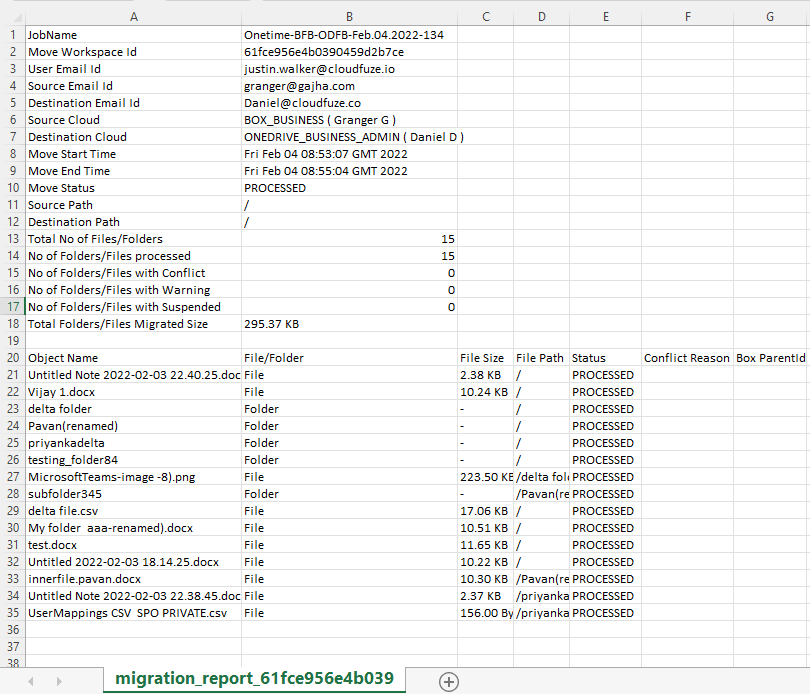 Week 9 and 10: Validating One-time Migration and Starting Delta Migration
After all the batches are migrated to Microsoft 365, it is crucial to take a week or two to validate the entire one-time migration. These one-time migration validation tasks make it a must for even small/medium-sized migration projects to allocate at least a week's time:
Using migration completion reports to check if all users and their data are migrated
Checking if all permissions are intact
Checking if the folder structure is maintained or restructured as planned
Checking if source cloud-specific features (e.g., Dropbox Paper) are migrated
Checking if other selected features such as timestamps, version history, comments, internal and external shares, and selective versions are migrated.
Week 11 and 12: Validating Delta Migration and Wrapping up the Migration Project
In most cases, delta migration validation is not as extensive as one-time migration validation when migrating to Office 365. Therefore, one week is a good time window for validating the entire delta migration upon its completion.
However, we also recommend allocating at least one week of time to wrap up the entire migration project, which may involve:
Archiving a portion of the source cloud data
Performing clean up at the source cloud
Decommissioning source cloud and on-prem migration environment
Planning the scope of the migration partner's post-migration support