6 Reasons Why CloudFuze Is One of the Best BitTitan Alternatives

Among several other BitTitan alternatives, CloudFuze stands out in the market by enabling businesses to migrate from source to destination clouds comprehensively. By offering tailored solutions, CloudFuze caters to even the most specific migration needs of businesses worldwide.
In this post, learn how CloudFuze offers the best value for businesses by covering all aspects of migration.
1. Support for All Leading Clouds
CloudFuze supports 40+ leading clouds, including market-leading cloud suites and drives such as Google Workspace, Microsoft 365, Dropbox, Box, Amazon S3, Azure, Wasabi, Egnyte, Citrix ShareFile, Slack, etc.
The broad cloud combination support enables CloudFuze to cater to all types of cloud suite and drive migration combinations.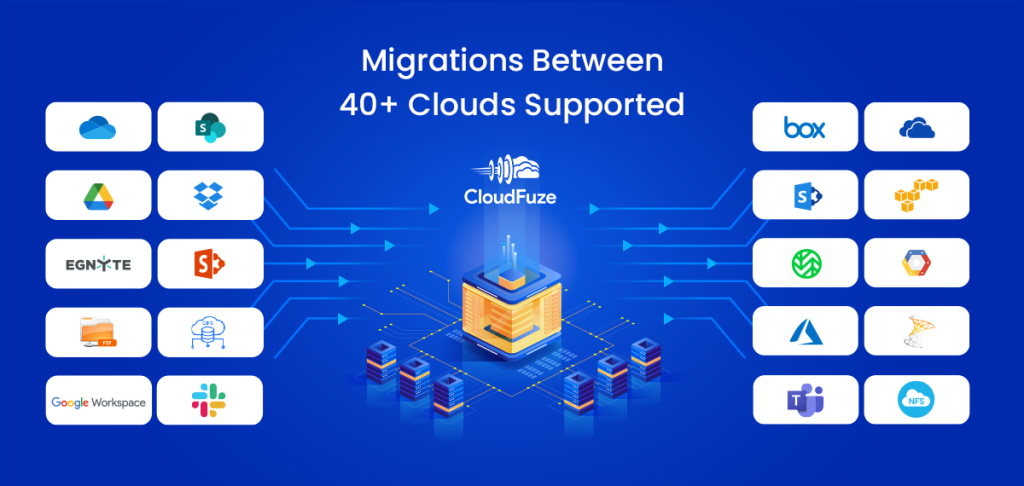 With extensive support for all leading clouds, CloudFuze caters to businesses with all types of migration combination requirements, such as Dropbox to OneDrive migration.
2. Box Notes, Dropbox Paper, and Embedded Links Migration
Similar to BitTitan MigrationWiz and other BitTitan alternatives in the market, CloudFuze migrates sharing permissions, metadata, and versions along with the files and folders. These migration functionalities help businesses avoid end-user disruption in the destination cloud. Also, CloudFuze supports the migration of Box Notes, Dropbox Paper, and embedded links with accurate conversions.
Other capabilities, such as selective versions migration and multiple delta migrations, enable CloudFuze X-Change tool to meet businesses' extensive migration needs.
3. Complete Migration Handholding for Businesses
CloudFuze ensures complete handholding of the migration project for businesses of all sizes and industries with the managed migration service. Here are the core differences between CloudFuze's managed migration service and regular migration service:
| Capability | Managed Migration | Regular Migration |
| --- | --- | --- |
| Platform Availability | Yes | Yes |
| 24/7 Enterprise-Grade Technical Support | Yes | Yes |
| Dedicated Migration Manager and Team | Yes | No |
| Pre-Migration Analysis | Yes | No |
| Project Planning Assistance | Yes | No |
| Project Management with IT Teams | Yes | No |
| Daily Reporting and Status Updates | Yes | No |
| Migration Validation | Yes | No |
| Migration Best Practices Guidance | Yes | No |
| Post-Migration Support | Yes | No |
| Source Cloud Decommissioning Support | Yes | No |
4. No Fixed Pricing Model
CloudFuze offers customized price quotes to businesses of all sizes by tailoring pricing based on several key variables, including:
The number of user accounts to migrate
The total size of the data to migrate
The type and number of features to migrate
The number of delta migrations required
The type of migration tool customizations required
5. Full-scale Tool Customization
CloudFuze offers complete migration tool customizability. Businesses with highly specific migration needs and no budget constraints can request different types of customizations, such as altering the tools' existing functionalities or adding new functionalities altogether.
6. Post-migration and Data Reconciliation Support
As part of offering a completely managed migration service, CloudFuze offers extensive support during the post-migration phase.
CloudFuze also offers data migration reconciliation support to help businesses resolve errors and mismatches that occur during the migration.