Is your company planning to migrate from Dropbox to OneDrive? CloudFuze offers an easy and quick Dropbox to OneDrive migration that not only transfers files but also sharing permissions and Dropbox-specific features. 
In this article, we will preview how CloudFuze's Dropbox to OneDrive migration tool works.
Note: This article discusses Dropbox to Microsoft 365 (OneDrive for Business migration). If you are a consumer user of Dropbox planning to migrate content to a consumer OneDrive account, please refer to this article. 
If you are an IT admin exploring ways to migrate Dropbox to OneDrive, continue reading this article. Alternatively, you can contact our migration team for a trial account, personalized demo, or price quote. 
CloudFuze's Dropbox to OneDrive Migration Features:
One-time & delta (incremental) migration

Dropbox version history migration with selective versions

Root file, root folder, and subfolder permissions migration

Dropbox shared links and external shares migration

Perseverance of file timestamps

Dropbox to OneDrive Migration Steps
The following steps show how to transfer files from Dropbox to OneDrive using CloudFuze's cloud data migration platform.
Step 1: Create a CloudFuze Account
You need a CloudFuze account to transfer files from Dropbox to Google Drive. Request a free trial account and access CloudFuze migration dashboard. 
CloudFuze offers a limited free trial account for IT admins to let them test the platform and its features.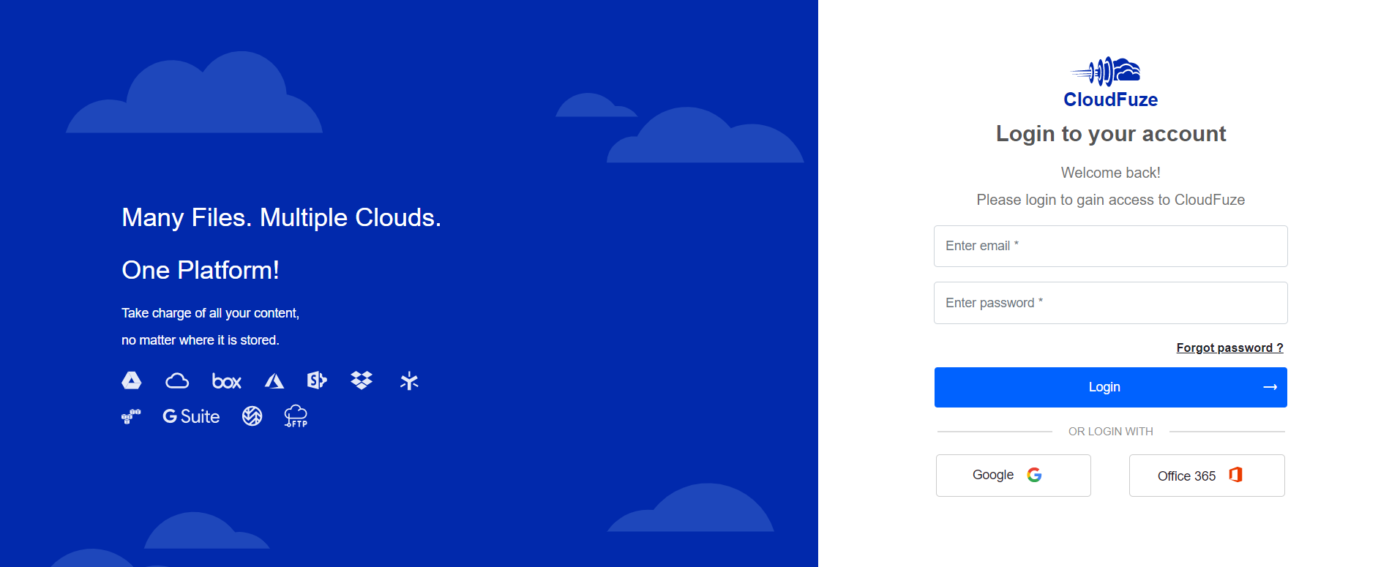 Step 2: Add Dropbox Account to CloudFuze 
CloudFuze requires both Dropbox and OneDrive (Microsoft 365) accounts of your companies added and authorized to facilitate migration. 
Click on the Dropbox logo in the business clouds list. Then, a popup appears where you need to enter the Dropbox admin credentials. 
Note: Only admin accounts have the required permissions to migrate from Dropbox to OneDrive. 

Step 3: Enter Dropbox Admin Login Credentials
Enter the Dropbox admin login credentials and click on the Sign-in button.

Step 4: Add OneDrive for Business Account
Now, add your company's OneDrive for a Business account to CloudFuze. Note that OneDrive doesn't have separate login information. You need to use your company's Microsoft 365 admin login details.

Step 5: Enter the Microsoft 365 Login Credentials
Enter the login credentials and click on the Next button.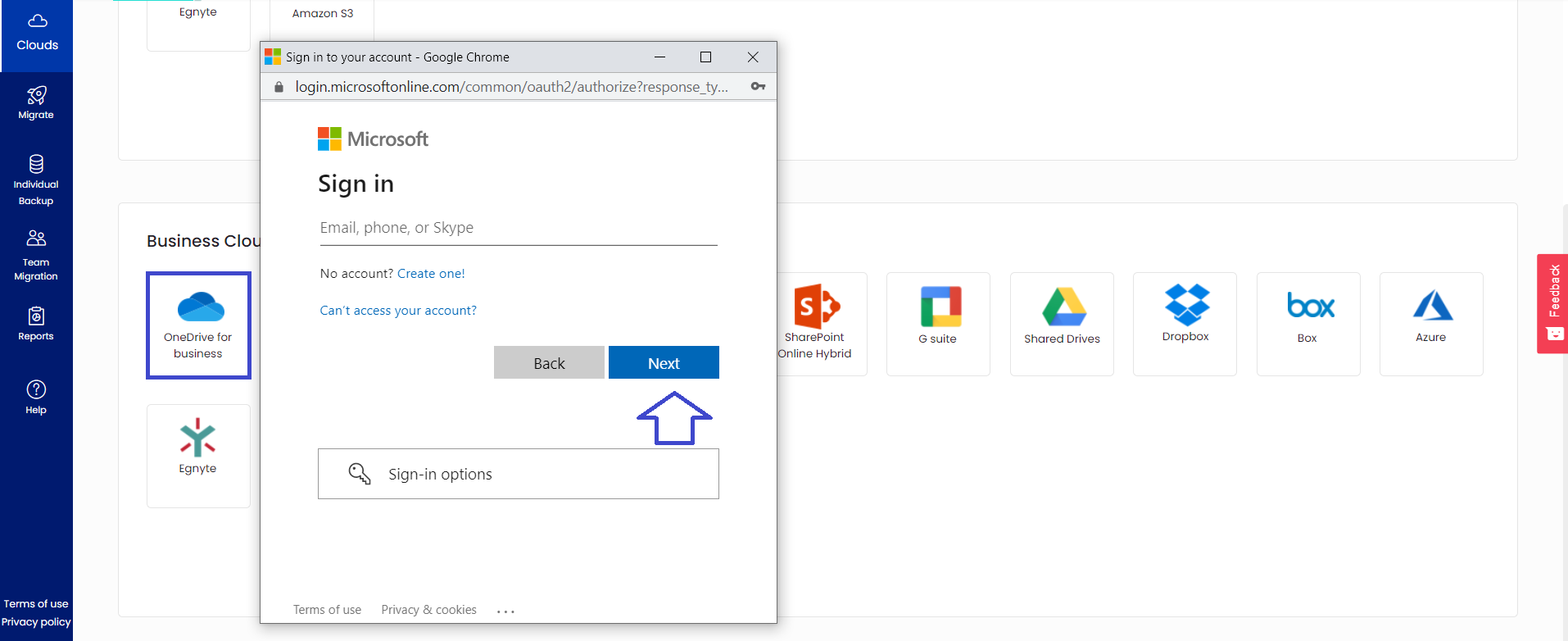 Step 6: Authorize Microsoft 365 and Grant Permissions
Click on the Accept button to complete the Authorization process. Please note that CloudFuze requires this access to map and migrate data from Dropbox to OneDrive. The authentication happens via OAuth protocol and the entire migration is carried out via API calls.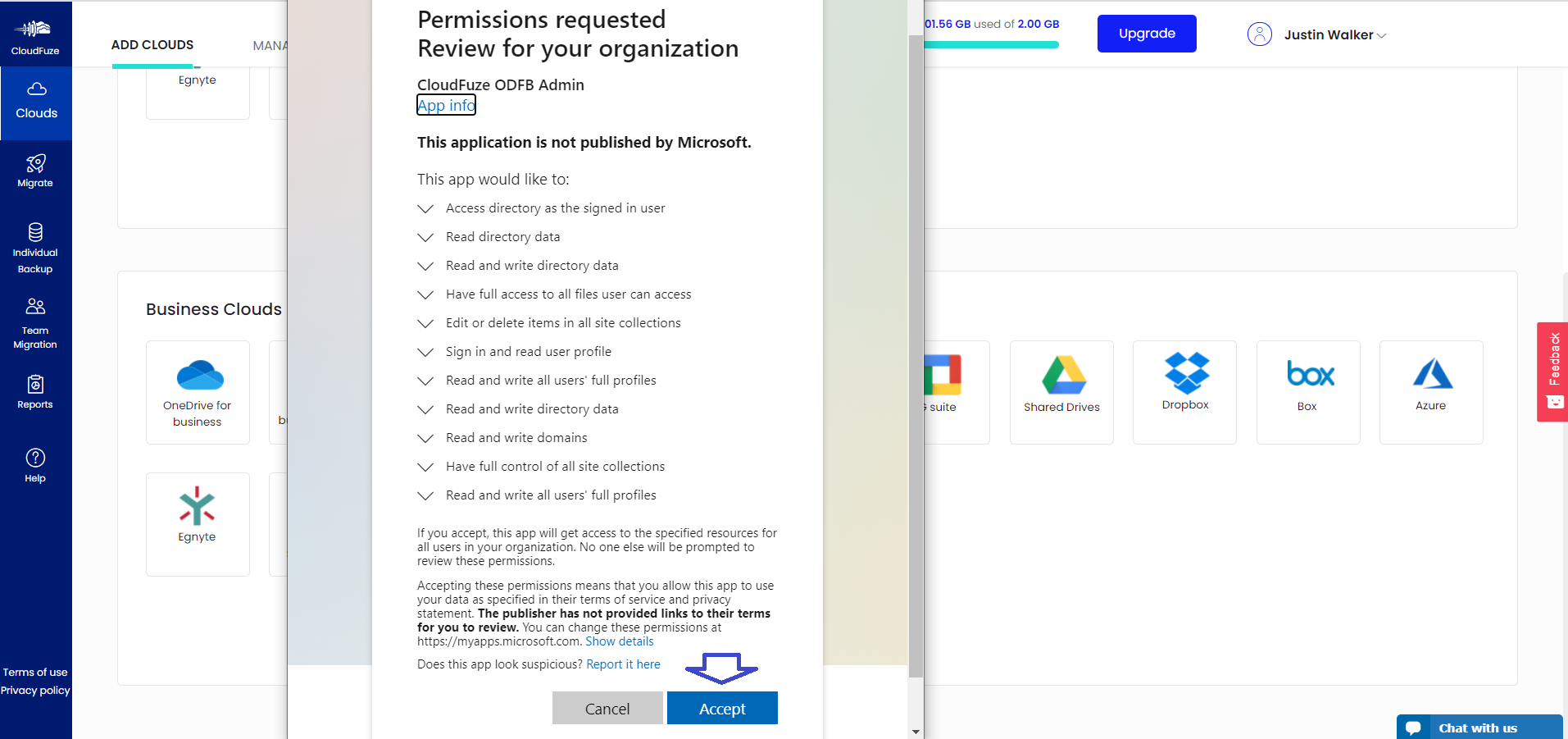 Step 7: Check the Added Clouds
Head to the Manage Clouds section and see if you can find both Dropbox and OneDrive for Business accounts added. If added, the next step is Dropbox to OneDrive file migration. 
If you find a cloud missing, it means the cloud authorization process failed. You need to re-do the cloud addition process until it appears under the Manage Clouds tab.

Step 8: Click on the Team Migration
Click on the Team Migration icon on the left. This will initiate the Dropbox to OneDrive migration. Please keep in mind that you need to configure a few options to start the actual Dropbox to OneDrive file transfer.
Step 9: Select Source and Destination Cloud Accounts
To transfer files from Dropbox to OneDrive, you need to select Dropbox as the source cloud account and OneDrive for Business as the destination cloud account.

Step 10: Map Users for Migration
Click on the Auto-map button to map users in the Dropbox and OneDrive account based on their usernames.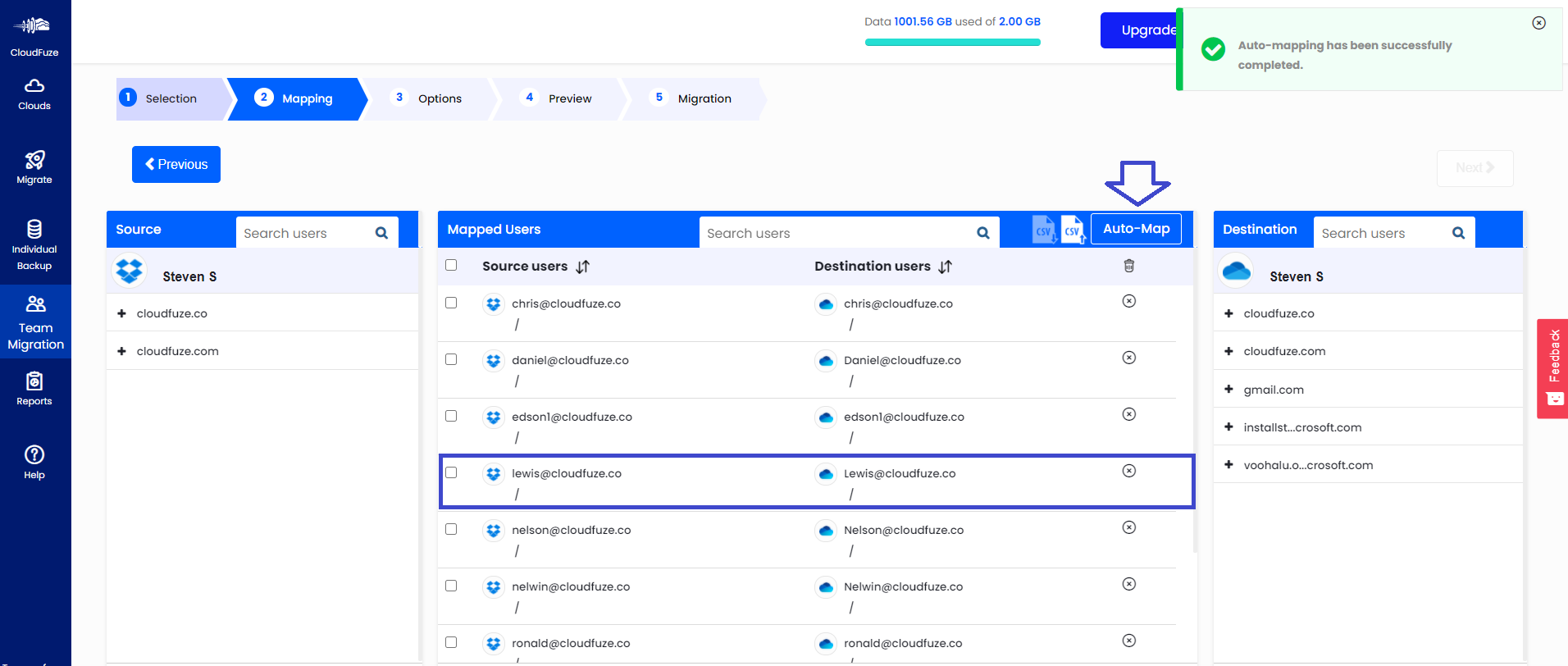 Step 11:  Select Dropbox Users to Migrate
CloudFuze offers two ways of pairing Dropbox and OneDrive users and preparing them for migration. One is Auto-map and the other is CSV migration. Auto-map, as the name suggests, pairs users in source and destination accounts based on their username/email alias. 
This feature saves a lot of time for IT admins as it can sync thousands of users in a matter of few seconds. 
On the downside, usernames must match exactly. Besides, it doesn't allow customized user data migrations. 
Step 12:  Dropbox to OneDrive Migration via CSV
CSV method allows IT admins to copy files from Dropbox to OneDrive between users of their preference. IT admins can migrate the content user 'A' to user 'B' or any other such combinations based on their business needs. 
The CSV method offers the flexibility that Auto-map lacks.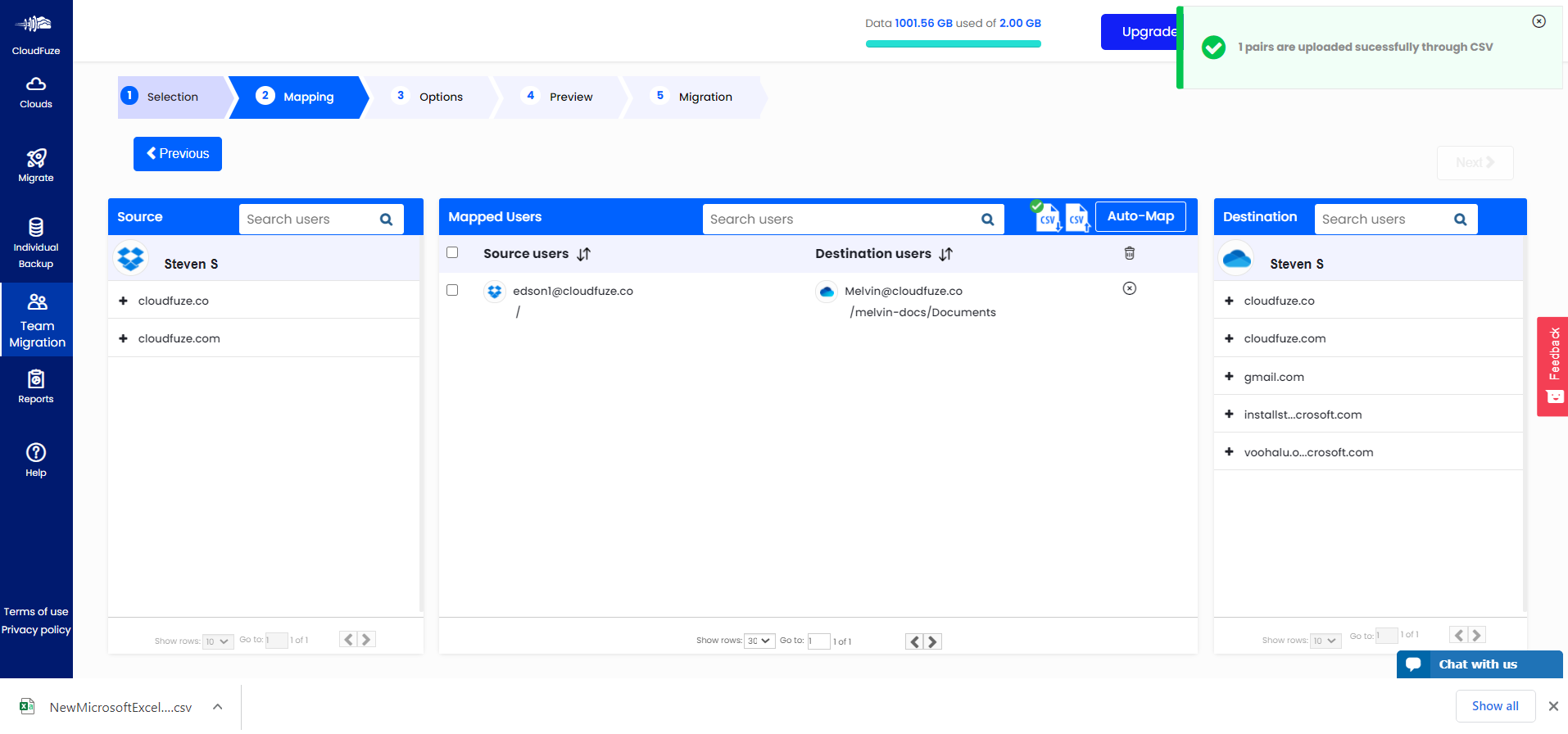 Step 13: Select Users and Proceed With Migration
As a part of the demo, a single user has been selected whose data will be migrated from Dropbox to OneDrive.

Step 14: Configure a Final Few Migration Options
CloudFuze offers a bunch of options that IT admins can choose such as migration job name, migration job type, additional notifications, etc.
Choose all you need and then click on the Next button.

Step 15:  Start the Dropbox to OneDrive Migration
Preview the migration and click on the Start Migration button if everything looks good. 
The system will then move files from Dropbox to OneDrive.
Step 16: Files Are Being Copied
CloudFuze dashboard displays the status of the migration as In-Progress while Dropbox files are being migrated over to OneDrive.

Step 17: Dropbox to OneDrive File Transfer Is Completed
Once all the files in the Dropbox account are migrated to OneDrive, CloudFuze displays the status as Processed. 
You now can log into your OneDrive for Business account and audit the content for migration accuracy. Besides, CloudFuze generates a migration report with details of each and every file or folder that is migrated.

Dropbox to OneDrive Migration Frequently Asked Questions
1. How much data can CloudFuze transfer?
CloudFuze can transfer an unlimited size of data and an unlimited number of users from Dropbox to OneDrive. We helped several enterprises and universities with thousands of users and petabytes of data.
2. What is the speed of migration?
The throughput of migration depends upon several factors such as the size of data, no. of files, the average size of files. Roughly, CloudFuze transfers a few TBs per week. Please contact our migration team for a more accurate migration timeline. 
3. Is CloudFuze Secure?
CloudFuze is highly secure. CloudFuze is one of the world's leading Dropbox to OneDrive migration engines. Read more about CloudFuze's security. Several large enterprises including government agencies have been using CloudFuze for their data migration needs.
4. Where are CloudFuze's data centers located?
CloudFuze data centers are located in the United States. CloudFuze is headquartered in Raleigh, North Carolina.
5. How Much Does CloudFuze's Dropbox to OneDrive migration tool costs?
The price is based on the number of users and the size of the data. Please contact our migration team for a price quote.