What Is a Managed Cloud Office Migration
CloudFuze offers managed cloud office migration services for enterprises and large companies. Our enterprise migration team works closely with not only the IT team of an organization but also their end-users. The team reviews and analyses how content is uploaded, stored, and shared in the Box account. We then create a migration plan that aims to achieve the company's project goals, objectives, and timelines. Our migration experts follow the mutually agreed migration roadmap and execute the plan, offering total peace of mind.
Managed migration, as the name suggests, delivers a complete migration solution to enterprises with the help of CloudFuze migration platform and project management on top of it.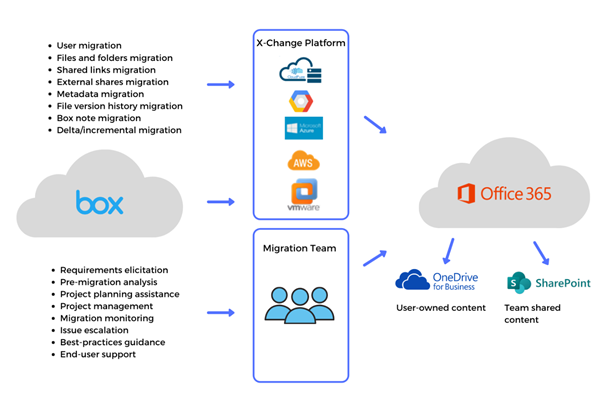 The following table shows the difference between a managed migration and self-managed migration.
| Capability | Managed Migration | Regular Migration |
| --- | --- | --- |
| Platform Availability | Yes | Yes |
| Technical Support | Enterprise-Grade Support | Yes |
| Dedicated Migration Manager and Team | Yes | No |
| Pre- Migration Analysis | Yes | No |
| Project Planning Assistance | Yes | No |
| Project Management with IT Teams | Yes | No |
| Migration Monitoring and Issue Escalation | Yes | No |
| Daily Reporting and Status Updates | Yes | No |
| Migration Best Practices Guidance | Yes | No |
| End-User Coordination and Support | Yes | No |