What Businesses Must Know When Migrating From Google Drive to OneDrive

As an IT admin or a decision-maker in your company, you may be learning a lot while planning to migrate from Google Drive to OneDrive. To help you further, we recommend going through these pointers that cover the core of business cloud migration.
Check out our Google Drive to OneDrive migration guide for the migration steps
1. It's Best To Migrate All the Metadata and Features
Metadata and interior features such as folder and file permissions, timestamps, embedded links, version history, and comments play a crucial role in maintaining workflow.
When migrating from Google Drive to OneDrive, it's best to migrate all the data features to make sure you replicate the workflow of Google Drive in OneDrive.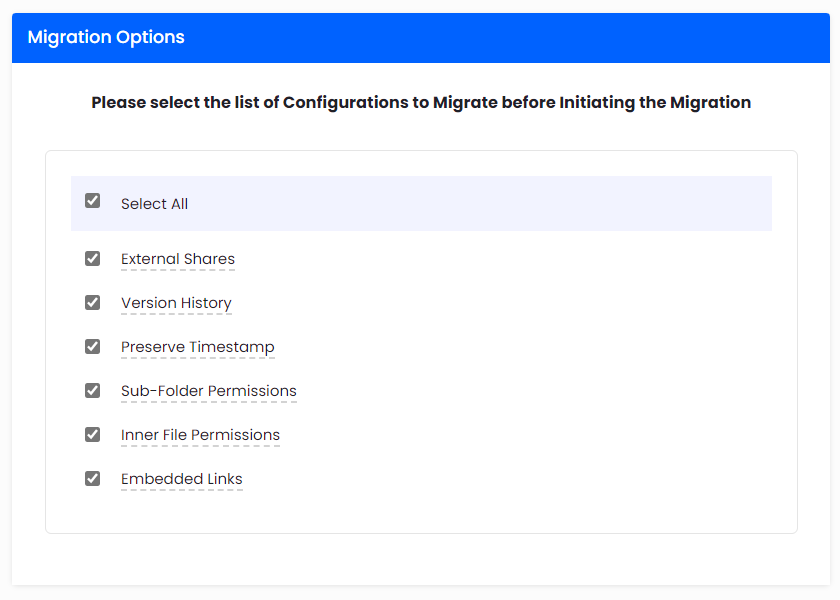 2. Segmenting the Migration Is a Great Way to Go
When planning to transfer Google Drive to OneDrive, it's a good step to segment the migration in batches or stages, especially if your company has terabytes/petabytes of data to migrate.
Segmenting the migration will help ease the monitoring process and lower the risk of API throttling. As one of the full-stack cloud migration companies, CloudFuze fully supports batch migration for this type of requirement.
Learn more from our migration team.
3. Migration Does Not Interrupt End-users' Experience
Disrupting end-users' (employees) experience is one of the major areas of concern for many IT managers and decision-makers. And to avoid setting the alarm bells ringing can be an important focus area.
With a business cloud migration tool like CloudFuze that uses API calls to migrate data from the source to the destination cloud, end-users' experience isn't interrupted in any way.
4. The Only Factor That Limits Migration Speed Is API Throttling
Even if you have dozens of terabytes/petabytes of company data to migrate from Google Drive to OneDrive, enterprise migration program like CloudFuze can help you speed up the migration project by moving several TBs of data per day.
However, the one factor that often limits migration speed and is out of the control of migration service providers is API throttling.
CloudFuze has a re-try mechanism that automatically initiates migration after the API throttling wait time is over.
5. Site Mapping Is Important When Migrating to SharePoint Online
Unlike migrations into OneDrive, automatic user account mapping does not work when migrating to SharePoint Online.
It's crucial to manually map user accounts and data to relevant SharePoint Online Sites via CSV files.

6. Cloud-based Migration Does Not Require Your IT Infrastructure
When migrating from Google Drive to OneDrive on the cloud, your company does not necessarily have to allocate its IT infrastructure. The entire migration will flow through the SaaS server and have no dependency on your company's IT resources.
With CloudFuze, you can choose to perform the migration on a private server or a specific server type.
7. You Can Migrate Locally To Isolate Company Data From Shared Networks
If your company's Google Drive includes highly sensitive data, it's best to perform the migration locally to prevent company data from going out into shared networks.
But not all business cloud migration tools have this capability, especially free tools.
You can use CloudFuze as a standalone program and run it into your company's data center to perform the migration locally.
8. Folder Structure and User Roles Are Preserved
Regardless of the number of root and subfolders present in Google Drive, IT managers do not have to go through the hassle of arranging folder structure to what it was in Google Drive.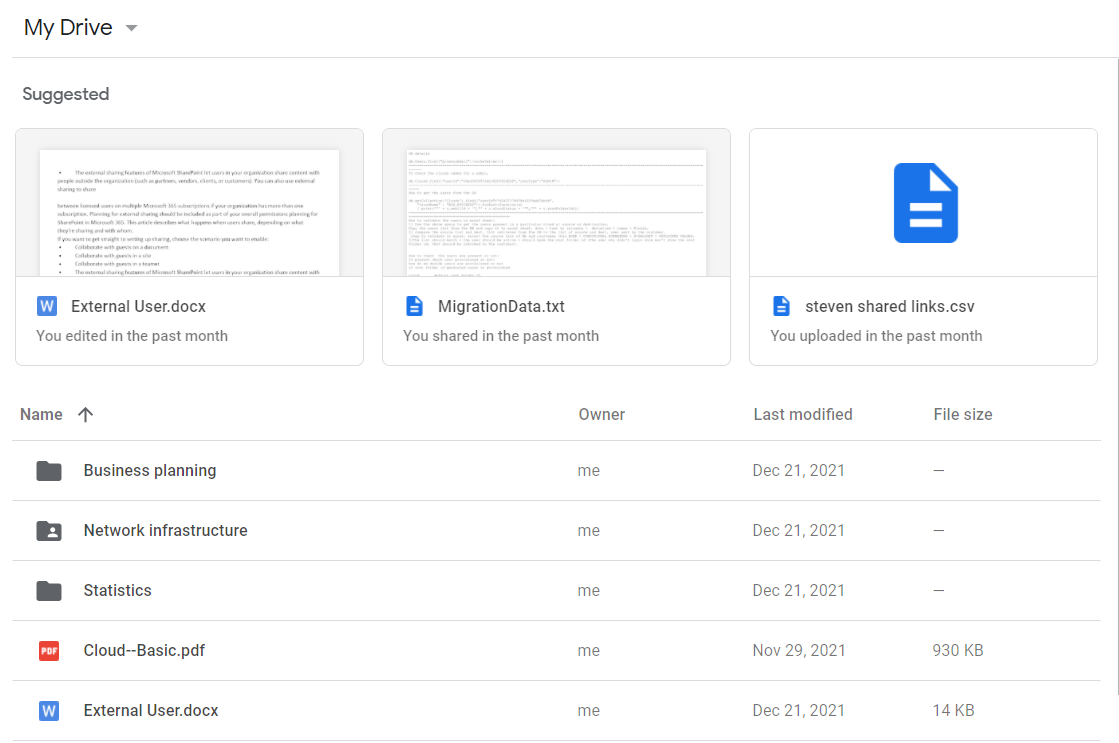 Similarly, API-based migration also preserves user roles/permissions.
| Google Drive | OneDrive for Business |
| --- | --- |
| Editor | Can Edit |
| Commenter | Can View |
| Viewer | Can View |
9. Factor in the Time Required for Onboarding, Planning, Execution, and Validation
When estimating the migration project's time, it's important to factor in several business processes, including onboarding, planning, execution, and validation. These processes take up a significant amount of time.
Also, you cannot go wrong in optimizing these internal processes to shorten the overall time needed to migrate from Google Drive to OneDrive for Business.
10. Provisioning OneDrive Accounts Is Important
One minor but important area many businesses often overlook is provisioning OneDrive accounts. It's essential to make sure that employees in your company log into their new OneDrive account at least one to activate it.