How to Migrate to Google Workspace Without Losing Productivity
Migrating to Google Workspace can be daunting, expensive, and time-consuming. It is, however, the best solution for enterprises with a need for effective employee collaboration.
Are you planning to migrate from Dropbox, Box, Egnyte, and Citrix ShareFile to Google Workspace? So, how do you ensure that your Google Workspace Migration is productive? And what are the best practices for a successful Google Drive migration?
This article discusses the best practices that you should consider for a productive and successful Google Workspace migration.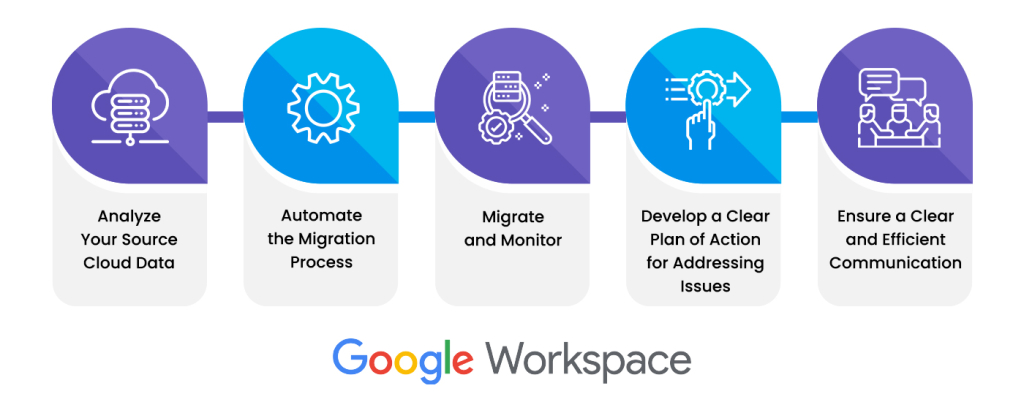 1. Analyze Your Source Cloud Data
Analyzing your source cloud data is crucial to a successful, cost-effective, and efficient migration. It allows you to discover potential risks that you should plan for ahead of time and can help you avoid problems that may develop during the data migration process.
So, before you start migrating data to Google Workspace, you must first understand the current state of your data. Determine the type of data being migrated, its present format, where it is, and where it should get migrated into, i.e., My Drive or Shared Drives.
Our migration experts analyze your source cloud data and develop the unique migration strategy that suits your business needs. Speak with our migration consultants and get a customized approach for your Google Workspace migration!
2. Automate the Migration Process
Automating the data migration process improves productivity and efficiency. It can free up time and resources that you could better spend on other tasks. Furthermore, automated operations are frequently more exact and consistent than manual tasks, which can improve the quality of your data migration. It also decreases the possibility of human errors disrupting business operations.
From mapping the users to migrating the data to Google Workspace, CloudFuze automates the migration process that streamlines the process, eliminates manual work, and improves data transfer speed resulting in productivity.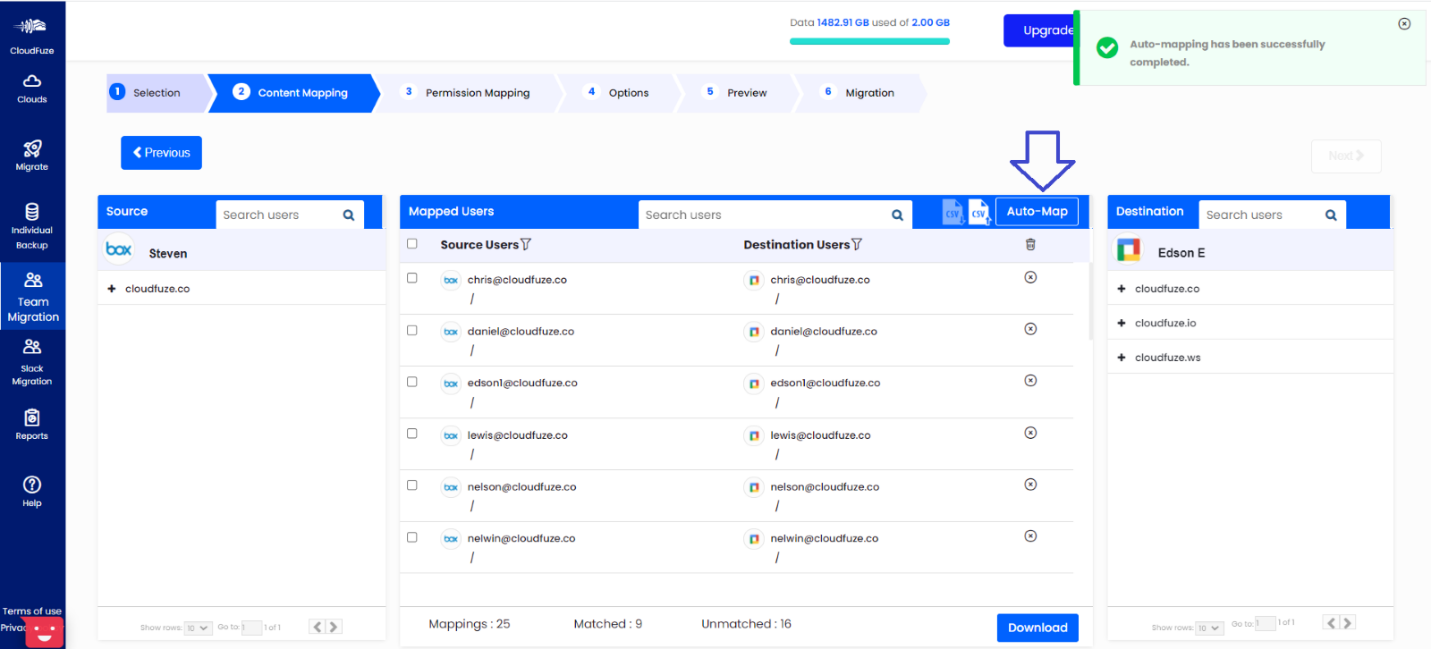 3. Migrate and Monitor
Monitoring the migration project is crucial for any business to improve its productivity. Monitoring can help you identify challenges and issues to take the necessary steps. So, ensure you keep a close eye on reports as you proceed with your migration, paying special attention to any issues that may arise.
Monitoring is often a manual process; however, choosing the right migration service monitors your migration project continuously, saving and reducing your IT Team's time and efforts. Therefore, choose a migration partner with years of experience managing large-scale migrations whom you trust as an extension of your IT department.
CloudFuze assigns a dedicated migration team for each migration project which regularly monitors and sends updates on the migration progress to the client in real-time.
4. Develop a Clear Plan of Action for Addressing Issues
It is inevitable that data migrations will encounter challenges, regardless of how well you planned the migration. Even small issues can have a significant impact on the entire migration. So, it is better to discover the actual problem instead of responding immediately with a guess that could prove wrong.
A migration team with technical knowledge and problem-solving skills can help you address the issues wisely without any data loss. As a result, choose a migration service that can identify the problem and create a plan of action with appropriate solutions before implementing a strategy.
CloudFuze, as a Google Migration Partner, has proven experience in dealing with unexpected issues efficiently during Google Workspace migration.
5. Ensure a Clear and Efficient Communication
Clear communication is essential for any migration project to ensure productivity. Before partnering with any migration service, clearly communicate your business migration needs to the service provider.
Furthermore, you should guarantee that all staff engaged in the migration communicate clearly and efficiently, including decision-makers, IT specialists, and security managers. It is important to discuss needs and goals with all parties involved to create an effective migration strategy. Businesses can thus improve productivity and avoid disruptions, data loss, and other potential risks.
Ready to Start Migrating to Google Workspace?
Transferring data to Google Workspace is challenging but comes with certain benefits. With the right migration partner, you can avoid potential pitfalls, minimize user disruption, and maximize business benefits.
CloudFuze is an ideal partner for any business to migrate to Google Workspace. Our team of experts can assist you through the migration process to reach your goals. Contact us today to see how we help to plan and run a seamless migration to Google Workspace from any source cloud.