Google has been attracting users from other cloud services including Dropbox. If you are among the companies that are planning to transfer files from Dropbox to Google WorkSpace, continue reading to see how CloudFuze helps speed up and automate the migration.
1. Introduction
For organizations of all sizes, cloud storage services are becoming increasingly popular. As all the data is stored online, business owners and employees can access it anytime and from any location with a good internet connection. Fortune Business Insights says, "The cloud storage market is projected to grow from $76.43 billion in 2021 to $390.33 billion in 2028 at a CAGR of 26.2% during the forecast period".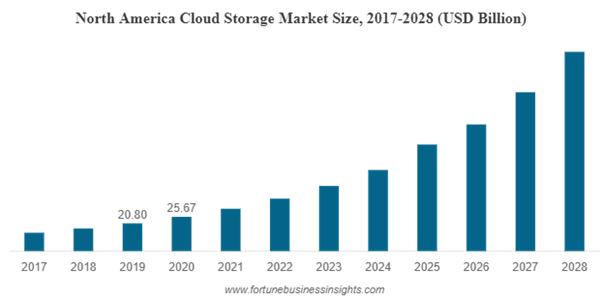 Source: Fortune Business Insights
When it comes to cloud storage services, Google Drive, Dropbox, and Box have always been at the top of the list. Though the platforms have capabilities that make file management and organization effectiveness, they differ.  
Among all other cloud storage, Google Workspace (formerly G Suite) has become one of the leading cloud office suites globally, competing heavily with Dropbox, Box, etc. Since its inception, Google has added many features to make the collaboration suite exciting. Google has been attracting users from other cloud services, including Dropbox.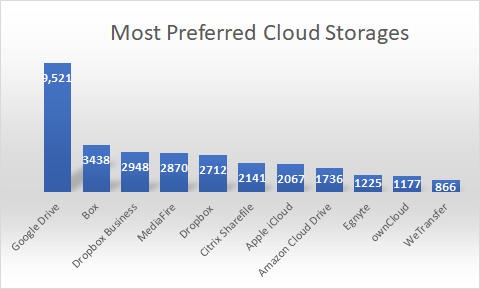 Source: TrustRadius
Suppose you are among the companies planning to Copy  Dropbox files to Google Workspace. In that case, you'll need a solution to move all your files as quickly and as easily as possible. Continue reading to see how CloudFuze helps to speed up and automate the migration.
2. Dropbox to Google Workspace Migration for It Admins
The major challenge to migrate data from Dropbox to Google Workspace for an IT Admin/Manager is migrating all the files preserving version history, comments, timestamps, and permissions. 
IT Admins can move all files from Dropbox to Google Workspace simply without having any tensions in losing their business files, folders, permissions, versions, comments, etc., with CloudFuze behind their back.
To help you, we've prepared this guide on defining, planning, and managing the migration process. We strongly suggest reading this guide completely to understand the migration prerequisites and process thoroughly.
3. The Importance of a Dropbox to Google Workspace Migration Tool
Although manual data migration is a simple one-time solution for small sets of files, you should use a cloud-to-cloud migration management service if you wish to copy files from Dropbox to Google Workspace along with the version history, comments, timestamps, and permissions of each file between multiple users.
Keeping data secure and accurate is of utmost importance for any migration project. The time-consuming process of migrating from Dropbox to Google Workspace is made easier using a data migration tool. Using a data migration tool will save your company time, labor, and costly failures.
Data migration tools aren't all built the same way. A third-party migration tool like CloudFuze does everything without having any access to view or store your data.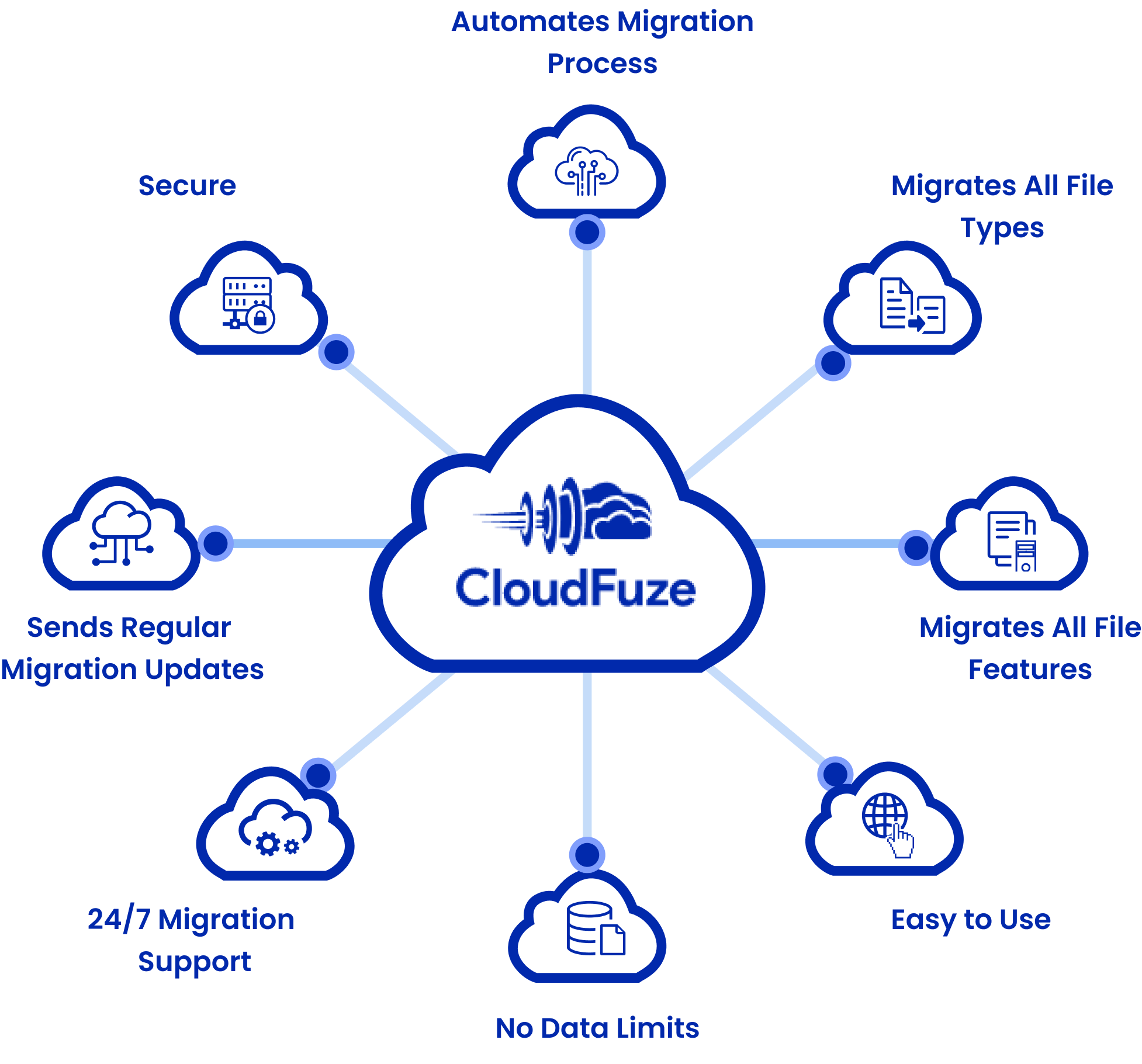 Fig: Benefits of Using CloudFuze for Data Migration
CloudFuze understands the client migration requirements firstly, analyzes the complexities involved in the data structure that needs to be migrated, and takes action accordingly. You will have the option to transfer files of specific employees, move data to a different email account in the destination, select root folder or specific folder, etc. Moreover, if the client needs any customization in migrating the data, our expert engineering team will always be ready to do it.
Get in touch with our expert migration team for any customized options/features of your Google Workspace migration.
4. How Does CloudFuze Migrate Data from Dropbox to Google Workspace?
Before initiating Dropbox to Google Workspace file transfer, CloudFuze evaluates:
The number of users to be migrated
The number of folders to be migrated
The number of files to be migrated
Size of the data to be migrated
Understand the data structure to be migrated
On analyzing all the details, CloudFuze gives quotations with pricing and clear timelines to the client for a particular migration project. The migration pricing and time depend on the total size
of the data. As demonstrated in the video below, you can know the total number of existing users and data size from your Dropbox admin account.
All the other essential information related to the files, such as permissions, versions, timestamps, and many more, are migrated. Besides, CloudFuze also supports Delta migration, where the modified files are migrated since the last migration that was executed.
CloudFuze is a Google Technology Partner and has years of experience migrating data to Google Workspace from any cloud storage such as Dropbox, Box, Egnyte, etc. Our team of experts is always available to clear your queries on how to transfer files from Dropbox to Google Workspace.
Contact our migration professionals with years of experience in performing Google Workspace data migration and get assistance based on your migration preferences.
5. Cloudfuze Dropbox to Google Workspace Migration Platform Highlights
Many third-party services are available in the market to opt for your business cloud storage migration. But each third-party tool differs from the other in the features they offer. Let us look at the key features of CloudFuze's Dropbox to Google Workspace migration tool.
Code for adding tables:
| Features | Available |
| --- | --- |
| One-time migration | Yes |
| Delta migration | Yes |
| Root folder Permissions migration | Yes |
| Root file Permissions migration | Yes |
| Sub-folder permissions migration | Yes |
| External Shares migration | Yes |
| Shared Links migration | Yes |
| Version history migration | Yes |
| Selective versions migration | Yes |
| Metadata migration | Yes |
| In-line comment migration | Yes |
| Long-file name conversion | Yes |
| Special characters conversion | Yes |
6. How to Migrate from Dropbox to Google Workspace
Below are the steps to move Dropbox data to Google Workspace easily.
Step 1: Sign in to CloudFuze
Go to webapp.cloudfuze.com and enter your login credentials. If you don't have an account already, you can create one using your email, Google account, or Office 365 account.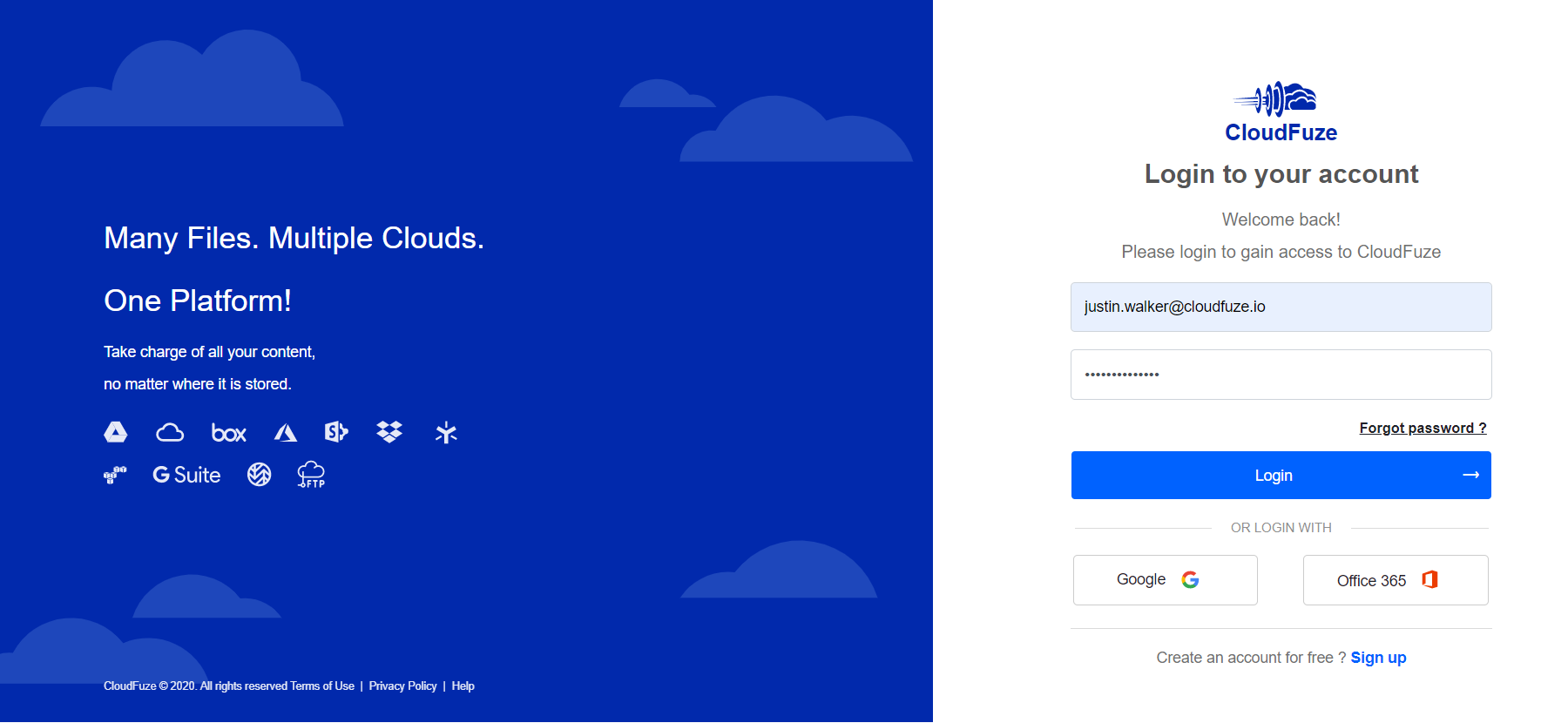 Step 2: Add Your Dropbox Account 
Once logged into CloudFuze, click on the Dropbox logo that you can find under the business clouds section. Since it is a business migration, you must choose the Dropbox logo under the business clouds list only.

Step 3: Authorize Your Dropbox Account
Enter the login credentials of your Dropbox account in the popup and click on the Sign-in button.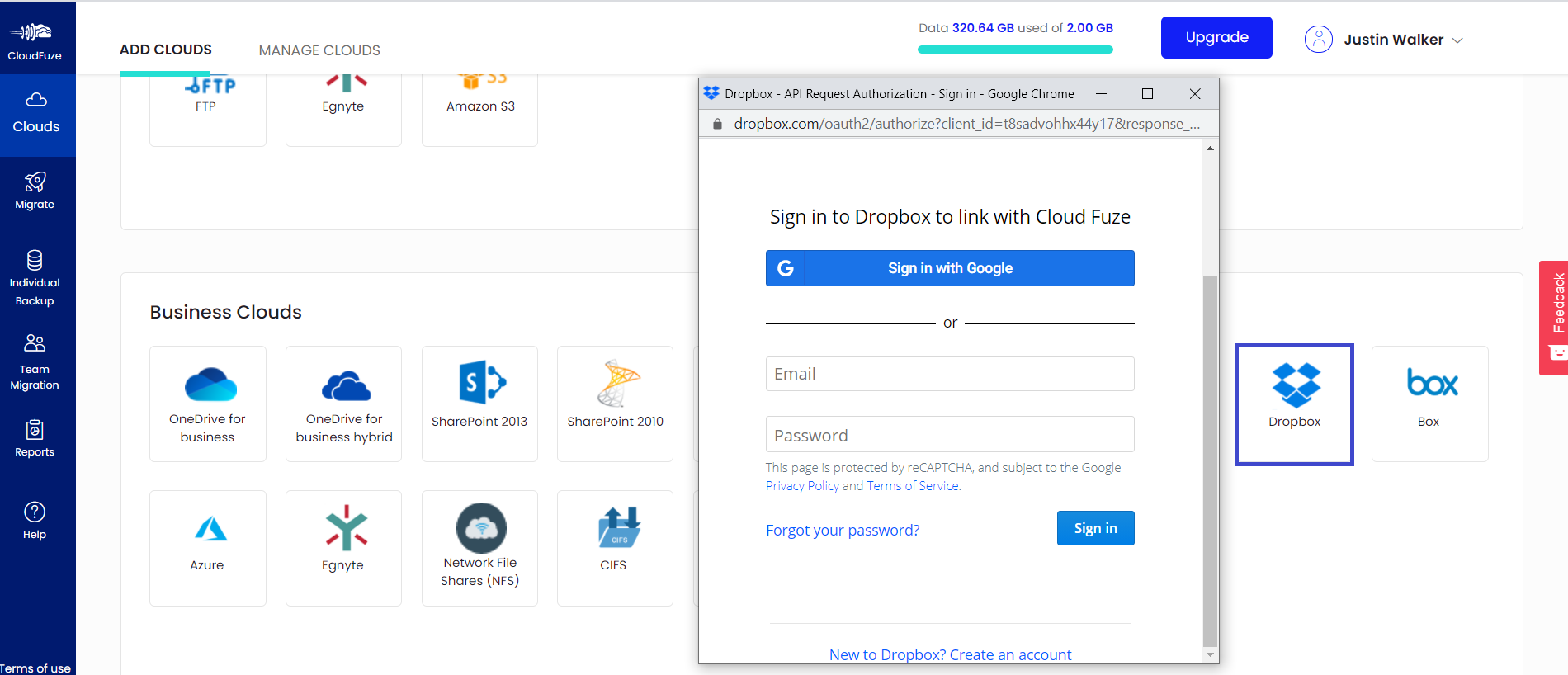 Step 4: Now, Add Google Workspace (GSuite)
Click on the Workspace logo listed in the business clouds section.

Step 5: Authorize Your Google Account
Enter your Google account login credentials and click on the Next button to authorize it.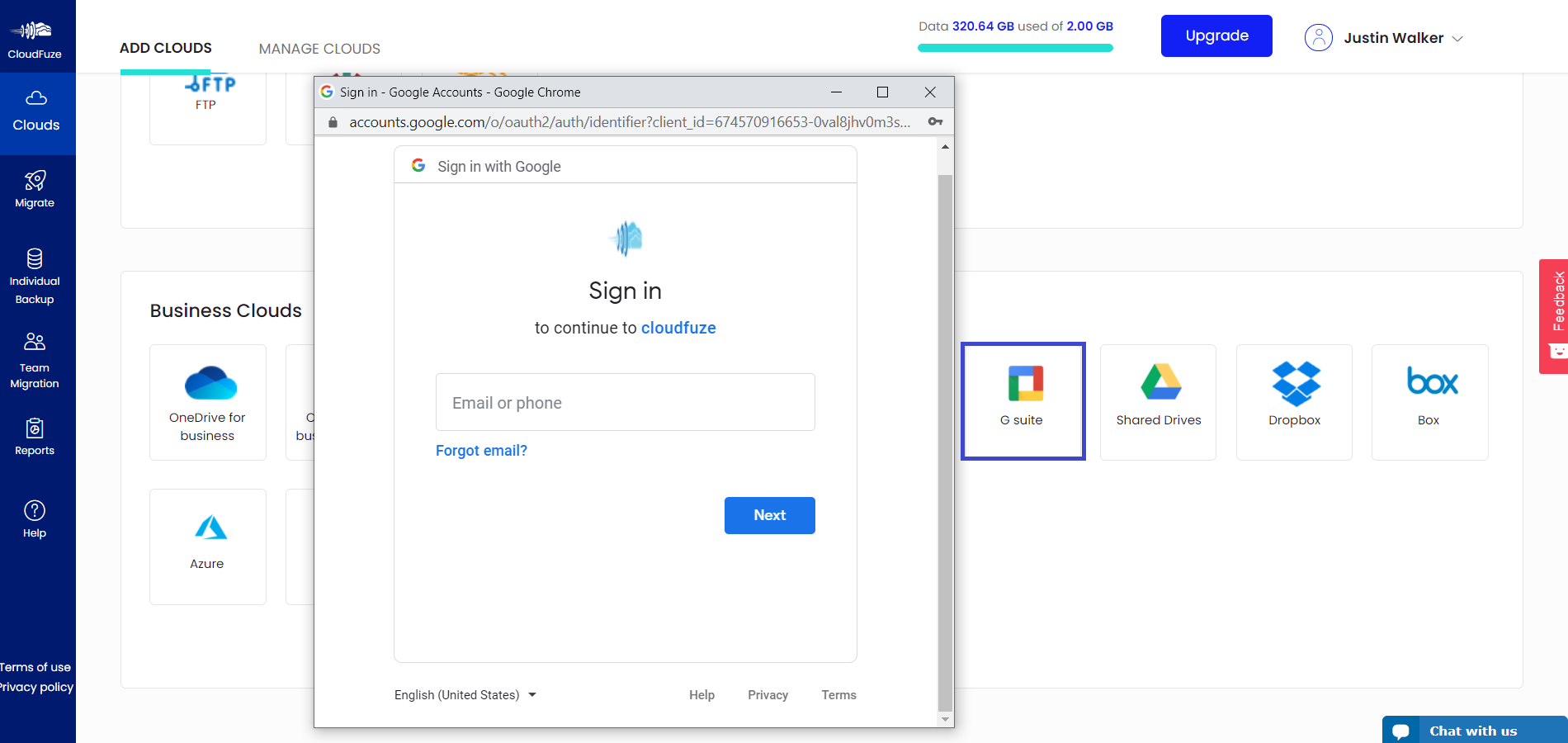 Step 6: Grant Access to CloudFuze
To start the migration, you must provide access to your company's Google account. Click on the Allow button to authorize the Google account.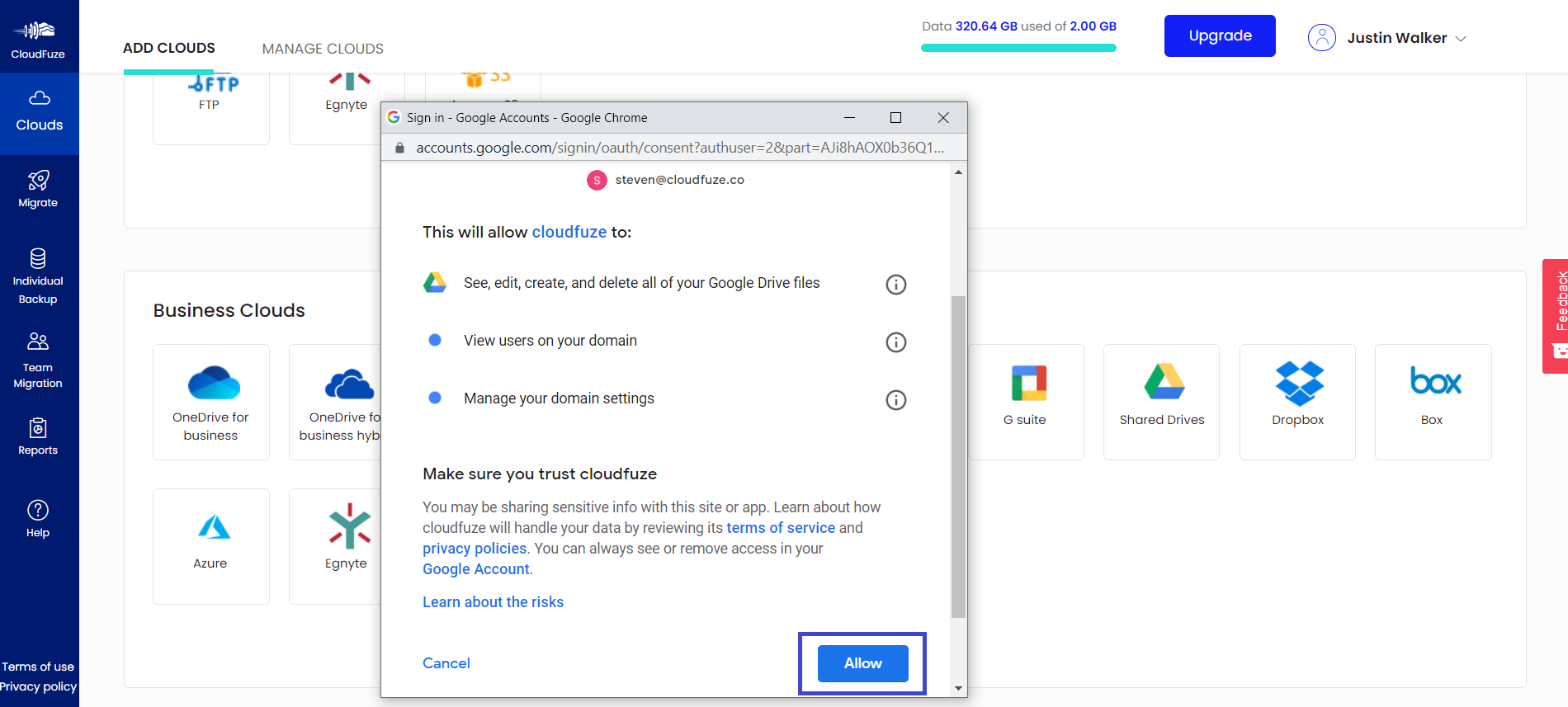 Step 7:  Clouds Have Been Added
Once both clouds are added, click on the Clouds icon and go to the Manage Clouds tab. You should be able to find both clouds here.

Step 8: Click on Team Migration
Once the clouds are added, click on the Team Migrations icon on the left.

Step 9: Select Source and Destination Accounts
You must choose Dropbox as your source account and Workspace as the destination.

Step 10: Click on Auto Mapping
CloudFuze has a powerful mapping tool known as Auto-Map that matches Dropbox and G Suite users based on the email alias. The app can match thousands of users instantly with just a click. In cases where Auto-Map can't be used, the manual or CSV method comes into the picture.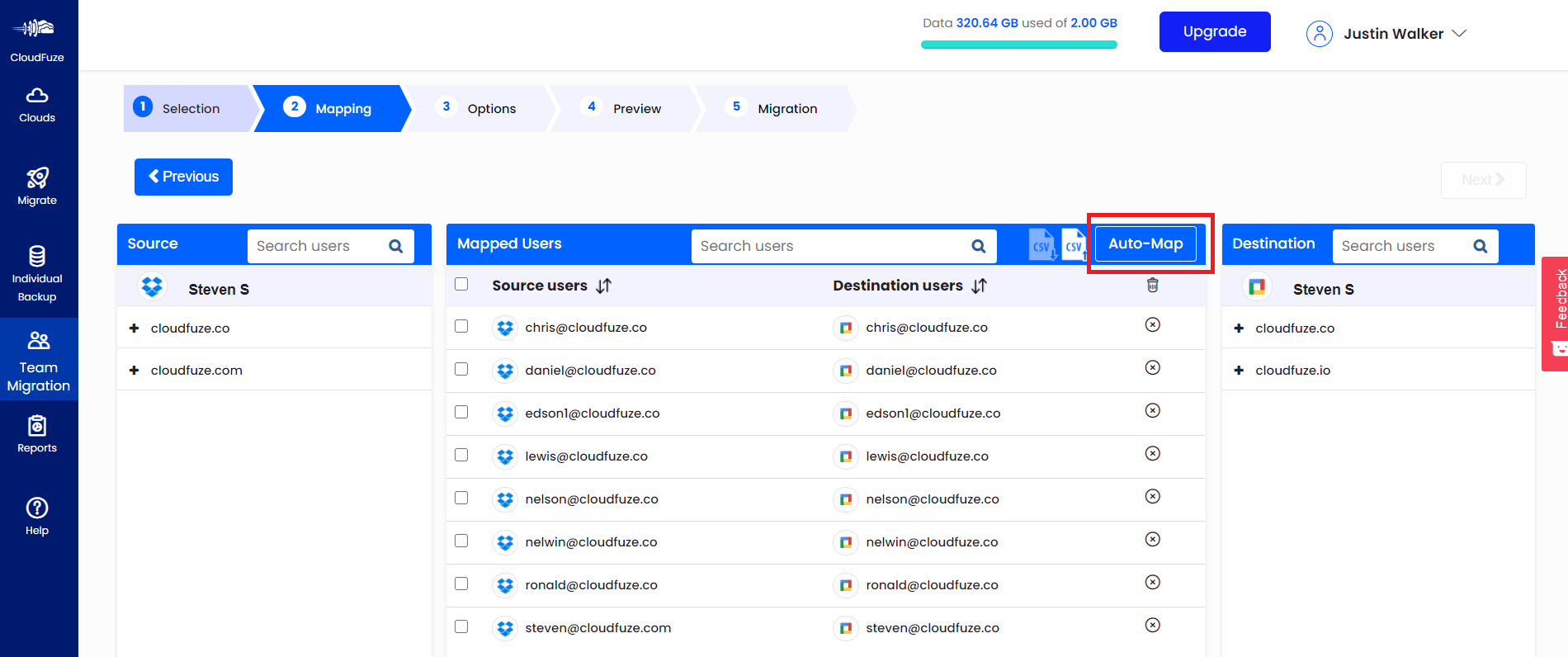 Step 11: Select Users to Migrate
You can migrate all users, one user, or a few users based on your migration needs.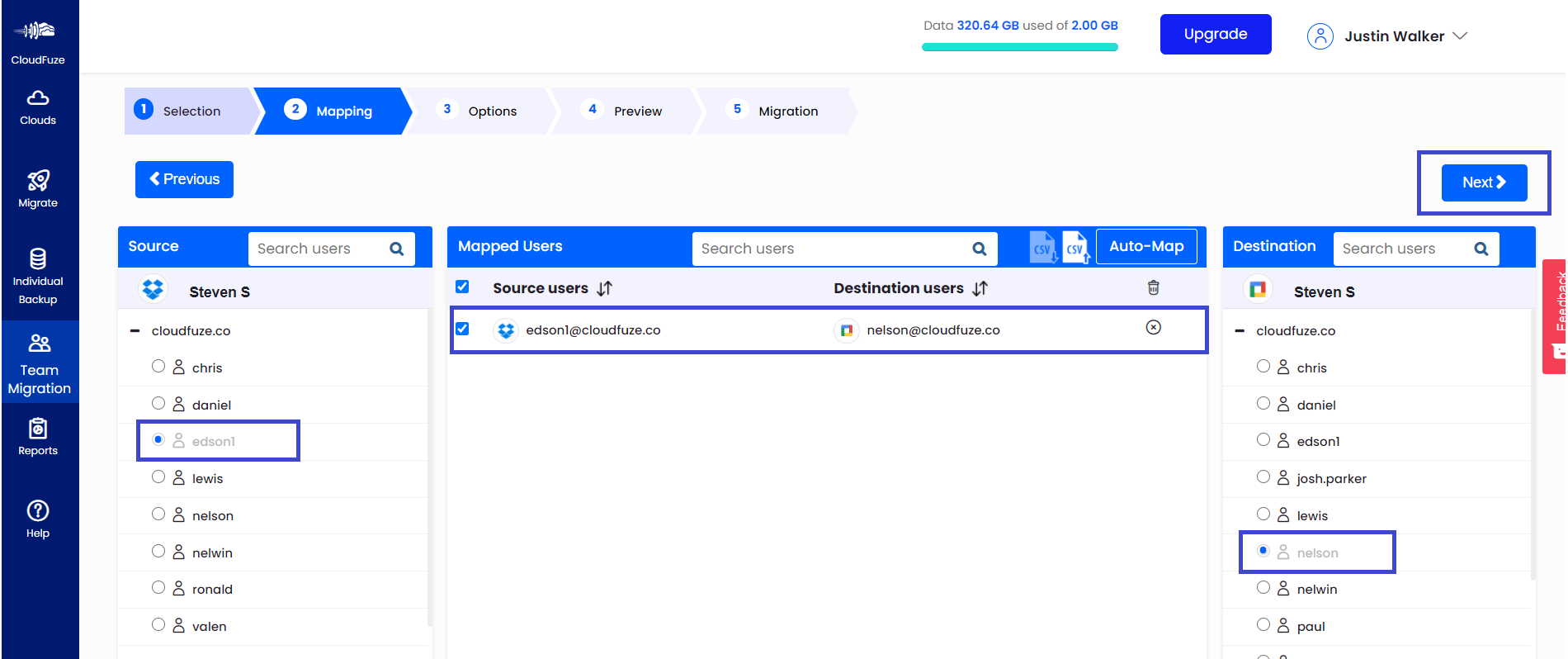 Step 12: Configure the Migration
Job Name: Enter a name for this migration job or leave the default
Job Type: Choose One Time if it is a first-time migration and delta for migrating incremental changes
Destination Path: Leave the default / to migrate content from the root or enter the folder path if you want to transfer a specific folder.
Additional Notification: By default, migration-related notifications and alerts will be sent to the registered email. Add email addresses if you want to send the migration status to multiple people.
Migrate Shared Content: Select this if you wish to migrate shared content.
Click on the Next button once you select the migration options to start the migration.

Step 13: Preview the Migration
Preview the migration and click on the "Start Migration" button if everything is right.

Step 14: Migration Has Been Initiated
The In-Progress status indicates that migration is progress.

Step 15:  Migration Has Been Completed
The migration will be completed when the status turns into "Processed".

7. Dropbox to Google Workspace FAQ
1. What Is the Maximum Data That Cloudfuze Can Migrate?
CloudFuze has helped many large enterprises migrate their Terabytes of data from one cloud storage to another and overcome complexities. If the data is large and can't be migrated at once, we will split it into different stages based on the priority which person data to be migrated first. Thus, CloudFuze migration service is not limited to any data size, having most senior industry-leading experts who can deal with any cloud storage migration challenges.
2. How Long Does It Take To Transfer Files From Dropbox to Google Workspace?
CloudFuze estimates your total migration timeline based on the number of users and the amount of data to be migrated, as the migration speed depends on the data size. Please contact our migration team for accurate migration timelines.
3. Does Cloudfuze Support Dropbox to Google Shared Drive Migration?
Yes, CloudFuze also performs migration from Dropbox to Google Shared Drive along with Dropbox to Google Workspace, as per your needs.
4. What Is the Pricing of Dropbox to Google Workspace Migration?
We send customized quotes for each of our customers based on their users and data size. The pricing also varies based on the features you need, like Delta migration required or not, migrating versions, permissions, timestamps, comments, and other features.
5. How Secure Is Cloudfuze?
CloudFuze takes security measures during all stages of your data migration. We value our client organizational standards and employ OAuth protocol and RESTful API platform to authorize your credentials and transfer data securely. Learn more about CloudFuze security here.
CloudFuze not only migrates data from one cloud to another securely but also the tool simplifies migrating your data from on-premises and local servers to any cloud storage like Google Workspace, SharePoint, etc., based on your choice.