How Slack and Microsoft Teams are Changing Enterprise Collaboration
The need for communication tools has increased significantly as companies migrated to work from home because of the COVID-19 outbreak. Slack and Microsoft Teams benefited greatly from the disruptions caused by the crisis since they were pioneers in cloud-based workplace communication. According to the company's latest earnings report, its customer growth accelerated.
Slack vs. Microsoft Teams Usage Growth
There has been tremendous growth in the usage of Slack and Microsoft Teams among small, medium, and large companies.
Comparing both the platforms, the Microsoft Teams platform was used by 270 million users as of 2022, surpassing Slack's 18 million active users, making it the most popular business communication platform.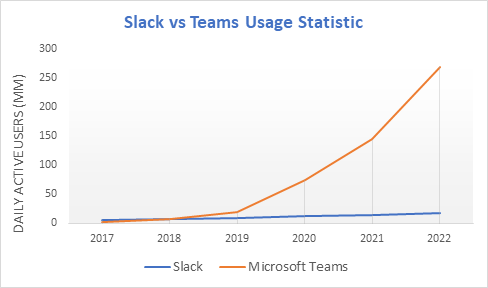 Source: BusinessofApps
Despite the popularity of Slack and other collaboration tools such as Skype, Microsoft Teams has become the preferred choice for collaboration among businesses for these reasons:
Integrates with Office 365 apps
Can be used anywhere, anytime, and on any device
Keeps everyone informed
Helps you collaborate seamlessly
Helps internal teams get organized
Offers effective external collaboration
Streamlines work and save time
Enhances communication
Improves productivity
Provides high-level security
Teams make collaboration easier among your team members by segmenting them into different Teams, Channels, and ways of collaborating, so that you can reduce email overload & increase productivity.
Thus, businesses are migrating from Slack to Teams to avail the benefits of Microsoft Teams and make remote working more effective and productive.
CloudFuze, a Microsoft migration partner, can migrate all your Slack users and their chat to Microsoft Teams without leaving a single conversation behind.
Which Microsoft Office 365 plan is Right for Your Business?
With so many options offered in the market, choosing the right type of Microsoft Office 365 Plan for your business can be challenging. Instead of impulsively choosing a plan and regretting it later, it's better to take your time reviewing each one.
Business plans are ideal for small and medium-sized businesses. It provides most Office apps that SMBs require. On the other hand, enterprise plans are ideal for huge businesses with high demands. It provides the complete set of Microsoft Office 365 apps in addition to extra security and compliance solutions.
Additionally, 3 tier services are included in both the Business and Enterprise versions. It provides different apps that can be tailored to your demands and budget.
Conclusion
For SMBs and businesses looking to enhance their communication and collaboration, Microsoft Teams has proven to be a better option. Therefore, picking the best plan for your business is a crucial undertaking that demands careful consideration, especially if you want to move from Slack to Teams.
Contact our migration experts for assistance switching from Slack to Teams, including workspaces, direct messages, and channels with all the features.