Box vs Google Drive–Which Cloud Storage is Best For Your Business?
Is Box or Google Drive the better solution for your business? This detailed feature-by-feature comparison will assist you in determining which cloud storage is the best fit for your company.
1. Introduction
Google Drive and Box are two popular cloud-storage solutions that provide you with a place to store your files and offer you a collaborative platform. Though both cloud storages look similar, they differ in many other features they offer. So, which is the better choice of the two? Does migrating from Box to Google Drive worth your business? In this comparison of Box vs Google Drive, we will look at how the two cloud storage services perform in terms of features and value for money.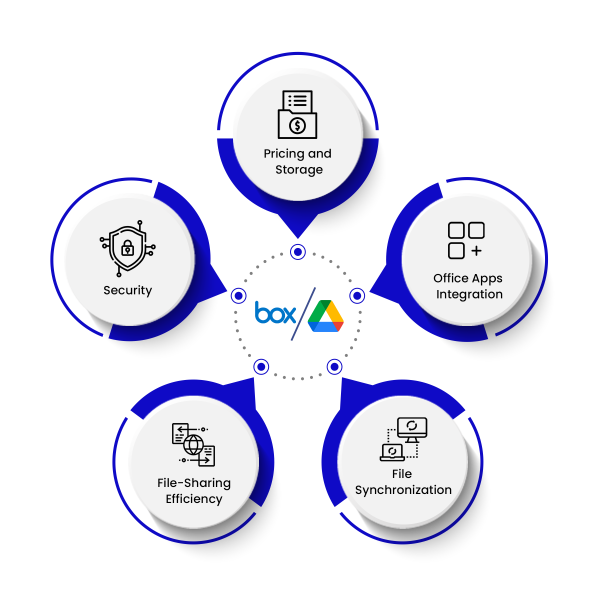 2. Box vs Google Drive- Pricing and Storage
Both the cloud storage services offer free storage for individuals with an option to upgrade depending on the business's storage needs. Box free plan includes 10 GB of file storage, while Google Drive offers 15 GB of storage. The table below compares the Box and Google Workspace pricing plans.
Cloud
Plan
Price/user/month
Storage
Box
Business
$15
Unlimited
Business Plus
$25
Unlimited
Enterprise
$35
Unlimited
Enterprise Plus
Customized Quote
Unlimited
Google Drive
Business Starter
$6
30 GB
Business Standard
$12
2 TB
Business Plus
$18
5 TB
Enterprise
Customized Quote
As much as you need
Though Box business users have unlimited storage in every plan, there are other features that Box lacks when compared to Google Drive.
| Features | Box | Google Drive |
| --- | --- | --- |
| Maximum file size upload limit | 150 GB | 5TB |
| Maximum file sync limit per day | 100 GB | 750 GB |
| Integration with Google Workspace apps- Gmail, Meet, Calendar, Chat, etc. | No | Yes |
Learn about CloudFuze's Box to GoogleDrive migration-specific features here.
3. Box vs Google Drive- Office Apps Integration
Google Drive deeply integrates with Google apps, including Gmail, Drive, Docs, Sheets, Slides, Forms, Sites, Calendar, Chat, Meet, etc., helping businesses to make collaboration easier, efficient, and more productive.
In contrast, Box is a cloud storage-only service where you can create a document using either Google Docs or word, a spreadsheet using Google Sheets or Excel, or presentations using Google Slides or PowerPoint. Box users need to pay extra to get the services that come for free with Google Drive.
4. Box vs Google Drive- File Synchronization
Users can synchronize their files across multiple devices using Box and Google Drive. When any file is created or uploaded to the folder, it will be automatically synced across all devices. Google Drive has a daily sync limit of 750GB, while Box can handle 100,000 files and 100GB. In comparison to Box, Google Drive syncs more data every day and allows you to upload larger files.
5. Box vs Google Drive- File Sharing Efficiency
Both Box and Google Drive let users share files and folders by email address or create a shareable link. However, Box is a step ahead of Google Drive when it comes to securing your shared files, which means you can set passwords to shared files so that only users with the password can access them.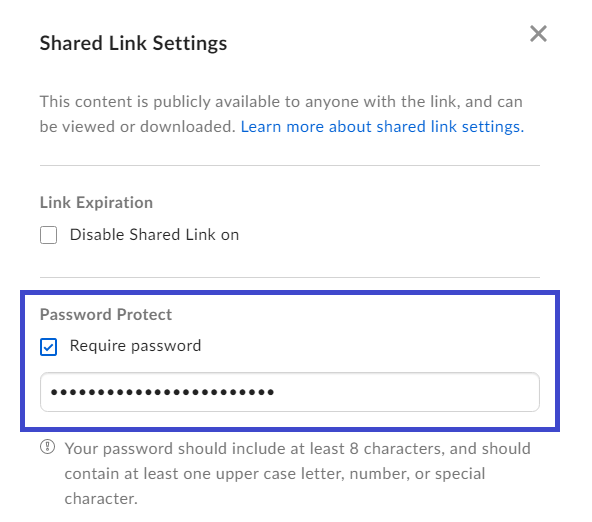 On the other hand, while Google Drive doesn't currently offer a password-protection option, you can limit the permissions to view-only, edit-only, and comment-only.
6. Box vs Google Drive- Security
Box and Google Drive enable two-factor authentication to secure your data while it's in transit and at rest. On the other hand, Box has more security features that make it more robust. It covers all the data compliance and regulatory needs, including GDPR, HIPPA, ISMAP, PCI DSS, ITAR, FedRAMP, GxP Validation, and more. Besides, it allows users to protect files with passwords with more settings.
7. Does Migrating from Box to Google Drive Benefit Businesses?
Every cloud storage service will have its advantages and disadvantages and choosing the right one entirely depends on your business needs. Box only allows you to store files, whereas Google Drive comes integrated with all the Google apps for free. Also, Google Drive is recommended for businesses that need to upload large files frequently and sync more data daily.
Talk to our cloud migration experts today if you're searching for a one-stop migration solution that automates and completes the Box to Google Drive migration in the shortest time possible.