Egnyte to Google Shared Drives Migration Guide for IT Admin
Businesses that are planning to migrate their data from Egnyte to Google Shared Drives can avoid the manual work by using CloudFuze. CloudFuze is a cloud data migration tool that transfers files between leading cloud storage services including Egnyte and Google Shared Drives. Note that CloudFuze is one of the very few players on the market that has the capability to transfer files not just to Google Drive but also Google Shared Drives. In this article, you will learn how CloudFuze transfers files from Egnyte to Shared Drives.
Step 1: Create a CloudFuze Account
A CloudFuze account is needed for migration. CloudFuze provides a free limited trial on its website. Besides, we can also provide a custom enterprise trial upon request.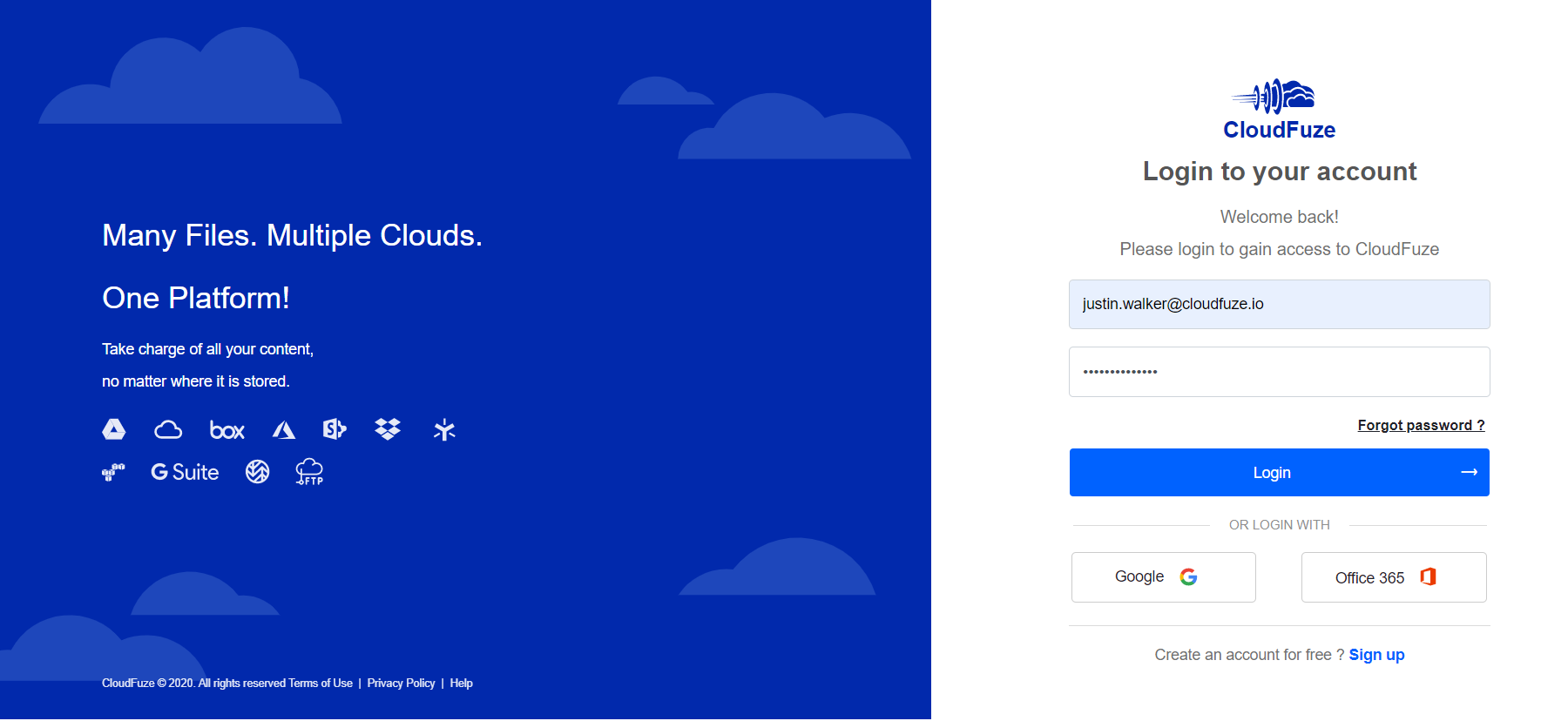 Step 2: Add Egnyte Account
Locate the Egnyte logo listed under the business clouds. Click on it.

Step 3: Authorize Your Company's Egnyte Account
Upon clicking the Egnyte logo, a popup will appear where you need to enter your Egnyte's login/access details. Once entered, click on the Allow Access button to complete the cloud-adding process.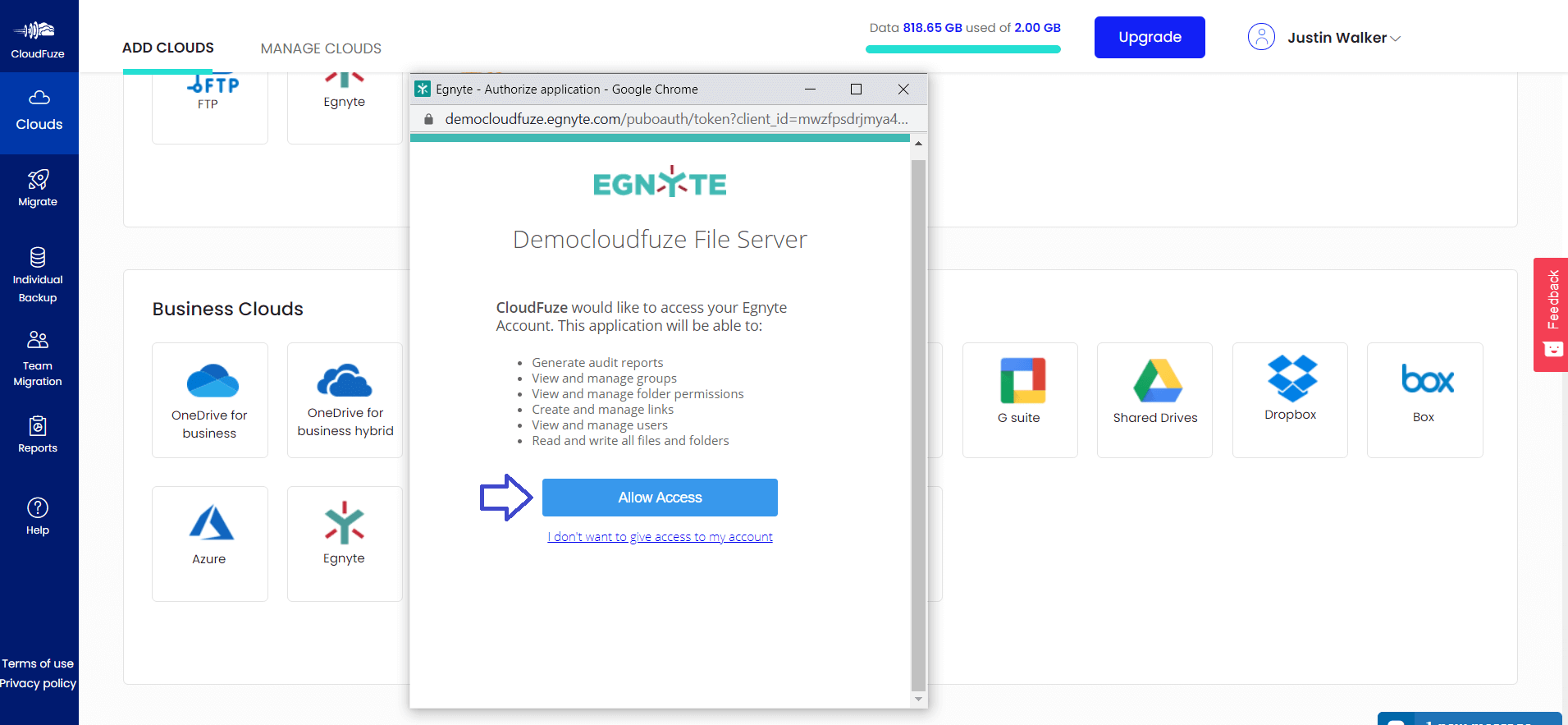 Step 4: Add Google Shared Drive Account
 Now, search for the Google Shared Drive logo and click on it. Then, enter admin login credentials of your G Suite account. Please note that Shared Drives will not have separate login information.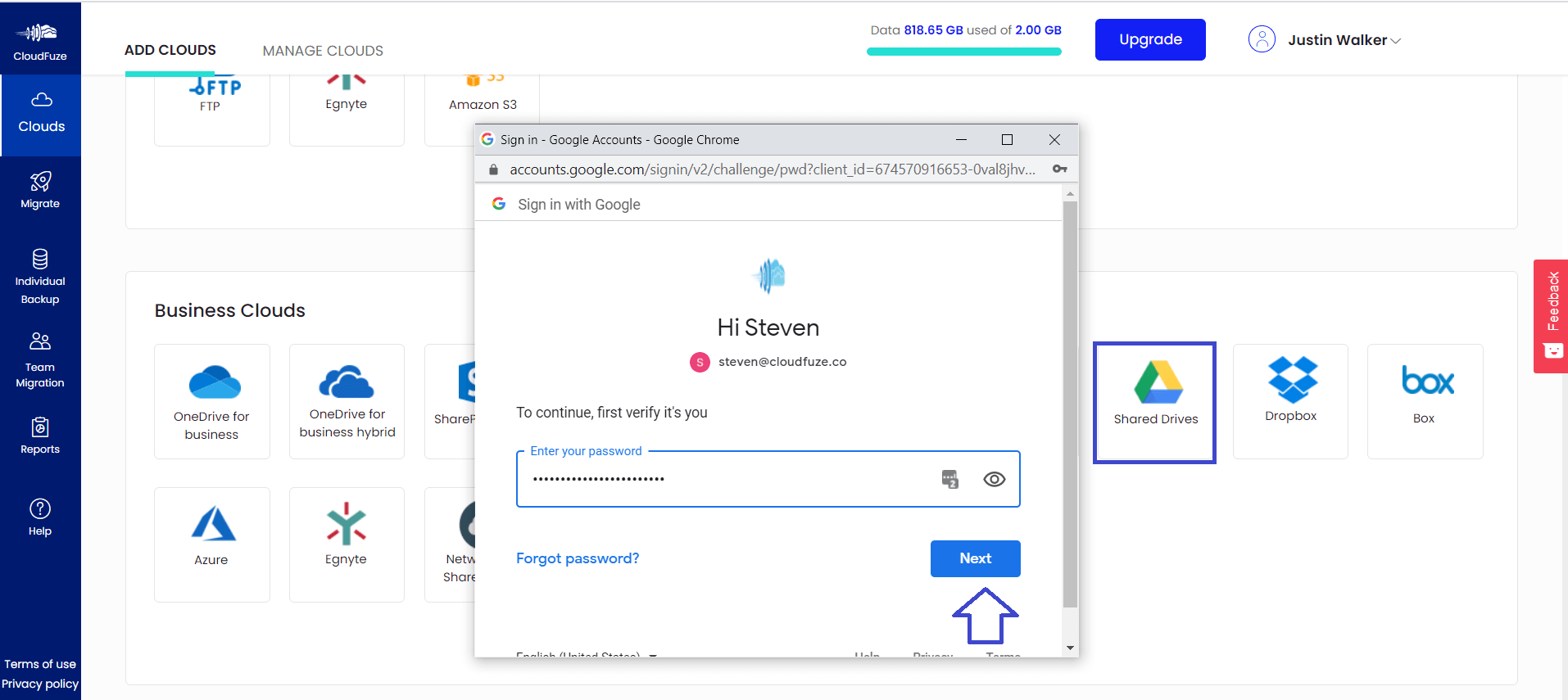 Step 5: Authorize Shared Drive/GSuite Account
Click on the allow the button to complete the cloud-adding process.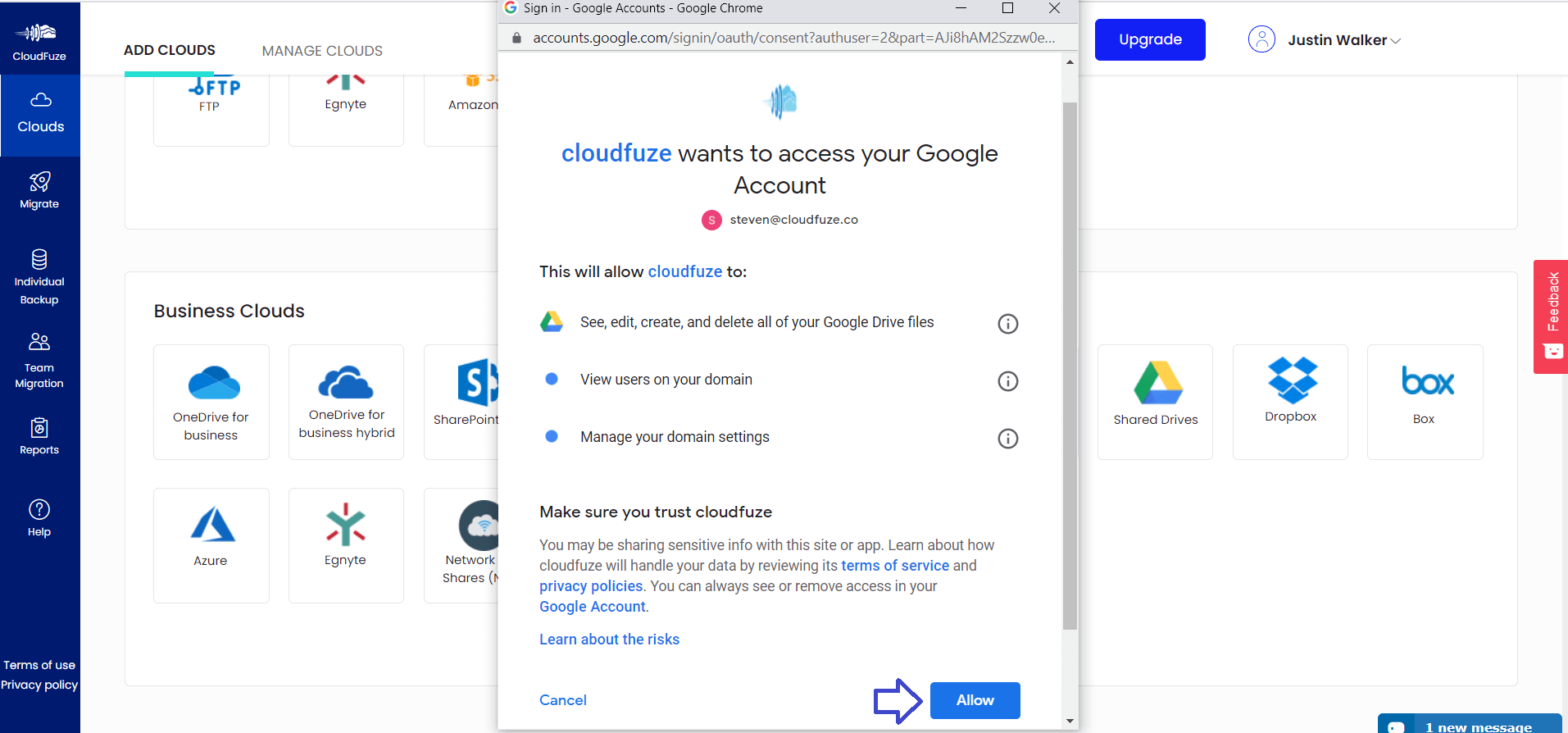 Step 6: Verify Cloud-Adding Process Success
Click on the Clouds icon in the left menu bar. Go to the Manage Clouds tab to check whether Egnyte and Shared Drive accounts are added there. If successfully authorized, both clouds should appear there.

Step 7: Initiate the Egnyte to Google Shared Drives Migration
Click on the Team Migration icon to initiate the migration. Please keep in mind that you need to configure a few things before the actual migration begins. Therefore, clicking on the Team Migration button doesn't start the migration right away.

Step 8: Select Source and Destination Accounts
Select Egnyte as the source and Google Shared Drive account as the destination.

Egnyte to Google Shared Drive migration can only download by the CSV method. Create a list of users to be mapped in the source and destination in an excel sheet and upload it to CloudFuze. Note that CloudFuze's migration team takes care of much of this work in a managed migration scenario. If you would like to see how the CSV works in real-time, request a demo.

Step 10: Validate the CSV File
Download the CSV file and select the file and click on the Next button. If CSV format is correct, CloudFuze will validate it and prepares users for migration.

Step 11: Choose Your Preferences
Give the migration job a name so you can remember it easily. Enter any additional email address that you wish to receive notifications besides the one email that used to create the account.

Step 12: Select Migration Options
Select job options, job type, and then click on the Start Migration button. Ideally, you would select the Job Type as a one-time.

Step 13: Egnyte to Google Shared Drives Migration Is in Progress
This status indicates that the migration is currently in progress. CloudFuze's dedicated migration teams send daily in-depth details about the progress of migration via email for business users.
Step 14: Egnyte to Google Shared Drives Migration Has Been Completed
Once the status appears Processed, it means that the migration has been completed successfully. CloudFuze provides a full migration report so you can assess and check the accuracy of the migration.

CloudFuze provides a dedicated migration and technical support team for business users. In an ideal managed migration case scenario, much of the work will be handled by the CloudFuze's team, providing IT managers and admins peace of mind.