Why Should Your Business Migrate to Microsoft Teams?
Even though Microsoft Teams and Slack have many similarities, companies are choosing to migrate to Microsoft Teams because of its many benefits. This comprehensive guide clearly explains why and how your business should migrate to Microsoft Teams.
1. Introduction
There has been tremendous growth in the usage of Microsoft Teams among small, medium, and large companies. Microsoft Teams is more than just a communication tool; it's a powerful and integrated collaboration platform that puts all the tools you need in one place. It allows your team members to collaborate more efficiently by segmenting them into different Teams and Channels.
Despite the popularity of other collaboration tools such as Slack, Skype, and others, Microsoft Teams has become the preferred choice for business collaboration.
According to statistics and reports, many large companies prefer Teams over Slack to benefit the most, and it might be worth considering for yours as well.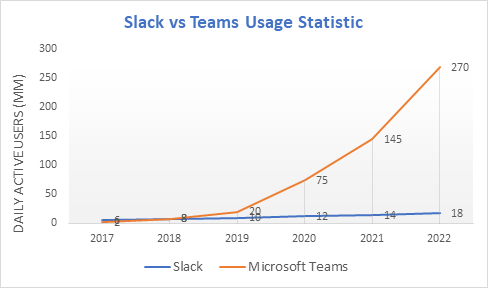 In this article, you will learn about the benefits of migrating to Microsoft Teams and how to migrate to Teams without any data loss.
2. What is Microsoft Teams?
Microsoft Teams is a complete collaboration solution that allows both office-based and remote employees to engage with individuals or groups of employees within online workspaces and the Microsoft Teams application. A Microsoft 365 subscription includes Microsoft Teams as a standard feature. It is cloud-based and can be accessed from anywhere using a desktop or mobile applications on iOS and Android.
3. Slack vs. Microsoft Teams
Slack and Microsoft Teams have been among the top collaboration tools for a long time. They both offer many of the same features. Both allow you to share files and screens, use audio and video calling and initiate group or private chats.
Even though both collaboration platforms look similar, they differ in many other ways. For example, by default, you will get access to the entire Microsoft Office productivity suite with Microsoft Teams.
Let us see in the table below how Slack and Microsoft Teams differ from each other:
Feature
Slack 
Microsoft Teams 
Pricing
Pricing plans start from $6/user/month.
Pricing plans start from $4/user/month.
Storage Limit
Free plan: 5GB Paid plans: Range from 10 GB to 1 TB
Free plan: 2 GB Paid plans: Range from 10 GB to 1 TB
Message Limit
Free plan: 10,000 messages

Standard plan: Unlimited

Plus plan: Unlimited

Unlimited messaging in all plans
Direct messages
Yes
Yes
Channels (public and private)
Yes
Yes
Integrations
800+ integrations are available
600+ integrations are available
Voice and video calls
Free plan: Unlimited for 1 to 1

Paid plans: Group calls for up to 15 people

Free plan: Unlimited for 1 to 1, and up to 100 people can join in group calls.

Paid plans: Group calls for up to 250 people.

Screen sharing
Available only in paid plans
Available in all plans
Content sharing and editing
You can drag and drop files without in-app editing.
Can share files directly from Microsoft 365 tools and can be edited in Teams.
Record calls
No
Yes
Dedicated tab for calls and frequent collaborators
 No
Yes
Generate call transcripts
 No
Yes
Change background for video calls
 No
Yes
Web, desktop, and mobile apps
Yes
Yes
Built-in calendar
No
Yes
Invite external collaborators to teams/channels
Yes
Yes
Group chats
Yes
Yes
Private Messaging
Yes
Yes
Set new teams/channels
 Yes
Yes
Whiteboard
No
Yes
4. Why Migrate to Microsoft Teams?
As more businesses embrace hybrid working, companies must consider reorganizing their workspaces and policies to suit remote and office-based employees.
Regardless of your company's size, Microsoft Teams has benefits for small, medium, and large businesses. Microsoft Teams accelerates time to value by providing a customizable and secure environment for teams to interact and connect anywhere, at any time.
Find out how Teams can improve the efficiency of your business by providing powerful features for collaboration and productivity.
Key Features of Microsoft Teams
User-friendly and dynamic interface
Fully integrated with Office 365 apps and services
Third-party apps and API integration
Collaborate on files with real-time co-authoring
Available in 44 languages worldwide
Reduces email conversations
Keeps you connected, anytime, anywhere
Great virtual experience using Whiteboard
Quick search options to easily find information from past conversations
Enterprise-grade security
Benefits of migrating from Slack to Microsoft Teams
Some features set Microsoft Teams apart from Slack despite having identical fundamental functionality and many integrations. The following are some of the most significant benefits of Microsoft Teams that businesses get by migrating from Slack to Microsoft Teams.
Rather than having to pay the high licensing costs separately for Slack, Microsoft Teams comes within Microsoft 365 suite and offers most of the same features but with much more.
Administrators benefit significantly from using Microsoft Teams to build an organized 'Team' with multiple channels that enhance security and data management capabilities by improving the content structure.
Apart from data encryption, ISO/IEC 27001 compliance certification, and two-factor authentication, Microsoft Teams is designated as Tier D-compliant, which means it adheres to the greatest level of compliance commitment.
Microsoft Teams is the ideal choice for companies already using Office 365 or teams that need more advanced features for effective collaboration.
The migration from Slack to Teams should involve migrating your Slack users, chats, and files without losing any data if you plan on switching from Slack to Teams.
CloudFuze, the enterprise-ready Slack to Teams migration tool, can help you migrate all the chat from Slack to Microsoft Teams through a secure and scalable path.
5. How CloudFuze Helps You Migrate from Slack to Microsoft Teams
Migrating data from Slack to Teams has never been easier for businesses. It is proving complex, challenging, and often unsuccessful for many companies. Using CloudFuze data migration tools, businesses can easily migrate Slack data.
The tool can migrate entire Slack data, including chats, files, emojis, timestamps, replies, videos, @mentions, etc., of all workspaces, direct messages, and public and private channels to Teams without any error and data loss.
As a Microsoft Gold Partner, we will help you determine your company's best solution and migration path, guaranteeing a seamless migration process. Contact us, and our team of migration experts will assist you on your Microsoft Teams migration journey.
Key Features of CloudFuze Migration Platform
For Slack migration to Teams, CloudFuze offers all the features an IT administrator needs:
One-time migration
Users' migration
Public channels migration
Private channels migration
Admin groups migration
Admin one-to-one chats migration
User groups migration
User one-to-one chats migration
Emojis and @mentions migration
Files with sharing permissions migration
Timestamps migration
Conversation's migration
Delta migration
6. Why Choose CloudFuze Among Others
As cloud migration is a tedious process, we recommend choosing a service provider with proven experience in performing Slack to Teams migration tools and a proven ability to manage complex tasks at a global scale.
Our experts at CloudFuze, with a proven track record and success rate, perform Slack to Microsoft Teams migration flawlessly. Here are the reasons why our customers choose us to switch from Slack to Teams, among others: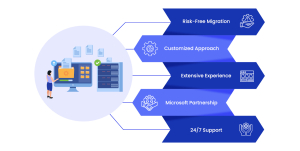 1. Risk-Free Migration
To handle simple to complex migrations seamlessly, we constantly automate the migration process and integrate with new technologies. So, you can easily migrate your business-critical data with minimal downtime and with reduced risks with our advanced, time-tested, and proven methods.
2. Customized Approach
Careful planning and a proven strategy are critical for a successful migration from Slack to Microsoft Teams. Our experts create a customized migration strategy that suits your business-specific needs and benefits your organization greatly in terms of speed, efficiency, and cost as you migrate to the Teams.
3. Extensive Experience
We have extensive experience in dealing with the most complex data migrations successfully. In addition, our experienced professionals have successfully executed hundreds of Slack to Teams migrations for businesses of all sizes across the globe smoothly and efficiently.
4. Microsoft Partnership
CloudFuze, as a Microsoft Gold Partner, can migrate all the Slack data to Teams, including workspaces, direct messages, and channels (public and private) which is not possible manually or via other services.
5. 24/7 Support
CloudFuze offers 24×7 customer support via chat as well as email. Moreover, our Enterprise solution for business migration like yours has a dedicated team to handle your migration. The dedicated migration engineer will update you on the migration status daily, either via email or call, based on your preference. This allows an organization to receive timely updates and resolve issues immediately.
With CloudFuze, businesses have successfully migrated to Teams and achieved a faster time to value. Talk to our migration experts to get started with your Teams migration today!