How Can Businesses Benefit From Slack to Teams Migration
Every industry has seen a significant change toward remote work, collaboration, and chat-based communication platforms. As a result, applications like Slack and Microsoft Teams have become increasingly important. Besides, many companies have benefited from Slack to Teams migration.
Despite having identical fundamental functionality and many integrations, Microsoft Teams has some features that make it apart from Slack. Microsoft Teams enables a seamless workflow by enabling employees to collaborate on documents, brainstorm new ideas, and assign tasks in a way that everyone is on the same page.
The following are some of Microsoft Teams most significant benefits that businesses get by switching from Slack to Microsoft Teams.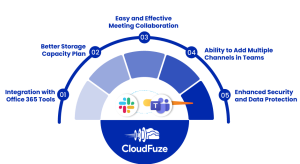 1. Integration With Office 365 Productive Tools
Microsoft Teams is offered as part of the Microsoft 365 subscription plans. The Teams integration with Office 365 productive tools makes it easy to complete your daily tasks without switching apps.

It's a no-brainer for a company that already pays for a Microsoft subscription to switch from Slack to Teams. While both are excellent communication tools, the cost reductions alone make switching from Slack to Microsoft Teams worthwhile.
2. Slack to Teams migration: Better Storage Plan
For the Essentials and Premium plans, Microsoft Teams provides 1 TB of storage per organization and a 15 GB file upload limit. On the other hand, the Slack service plan offers 20 GB of total storage on its most expensive package, with a 1 GB upload limit per file.
Microsoft Teams 'Search' feature allows you to browse unlimited messages, while Slack's is limited to the last 10,000 messages.
In addition, Slack consumes a lot of memory when making a video call or sharing large files. Thus, migrating from Slack to Teams using a third-party tool can help you save many of your company's IT costs.
Contact us, and our experts will develop a customized strategy to meet your Slack to Teams migration project needs without any data loss.
3. Easy and Effective Collaboration During Meetings
During pandemics, meetings are often conducted online via video chat. Slack and Microsoft Teams can enable video meetings with ease for large numbers of people; however, the time spent in a video meeting is usually variable.
Meetings tend to be more about discussion than work for many employees. During meetings in Microsoft Teams, file sharing is as simple as clicking a button since products like Excel and PowerPoint integrate into the platform. 
Share a document, and everyone can view it and edit it together on the Teams app itself. In Slack, however, you would need to download the file and then edit it externally
4. Ability to Add Multiple Channels in Teams
Both Slack Workspaces and Microsoft Teams allow users to create public and private channels as they require. Office 365 integrates each team created with the other applications available in Office 365 by creating a Group for each department. Furthermore, you can add up to 200 channels to a team.
Whereas in Slack, you can't create channels within channels. All you can do is rename the channel to represent sub-channels.
Administrators benefit greatly from using Microsoft Teams with its ability to create a team and then multiple channels within that team. Without this, managing the increased number of channels in your workspace will be considerably more challenging.
5. Enhanced Security and Data Protection
Security is a top priority for organizations of all sizes and industries. Microsoft-guaranteed security protocols protect Microsoft Teams. Slack complies with numerous regulatory requirements, including GDPR, but it falls short of Office 365's enterprise-level security capabilities.
Microsoft also employs security features like data loss prevention (DLP) and encryption to secure your company's most sensitive data. It also has strong security restrictions to limit who has access to chat rooms and activities they can do.
Migrating from Slack to Microsoft Teams helps businesses secure business-sensitive data and prevent data leakage.