Why CloudFuze

I

s

t

he Safest Tool for Switching

F

rom

Slack to Teams
Switching from Slack to Teams is not just moving from one platform to another and often involves a complex and expensive process. Slack to Teams migration involves migrating workspaces, users, chat, direct messages, channels, etc., from Slack without losing any data. 
A simple Slack to Teams migration project often turns into a budget and time-consuming nightmare due to the technical challenges. With the help of a data migration tool, you can eliminate the hassle of migrating data to the new cloud platform. However, not all data migration tools are the same. 
There are many factors to consider while selecting a migration tool, from your project budget to the customer service quality. Let us see how CloudFuze ensures that your Slack to Microsoft Teams migration is safe, secured, and accurate.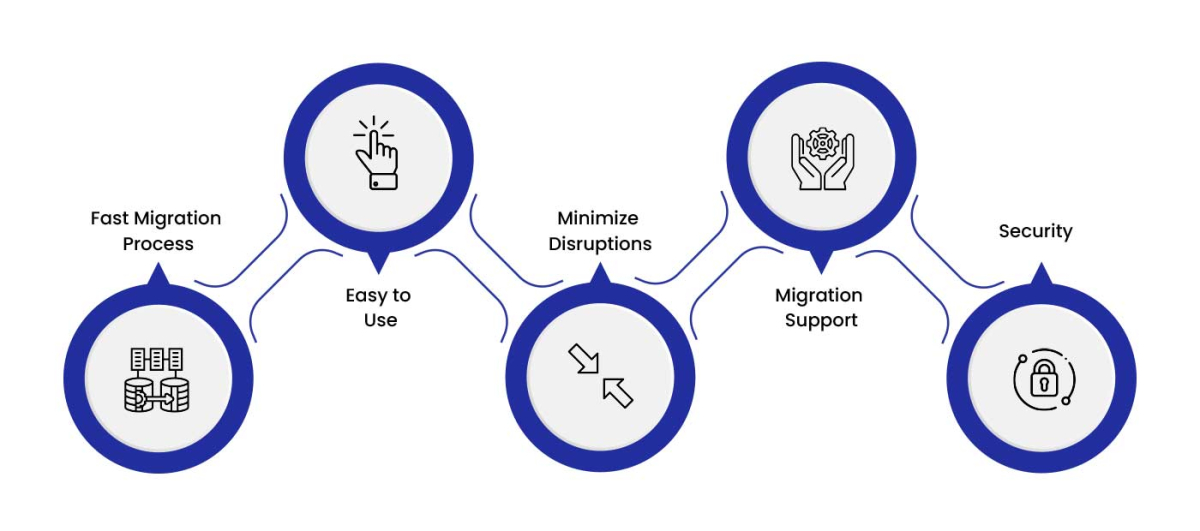 We moved all Slack channels successfully to Teams without losing data through CloudFuze.
How

O

ur

Slack to

T

eams Migration Tool is Different

F

rom

Others?

 
Many of the world's leading enterprises trust us to provide end-to-end Slack-to Teams migration services. It is the top-ranked and one of the best and most recognized Slack to Teams migration service providers currently available on the market. 
The tool migrates Slack direct messages to Teams and Slack channels to Teams with all the chat, emojis, timestamps, videos, replies, and @mentions.  
As a Microsoft migration partner, we deliver Slack to Teams chat migrations for businesses of every size, from startups to Fortune 500 enterprises. As a result, CloudFuze Slack to Teams migration tool allows you to move data easily using well-defined processes and architecture. 
To migrate from Slack to Teams, CloudFuze never asks for your credentials. The migration is done through secured delegated access using the OAuth protocol and the RESTful API platform for improved migration speed and performance. 
Connect with industry-leading migration experts and get customized migration solutions for your business needs. 
Benefits of Choosing Our

Slack to Teams

Migration Tool

 
The tool can handle migrating massive amounts of data, making it one of the best Slack to Teams migration tools saving time and money. Here is how our data migration tool benefits your migration project. 
Fast Migration Process:
The CloudFuze migration tool automates the process and migrates data much faster than any other tool, saving you and your team time. 
Easy to Use:
Our data migration tool is the ideal solution because of its simplicity. With its built-in data mapping functionality, you can effortlessly map users and move data in just a few steps. 
Minimize Disruptions: 
With no manual effort, our migration tool can scale up or down to meet unexpected workloads and minimize disruption to daily business operations. 
Migration Support: 
A dedicated team of our migration support specialists monitors and ensures that no data is lost during migration.
Security: 
CloudFuze uses APIs to migrate from Slack to Teams and guarantees data security through a strong encryption algorithm and state-of-the-art security features.
With CloudFuze, businesses can migrate Slack Public and Private Channels into the "Teams" section of Microsoft Teams
Features of Our

Slack to Teams

Migration Tool

:
The essential step in assessing the migration tool is identifying its features that result in a successful migration. Here are the essential features you should consider when picking a migration tool. 
| Features | CloudFuze | Competitors |
| --- | --- | --- |
| Migrate Direct Messages | Yes | No |
| Migrate Channels | Yes | No |
| Migrate Users | Yes | No |
| Migrate Conversations | Yes | No |
| Migrate Emojis | Yes | No |
| Migrate Files | Yes | No |
| Migrate Timestamps | Yes | No |
| Migrate @mentions | Yes | No |
| Migrate Admins as Owners | Yes | No |
| Migrate Members as Members | Yes | No |
| Delta sync for channels | Yes | No |
We can help you tailor your cloud migration strategy that meets your needs and achieves your business goals most cost-effectively. Get a free demo from one of our migration experts today to see how CloudFuze can help you migrate from Slack to Teams faster, safer, and more accurately.