1. Introduction
Is your company planning to migrate Dropbox files to SharePoint? As an IT admin, your responsibilities can include choosing the right migration service/tool, and completing the migration project quickly and securely.
Here is where CloudFuze can help. CloudFuze is a Dropbox to SharePoint migration tool that helps companies worldwide transfer data from Dropbox to SharePoint.
CloudFuze is a powerful and scalable cloud data migration tool that can migrate your company's Dropbox data to Microsoft 365 (OneDrive for Business & SharePoint Online) securely and swiftly.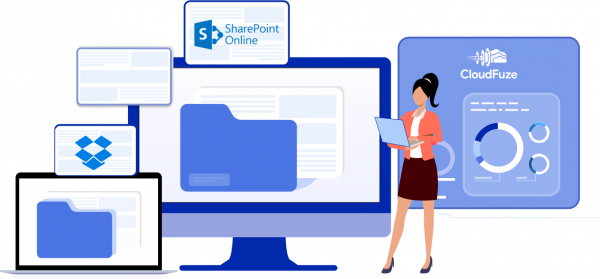 CloudFuze is one of the very few tools on the market that supports Dropbox to SharePoint migration for MSPs, Enterprises, and SMBs, besides OneDrive for Business.
If you don't have time to go through the entire guide, get in touch with our migration team directly or watch the migration video:
5. CloudFuze's Migration Features
User-to-user data migrations
Delta or incremental migration with zero downtime
Root file, root folder, and subfolder permissions migration
File version history migration
Dropbox shared links migration
Dropbox external shares migration
File and folder timestamps migration
Can be deployed in your own cloud, VM, or data center
Dedicated migration manager and 24/7 premium support
Migration project planning and assistance
7. CloudFuze vs Competitor Migration Tools
CloudFuze is a market leader for Dropbox to SharePoint migration. The extensive support for features migration differentiates CloudFuze as a business-focused migration vendor with capabilities unmatched elsewhere.
CloudFuze has the edge over the competition by offering the following migration features specific to Dropbox to SharePoint Online migration combination:
| Migration Features | CloudFuze | Competitors |
| --- | --- | --- |
| One-time migration | Yes | Yes |
| Delta migration | Yes | No |
| Comparison delta | Yes | No |
| Root folder permissions | Yes | Yes |
| Root file permissions | Yes | Yes |
| Inner folder permissions | Yes | No |
| Inner file permissions | Yes | No |
| Long folder path trim | Yes | No |
| Versions | Yes | No |
| Selective versions | Yes | No |
| Shared links | Yes | No |
| External shares | Yes | No |
| Special character replacement | Yes | No |
| Suppressing email notification | Yes | No |
8. Why Choose CloudFuze as Your Migration Partner?
CloudFuze is the right migration partner for businesses not just for tool capabilities but also for unmatched white glove service and support. Our managed migration team works with businesses to help them set a proper migration process while allowing granular control of the entire data.
Our extensive reporting helps businesses get a 360° view of the entire migration project's progress. Ultimately, CloudFuze helps businesses save time and money with a proven methodology that has created success stories for large global corporations.