Introduction
More businesses in the US use Microsoft 365 (formerly Office 365.) than ever before. If your company is planning to join the bandwagon and leave Box, it's important for you, as an IT manager, to get actionable insights on Box to Office 365 migration as an IT manager.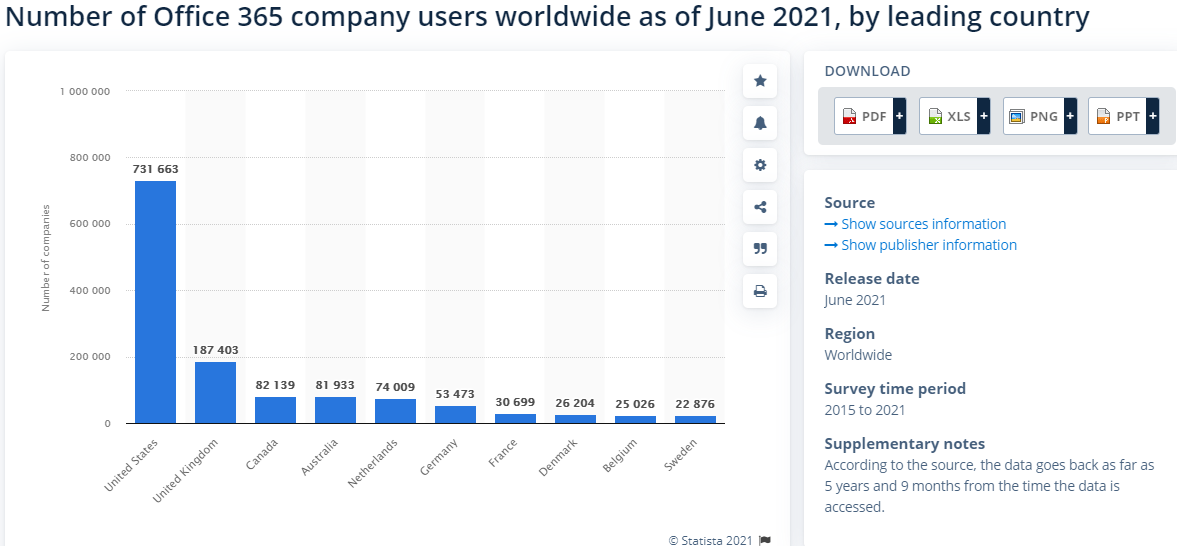 Image source: Statista
Regardless of the size of data your company has planned to move to Microsoft 365, you and your IT team can ensure successful Box to Microsoft 365 migration with a structured approach.


With these ten steps, you can seamlessly move Box files to Office 365 whether you're IT-managing a medium/large-sized business or even an enterprise.
1. Exploring Cloud Suites and Migration Tools
For most businesses, exploration is almost always the first phase of cloud data migration. And for businesses planning to migrate cloud suite data for the first time, the exploration phase is to be prioritized for two aspects: exploring cloud suites (new and old) and exploring migration tools.
Exploring Cloud Suites (new and old)
No two cloud suites are the same. The differences between the source and destination cloud in file type support, native collaboration tools, user interface layout, sharing permissions, and compatibility with 3rd party apps can disrupt the migration process and the overall workflow of the organization.
Therefore, it is important to transcend the exploration phase into more of a learning phase to know what's right for you and your company. For example, Microsoft 365 does not support special characters and specific file names.
| Unsupported features | OneDrive for Business | SharePoint Online |
| --- | --- | --- |
| " * : < > ? / \ | | Characters not supported | Characters not supported |
| .lock, CON, PRN, AUX, NUL, COM0 – COM9, LPT0 – LPT9, _vti_. | File and folder names not supported | File and folder names supported |
| File path length exceeding 400 characters | Not supported | Not supported |
To move Box files to Office 365, it's important to manually rename them (if there are a few). However, if there are a lot of files and folders, manually renaming them becomes complicated. It's best that this process gets automated in order to avoid the hassle.
CloudFuze has a built-in feature that automatically replaces special characters of the files and folders to be migrated. You can choose whether to replace the special characters with underscore or hyphen.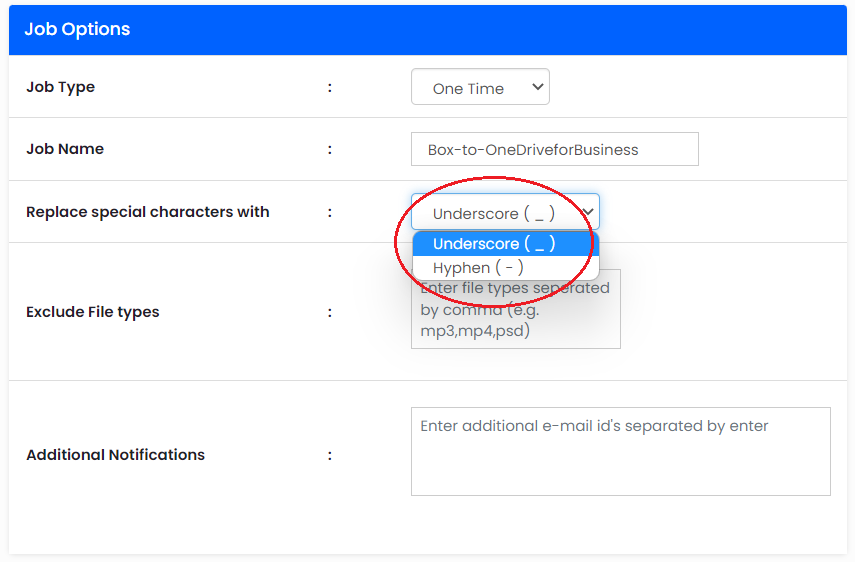 It is crucial to inform the end-users (employees) about Box to Microsoft 365 migration and provide them with training. It is through structured training that the team members will be able to get a proper knowledge of Microsoft 365 and its features.
Apart from familiarizing Microsoft 365 to the end-users, it is also important to reassess how Box Business is used in your company. For example, the Box Business cloud suite of your company may include data of ex-employees that are no longer needed, 3rd party app/program integrations that are no longer used, etc.
Going through the current Box usage pattern will help you exclude data that are no longer useful which, in turn, will help lower the migration load.
Exploring Migration Tools
The second aspect of the exploration phase is to explore cloud data migration tools. This is because it is only through a proper migration tool that it becomes easy to migrate high-volume business/enterprise data that includes sensitive information.
Suppose your company has a large amount of data to migrate from Box to Microsoft 365, it is important to choose a migration tool that has the infrastructural capability and the bandwidth to handle enterprise-level data migration.
Non-invasive access to company data is another feature to look for in a data migration tool. A data migration tool, such as CloudFuze, that uses privacy-friendly data access protocols such as REST API and OAuth makes the perfect fit.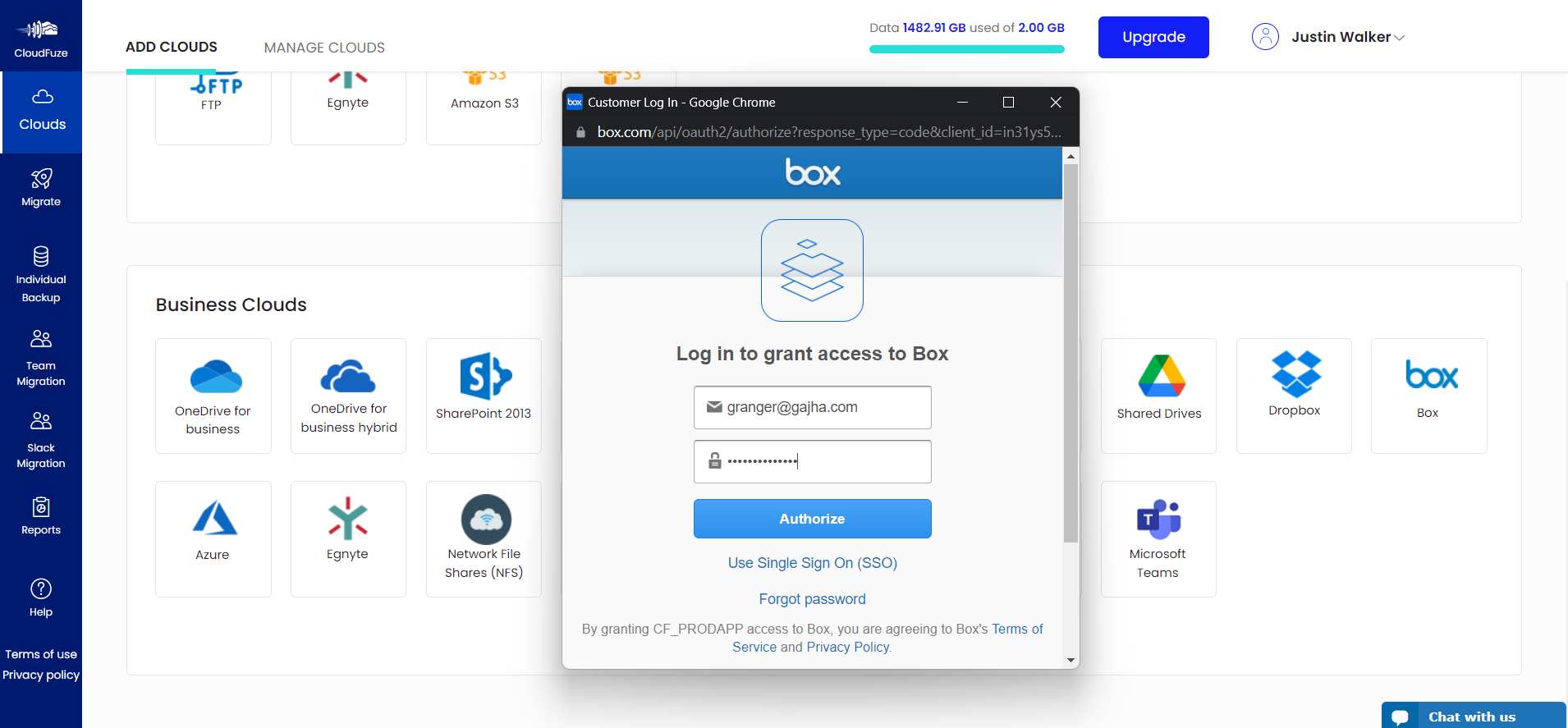 IT teams must use a migration tool that has the capability to transfer all the critical features associated with the user data. These features include:
Sharing permissions
Timestamps
In-line comments
File versions
Shared links
Embedded links
External shares
During Box to Microsoft 365 migrations that take a week or more, the version history of specific files can change as company operations continue. As such, it is also important to prioritize the delta migration feature in a data migration tool.
2. Planning Box to Office 365 Migration
The next important step to take after the exploration phase is to extensively plan the migration. It is essential to have input from most key people (if not all) in the company, which makes it a must to schedule a team meeting.
Because switching from Box to Microsoft 365 will involve moving sensitive data, it is best to approach the migration processes on a project basis, in a professional way.
Structuring the project will further help streamline data migration, especially high-volume data migration. This translates to having the migration done by a dedicated technical team of the migration service provider.
Another vital aspect to consider when planning Box to Office 365 migration is cost savings.
When your company is planning to migrate Box to Office 365 to save money, data migration costs should not be a bottleneck. Therefore, it pays to do a bit of research and compare quotes from different data migration service providers.
In most cases, migrating medium/large-sized business data can be complex and time-taking. If the data to be migrated exceeds a couple of tens of TB, we recommend segregating the migration process in batches.

This step will help mitigate the risks of complex technical errors and longer wait times. It's best to determine which datasets are to be migrated first if you want to migrate data in batches.
If you want to get highly articulate, a good step to take is to provide a deadline for batch data migration or the entire one-time migration to the data migration team. This way, the overall operations do not get disrupted in any way.
When planning to migrate from Box to Office 365, it is also important to determine if all or specific sharing permissions are to be migrated.
3. Choosing the Right Box to Microsoft 365 Migration Infrastructure
There is no one-size-fits-all solution to migrate data when moving from one cloud suite to another as every company has different needs.
The data migration needs can differ in terms of data volume (size), data and information confidentiality, and data fragments which can affect migration throughput. Therefore, choosing the right data migration infrastructure is critical.
Suppose your company has high-volume data or highly sensitive data to migrate from Box to Office 365, a standard SaaS server may not be the right option due to limited bandwidth and privacy protection. For this type of requirement, using a dedicated hosting server is a better option.
With CloudFuze, you get the flexibility to not only choose a dedicated hosting server over a standard SaaS data migration server but also complete the entire data migration project through your company's data center.
4. Finalizing the Migration Start and End Date
Planning and estimating the data migration time frame is one thing, finalizing it is quite another.
By finalizing the migration start and end date to move Box files and folders to Office 365, you can paint a clearer picture of the entire project. This, in turn, can help you and other teams make necessary adjustments.

Finalizing the start and end dates will also help you set KPIs for the data migration company or its team through which you will be able to gauge the performance.
It is essential to have regular meetings with the data migration service provider you plan to choose in order to clarify your migration goals.
The clearer and better-defined your Box to Office 365 migration goals and needs, the easier it becomes for the data migration company to help you finalize the migration start and end date.
5. Preparing CSV File(s)
Migrating data, especially cloud data, has become easier than ever before as many data migration tools include the feature to auto-map source and destination. However, auto-mapping generally works only when the source and destination paths are straightforward.
For example, auto-mapping can map simple paths such as moving Box files to Office 365 in the same user profiles. Migrating files from root or subfolders in Box to new root or subfolders in Microsoft 365 is another type of simple path that data migration tools can automap.
Auto-mapping does not work for complex paths, such as migrating user profiles of only select employees or transferring data from root folders to subfolders, can't be auto mapped. This is where manual mapping comes into the picture. In order to manually map the migration paths, it is important to create layouts using CSV files.
To transfer files from Box to SharePoint and OneDrive, follow all the protocols when creating CSV files, including creating the right files and folders path using the right syntax. Use the standard '/file or folder name' syntax to manually map the path of files and folders in the source and destination clouds.

After creating the CSV file, it's important to validate it (on the migration tool) to be sure that you've created the right files and folder paths using the right syntax.

6. Initiating Box to Office 365 Migration
The next step is to start the migration with the CSV file validated and other important parameters checked. One crucial box to check before proceeding to start migration is to make sure that all the important people in your company are added to be notified of the migration progress statuses.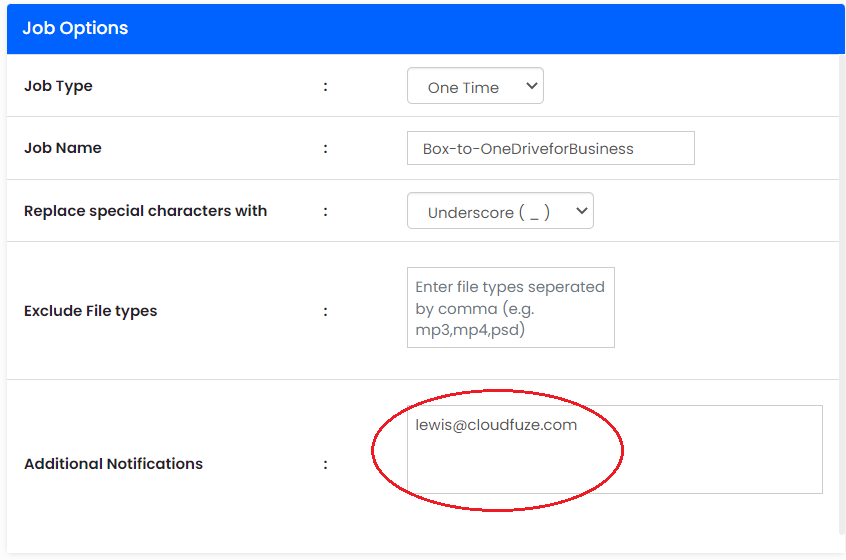 Also, one particular factor to consider prior to transferring files from Box to OneDrive/SharePoint is to provision first-time logins of new user accounts created in Microsoft 365.
This is an important parameter to check as Microsoft 365 requires new users to log in to their new user accounts at least once for their storage space, tools, and other cloud features to be allocated.
Make sure that destination user accounts (Microsoft 365 user accounts) are provisioned. When using CloudFuze, you can check whether destination Microsoft 365 users are provisioned during the final step prior to starting the migration.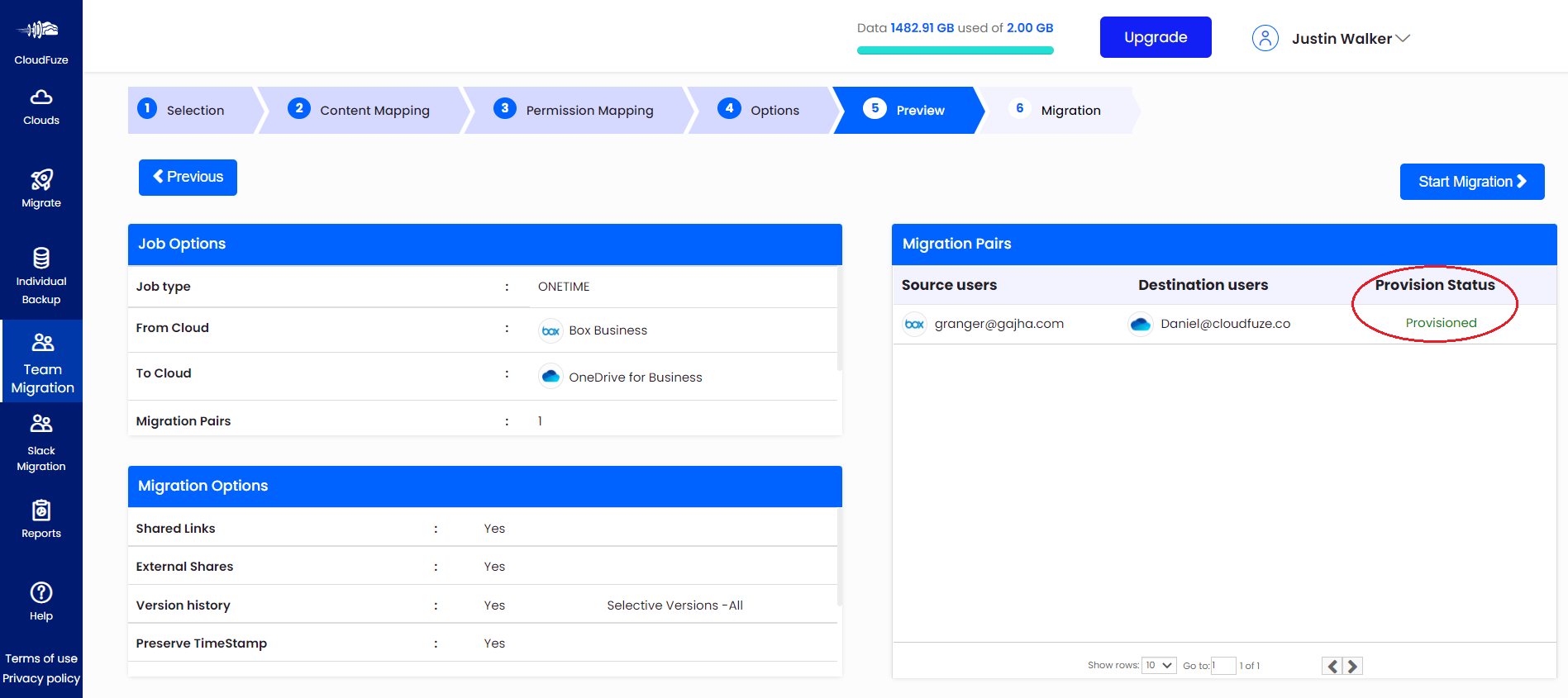 7. Regularly Checking for Migration Updates
During Box to Office 365 migration, it is essential to regularly monitor the data transfers to keep proper track of the progress. As discussed in the previous step, people who are added to receive the updates will receive regular notifications via email.
But in some cases, checking each email update can be time-consuming and can disrupt the workflow, which, in turn, can take a toll on the overall operations. Therefore, it's best to have project reporting meeting calls with the data migration team.
Depending on your availability and convenience, you can schedule daily or weekly calls with the migration team to get in-depth updates. And make sure that the progress reports get documented for future references. With a tool like CloudFuze, you can download in-depth migration reports.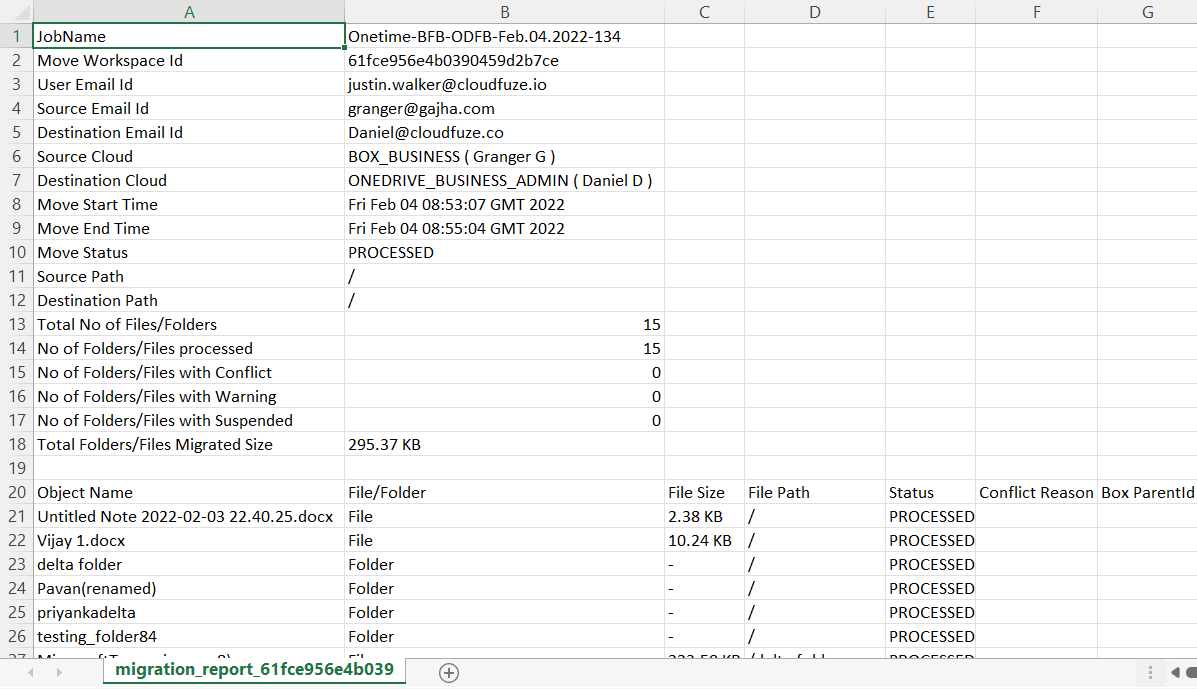 8. Wrapping up One-time Migration & Checking Data Due for Delta Migration
Once the first phase of Box to Microsoft 365 migration (one-time migration) is completed, it's important to check data that's due for delta migration (also known as incremental migration).
During the one-time migration phase, several data get modified as your company's operations continue. And to make sure that the data migration to Microsoft 365 is precise and up to date, it's vital to update modifications in the migrated data via delta migration.
For example, if some changes are made in a document during migration, all those changes must be reflected in the same document migrated to Microsoft 365 via delta migration.
9. Initiating Delta Migration
During one-time Box to Office 365 migration that takes one week or more, a lot of data will be modified, including making changes in files and folders.
Therefore, the best practice is to initiate delta migration in bulk to migrate all the changes in files and folders that have been made during the previous one-time migration.
In enterprise-focused migration tools, including CloudFuze, you will have the option to choose between one-time and delta migration under the 'Job Type' or 'Migration Type' tab.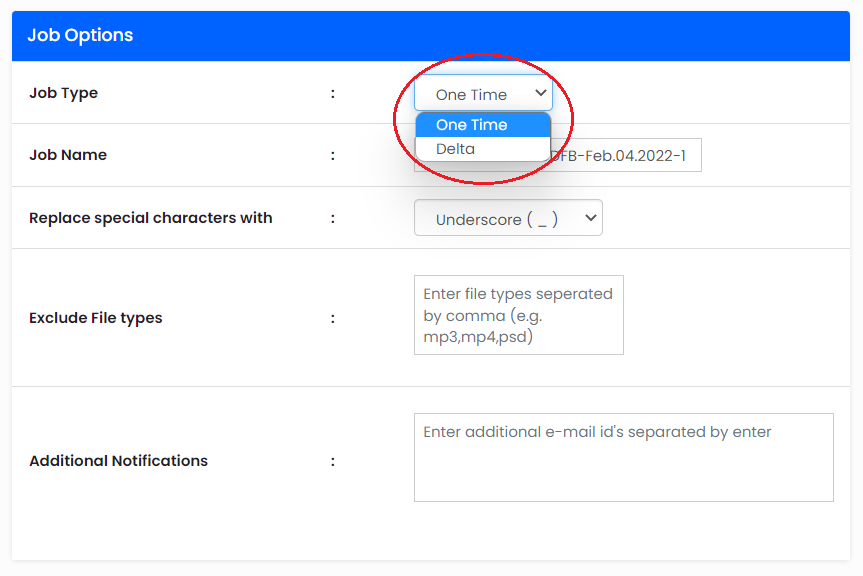 10. Obtaining Delta Migration Completion Report
The final step to a successful Box to Office 365 migration is waiting for the delta migration to finish and obtaining the completion report. As part of documenting the delta migration completion, you can download the report.
Doing this will also help you have a better understanding of the changes and modifications that are migrated. Having a closer and thorough look at the delta migration completion report will also help you justify the extra time that delta migration takes.
Box to Office 365 Migration FAQs
1. How to move Box files to Office 365 with versions?
CloudFuze helps businesses of all sizes migrate Box files to OneDrive for Business and SharePoint Online along with selective or all versions.
2. How to migrate Box to Office 365 securely?
Ensuring data access via APIs is one of the most secure ways to transfer users and data from Box to Office 365. CloudFuze uses REST APIs to access source and destination cloud data and encrypts the entire migration to ensure optimum security.
3. What is the fastest way to migrate from Box to Office 365?
The fastest approach is to segregate the migration into several batches and complete the migration of each batch one at a time.
4. How to move Box files to Office 365 with embedded links?
CloudFuze migrates all box files to Office 365 while transferring various types of embedded links, including Open ID links, IF condition links, and shared links.
5. Is Box to Office 365 migration customizable?
Yes, businesses of all sizes can customize their Box to Office 365 migration as per their migration needs with CloudFuze.