Smart Ways for Managing SaaS Applications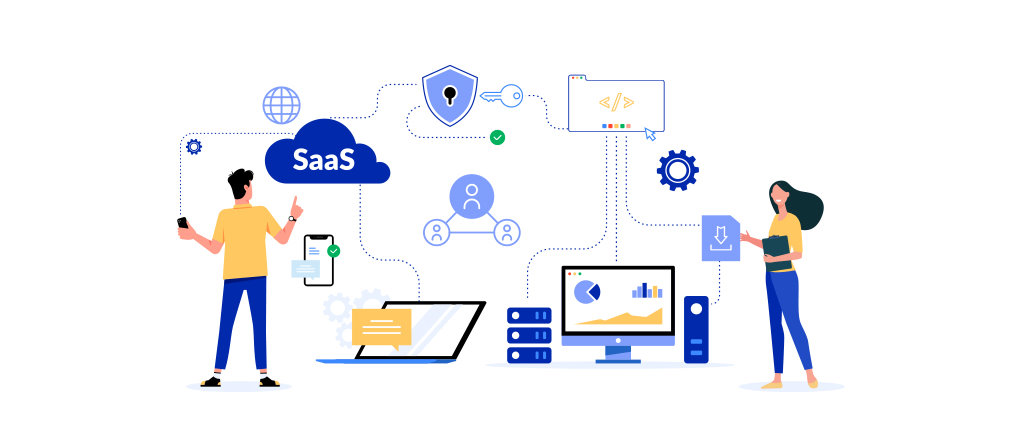 The SaaS industry has grown at a rapid pace over the last decade. SaaS now has become the gold standard for all kinds of businesses, from old-school accounting firms to artificial intelligence start-ups, and from small family-owned shops to large multinational corporations. The usage of, and demand for, SaaS products have grown dramatically over the years.
As of 2022, the trend is such that all organizations use a number of SaaS applications across various departments and teams. It is almost impossible to track and manage these apps individually.
The explosion of SaaS apps also possesses a series of threats. There are a lot of chances for errors which may cause expensive losses for the company. From increased SaaS spend to poor security of the company's data; poor SaaS applications management may incur various risks.
Data-related risks during employee offboarding and productivity issues while onboarding are some issues that the IT admins face in this scenario.
In this article, we aim to discuss some smart practices that companies can use to effectively manage their SaaS applications. Eventually, reducing the SaaS spend, increasing productivity of the workforce, and lessening pressure on IT admins.
Regain control
The first and most crucial step in appropriate SaaS management is regaining control back to the IT teams. This requires gaining deep understanding and insights on the current state of SaaS tools and applications.
SaaS management helps in developing a system of record to track and maintain all SaaS applications. This is to make sure that it enhances collaboration, visibility across teams, and information about the SaaS applications to reach out to the end users as conveniently as possible.
As opposed to traditional methods of using spreadsheets, which are prone to errors and require hours of work, choosing the apt SaaS management tool can help IT admins regain control over their SaaS stack.
Some methods to gain control over SaaS applications are listed below.
Audit the SaaS tools

Create a list of all SaaS tools and applications used by the organization.

Track software renewals

Analyse and track the renewal periods of each SaaS application. Think before renewing or ending them.

Track software usage

Track the usage of applications by the employees. Find out what all services and features are being used by the employees.

Look out for new software

Stay updated on new software and applications with the same functionalities you require at lower costs.

Automate workflows

Save time by automating workflows and processes by using necessary tools.

Choose user-friendly SaaS apps

Select the most user-friendly and easy-to-use applications so that employees don't have to lose time and effort learning to use the software.
Planning
Procuring adequate data on user engagement with SaaS applications allows IT admins to have a clear-cut view on how the SaaS applications and features are being used across the organization. This helps in planning for the future, and answering questions, like which applications are to be renewed, which ones can be quit. These are the high-end features being used, and the trend across different teams.
Optimizing SaaS spend requires the IT team to plan appropriately based on the usage data. So that both the IT teams and employees have a win-win situation. Organizations should rely on the usage statistics to plan their SaaS stack. This could cut off SaaS wastage effectively.
Calculate the company's SaaS management efficiency. Plan according to the requirements of the organization and choose the most appropriate SaaS management tool. This can help automate workflows and processes which might otherwise take a lot of time.
A good SaaS management tool can also reduce the pressure on IT teams by minimizing the effort and time wasted on an employee's onboarding and offboarding processes.
Conclusion
A huge stack of SaaS apps can help organizations in their processes, but on the same hand can incur huge wastage and risks if left uncontrolled. Getting control of SaaS applications is of immense importance to an organization. It is smart to let go of the spreadsheets and get an appropriate SaaS management tool to analyze and centralize all SaaS apps.
A proper SaaS management tool is the smartest technique to control the SaaS environment. A good SaaS management tool can provide information and insights on the SaaS apps usage, along with periodic renewal alerts. This can also help IT teams in various processes which might otherwise require a lot of time. Thus, unused licenses and wastage can be identified and removed from the stack.
Choosing these methods can help optimize the SaaS spend and get rid of SaaS wastage. Automated tasks and workflows increase the productivity of the workforce. As it stands, these methods can help remove a lot of pressure and workload.