Slack to Teams Migration Tool: Things to Know Before Signing Up
Migrating from Slack to Teams is now becoming a trend as Teams comes as part of the Office 365 bundle of apps allowing you to work and collaborate using the tools you need for your business with one subscription for all. But, which Slack to Teams migration tool to use to move Slack conversations securely and seamlessly.

Figure 1: Office 365 Tools
With many tools being introduced for Slack to Teams migration, identifying which one to use has become a challenge in and of itself. You have free, paid, and custom-tailored solutions to choose from, but which one is truly worth your time? Let us go deep into some important considerations that help you to sign up with the best and right tool for your business, Slack to Teams migration.
1. Check for Direct Messages Migration
One of the key challenges with Slack to Teams migration is the limitation to migrating direct messages. Importing Direct Messages is not possible in Teams, though Slack's direct messages and Team's chats are identical. But some tools have been successful in feeding Slack direct messages into Teams, however missing some of the other features.
This has been one of the most desired features by every migration administrator globally. With more requests from customers across the globe to migrate direct messages, CloudFuze has succeeded in executing it with all the features (metadata, emojis, and @mentions) being migrated.
Below is a sample of successful direct messages migration.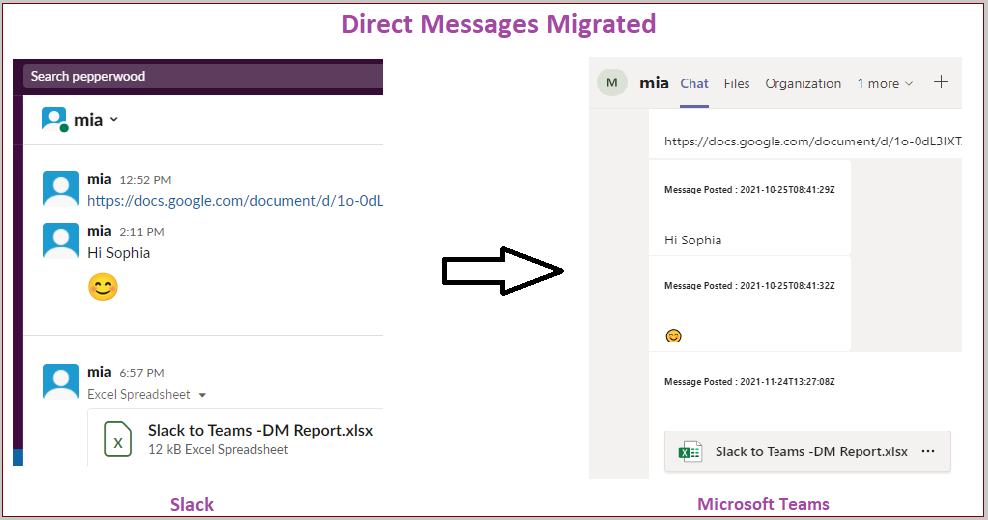 Read more about how the CloudFuze platform migrates direct messages from Slack to Teams.
2. Check for Other Slack Features Migration
Slack involves many features to make collaboration easier and productive. So, ensure the tool you are signing up for migrates all of these.
The Slack collaboration platform includes:
Workspaces
Users
Channels

Private channels
Public channels

Direct messages
Most of the commonly used features to communicate with team members include:
Chat
Emojis
Timestamps/metadata
@mentions
Videos
Files (documents, sheets, slides, etc.)
Replies
Threads
Pinned messages
Attachments
DMs
CloudFuze X-Change tool is successful in migrating all of these for businesses as per their needs.
Chat, emojis, videos, replies, mentions, and timestamps existing in the Slack workspace of direct messages and channels are migrated without error.
We understand how important a single file is for business and migrate all the direct messages files to your OneDrive and both private and public channels files into the respective SharePoint Sites with as-is ownership.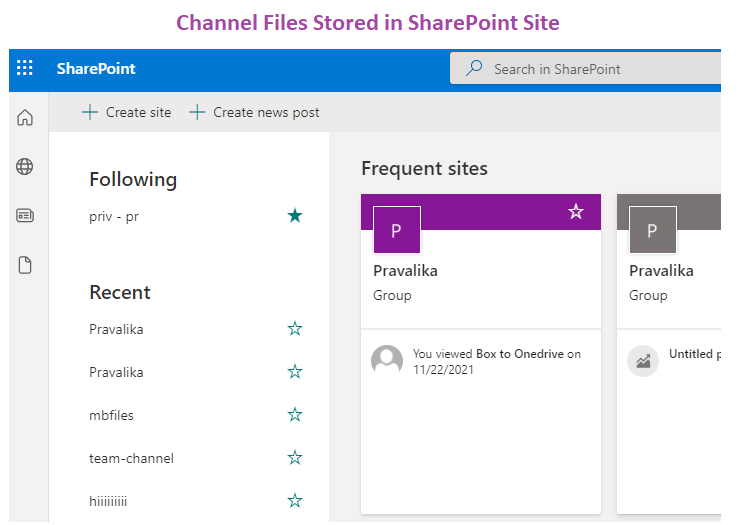 Read more about how the CloudFuze platform migrates both channels and direct messages files.
3. Go With Deployable tool
If data security is your top priority, then deploying the migration tool on your own server is the ideal solution.
CloudFuze, being a leading migration service provider, holds terabytes of business-sensitive data, and it knows how important to keep it secured and their clients too equally. As a result, the CloudFuze X-Change tool offers two solutions to its customers to migrate data from Slack to Teams.
Deploy CloudFuze X-Change on your own servers or
Use CloudFuze X-Change in its SaaS servers
You can choose any of the solutions depending on your requirements and data sensitivity. In both cases, you will get timely help from our migration support team via email, live chat, or call.
4. Check the Tool's Performance
Performance is a top priority for businesses with a huge amount of data that must be migrated in an acceptable timeframe. Days, weeks, or months of downtime and business disruption are just don't work for any type of business.
When it comes to migration throughput, the CloudFuze migration tool shows its best side. It scales up in response to changing data migration requirements.
Typically, Slack to Teams data migrations on CloudFuze SaaS servers takes between a few days to a few weeks depending on the size of the data to be migrated.
If you install the CloudFuze X-Change tool on your server, the migration throughout will depend on the network bandwidth you have available.
5. Check for the Security and Compliance Features
Last but not least, security is an important factor to consider before you sign up for a third-party tool to migrate data from Slack to Teams. Choose a Slack to Teams migration tool that clearly indicates the level of security it offers for your data during the migration process.
CloudFuze X-Change tool assures the security of your data when moving it from Slack to Teams. It doesn't ask to share your user credentials but instead uses the OAuth protocol that sends requests to your Slack and Office 365 clouds to grant permissions to initiate migration.
The tool uses API calls to migrate data from your Slack business account to your Teams business account and will not have any access to read or store your company's data during migration.
Read more about the CloudFuze X-Change engine platform security.
Have any questions or want to learn more about Slack to Teams migration, leave us a message. Our migration experts are just a step away from assisting you.