Optimizing Data Migration to Leverage Cloud Cost Savings

For a lot of companies, the use case of migrating from one cloud to another or from on-prem storage to the cloud is to lower operational costs and reduce overall business spending. If your company is also looking forward to migrating for cost savings, it is crucial to work with a feasible data migration cost so that the essence of moving to a new cloud suite for cost savings is not lost.
In this guide, we have listed several ways IT managers and other decision-makers can optimize the data migration project to add more value to the cloud migration cost savings reason.
1. Deleting or Archiving Inactive Source Cloud Accounts
Companies, whether small or large, do not necessarily have to move all the user accounts and data from their source cloud to the destination. They can skip accounts and data that are no longer needed which helps lower the scope of work and eventually the cost of data migration.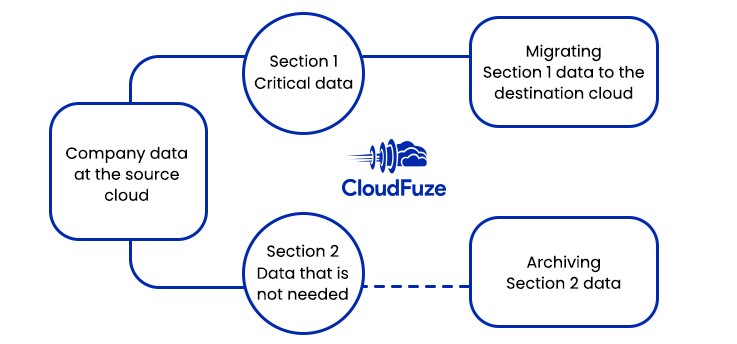 Read our content segregation guide to learn about the approaches that you can take to choose useful workloads over ones that are no longer needed, such as inactive user accounts of ex-employees or temporary third-party consultants.
2. Using a Migration Tool With a SaaS Model
One of the best ways to make the cloud data migration project lightweight and budget-friendly is to use a SaaS migration service. The SaaS model eliminates the need to set up a new migration infrastructure and makes the process of planning and deploying the migration project lightweight.
Ultimately, a migration tool with a SaaS model, such as CloudFuze X-Change, helps avoid annual license obligation which significantly leads to cloud migration cost savings.

Our SaaS migration model post covers the benefits in deep detail. Check it out to learn about the business benefits for your company.
3. Decommissioning Source Licenses as And When User Batches Are Migrated
Strategic decommissioning of the source cloud user licenses is a low-cost enterprise data migration approach that helps boost the cloud cost-savings efforts right from an early phase of the move. Business data migration projects with the need to completely switch to the target cloud can benefit from this approach the most.
For example, your IT team and management can end the licenses of user accounts in the source cloud as and when they are migrated to the target cloud. It is critical to validate the migrated user accounts extensively before decommissioning their source cloud versions.

4. Performing Delta Migration of Selective User Accounts
Another optimization approach to lower the cost of data migration is to perform a selective delta migration after the one-time migration. This approach helps your IT team skip the need to transfer incremental changes of all the user accounts from the source to the destination cloud.

By having granular control in choosing the user accounts for delta migration, your IT team can lower the scope of work during the post-migration stage and keep the migration budget in check.
5. Using Consolidated Tool License For Multiple Migrations (for MSPs)
MSPs working on cloud data migration projects to help their customers lower their cloud spend can leverage consolidated tool licensing model to optimize the project's cost. This approach involves using a single license of the migration tool to perform multiple customers' migration projects.

By making the data migration cost attractive, global MSPs can reinforce their migration undertaking feasibility, gain more customer trust, and convert more deals.
Prioritize Cloud Management Equally for Maximizing Cost Savings
Apart from optimizing the data migration project's cost, it is also critical to optimize management of the new destination cloud to minimize cloud spends and maximize cost savings. With CloudFuze as a strategic partner, you can optimize your company's migration project and everyday cloud management for optimum cost savings.
Get in touch with our team today.