Microsoft 365: Getting Started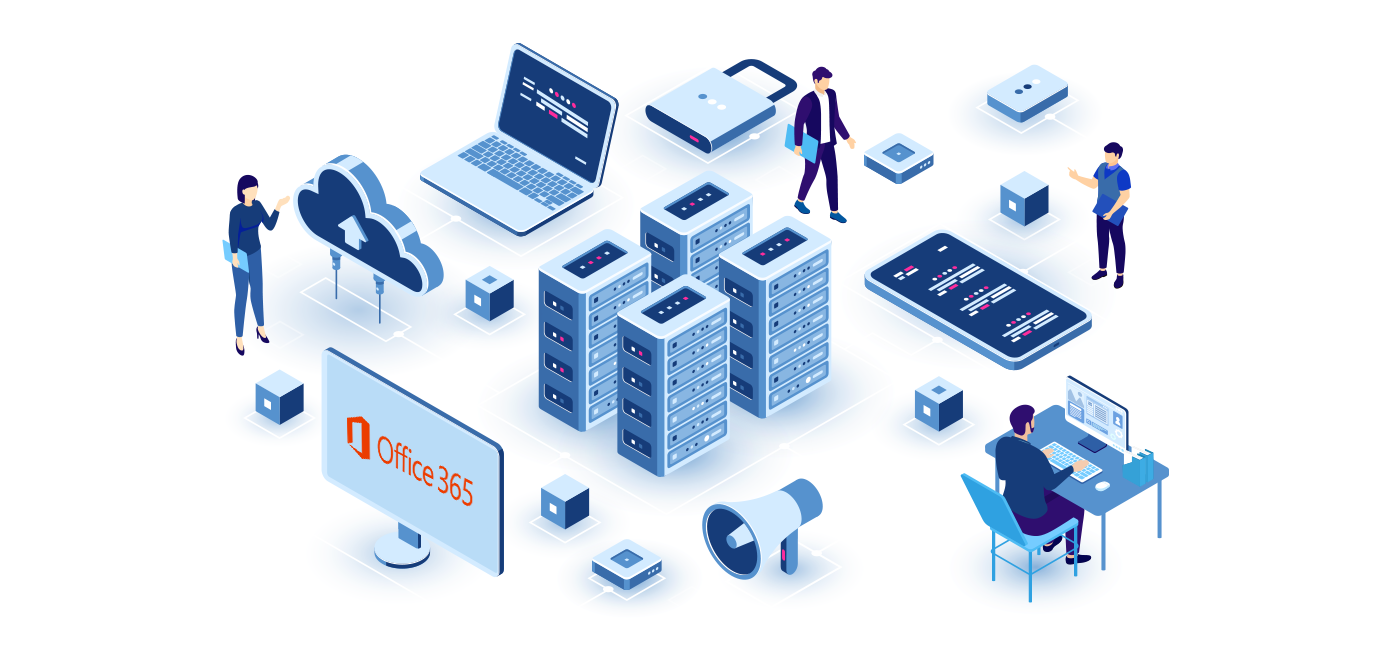 Microsoft 365, formerly Office 365, is a subscription service from Microsoft that includes the Microsoft Office product range. Create, connect, and share with apps from the Microsoft Office suite.
Microsoft 365 apps give an up-to-date environment with cloud-based analytics and security. However, it requires some forethought to modernize your systems and applications. You must determine which tools suit your situation and how your company applications will function in a current setting. Because there are so many moving components, you must communicate your migration plans with your personnel.
You receive the most recent version of Office 365, Windows 10, and best-in-class security with Microsoft 365. Microsoft Teams makes it easy for your team to stay organized and communicate on one platform. MS Office tools like Word, Excel, and PowerPoint make creating and cooperating easier for you and your team. Save files securely in OneDrive so you can access them from anywhere. Then, whether in the office or on the move, share and collaborate in real-time with your co-workers. With Office for the Web, you can stay productive from any browser and work on any device anywhere.
Understand the Deployment Procedure
The deployment process of the Microsoft office suite has improved because of the modern technology and insights, making previous upgrade difficulties such as application compatibility less of a concern. For example, Microsoft created the desktop deployment wheel to help people understand how to deploy Microsoft 365. In addition, the wheel walks you through the recommended procedures for upgrading to Windows 10 and Microsoft 365 applications.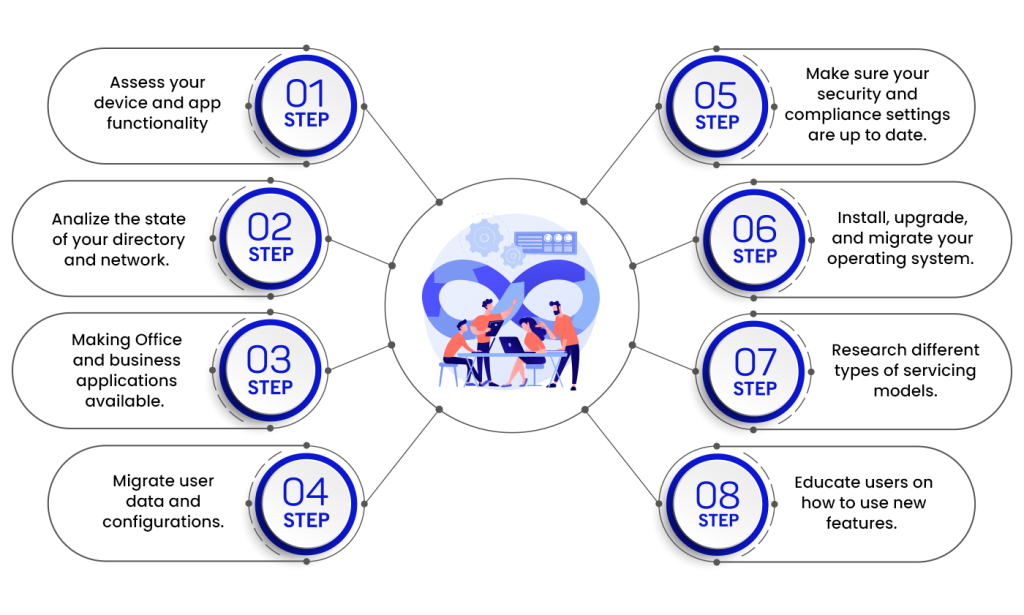 Before you begin, make a high-level plan, and secure the support of the relevant sponsors. The desktop deployment wheel provides critical processes to assist you in identifying core team members and resources to manage in the below-mentioned deployment domains.
Step 1: Assess your Device and App Functionality.
To ensure a successful deployment, you must first audit your devices and apps and check for compatibility using Microsoft tools.
Step 2: Analyze the state of your directory and Network.
For identity and access management, you'll need to set up Azure Active Directory and prepare your network for the movement of system images, application packages, user files, and updates.
Step 3: Making Office and Business Applications Available.
Click-to-Run installation technology is used by Microsoft 365 Apps and Office 2019 clients, and you may wish to make a variety of UWP or MSIX-based business apps available. Plan for office and app delivery, regardless of whether your apps are Click-to-Run, MSIX, conventional MSI, or UWP apps deployed from a Microsoft Store.
Step 4: Migrate User Data and Configurations.
Any PC replacement or refresh operation ensures that users' files, data, and settings migrate smoothly and are retained during the transfer. In addition, traditional solutions such as the User State Migration Tool and the Microsoft Deployment Toolkit are available, and more current ones include a OneDrive Known Folder Move.
Step 5: Make sure your Security and Compliance Settings are current.
Organizations may take advantage of security enhancements that were not available in previous Windows versions by upgrading to Windows 10 and Microsoft 365 apps. Securing and safeguarding endpoints, identity, and data is vital, whether utilizing Windows 10's built-in capabilities with virtualization-based security or cloud services like Microsoft Defender for Endpoint.
Step 6: Install, upgrade, and Migrate your operating system.
Microsoft Endpoint Configuration Manager, for example, may aid in the automation and management of OS deployments. Microsoft suggests phased deployments, with a representative set of hardware and software first targeted and deployed to an early adopter group in your business. You may then utilize the information from those devices and users to expand your deployment by targeting further PCs.
Step 7: Research Different Types of Service Models.
You can manage Windows and Office as a service with Windows 10 and Microsoft 365 Apps, providing new capabilities, experiences, and safeguards to your end-users. Semi-annual feature upgrades introduce new capabilities in the fall and spring of each year, while monthly cumulative quality updates address security, reliability, and bug fixes.
Step 8: Educate users on How to use new features.
It's vital to communicate with and teach users about new features in Office, Windows, and other business applications and services; then, you'll see advancements in how people use these.
Microsoft 365 suite makes it easier to remain connected and get things done. There's a Microsoft 365 subscription to match your needs, whether you want to connect with family and friends, learn remotely, or work with your team. Work, study, organize, connect, and create with the support of powerful tools. With the help of Microsoft 365, many enterprises, large and small, are undergoing digital transformations.