With CloudFuze's new Android File Manager App, your cloud accounts are literally at your fingertips. CloudFuze makes it possible to sync all your cloud accounts to your Android device, enabling you to access multiple accounts from Google Drive, Dropbox and Box without switching between screens. CloudFuze makes synchronizing and accessing cloud files from multiple devices a smooth process. It's the ultimate cloud manager for your Android.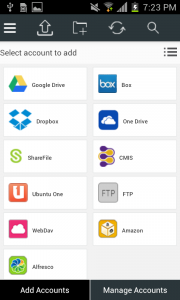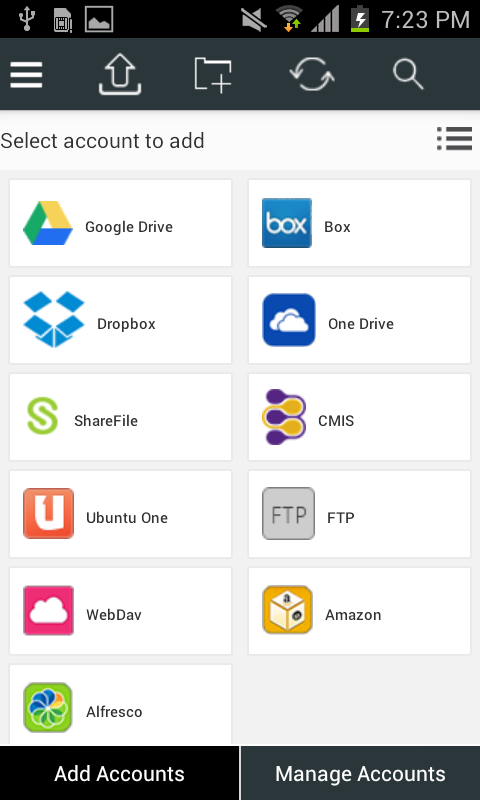 Share your cloud files to an e-mail address or any specific Cloud account with the CloudFuze Android App. This feature allows you to coordinate with others, even when you are on the move. You can send any Google Drive, Dropbox or Box document to anyone directly from your Android.
Configure multiple accounts from Google Drive, Dropbox and Box with the CloudFuze Android App. Not only can you add multiple clouds from different providers, you can also add multiple accounts from the same provider. This is really useful if you've created multiple Google Drive accounts for different purposes – for example, most professionals will have a personal and work email account with an associated Google Drive, and it will save you a lot of time being able to access documents from both on a single window.
Advanced File and Folder Management
:
The CloudFuze Android Cloud File Manager allows you to search, edit and categorize all your Cloud files with advanced file management features. You can quickly edit a document directly from your Android, from any location, and then sync it back to your Cloud drive. If you are sharing the project with another person, they will be able to access the edited document immediately. This advanced feature from CloudFuze means that you will never be out of the loop on projects, and you'll always be able to share your input, no matter where you are.
CloudFuze Cloud File Manager's smart file identification system is based on the file format, so you can quickly search through specific files to find exactly what you are looking for. You have the option to either search in one specific Cloud drive, or you can search through all files. If you want to search through all files, you can simply tap on the search icon, and type in either the file format that you are looking for or part of the name of the file that you are searching for. Have multiple search options makes it easy to locate a file or type of file in any of your Google Drive, Dropbox or Box accounts.
Accessing and syncing your Google Drive, Dropbox and Box from your Android is easy. After you add your Cloud accounts to your Android with our Cloud File Manager, you will have full access to your files and folders stored there. What's more, you also have the option to access your files even when you are offline. Once you have synced a file to your Android, it is available to you whether or not you are connected to the web. If you choose to edit a file while you are offline, you can sync it back to your Cloud drive once you are connected with the quick tap of a button.
Imagine the convenience of keeping all your cloud accounts in your pocket (or in your purse…) and accessing all your clouds when you're at home or on the move, connected or offline. The CloudFuze Android App saves you a lot of time and keeps your Cloud files accessible at all times.
You can also download CloudFuze's Desktop App to enjoy similar features from you desktop – seamless access to unlimited Google Drive, Dropbox, Box, SugarSync and FTP accounts. There is a Web App and an iOS App in the works.