Latest Trends in Cloud Management Software
Cloud computing has really changed everything from a business perspective. It dramatically reduced the need for enterprises and organizations to invest in their own physical IT infrastructure. And for many good reasons.
For one, moving their business processes and operations to the cloud allows for more flexibility, especially for companies with fluctuating bandwidth requirements. The introduction of cloud management software enabled enterprises to manage all cloud-based operations, resources, data hubs, and more from a unified interface.
Two, disaster recovery-related expenses are extremely low, which is quite ideal for many small and medium-sized enterprises. Still, businesses of all sizes should invest in a more robust disaster recovery solution.
Three, scaling up and down is easy, quick, and inexpensive when your business is using cloud-based systems and tools. When you need to increase your cloud's capacity, scaling up won't be a problem as your service provider will just draw from its remote servers. So is scaling down. Such agility gives you that definitive edge over your competitors.
The clamor for a more comprehensive and richer cloud management platform will grow louder in the coming years, despite the many challenges that come with cloud migration. And this increasing demand will pave the way for the following trends that will gain shape and traction in the near future.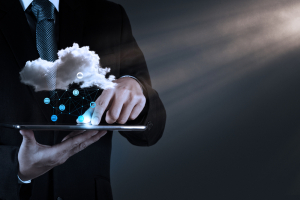 1. Cloud Resources Usage Tracking
A 2019 cloud computing survey by the Cloud Security Alliance reported that 69% of the world's enterprises are now migrating business-critical applications to the cloud. Among the many factors that compel business organizations to move their applications and operations to the cloud include significant financial savings.
Computers, hard drives, servers, and other IT equipment needed to create and maintain a commercial IT infrastructure don't come cheap. Factor in other operational expenses like floor space, energy usage, security and monitoring systems, emergency back-up systems, maintenance, updates, and a list of backup software tools, it's not that difficult to imagine the amount of money needed to run an on-premise IT infrastructure.
Opting for a cloud-based infrastructure is a more cost-effective alternative provided businesses have a clear understanding of their requirements and optimize the use of their cloud-based resources, tools, and applications. Efficient cloud utilization means using only the resources and tools needed for their business processes and turning off other non-essentials.
A comprehensive cloud management platform features a resource usage monitor to identify how much resources their business requires while showing how much they are using. This will help them track the number of resources and data they are using and activate other resources only when needed.
You also need to check a few critical features when you are shopping for a data migration tool to secure the migration process and ensure its success.
2. Multi-Cloud Adoption
According to the 2019 Annual State of the Cloud Survey,  84% of enterprises with over 1,000 employees are now adopting a multi-cloud strategy. The recent figure is a 3-point jump from 81% in 2018. Based on current data, there will be a massive adoption and implementation of multi-cloud strategies in the foreseeable future. Multi-cloud implementation is the preferred strategy for many business organizations. It involves the use of two or more cloud computing services for redundancy.
Such a setup has proven quite effective in preventing system downtime as well as protecting against data loss because it automatically localizes and contains any cloud component failure when it occurs. Companies that are not keen on getting tied with a specific vendor via lock-in agreements can opt for multi-cloud adoption.
Another major driver of multi-cloud adoption is data sovereignty. There are specific laws, regulations, and compliance policies that require businesses to physically store their enterprise data in certain locations.
Multi-cloud deployment helps companies address the said requirement. The majority of cloud service providers offer a selection of data center locations where clients can house their data. Also, this versatility helps clients place their cloud resources close to their end-users, resulting in optimum performance and latency.
That said, multi-cloud deployment presents a number of challenges, primarily the monitoring of multiple cloud environments. To address this concern, enterprises are constantly looking for a hybrid cloud management portal customized for multi-cloud strategies, which is equally daunting as well.
Network Computing cited in a 2018 article that there are 215 different criteria IT decision-makers must consider in choosing hybrid cloud management tools designed for multi-cloud monitoring. Going over that much consideration requires significant research and effort.

3. Public Cloud Migration
There is so much hype and chatter when it comes to the public cloud. The 2019 Annual State of the Cloud Survey revealed that public cloud growth is three times faster than the private cloud; the former registering a 24% growth in 2018 while the latter a measly 8%.
The same report pointed out that 50% of enterprises are spending over $1.2 million annually for public cloud services. Another 13% cash out an impressive $12 million yearly on public cloud expenditures.
Considering the advantages of using public cloud instead of its counterpart, it's no wonder why many enterprises have moved their operations to the public cloud and why many organizations are considering to transfer in the near future.
In the North American region, almost 60% of enterprises have fully migrated to the public cloud according to a 2019 Forrester article on cloud computing.
Business-critical systems used for financial transactions, inventory management, operations management, eCommerce, and more will be replaced with cloud SaaS apps as part of their organization's digital transformation. Other tools and applications will be refactored via cloud-native technology so they can be integrated and leveraged as part of an overall cloud-based business strategy.
Among the major drivers of the public cloud migration is the costly reliance on IT managers and teams. In a traditional on-premise IT infrastructure setup, both the management and maintenance of the IT network are placed on the shoulders of a few IT managers. Employing a team of IT experts to look after your infrastructure takes a huge portion out of your IT budget.
Moving to a public cloud means your IT team is freed from the responsibility of managing and maintaining your IT network. Public cloud services providers have dedicated teams of IT experts deployed to monitor, update, and fix your IT infrastructure. This allows you to assign your own IT personnel to other critical tasks that add value to your organization.
Managing and monitoring compliance and governance requirements manually is exhausting and takes a lot of time and resources. Certain laws require enterprises to achieve accreditation status such as ISO 27001, PCI DSS, SOC, and many others before they are permitted to store and process critical and sensitive information (customer contact details, credit card data, etc.).
Moving to the public cloud means you never have to worry about accreditation, governance, and compliance. That's because data centers and other facilities managed by cloud services are fully accredited.
Make the Move to the Cloud
Cloud computing will become an industry standard across many verticals. As more businesses move to the cloud, it is high time that your organization considers the same. Or, at the very least, experiment with a few non-essential business processes to see how it goes.
There is no denying that the Cloud Journey has already begun and is accelerating. It is not a mere figurative bandwagon but a technological revolution that is poised to impact how business is done. You can stave off your organization's digital transformation but the more you delay, the further behind you get from your nearest competition.