IT Admin Checklist to Migrate Dropbox Files to SharePoint Online

Migrating Dropbox files to SharePoint Online is different from migrating to OneDrive for Business. It's best not to take a one-size-fits-all solution and instead have a different plan for migrating to SharePoint Online.
We recommend going through this checklist first and then working on your migration plan by referring to our Dropbox to SharePoint Online migration guide.
1. Mandate Log-ins on New Microsoft 365 Accounts
When your company creates new Microsoft 365 user accounts, make sure to ask each employee to log into their new Microsoft 365 user accounts at least once to activate them.
This step seems trivial, and therefore many organizations often overlook it. However, it is one of the crucial building blocks for a successful migration.
2. Create Sites in SharePoint Online
Without creating Sites in SharePoint Online, no migration will be successful. Have internal meetings with your company's IT, management, and HR team to decide the number of SharePoint Online Sites required.
Only after creating Sites, it becomes possible to migrate Dropbox files to SharePoint Online. However, this step is not required if your company plans for Dropbox to OneDrive migration.
3. Ready Admin Account Credentials
It's an excellent step to be ready with admin account credentials of both Dropbox and Microsoft 365 to set the migration in motion.
It's vital to give admin account access to even the most secure migration tools like CloudFuze that use data privacy-friendly protocols such as REST API and OAuth.
4. Don't Plan For Auto-mapping
To move Dropbox to SharePoint Online, we recommend avoiding auto-mapping as it doesn't work for multiple SharePoint Online Sites.
It's best to manually map user accounts from Dropbox to SharePoint Online while being specific on the Sites. CSV mapping is a great way to map user accounts manually.

5. Be Specific With Migrating Permissions and Features
Although enterprise-level migration platforms such as CloudFuze migrates all sharing permissions and other features, your company may or may not want to migrate permissions of all the user accounts.
Or it may be so that your company may decide to migrate all the features, including metadata, version history, external shares, shared links, comments, and embedded links. It's important to finalize this step with your company's decision-makers.

6. Plan For Pre or Post-migration Data Sorting
Sorting Dropbox data before migration and deleting unwanted ones helps ease the migration load and lower the migration budget. If there are no deadline constraints, your company can go for this option.
However, if you have to stick to a tight deadline to avoid the renewal of your company's Dropbox plan, sorting data after the migration makes more sense.
7. Factor in SharePoint Online's 400 Characters File Path Limit
Microsoft doesn't allow overall file paths in SharePoint Online to have more than 400 characters. Therefore, it's crucial to consider this limitation when migrating Dropbox files to SharePoint Online.
CloudFuze's migration engine automatically trims file paths and ensures the character limit isn't breached, and the files do not go into conflict.
8. Get Regular Migration Reports
It's only through proper regular reporting that it becomes possible for your IT team and other concerned teams in your company to keep proper track of the daily progress.
Also, migration reports can come in handy for rationalizing data after Dropbox to SharePoint Online migration is completed.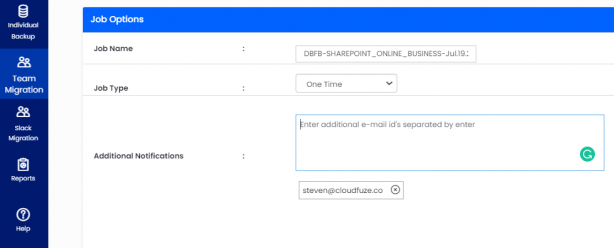 9. Prioritize Delta Migration for Incremental Syncs
There will inevitably be many changes to Dropbox data since your company will continue working during the migration. Therefore, it is crucial to transfer all the incremental changes made during the migration via delta migration.
At CloudFuze, our migration team has the flexibility to offer multiple delta migrations at your request. Contact them to learn more about this.
10. Clean Up at the Source Cloud After the Migration
After the one-time and delta migration, make sure to clean up all your company's data in Dropbox to avoid making data privacy compromises.
With a managed migration service, you do not have to take care of all these parameters, as our migration team will do the heavy lifting for you.
Send us your migration needs, and we will quickly get back to you with a tailored price quote.