How To Move Data From Dropbox to OneDrive With Timestamps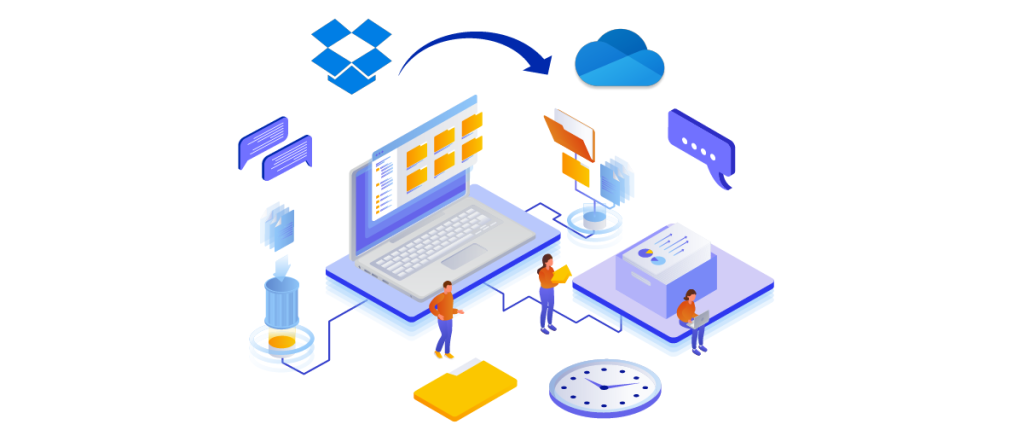 Businesses planning to migrate time-sensitive data from Dropbox to OneDrive (Microsoft 365) must transfer the timestamps for record-keeping purposes. For many companies, timestamps are more critical than e-signatures as they are impossible to manipulate.
This guide elaborates on the importance of timestamps for businesses and highlights CloudFuze's role in accurately preserving timestamps during Dropbox to OneDrive transfer.
Why Do Businesses Need to Transfer Timestamps During Migration?
Timestamps help businesses track when one or more modifications have been made to a particular file or folder. Such information further plays a crucial role in improving productivity. Timestamps also help maintain electronic record integrity, which can serve as legal evidence whenever needed.
Since timestamps are simple, secure, and lightweight, transferring them during Dropbox to OneDrive or any other migration is not much of a hassle.
How CloudFuze Transfer Timestamps When Migrating Files and Folders
Transferring timestamps (metadata) is an effortless experience for businesses with CloudFuze as the migration partner. CloudFuze transfers modified and migrated timestamps to OneDrive from Dropbox and other leading cloud storage services.
CloudFuze offers businesses the option to transfer timestamps along with other features, including permissions, versions, shared links, external shares, and embedded links.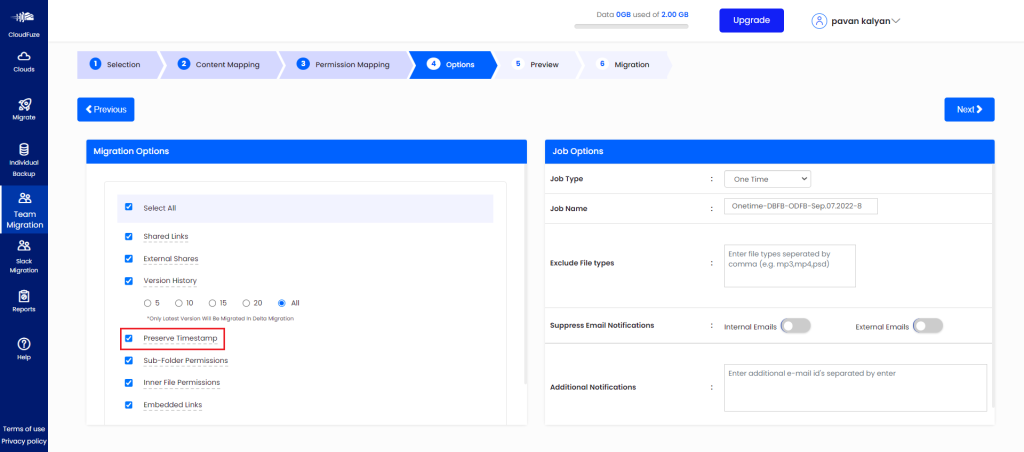 Companies planning to transfer the timestamps must have the feature added to the SOW (scope of work) and the final agreement with the migration vendor. Meanwhile, IT teams must ensure that the option to preserve timestamps is selected before starting the migration.
For any migration to become a complete success, ensuring pre-provisioning of the OneDrive accounts is a must.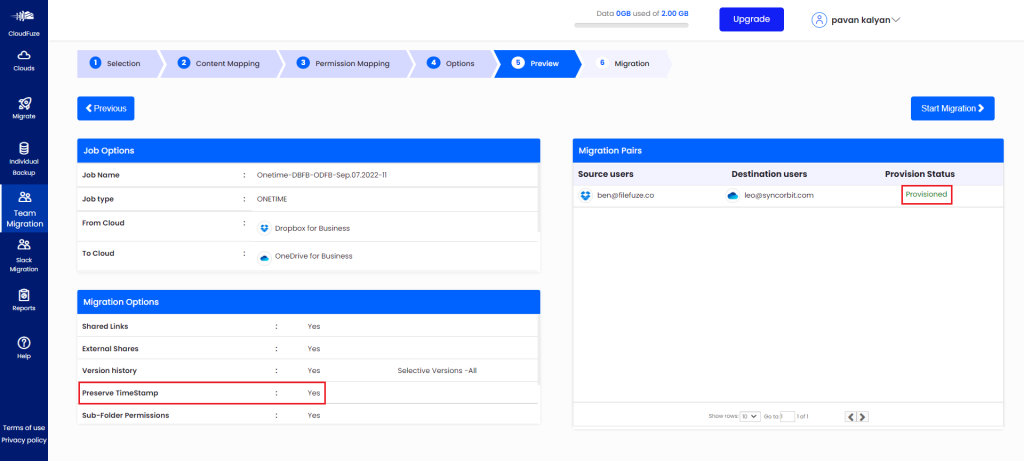 Here is an example of CloudFuze migrating a modified timestamp of a Word file from Dropbox to OneDrive for Business:
The file details bar and the file preview section show the modified timestamp of the Word document created in Dropbox, which in this case, is the source cloud.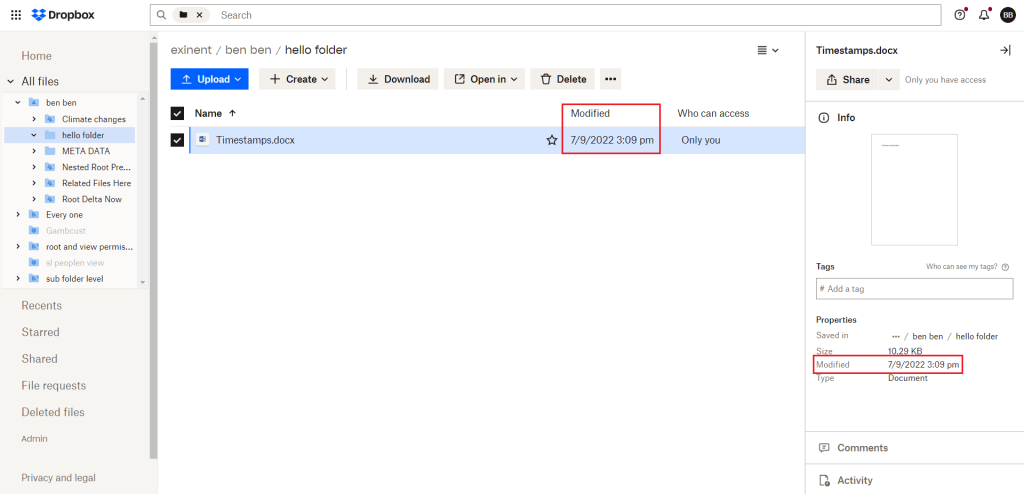 After the entire one-time migration is completed, CloudFuze retains the modified timestamp accurately, as shown in the post-migration screenshot below:
Note that apart from the actually modified timestamp, the modified date of the Word document is also preserved in OneDrive for Business. The preservation of the modified date helps maintain accuracy in tracking and record-keeping.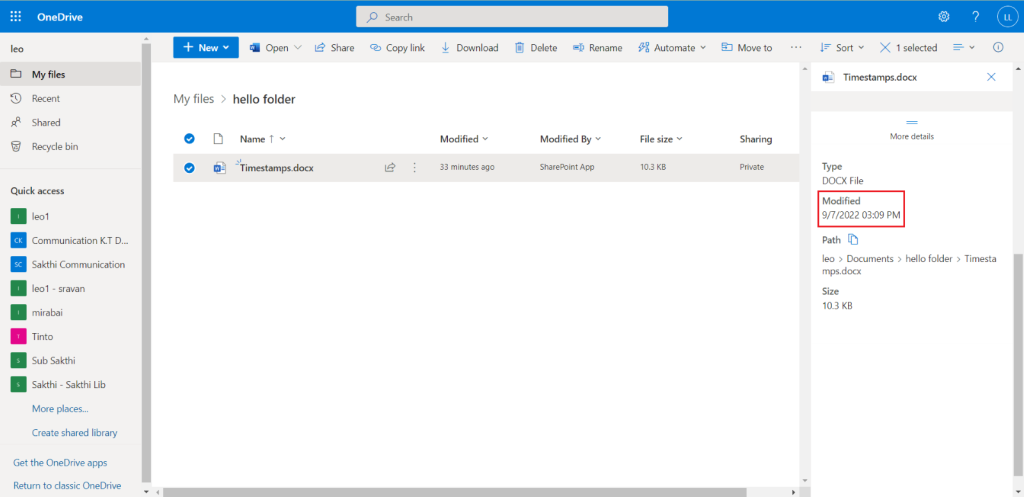 Options for Businesses to Migrate Timestamps With CloudFuze
With CloudFuze, SMBs, enterprises, and MSPs can move data from Dropbox to OneDrive with the modified and migrated timestamps or choose between the two. CloudFuze helps companies migrate modified and migrated timestamps for other migration combinations as well.
For businesses that do not plan to transfer/preserve timestamps, migrated timestamps will be available for all the migrated files and folders on the destination cloud as a default.
Want to learn more about timestamp migration? Get in touch with our business migration team to understand how CloudFuze can help you meet your company's timestamp and other feature migration needs. You can also discuss migration tool customizations if your company has a unique set of migration needs.