How to Migrate from Egnyte to SharePoint Online

Is your organization planning to migrate data from Egnyte to SharePoint Online? CloudFuze offers the right solutions. Even if your company has many TBs or PBs of data on Egnyte that needs to be migrated to SharePoint Online, CloudFuze's platform can automate and expedite it.
Continue reading this article on how Egnyte to SharePoint migration happens through CloudFuze. You can also check out our Egnyte to OneDrive migration guide.
Egnyte to SharePoint Migration Steps
Having the admin accounts ready is the first step to migrate Egnyte to SharePoint. Other steps include configuring Egnyte as the source and SharePoint Online as the destination cloud, mapping users, choosing features to migrate, and initiating the actual migration.
Step 1: Create a CloudFuze account
Go to CloudFuze webapp and create your account. CloudFuze offers a free trial to test the service.
If you are representing a large company or an enterprise, CloudFuze can provide a custom trial. Please reach out to our support team at support@cloudfuze.com with your migration needs.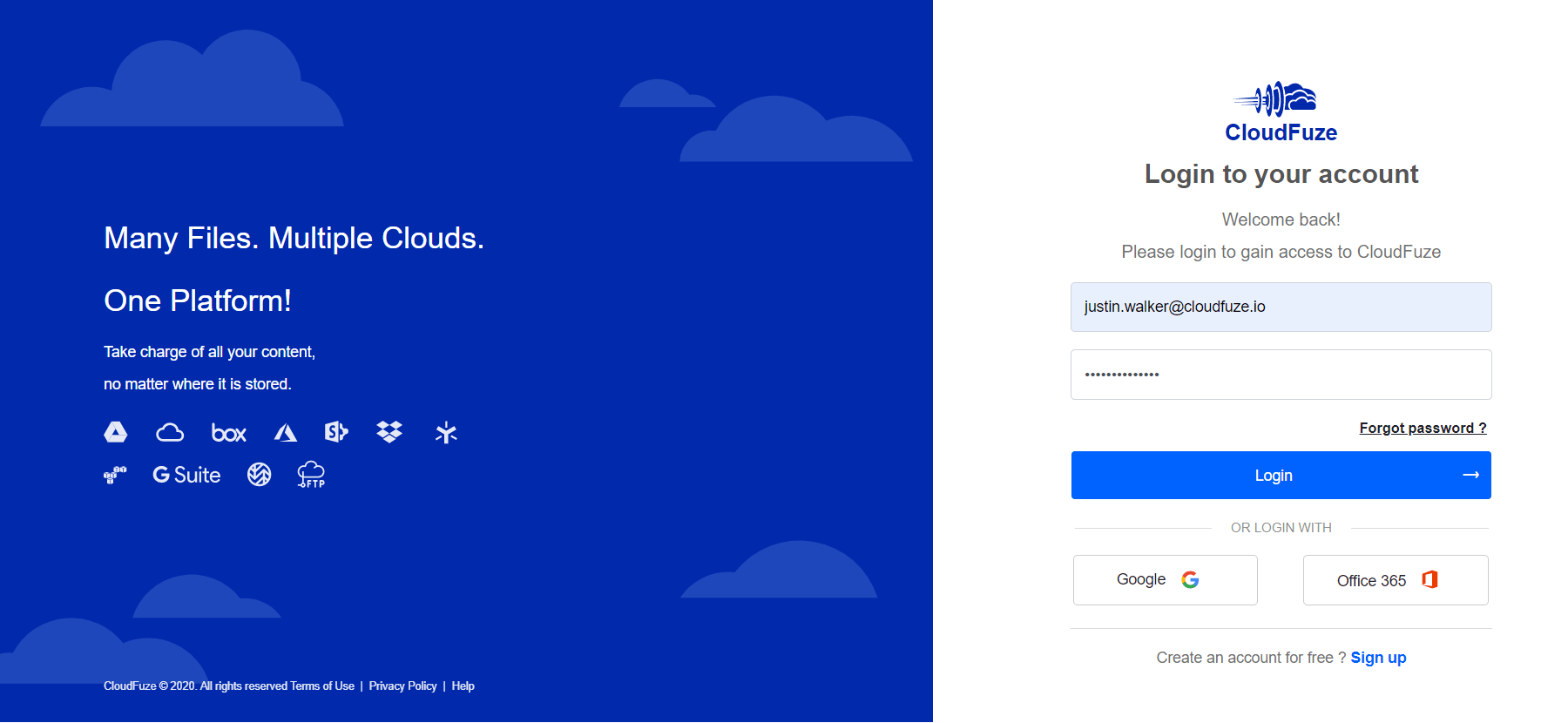 Step 2: Authorize Your Egnyte Account
Enter the domain of your Egnyte account and then enter login details to authorize your account to CloudFuze for migration.


Step 3: Complete the Authorization Process
Complete the authorization process by clicking on the Allow Access button.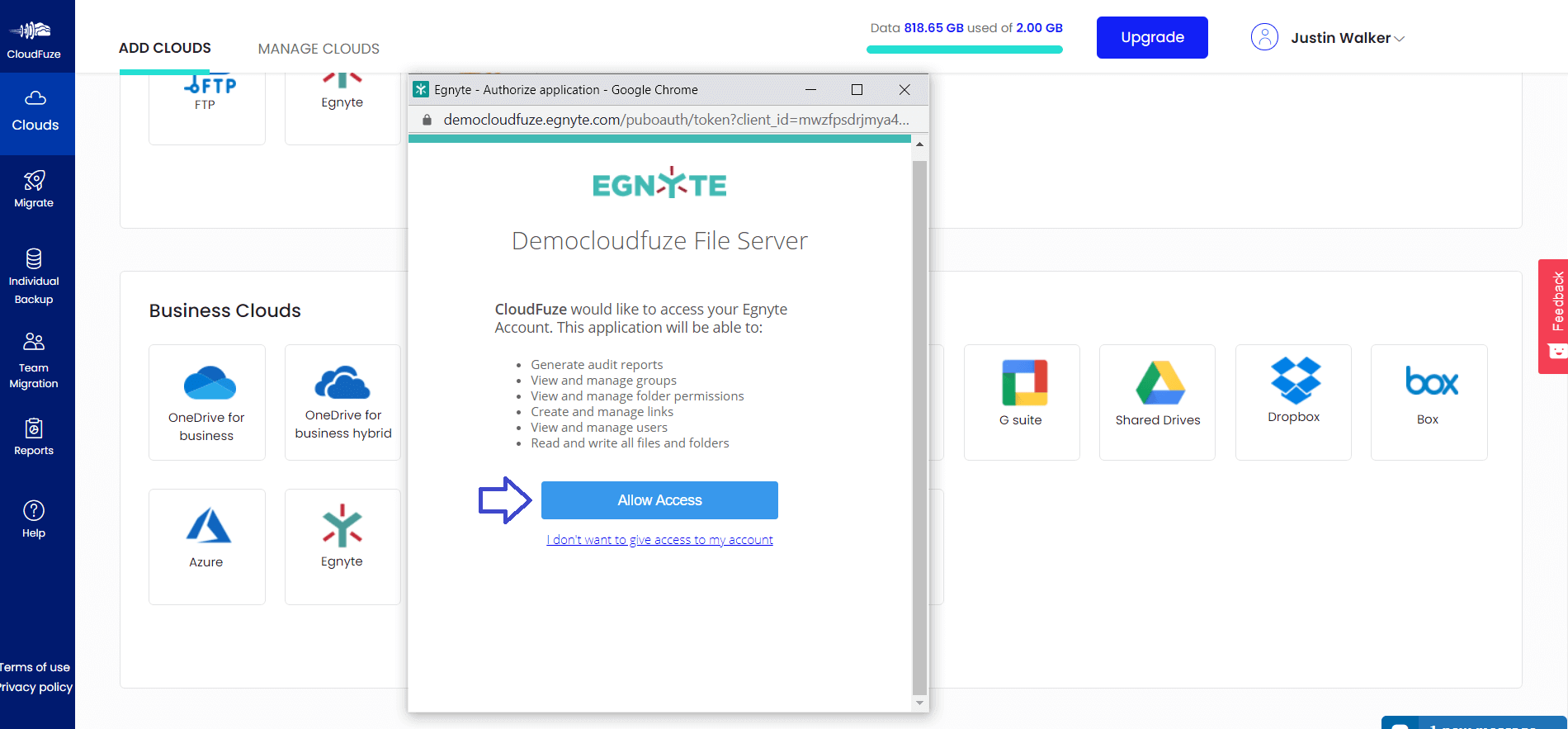 Step 4: Add SharePoint Online
Click on the SharePoint Online logo under the list of business clouds to add it. Enter your organization's Office 365 admin login credentials and authorize it.

Step 5: Verify Cloud Addition Process
Click on the Clouds logo and then go to the Manage Clouds tab. You should be able to see both the clouds being added here.


Step 6: Click on Team Migration
To initiate the migration, click on the Team Migration icon on the left.


Step 7: Select Source and Destination Clouds
Select Egnyte as the source and SharePoint online as the destination cloud.


Step 8: Mapping Users
CloudFuze automatically maps users based on their email aliases. Besides auto-mapping, CloudFuze also supports manual and CSV-based migration for custom data transfer needs.


Step 9: Upload a CSV file of Users
Upload the CSV file and allow  CloudFuze to validate it. Once validated correctly, you should be able to start the migration.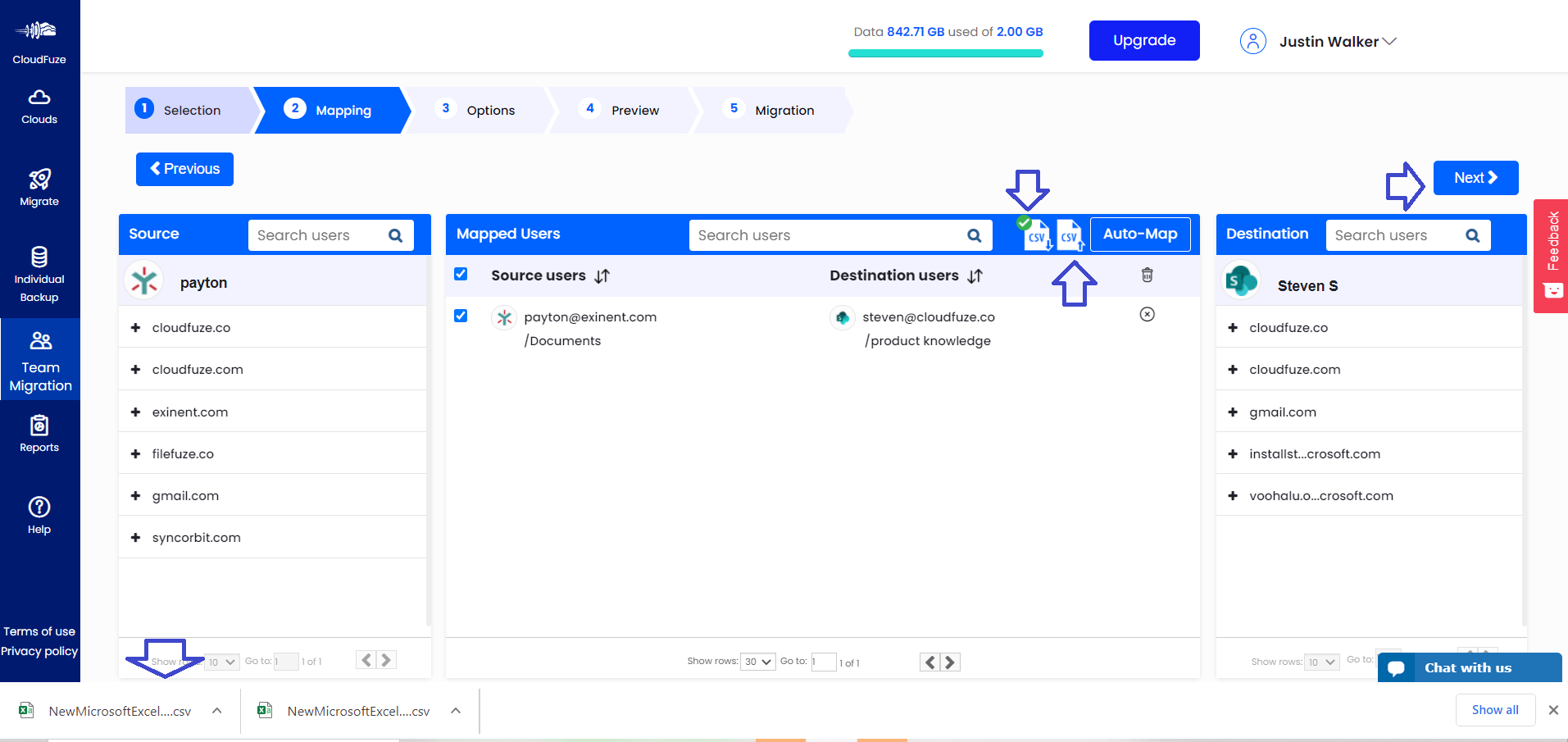 Step 10: Select Your Migration Options
Select options like migration job name, job type, and additional notifications emails and click on the Next button.


Step 11: Preview and Start Migration
Check everything one final time and click on the Start Migration button to start the file transfer process.


Step 12: Migration Has Been Completed
Once the data transfer process is completed, the status will show as Processed.