The Ultimate Google Drive Migration Guide In 2022
A Google Drive migration project can be challenging, but the right tools can make the difference. Read on to learn more about the migration to Google Drive, the limitations, and challenges, and how CloudFuze can help you with all your data migration needs.
1. Introduction
Since its inception, Google Drive has changed how the team collaborates in the workplace. Google Drive is one of the most popular alternatives for tools likeDropbox, Box, Egnyte, Citrix ShareFile, and even OneDrive from Microsoft. Thus, Google Drive migration has become necessary for most businesses across the globe to improve collaboration and communication among the teams.
According to Gartner data, half of all data migration projects either exceed their budgets or cause damage to the business because of a flawed strategy or execution. This is because data migration projects can be complex, time-consuming, and involve multiple technologies and teams.
Are you considering Google Drive migration for your business? Here's our guide to success for moving to Google Drive, where you will find all the information you need.
2. Why Migrate to Google Drive?
Google Drive is a better option for enterprises and SMBs looking to streamline their workflows. There are various reasons businesses intend to move to Google Drive, from lowering IT costs to facilitating collaboration.
Google Drive is ideal for companies looking for an entire suite of business tools rather than just data storage. Although Dropbox, Box, Egnyte, and Citrix ShareFile are effective for organizations that only want to store and share documents, Google Drive comes integrated with powerful apps at a lower cost.
Here is an overview of the different features of Google Drive:
Free Storage space of up to 15 GB
File storage, file sharing, and access from any device
Cloud-native collaboration apps (Google Docs, Google Sheets, Google Slides)
Collaborate on Microsoft Office files without converting file formats
Offline access to files
Quick files search
Shared team drives
Supports over 100 file types
Desktop app and mobile app
Access from Windows, Mac, Linux, iOS, and Android devices
Solid Data Backup
128-bit SSL encryption
It integrates with dozens of tools and apps. Some of them include:
Gmail for professional emails
Calendar to quickly schedule meetings and get reminders on upcoming activities
Hangouts for instant messaging and meetings
Meet for high-quality video meetings, etc.
Your organization will benefit from migrating to Google Workspace in the following way:
Manage entire company data, email addresses, mobile devices, and security settings using the Google Admin Console.
Able to access all Google apps from anywhere, anytime, and on any device.
Able to create presentations, spreadsheets, online documents, surveys, and forms.
Google Drive allows you to create, share, collaborate, and comment on spreadsheets, text documents, and presentations.
Schedule events in a shared calendar, share presentations using Slides, join video meetings using Hangouts, and send reminders to Gmail to manage meetings smoothly and effectively.
From the above, it is clear that Google Drive is not just a cloud storage service. With its sharing and collaboration capabilities and integrations with other apps, it becomes a one-stop destination for storing, sharing, and collaborating on files.
3. Google Drive Migration Limitations
Despite the benefits of migration to Google Drive, not all organizations are successful with moving their data to Google Drive due to the limitations involved. Understand these limitations Prior to migration can help businesses make informed decisions.
The following are the major Google Drive data migration limitations:
| Limit Type | Limit |
| --- | --- |
| Data upload limit per day per user | 750 GB |
| Individual file size upload limit | 5 TB |
| Maximum number of files and folders a Team Drive can contain | 400,00 |
| Maximum number of sub-folders a single Team Drive supports | 20 |
4. How Can CloudFuze Help?
Our highly skilled migration experts at CloudFuze create a custom migration approach to meet your business needs, ensuring a fast and seamless migration to Google Drive. Before initiating the migration, they understand the technical challenges and limitations of your migration project and plan the migration accordingly.
Moreover, the CloudFuze tool has in-built functionality that can bypass some of the Google Drive limitations and technical challenges that may occur during the migration process.
Are you planning to migrate to Google Drive? Contact our migration specialists and discuss your migration project to get advice on how to move your data to Google Drive as quickly and effectively as possible.
Watch the video below for a quick view of how CloudFuze transfers files to Google Drive effortlessly.
5. Why Choose CloudFuze as Your Google Drive Migration Partner?
Google Drive migration is a complex and time-consuming process. Choosing the right Google Drive migration tool can make the process easier and ensure that your project runs smoothly without major delays.
CloudFuze, among the few enterprise-ready cloud storage migration services on the market, can manage large, high-risk, and complex migrations effortlessly. Let us see why CloudFuze is a trusted Google Drive migration partner for many organizations.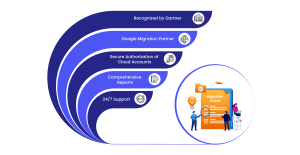 1. Recognized by Gartner
Gartner Peer Insights ranked CloudFuze as the top-rated cloud x-change engine and listed it as the most valuable and trusted platform among IT professionals. View the customer experiences using the CloudFuze migration tool for Google Drive migration on Gartner Peer Insights here.
2. Google Migration Partner
Several challenges may be associated with transferring data, such as user permissions, timestamps, version history, comments, and shared links, from any source cloud to Google Drive.
As a Google Migration Partner, CloudFuze has helped several companies to migrate to Google Drive securely, seamlessly, and with all their data intact.
3. Secure Authorization of Cloud Accounts
Your business migration to Google Drive is safe and secure with the CloudFuze Google Drive migration tool. It uses the OAuth protocol to authorize your source and destination cloud accounts.
OAuth ensures that CloudFuze neither view nor save or access your data the same way you do. Your data and passwords are, therefore, entirely secure. In addition, you can remove CloudFuze access to your cloud storage account at any time.
4. Comprehensive Reports
To help clients keep track of everything, CloudFuze provides reports detailing how many files were moved and information about how much data was transferred.
The platform securely records every action taken during migration and offers a comprehensive report that includes a list of all files and folders that were moved.
5. 24/7 Support
With CloudFuze, you have a flexible migration tool and a 24/7 support team to aid you when needed. We inform you of your migration project through regular emails and phone calls at your convenience. This allows you to continue operating your business as usual without interruptions.
CloudFuze has helped many of the world's largest companies migrate to Google Drive, including Discovery. See how Discovery leveraged the CloudFuze migration solution to overcome challenges and achieve a successful Google Drive data migration.
6. Key Features of Our Google Drive Migration Platform
An important step in evaluating a migration tool is identifying its features that facilitate a successful migration. CloudFuze supports all the Google Drive data migration features that a typical IT Admin is looking for:
One-time migration
Delta migration (Incremental changes)
Comparison delta migration
Versions and selective versions migration
Root folder permissions migration
Subfolder permissions migration
Root file permissions migration
Shared links migration
Timestamps migration
In-line comment migration
Long-file name conversion
Special characters conversion
Suppressing email notifications
Here are some of our migration platform highlights:
Supports 40+ leading public cloud storage services
Multi-user migration
File-sharing permissions migration
Auto-map and CSV-based user mapping
Unlimited terabytes of data transfer
Advanced reporting
One-time or recurring migrations
Dedicated migration manager
End-to-end support for migration project planning and execution
Schedule a free demo with one of our migration experts and see how CloudFuze can help you with your migration to Google Drive.
7. How CloudFuze Migrates Data to Google Drive?
If you are a Dropbox, Box, Egnyte, or Citrix ShareFile user and want to move files to Google Drive, you are at the right place.
CloudFuze, a cloud migration service, offers a highly secured and robust platform designed to support the migration needs of small to large-scale organizations like multi-user transfer and migration of files to Google Drive with permissions, timestamps, comments, shared links, and external links from any source cloud.
Follow the steps below to migrate to Google Drive by overcoming the challenges and ensuring zero data loss and downtime.
Step 1: Contact our migration team and set up CloudFuze credentials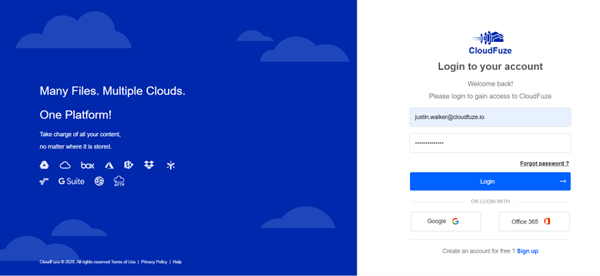 Step 2: Add your source cloud (for example, Box) and destination cloud, i.e., Google Drive account to CloudFuze
Step 3: On successful addition of clouds, choose source (Box) and destination (Google Drive) cloud accounts

Step 4: Map the users appropriately using either Auto-Map or CSV file upload

Step 5: Choose migration options of your choice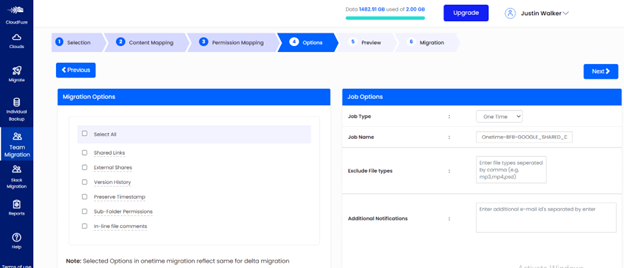 Step 6: Preview and start migration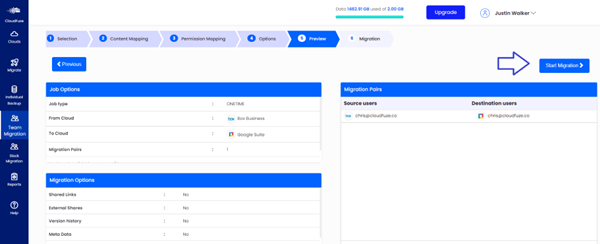 Step 7: Once the status of the migration changes to Completed, it is marked as done.