1. Introduction
Regardless of the reason your company wants to migrate from Dropbox to OneDrive for Business, it is crucial to ensure that the migration is seamless and completely successful.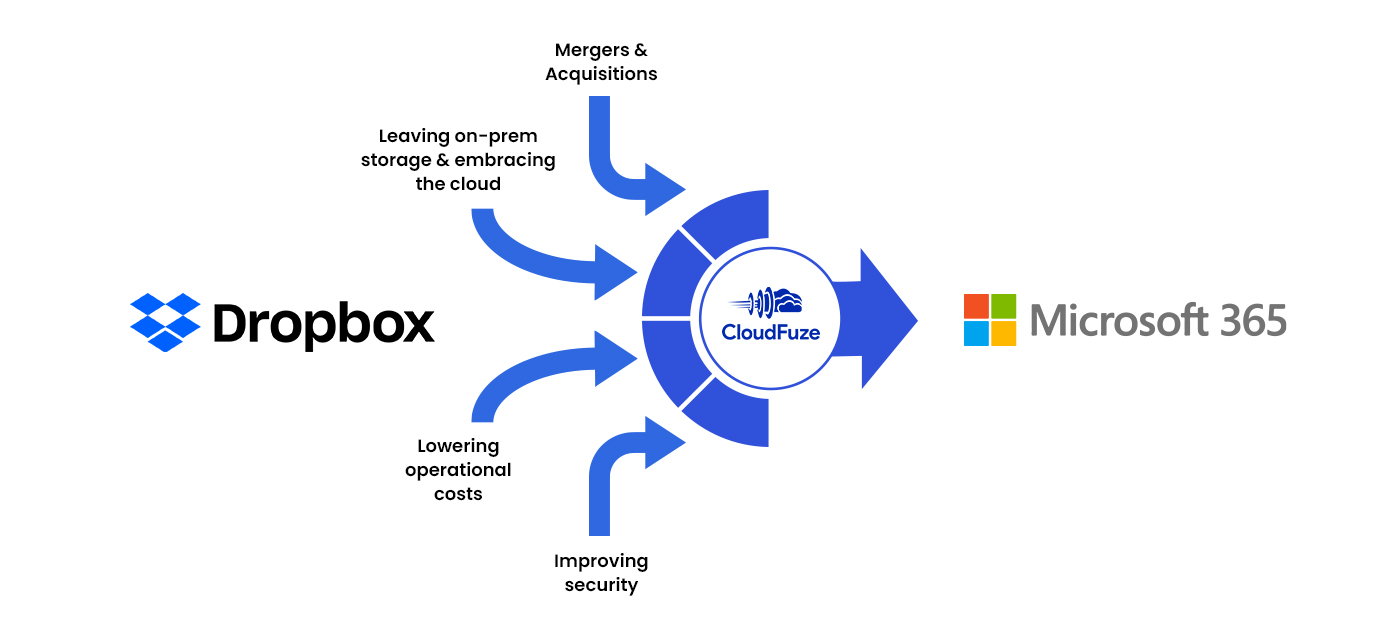 This Dropbox to OneDrive for Business migration guide offers migration steps for businesses while covering all important aspects, including challenges, partnering with the migration service provider, best practices, and frequently asked questions.
2. Dropbox to OneDrive for Business Migration Challenges
Enterprises, SMBs, and MSPs face multifaceted challenges to migrate Dropbox to OneDrive for Business in planning, partnering, project management, and result validation.
Here are the core challenges businesses face:
Assessing the number of user accounts and data size to migrate
Migrating metadata
Migrating root and inner folder and file permissions
Migrating versions and selective versions
Migrating shared links and external shares
Migrating incremental changes after the one-time migration
Overcoming limitations in Microsoft 365 (e.g., unsupported characters)
Here are some of the challenges specific to MSPs that need to move their clients' data:
Choosing a tooling license that covers the migration needs of all the clients
Configuring the migration infrastructure for each client's migration project
With CloudFuze, businesses can mitigate these challenges and transfer Dropbox to OneDrive for Business without any friction.
3. Use CloudFuze to Move Files From Dropbox to OneDrive for Business
At CloudFuze, we understand the pain points of businesses planning to move from Dropbox to OneDrive for Business and SharePoint Online.
Our migration tool, CloudFuze X-Change is designed to mitigate real-world problems businesses (small and large) face when migrating cloud data.
By combining features such as sharing permissions and metadata transfer, version history and timestamp retention, and delta migration, we help businesses migrate successfully.
Our managed migration service handholds businesses throughout the migration with end-to-end support.
| Capability | Managed Migration | Regular Migration |
| --- | --- | --- |
| Platform Availability | ✓ | ✓ |
| Technical Support | Enterprise-Grade Support | ✓ |
| Dedicated Migration Manager and Team | ✓ | X |
| Pre-Migration Analysis | ✓ | X |
| Project Planning Assistance | ✓ | X |
| Project Management with IT Teams | ✓ | X |
| Migration Monitoring and Issue Escalation | ✓ | X |
| Daily Reporting and Status Updates | ✓ | X |
| Migration Best Practices Guidance | ✓ | X |
| End-User Coordination and Support | ✓ | X |
One of the important highlights of CloudFuze X-Change is flexibility in deployment.
Businesses have the option to use the migration tool either in a cloud migration environment or deploy it on an on-prem environment to perform the migration locally.
E.g., one of our top-tier clients, The Michigan State University, deployed CloudFuze X-Change as a standalone program in their private data center for fully protecting the sensitivity of the data when migrating to Microsoft 365.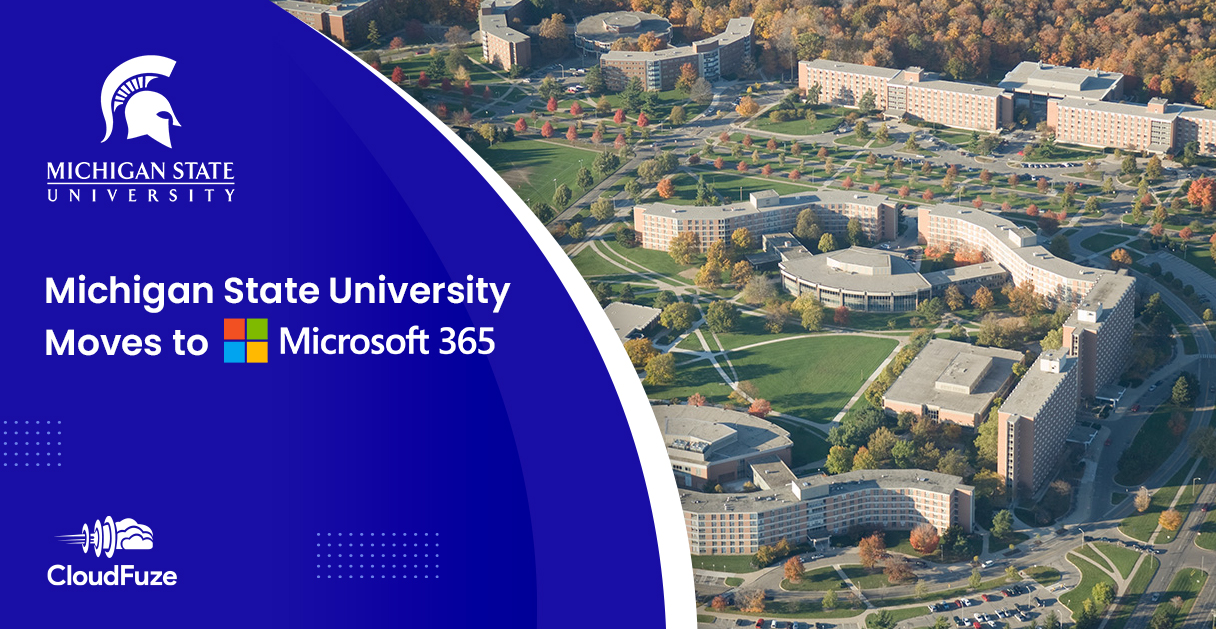 Learn more about our Michigan State University case study here.
4. Steps To Migrate From Dropbox to OneDrive for Business
The first step to move files from Dropbox to OneDrive for Business is by adding Dropbox as the source cloud and OneDrive as the destination, and mapping user accounts between the two clouds. Follow the other migration steps below:
1. Login and Audit Your Dropbox Account
Before attempting to migrate content from a Dropbox Business account to OneDrive, log into your Dropbox account and have a good look at the content and audit it.
For the demo purpose, we shared the screenshot of a demo Dropbox account. Upon successful migration, these files and folders will be migrated to OneDrive for Business account.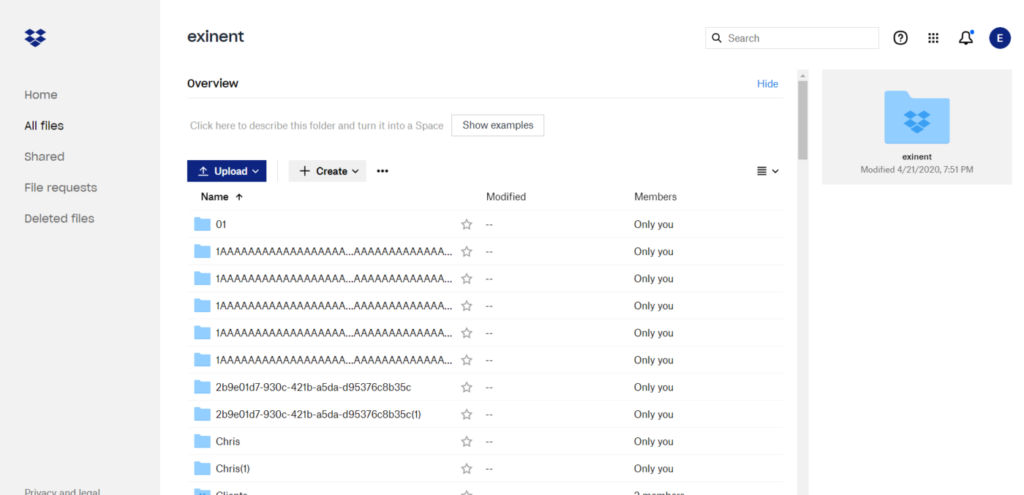 2. Create a CloudFuze Account
To move from Dropbox to OneDrive for Business, go to CloudFuze webapp to create a free CloudFuze account. CloudFuze offers a limited trial for business users to test the service.
Alternatively, you can request an enterprise trial if you would like to test all its capabilities and true performance.
You may even request a demo where our business migration teams walk you through the product and give a live demo.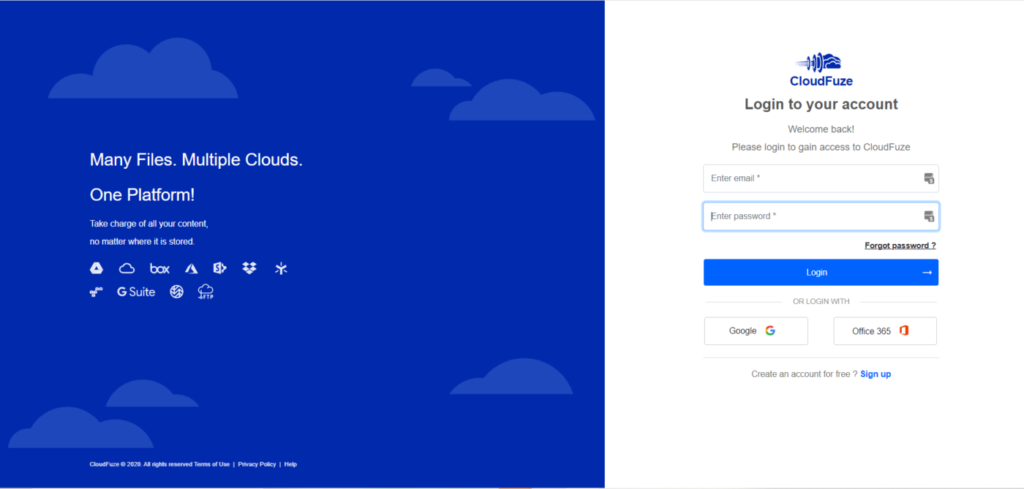 3. Add Your Dropbox for Business Account to CloudFuze
Click on the Dropbox logo that you can see listed in the business clouds section. Avoid adding Dropbox from the personal clouds list as this is a multi-user business migration.

4. Enter Dropbox Account's Admin Credentials
Enter your company's Dropbox for Business admin login credentials and click on the Sign-in button.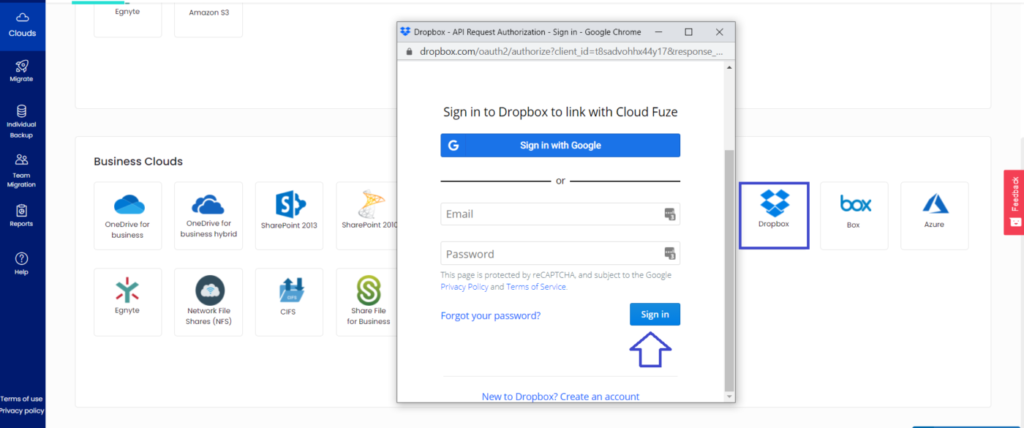 5. Now, Add OneDrive for Business
Search for OneDrive for Business logo and click on it. 

6.  Authorize OneDrive for Business Account
Enter your OneDrive for Business/Office 365 admin login details and click on the Next button.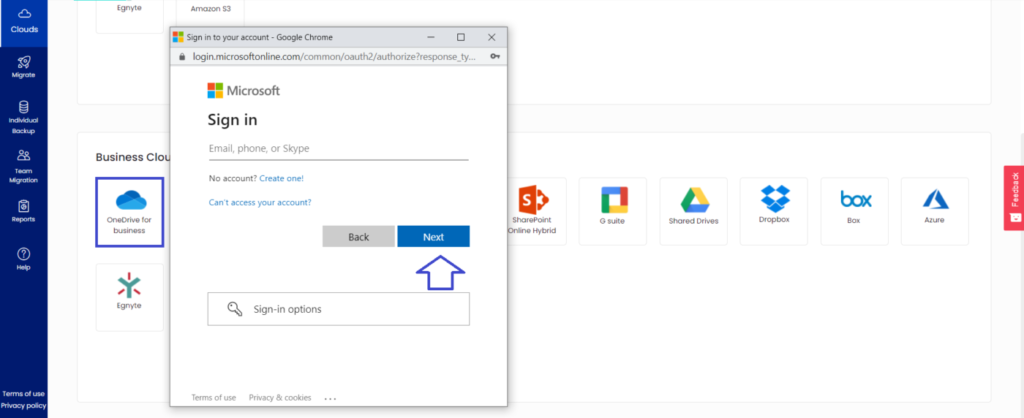 7. Provide OneDrive for Business Access
CloudFuze requires access to your OneDrive for a Business account to map data and transfer it. Review all the permissions if you would like and then provide access.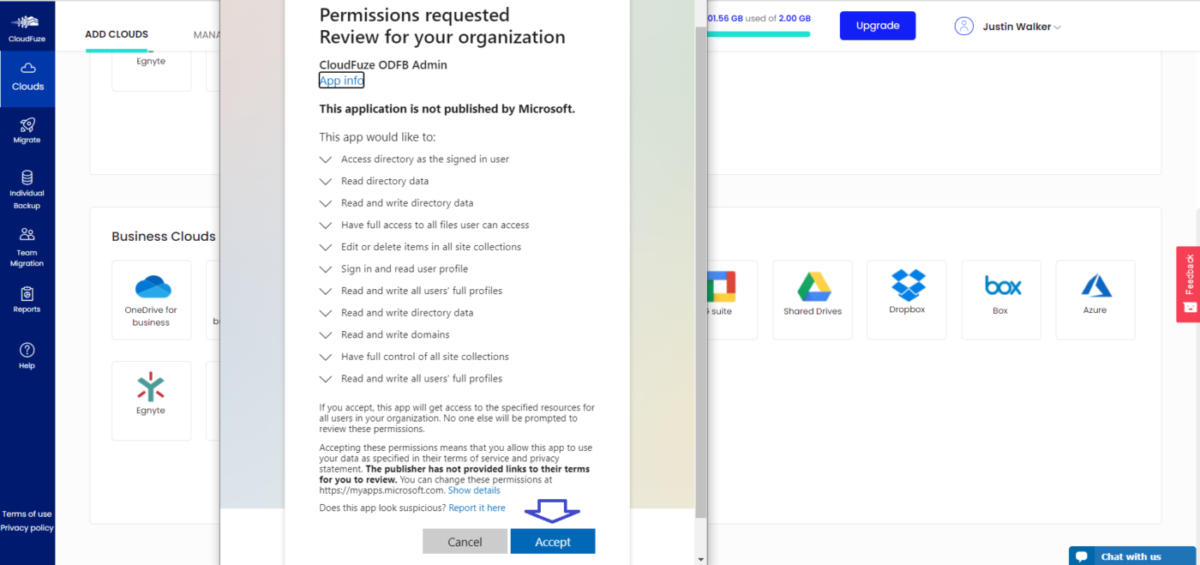 8. Check Whether Clouds Are Added
Click on the Clouds icon and go to the Manage Clouds tab. Check if you can see both Dropbox for Business and OneDrive for Business accounts.

9. Initiate the Migration Process
Click on the Team Migration icon in the menu on the left. You need to select a few options before the file migration process begins.

10. Select Source and Destination Accounts
To move files from Dropbox to OneDrive for Business, select Dropbox as source clouds and OneDrive for Business as the destination.


11. Map Users
CloudFuze has a built-in user-mapping capability called Auto-map that automatically matches users in Dropbox and OneDrive based on their email alias. Click on it to map all users.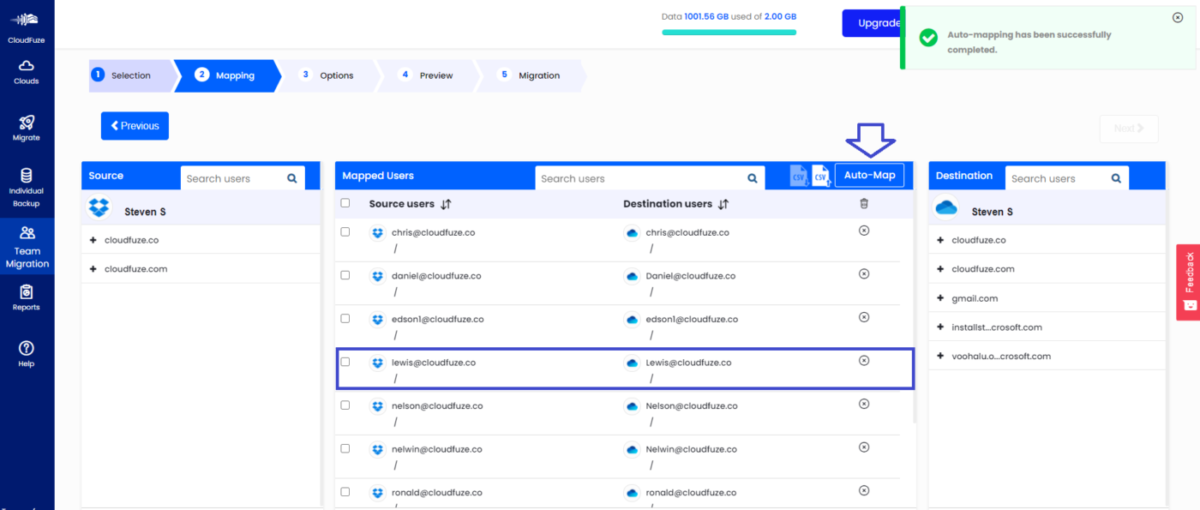 12. Choose Users to Migrate
You can migrate all users in Dropbox for Business account or a selected few users. You can remove the users from Auto-map by clicking on the delete icon next to them.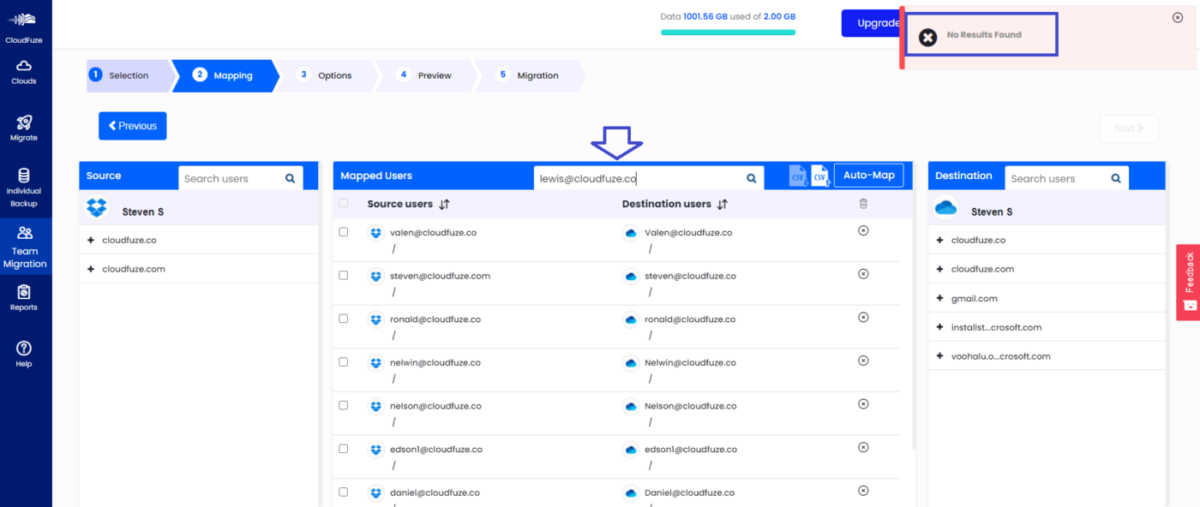 13. Manual or CSV Migration
If you need to migrate data between different user accounts, use the CSV method. In CSV migration, you can create a CSV file with list users and folder path information to migrate data.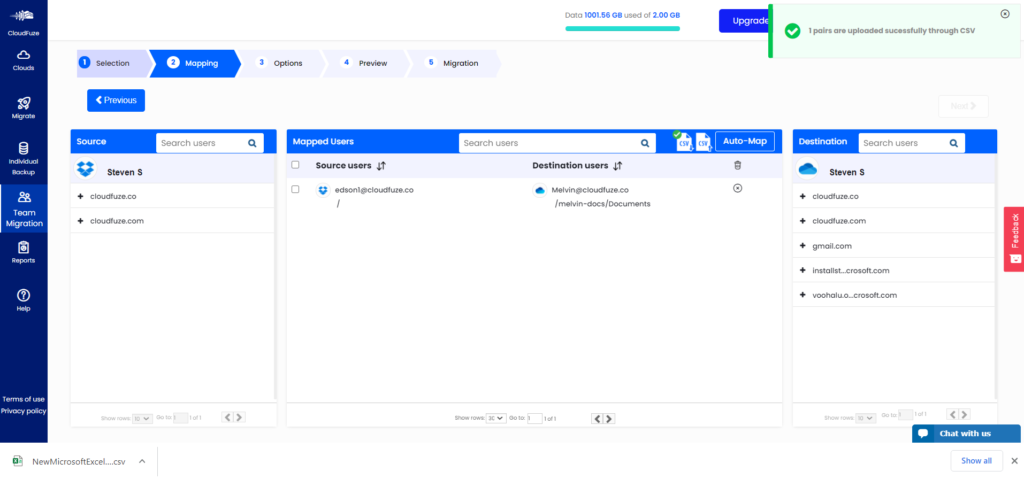 14. Select Users and Click on the Next Button
Once the users are selected, click on the Next button.

15. Configure a Few Migration Options
Enter the migration job name. Add any additional emails if you would like to so that they also receive migration notifications. Leave the rest of the thing to default if you are transferring content for the first time.

16. Preview and Start Migration
Preview your migration and click on the Start Migration button once everything looks good.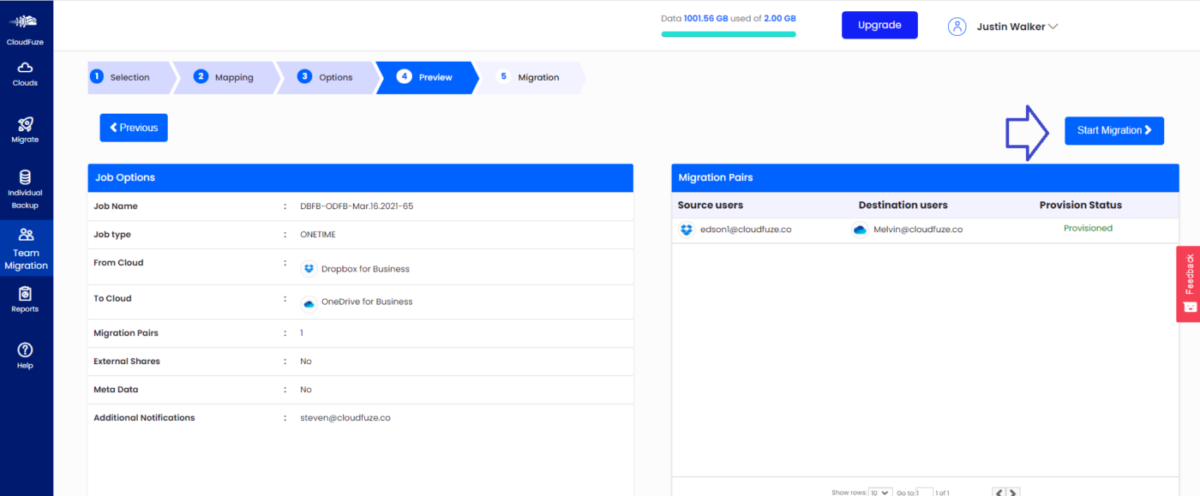 17. Migration is in Progress
This status shows that the migration is currently in progress. 

18. Migration Has Been Completed
Once the data is transferred, the status will be changed to Processed.

19. Demo Content Migrated
Files and folders in our Dropbox demo account have been successfully transferred to the OneDrive for the Business account along with the sharing permissions.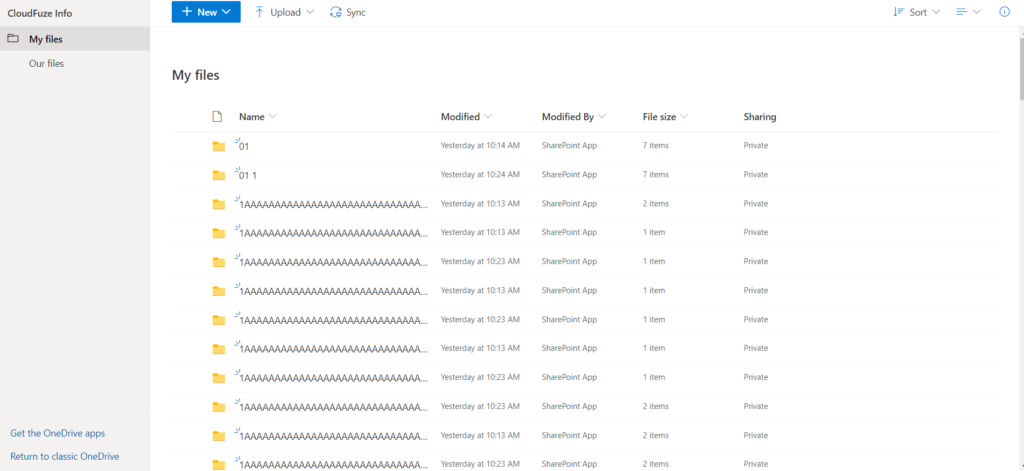 5. Dropbox to OneDrive for Business Migration FAQ
1. How do I transfer sharing permissions when migrating data from Dropbox to OneDrive?
For business needs, it's best to use a migration tool like CloudFuze that can migrate large volumes of data along with sharing permissions, timestamps, file version history, internal document comments, etc.
2. How to ensure data safety when migrating from Dropbox to OneDrive for Business account?
Using authorization protocols such as OAuth and REST API helps maintain privacy and data safety. CloudFuze uses these two protocols to ensure data and privacy protection is maintained through and through for every business migration.
3. Will the changes made to the data during migration be reflected in the destination cloud?
Yes, doing this is possible with delta migration, also known as incremental migration. After the one-time migration is complete, initiating and completing the delta migration will transfer all the changes made to the data during the migration period to the destination cloud account.
4. How to move from Dropbox to OneDrive for Business without halting work at the Dropbox cloud?
CloudFuze performs the entire migration in the background (with a copy-and-paste) action. Therefore, access to Dropbox (source) data remains uninterrupted.
5. Will data size be affected when migrating Dropbox account to OneDrive account?
Yes, but only to a minimal extent. Migrated data can or may have a slightly lower size due to compression (cloud compression). However, the subtle differences in size will not affect data properties.
6. What will happen to my Dropbox notes when migrating to OneDrive for Business?
Your Dropbox notes (Dropbox Paper) will be converted to Microsoft Word documents when migrating from Dropbox to OneDrive for Business with CloudFuze.
7. What will happen to my Google files when migrating to OneDrive for Business?
All your Google files in Dropbox, Google Docs, Google Slides, and Google Sheets will be converted to Microsoft Word, Microsoft PowerPoint, and Microsoft Excel when migrating from Dropbox to OneDrive for Business with CloudFuze.
8. Can I migrate permissions of the root folder and of the subfolders inside it?
Yes, CloudFuze X-Change is designed to migrate root folder as well as subfolder permissions. For Dropbox to OneDrive for Business migration combination and other popular cloud suites, CloudFuze X-Change also migrates timestamps of every file.
9. Will there be any downtime when migrating high-volume data to OneDrive for Business?
That completely depends on the system and/or platform that's used to migrate high-volume data. In cases where the migration tool is moving files and folders, there can be some level of risk for downtime.
However, a migration tool that uses automation, like ClouFuze, automates data copy/paste sequences as per the user mapping that's set up prior to the migration. This way, there's no risk of downtime which, in turn, helps businesses avoid workflow disruptions.
10. What are the real-world issues that may occur even when using the best migration tool/service?
Bandwidth throttling is one of the real-world issues that can occur even when you are using a top-tier migration tool such as CloudFuze X-Change.
In many real case scenarios, cloud storage service providers such as Dropbox, Box, Google, etc, can throttle high-volume data migration to limit the data transfer bandwidth. As a result, bandwidth throttling can slow down the migration speed and delay the overall migration project.
In this type of scenario, CloudFuze reaches out to the cloud service provider in order to resolve bandwidth throttling.