5 Things To Check In A Slack To Teams Migration Service
With the outbreak of COVID-19 in various countries, it is no surprise that the usage of collaborative tools has grown tremendously, as employees are working from home during the crisis. Slack and Microsoft Teams are the most widely used collaboration platforms among all the others available.
And many companies are now either opting for Microsoft Teams or migrating to Microsoft Teams due to the extra beneficial features it offers. For example, Teams is provided free with industry-standard office productivity apps such as Microsoft Outlook, Word, Excel, and PowerPoint.
If you are currently using Slack and searching for the most enhanced collaboration and communication experience, you need to consider a
Slack to Teams migration.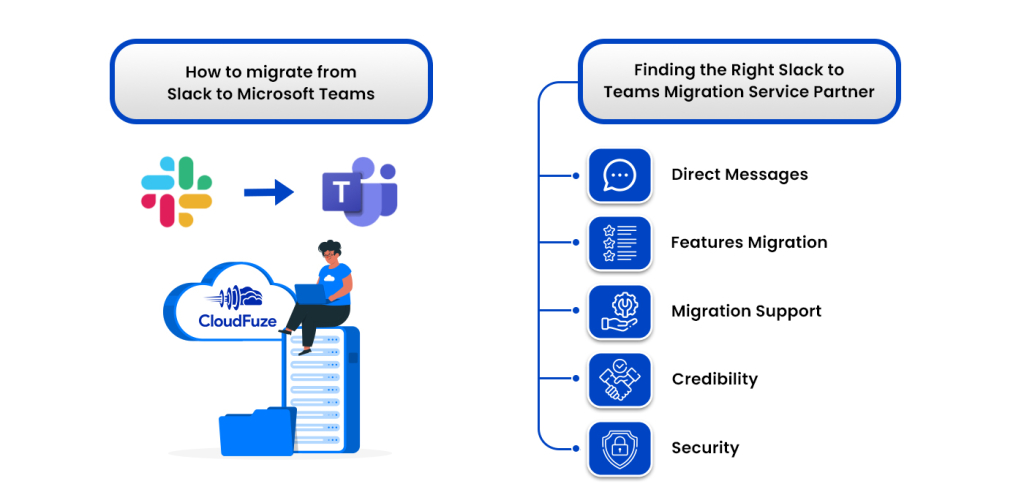 How to migrate from Slack to Microsoft Teams
Are you thinking of migrating from Slack to Teams? Manually doing it can be complicated and time-consuming. But, with the help of a proven migration tool, you can move from Slack to Teams with a smooth transition. Read Slack to Teams Migration Guide for IT Admins.
For many IT Admins, these migration tools have been a saving grace and many businesses are choosing them. And when it comes to selecting the Slack to Microsoft Teams migration service, many factors need to be considered.. Hence, in this article, let us delve into the 5 key factors to consider while choosing the Slack to Teams migration service provider for your business and what CloudFuze offers.
Gartner Peer Insights recognized CloudFuze as the topmost rated cloud x-change engine and listed it as the most valued and trusted platform by IT professionals. View the CloudFuze X-Change listing on Gartner Peer Insights here.
Finding the Right Slack to Teams Migration Service Partner
Finding the right service partner can execute your migration successfully. Not all SaaS cloud migration service providers meet your organization's needs. When choosing which SaaS migration provider is right for your organization, consider their expertise, leadership, credibility, features, reviews, etc.
which SaaS migration provider is the best fit for your organization, including expertise, leadership, credibility, features offered, reviews, etc.
Below are the things to look for when making your selection:
1. Direct Messages
Direct messages are one-to-one or shared between people, with several files and work information shared, which is essential for successful business operations. What if you are losing the direct messages while performing the migration? There is no point in choosing the migration service provider if you want to start fresh with teams where your employees lose all their chat, files, and more.
Your Slack to Teams migration service provider determines what you can migrate and can't. There are a few service providers out there who offer the Slack to Microsoft Teams migration and among those, a little few migrate Slack direct messages to teams.
At CloudFuze, you can migrate all the direct messages from Slack to Teams without losing a single user, chat, emojis, files, @mentions, and timestamps. You can also skip the users you don't want to migrate. CloudFuze experts not just perform migration but migrate the data addressing all the concerns of IT Admins while suggesting the best options available for them.
Being a Microsoft Migration Partner, CloudFuze helped many companies to migrate from Slack to Microsoft Teams effortlessly with all the data.
2. Features Migration
Being an IT Admin at your company, you need to check whether the migration tool you choose supports all the features you want to migrate from Slack to Microsoft Teams. You need to ensure all your required chats and files, sharing permissions, users, emojis, timestamps, and @mentions from direct messages, public channels, and private channels are being migrated to Teams successfully using the tool.
CloudFuze supports all the features that a typical IT Admin is looking for:
One-time migration
Public channels migration
Private channels migration
Admin groups migration
Admin one-to-one chats migration
User groups migration
User one-to-one chats migration
Emojis, and @mentions migration
Files with sharing permissions migration
Timestamps migration
Conversation's migration
Users' migration
Delta sync for channels
Threads Migration
Attachments
Pinned Migration
You can migrate almost everything with CloudFuze as your migration partner.
3. Migration Support
Migration might be easy but migrating data with all the features or some of the features required is not an easy job for IT Admins. Although switching from Slack to Teams offers many benefits, there are often challenges and complexities involved, such as data loss and downtime. To overcome the major challenges IT Admins face while migrating from Slack to Teams is choosing the right migration service provider who manages and monitors the complete migration process on your behalf and transfers your business data without any risking disruptions.
Our migration support team monitors and ensures no data loss during the migration. With years of experience, we have accomplished thousands of successful migrations of various sizes and complexity.
At CloudFuze, our migration experts understand all your requirements and execute the migration timely, irrespective of the challenges/complexities involved in it. Besides, we also offer post-migration support if required. All you just need to do is just sit back and track the migration updates with CloudFuze by your side.
CloudFuze migrates Slack direct messages, see how you can move direct messages from Slack to Teams without deleting them from Slack.
4. Credibility
Checking business credibility is vital in developing a good relationship with them. The company's track record enables you to determine if what you paid for will be delivered.
We are a trusted partner to many of the world's leading organizations in providing end-to-end Slack to Teams migration services that allow you to use as much or as little of our capabilities as you need.
We are a Microsoft Gold partner and have over a decade of experience in executing chat migrations from Slack to Teams for organizations of all sizes from start-ups to leading companies across the globe. Hence, using CloudFuze Slack to Teams migration tool, you can easily move data with a well-defined architecture and structured processes. Contact migration experts for any Slack to Teams migration queries.
5. Security
It is one of the most crucial things to consider when choosing a cloud migration provider. During the transition from Slack to Teams, ensure all your data is protected from third-party access and isolated from other clients.
CloudFuze ensures a high level of data security with a strong encryption algorithm and state-of-the-art security features and uses APIs to perform the migration from Slack to Teams with new functionalities. Furthermore, CloudFuze enables secure delegated access by using OAuth (open authorization) protocol.
Being a Microsoft Gold Partner and with the latest and advanced technology used your credentials and data will be highly secured without any doubt. Know more about CloudFuze Security.
About CloudFuze
CloudFuze offers migration services to individuals and businesses where they can transfer their complex and business-critical data with assistance from migration experts. It is the most recognized and one of the very few and best Slack to Teams migration service providers available today in the market. You can migrate any type of data you wish from Slack to Teams with a single login. Try CloudFuze for free today for your Slack to Teams migration project!