Five Reasons Why CloudFuze Should be Your Box to OneDrive Migration Partner
CloudFuze is one of the top choices for businesses and enterprises around the world when it comes to helping them migrate from Box to OneDrive (ODFB). Here are the five top reasons why CloudFuze should be your preferred migration partner.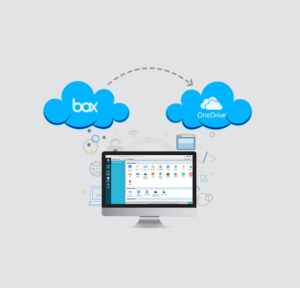 Enterprise-ready migration engine
Powerful features
Unparalleled expertise
Dedicated technical support
Elite technology partnerships
1. Enterprise-Ready Migration Engine
CloudFuze's migration platform is elastic and built on cloud-native technology. CloudFuze isn't a single application but a cluster of individual and independent services. All these services are highly elastic and can be scaled up or down. CloudFuze's cloud-native architecture is resilient enough to withstand even network and infrastructure failures. All of this makes CloudFuze a perfect choice for heavy and mission-critical data migration needs.
RESTful API Platform
Since CloudFuze is an API-based application, end users need not to install anything on their computers. All the functions in CloudFuze are first API enabled and then used by client software.
Complete Control of Data
Your data – your network! CloudFuze can be deployed in a client's server to ensure zero data going out of their network. This feature is particularly beneficial for large companies, universities, and government agencies.
In addition to this, CloudFuze offers dedicated instance for companies that look for increased security and performance.
The SAAS platform is always there for those who wish to migrate without needing to invest extra money on dedicated resources.
2. Powerful Features
CloudFuze's Box to OneDrive migration solution is best on the market because of its combination-specific features. CloudFuze ensures that Box users don't lose or miss out on anything during Box to OneDrive as well as Box to SharePoint Online migration. Here are the top features:
Delta Migration (Incremental Migration)
The delta migration feature ensures that teams continue to work with their files even during the migration. Once migration is completed, a quick delta migration transfers all incremental changes to OneDrive.
Box File Versions Migration
Just in case if your organization needs to migrate file versions, CloudFuze has that capability as well.
Box Notes (Metadata) Migration
CloudFuze also supports Box Notes migration.
Box Comments Migration
This feature migrates Box comments to OneDrive (OneDrive for Business).
Powerful Admin Features
CloudFuze is one such platform that gives complete control of their migration to IT admins or anyone who oversees a business migration. Migrations can be scheduled, paused, audited from a centralized admin console.
CloudFuze securely tracks the progress files during the migration. As an admin, you will receive a full report of migration with a list of every file and folder that is migrated. Admins also have option setting up an email to notify the completion of migration.
3. Expertise
Being a pioneer in cloud-to-cloud data migration, CloudFuze has served thousands of businesses in the last eight plus years. Some of the global customers we have served are Michigan State University (MSU), PWC, Discovery Channel, Michigan University, Merkle Group Inc., etc. CloudFuze has elite technical partnerships with leading technology companies like Microsoft and Google.
4. Dedicated Technical Support
CloudFuze provides 100% assisted migration at no extra cost. The experienced and knowledgeable migration team of CloudFuze provides clients end-to-end support throughout the migration. There shall be a dedicated migration manager for each and every large or complex data migration project who oversees it round the clock and can be contacted via phone.
5. Elite Technology Partnerships
CloudFuze is a Microsoft's Gold cloud partner. It has similar partnerships with Google, Box, and many other leading cloud storage, ECM, and EFSS companies. CloudFuze recently partnered with QNAP, a global NAS storage leader, to provide their customers a convenient way to migrate their data to cloud.
Read: Box to OneDrive Migration Guide
Read: Box to SharePoint Online Migration Guide