Tips to Reduce SaaS Security Concerns with SaaS Management Platform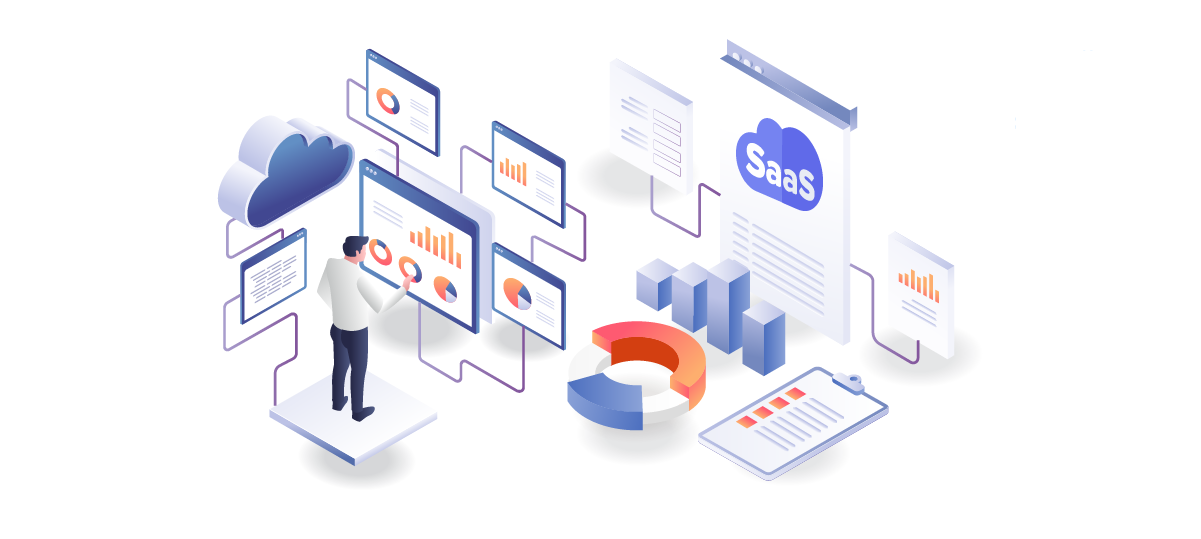 Introduction
Today software as a service (SaaS) Model adoption is increasing daily. The average growth is more than 40%, with an expected 170 billion (about $520 per person in the US) in 2022. The reason is not necessary to be listed as this is the call of global end users spending.
As companies shift, they set new rules in the work pattern with the SaaS Applications. In addition, SaaS Apps give active yet flexible ways for the employees and their needs.
But sadly, this flexible nature has a doubtful advantage. Yes, you heard me right! With the growing SaaS networks, it is difficult for IT leaders to have a continuous check of them. If the companies cannot handle this SaaS network spreading, there can be a security risk breach. Also, financial unsettlement can take place.
Sales, communication, source code management, collaboration, and many other critical tasks of an organization are supported by SaaS apps today. SaaS apps like Microsoft 365, Salesforce, ServiceNow, Slack, and many more are significant to every organization. However, as SaaS apps and platforms grow in popularity, they provide new risks that can significantly impact your whole organization. Fortunately, there are SaaS risk management platforms that your company may avail yourself of to expand and prosper.
Due to the sensitive nature of the information on these systems—and the awareness that SaaS application security is less rigid, SaaS applications have become an attractive target for threatening actors.
Understanding SaaS risk management
As the IT leader in charge of your application portfolio will help make your business more secure and cost-effective. On the other hand, it also enables you to bring transparency to your operations. Eventually, this helps build better relationships with your functional business leaders.
Tips for SaaS risk management

When running a business on a SaaS model, evaluating the risk rate and the SaaS spending is necessary. Let us take note of the following tips to secure security risks.
1. Encash the trials
A trial period offers attraction to clients. Offering a long-term trial period may seem alluring, but it harms your business for no good reason.
So, to engage the end users forever, it is essential to aim for the shortest time. Like trials should be offered for 14 days as it is often seen that the clients don't use the entire duration of the product and leave it for 4 to 5 days. However, the short-term trial period reflects the seriousness of the product. This, in turn, increases opportunities to sell the SaaS product.
Points to remember:
Always check your data to understand the average time used by the end users for ending trial periods.
Short trial periods decrease your cyclic sales. Hence compelling the customers to act accordingly.
It minimizes the customer investment cost. This reduces your operational expenses.
2. Enough capital for an easy ride
The SaaS product offers features that are affordable and predictable. This is one of the biggest reasons businesses love the SaaS system. Its increasing sales bring consistent earnings to your business. But be alert that cash flow is initiated even if SaaS apps are inactive.
If you are a startup company, a good amount of revenue can be your business because capital is needed to power up the important things that matter to your business.
The next point to be kept in mind is about discounts. Here a discount is not significant for long-term benefits if you sell SaaS software. Giving discounts can increase your sales but can damage your company branding.
Remember, the appropriate pricing of the product decides the quality. Customers often do not settle for cheap products once they find out they are ineffective in the long run.
Points to remember:
Think about offering yearly plans with different packages at exceptional prices.
Try to spend your capital intelligently. You can also use it to hire salespersons. Try to improve your products and services from time to time.
Consider offering prices so it becomes easy to predict the estimated revenue for the capital.
3. Follow up rigidly
Making SaaS sales in every closing deal is an outstanding achievement. It requires patience and the ability to check daily. It would be best if you always cared to get a clear answer from your clients—yes or no.
Always manage a quick call after your targeted client has signed up for the product and services. We can reach out to them via any medium like emails, but the power of voice calls will do enough.
Try sending emails as much as you can. Do not be afraid of reporting it to spam.
Points to remember:
Use your name in emails like kritikasengar@xyz.com instead of using salesforce@xyz.com
Reach out to clients at separate times during the day. Repeat your calls that convert into actions.
Send splitting mails to the non-active clients. This generates a sense of importance.
4. Investigate unqualified customers
Try investigating the customers when closing a deal. This is the controversial yet convincing strategy to sell SaaS software. It is crucial to have the money flow, but the most significant responsibility is to manage customers that exceed the revenue.
Unqualified customers are like termites who constantly use the products and services but keep complaining and asking for support. This results in overspending, as it includes the time and effort invested. In the meantime, these expenses could have been used somewhere else.
These unqualified customers often give harmful and destructive feedback to your team and organization. Therefore, one such review can hurt the image and reputation of your company.
Points to remember:
Create a customer profile that is ideal, close, and as real as possible
Figure out the needs and likes of your possibility. Share these things with your sales team.
Try as much as you can to point out the decision-making process of your client
5. Cyber liability insurance is necessary
Saas management platforms are cloud-based. It is getting popular with every successive generation. But it's time when hackers keep their devil's eye on SaaS products and services or SaaS software to target the business.
Hackers are the greatest threat of the present time. They are likely to interfere in your business model without letting you know. Then it becomes essential as a service provider to keep security checks appropriately done. In case of any sensitive information or confidential data leaks out due to hacking, it can drain your money flow.
Therefore, strict action must be taken to prevent cyber hacks or attacks. As a service provider, you must protect yourself and your employees from uninvited risks. So please make sure to adopt cyber liability insurance. Also, take up the necessary coverage to verify the interest of your business.
Cyber liability protects your company from security-based claims. It includes network failures, data breaches, and media or content weaknesses.
Points to remember:
It is essential to collect personal information for online business use.
If you keep your clients' portfolios in your database, it is necessary to have cyber liability insurance.
Saas depends on technology. Hence making cyber liability insurance a must for all companies.
Free tip: If your company has venture backing, consider a management liability package for your business. This policy will cover all the losses made by your employees.
Common security challenges for SaaS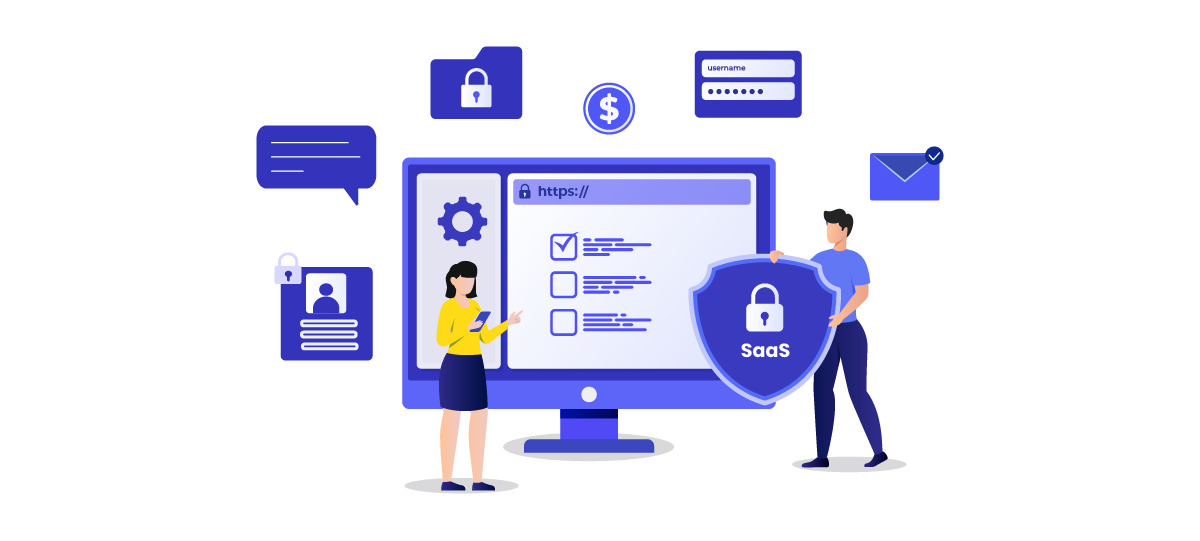 There are three major reasons that businesses fail to secure SaaS applications.
App misconfigurations
Excessive permissions
Unauthorized sharing
Most businesses face difficulties with their uncontrolled SaaS stack. Understanding their consequences allows you to appreciate better how SaaS management systems minimize security risks.
The SaaS admin supports various options. Like, controls for users, groups, and files buried under multiple menus. They control actions for which users may exchange files with whom they want. While all these options have default values, you should adjust them to comply with your organization's security policy. It's also crucial to keep track of these settings regularly.
With hundreds of options available inside a single application, keeping track of them is a never-ending task. Given the amount of SaaS apps in an organization's environment, tracking and monitoring these variables are even more complex. As a result, businesses are always at risk of application misconfigurations and SaaS security failures that follow.
Administrators have various levels of access depending on the SaaS application. And there is no uniformity across all the applications. While attempting to comply with security standards, IT teams must adapt inflexible role definitions to administrative responsibilities. All too often, this entails granting more data and control than is required for the job. As a result, security takes a hit.
IT departments gradually increase the number of rights granted to SaaS Apps. Blanket administrator permissions are distributed to so many users that IT loses track of who has them.
When this occurs, the danger of an unintentional or intentional SaaS security breach increases.
A single file or data set might be shared with lower-level employees, the CEO and CRO, and even part-time contractors. Along the process, it interacts with several SaaS programs, including personal email accounts.
Different SaaS applications use the same file. For example, assume that the user additionally utilizes an Office 365 add-in for couponing and restaurant reservations. If left unchecked, the SaaS environment gets infested with unfamiliar apps and add-ons, making it difficult for IT teams to secure SaaS applications.
All these SaaS security concerns stem from a lack of visibility into the SaaS environment.
You cannot control security risks without a mechanism to have centralized and continuous visibility of users, access, app privileges, and activities in your SaaS system. SaaS management platforms address all these security concerns.
How SaaS Management Platforms Reduce Security Risks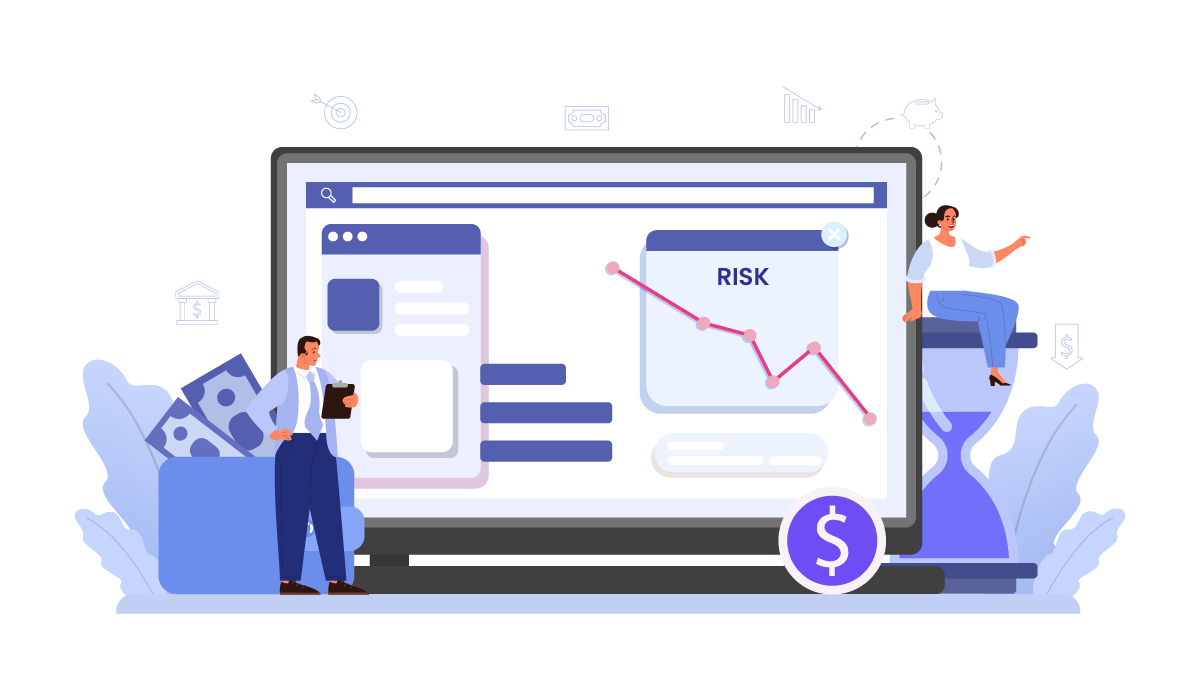 A SaaS management platform has two broad approaches for SaaS risk management. On the one hand, SMP insights and analytics provide IT with a full picture of all SaaS apps, files, users, and interactions.
On the other hand, SaaS management platforms allow IT management over the network through automated policies, security warnings, and remediation. Because policies and processes continuously monitor for potential risks, and normalized data augmented with context enables meaningful security warnings and automated remediation, they keep enterprise data safe.
An SMP allows IT to monitor and safeguard the SaaS environment by providing data-driven visibility into sanctioned and unsanctioned SaaS apps.
SMPs monitor applications for potentially dangerous changes
A SaaS management platform detects new SaaS applications and changes in settings, such as user, group, file, and folder settings, that could indicate suspicious activity. It then uses that information to send IT real-time notifications.
IT configures remediation utilizing administrator actions in SaaS applications, such as modifying settings, suspending the user, or sending an email or Slack notification to the appropriate teams.
SaaS management platforms maintain the least privileged access.
Administrator roles and permissions are adjustable in SMPs, allowing administrators to access only their required controls. In addition, IT departments may limit access to critical data and settings and improve security across the board with custom roles.
Allowing very granular permissions is how the finest SaaS management tools secure SaaS applications. SMPs audit the number of administrators in an environment, alerting IT if the number exceeds the set threshold or preventing that threshold from being surpassed.
SaaS management platforms prevent inappropriate data sharing.
IT can set up detailed data protection measures based on its security policy using a SaaS management platform. It should encompass files and folders, the types of sharing permitted, sensitive data definitions across apps, and the steps IT should take if a violation occurs.
Final Words
An SMP reduces SaaS security risks by regularly screening files and content for sensitive data exchange. They proactively secure data by monitoring for sharing related to sensitive data, files, and folder paths.
The finest SMPs let you set up automatic threat remediation workflows. Also, integrating pre-set administrator actions to address sensitive content oversharing across all applications makes it simple for the IT team.
Finally, the finest SaaS management platforms make it simple to secure SaaS applications by incorporating purpose-built tools to discover, manage, and secure that operate together.