Understanding SaaS Security & it's Reasons for Being Proactive
Most enterprise applications used to be deployed in on-premises data centres. While operations bore the burden of protecting sensitive data, the IT infrastructure was familiar and simple to navigate. This has altered with the emergence of cloud-based SaaS applications. Organizations can save money and provide better service by using SaaS apps. This trend, to the contrary, unfolds new security threats that must be handled by appropriate SaaS security solutions.
Security of SaaS applications is important to an enterprise as the wide use of SaaS apps impose various threats.
Some of the threats to enterprise security in the absence of a security practice is listed below:

Compliance issues
breaches of contracts
non-secured APIs
misconfigurations

SaaS security is a type of cloud-based security that safeguards the information contained in SaaS applications.
Security of SaaS is maintained to protect sensitive information pertaining to their customers and the business itself.
Enterprises ensure security of SaaS by following a set of guidelines regarding SaaS deployment, access control and utility.
However, the enterprise employing the SaaS service is not solely responsible for SaaS security. In reality, both the service consumer and the service provider are responsible for following the National Cyber Security Center's SaaS security requirements (NCSC). SaaS security is also a key component of SaaS management, which attempts to eliminate idle licences, shadow IT, and security threats by increasing visibility.
Why is SaaS Security Important?
Because of the abundance of sensitive data held in software-as-a-service products, threat actors are particularly drawn to environments that deploy these applications. Hackers are attracted to data such as payment card numbers or even PII (personally identifiable information), which is why security of SaaS is essential to avoid data breaches.
Even if the SaaS provider controls the platform, network, apps, operating system, and physical infrastructure, they do not protect customer data. This means that to effectively handle the security of your SaaS stack, some SaaS data security practises need to be implemented.
Consider this figure to emphasise the necessity of SaaS security: according to IBM, a data breach costs $4.24 million on average globally. A data breach comes with a slew of concerns for a firm, including productivity loss, potential non-compliance penalties, and even damage to the brand's reputation.
Challenges to Implementing SaaS Security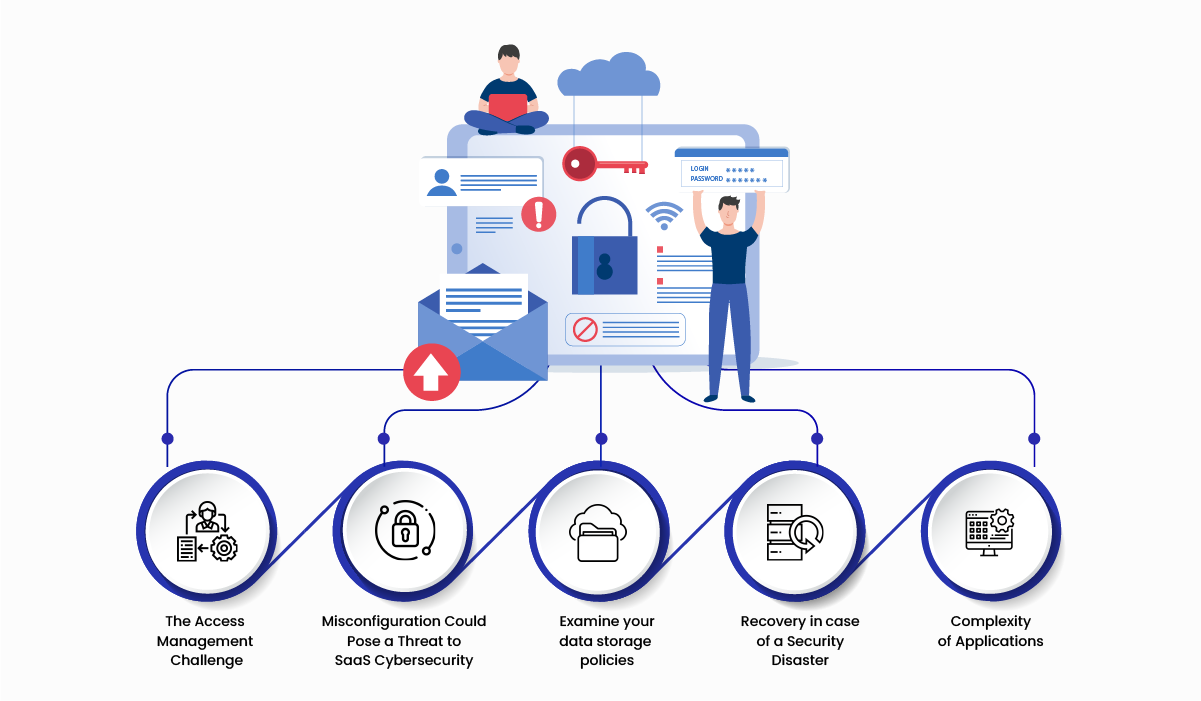 The Access Management Challenge
Before purchasing a SaaS product, you should be aware of any network concerns, such as lack of monitoring or an unsuitable patching plan, from the perspective of the client. Because we are talking about sensitive data stored in the cloud, when we talk about security of SaaS, access control is critical. Its disclosure would be devastating; thus, cloud SaaS security becomes critical.
Misconfiguration Could Pose a Threat to SaaS Cybersecurity
Because of the enormous number of complexity layers that software as a service product have, there is a danger of misconfigurations affecting cloud infrastructure.
Examine your data storage policies.
When purchasing software as a service, data encryption should be available in all data storage stages (in transit or at rest). It is also crucial to consider how the SaaS provider stores data (whether in cloud or in a private data centre) along with the features like file sharing between end users.
Recovery in case of a Security Disaster
Recovery in the event of a cyber-security disaster is a critical part of SaaS security. Consider your backup strategy in case something goes wrong, and if and how you benefit from a complete restoration in this circumstance. A data breach, ransomware attacks, malware infiltration, may have a significant impact on a company. That is why, you need to know what your software service provider's preventive strategy is, and how they address these hazards. The methods for efficiently and immediately identifying and implementing security of SaaS services is thus vital.
Complexity of Applications
Securing SaaS applications effectively requires security teams to consider each unique aspect, which may be difficult and cause certain SaaS security issues if they lack a thorough understanding of the SaaS ecosystem. This may be accomplished by providing them with additional knowledge about the apps and allowing them access to data related to SaaS setups.
Conclusion
SaaS security benefits are manifold and may rescue a business from disastrous repercussions of cyber-attacks and data breaches. Any company that uses SaaS applications should implement proper security measures to safeguard its data, assets, and reputation. Enforcing SaaS security best practises is easier with SaaS management and automated tools. Once in place, however, these security precautions, like any other SaaS programme, must be continually checked and updated.