Slack to Teams- A Guide to Deploy Teams in Your Enterprise Organization
The need for a remote workforce has increased the demand for collaboration platforms like Microsoft Teams compared to Slack.  As a result, Microsoft Teams is rapidly becoming the enterprise's most essential communication tool, and hence businesses are looking to migrate from Slack to Teams.
While Microsoft Teams is an excellent tool for workplace communication and collaboration, implementing it without a strategy can lead to technical challenges and security concerns.
This article discusses the best practices for deploying Teams in your enterprise organization.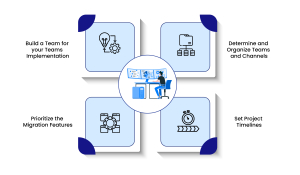 Build a Team for your Teams Implementation
Implementing Microsoft Teams at an enterprise level is a complex process and requires a team of experts to migrate data from Slack to Teams successfully.
For an optimal solution to deploy Teams tailored to your company's needs without making mistakes and accumulating technical debt, extensive technical expertise is required.
So, choosing a third-party Microsoft Teams implementation partner is a smart move. Their resources and experience in getting things done quickly and effectively reduce the risk of failure.
CloudFuze, a Microsoft migration partner, has an expert team with vast experience in working with various businesses. The team can help you plan, build, manage, monitor, and move from Slack to Teams successfully.
Determine and Organize Teams and Channels
Decide how you want to set up your various Slack channels on the Teams section of Microsoft Teams. In general, multiple channels can exist in one Team. For instance, depending on your preferences, you can migrate Slack channels as a Team in Microsoft Teams or as a sub-channel in the team.
So, before migrating from Slack to Teams determine what each team's purpose is and how it will be used. It helps you organize the Teams and Channels in Microsoft Teams, ensuring optimal effectiveness.
With CloudFuze, you can migrate your Slack channels as a Team or as a subchannel and edit the Team and Channel names during the migration process.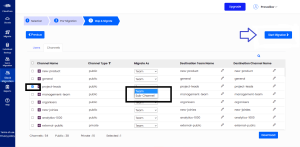 Prioritize the Migration Features
Migrating from Slack to Teams includes migrating direct messages and public and private channels, including chats, users, files with permissions, timestamps, emojis, and @mentions. So, while picking a Slack to Teams migration tool, ensure that it can move all the Slack features to Teams leaving nothing behind.
CloudFuze provides businesses with all the features they require to move from Slack to Teams:
One-time migration
Workspaces migration
Direct messages migration
Public channels migration
Private channels migration
User groups migration
User one-to-one chats migration
Emojis and @mentions migration
Replies and Videos migration
Files with sharing permissions migration
Timestamps migration
Conversation's migration
Users' migration
Delta sync for channels
Set Project Timelines
In addition to prioritizing features, it is also important to set a timeline for the project. A clear timeline keeps your Teams implementation on track and indicates what must be done at each stage. Consider a timeline that is neither too rushed (where you may miss data) nor too far away (which may increase your IT costs).
The timeline for a Slack to Teams migration project depends on many factors, such as:
Total number of channels
Total number of users
Direct messages data size
Total data size to be migrated
Our data migration experts at CloudFuze can help you estimate the accurate timelines for your migration project. Also, CloudFuze completes your Slack migration to Teams within the set timelines. Contact our migration experts for a quick demo!
Simplify Your Microsoft Teams Deployment in Your Enterprise Organization
Using a new tool on your own can be challenging. CloudFuze, on the other hand, can help to streamline the process. Based on our experience in handling complex migrations, we create a customized strategy for ensuring a successful Teams deployment for your organization. As a result, with CloudFuze, you can significantly reduce the time to transfer Slack to Microsoft Teams, ensuring no data loss and downtime.
Contact our migration specialist to learn how CloudFuze can make your Microsoft Teams deployment go more smoothly.