This comprehensive guide helps IT admins transfer all the texts, sticky notes, shapes, connectors, icons, frameworks, images, files, permissions, etc., from Mural to Miro, allowing them to harness the full potential of Miro's robust collaborative capabilities.
1. Introduction
Mural and Miro are two prominent platforms for virtual whiteboarding and visual collaboration. These platforms empower teams to brainstorm, design, and ideate in real time, fostering creativity and productivity. However, many organizations are moving from Mural to Miro, aiming to adapt to changing collaboration needs and leverage advanced features.
Whether you're an IT administrator responsible for managing this transition or a decision-maker looking to explore the possibilities, this guide will provide valuable insights and practical steps to navigate the Mural to Miro migration journey.
2. Why Migrate from Mural to Miro?
Migrating from Mural to Miro can benefit organizations that enhance visual collaboration, streamline workflows, and drive overall team efficiency. Here are some key benefits of migrating to Miro:
Easy-to-use interface
Flexible pricing plans
Integration with a wide range of apps
Extensive Template Library
Easy exporting of boards
Built-in video conferencing
3. Mural to Miro Migration Challenges
Switching from Mural to Miro involves transferring all the board texts, sticky notes, shapes, connectors, icons, frameworks, images, files, and permissions. Transferring all this data allows team members to continue working in the new destination environment without disruptions.
However, migrating Mural data presents a significant challenge for organizations. This complexity arises from various factors, such as the differences in data structures, permissions, formats, and functionalities between the two platforms. To ensure a successful migration, IT admins and managers must navigate these challenges strategically and carefully to preserve the integrity and usability of their collaborative content during the transition.
4. How to Overcome Mural to Miro Migration Challenges?
CloudFuze migrates all the content, including texts, sticky notes, shapes, connectors, icons, frameworks, images, and files from Mural to Miro, addressing the challenges encountered during the migration.
CloudFuze converts unsupported elements, such as sticky circle notes and icons, into compatible formats like circle shapes and images in Miro. This ensures your content remains visually coherent and functional after migration, allowing your team to seamlessly pick up where they left off in the new Miro environment.
5. How CloudFuze Maps Permissions Between Mural and Miro
Miro has Owner and co-owner permissions, whereas Mural permits multiple owners. CloudFuze ensures a seamless transition of permissions from Mural to Miro, bridging the gap between their different permission structures.
To facilitate this transition, CloudFuze employs a mapping strategy that aligns Mural permissions with their corresponding permissions in Miro, as illustrated in the table below:
| Mural Permission | Miro Permission |
| --- | --- |
| The owner (who created boards) | Owner |
| Other Owners | Co-owner |
| View | View |
| Edit | Edit |
6. Mural to Miro Migration Steps
Organizations can successfully migrate from Mural to Miro by following the steps below.
Add Mural to CloudFuze account.
1. Log into the CloudFuze account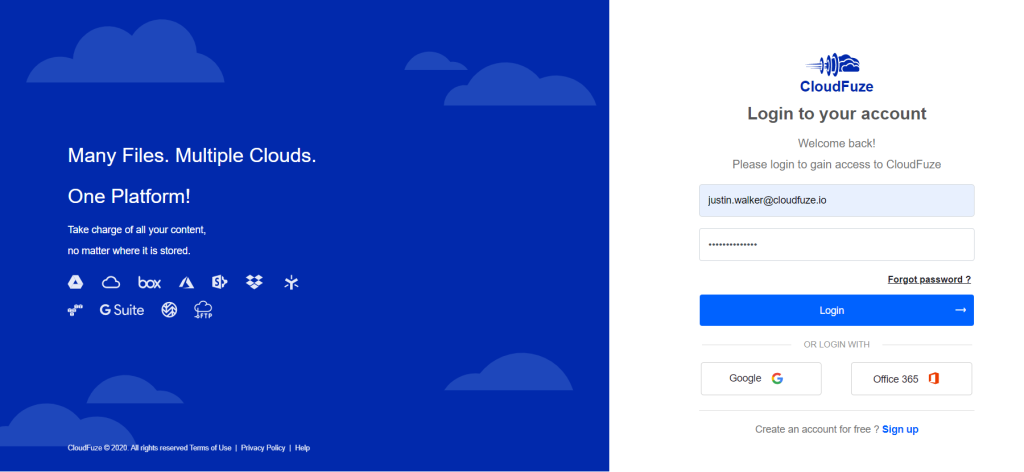 2. Click on Mural from Business Clouds

3. Open the file where client ID Client Secrets are saved
4. Paste them in the "Authentication Required" window and click on save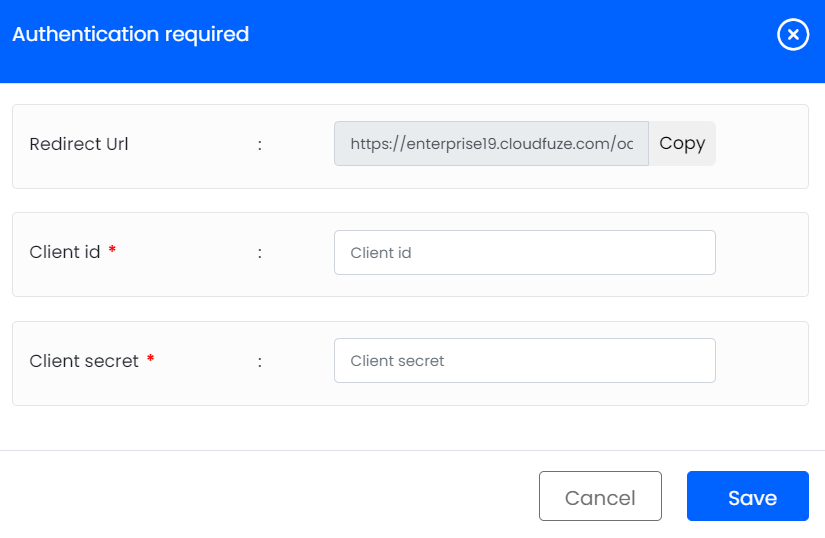 5. After you click on Save, a Mural sign-in pop-up will be displayed. Enter the username and password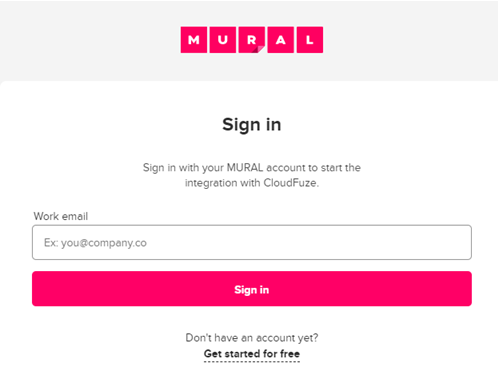 How to add Miro
1. Log into the CloudFuze account
2. Click on Miro from Business Clouds

3. Enter Miro Admin credentials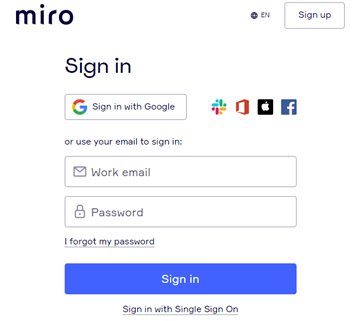 Cloud Selection
1. Click on Mural Migration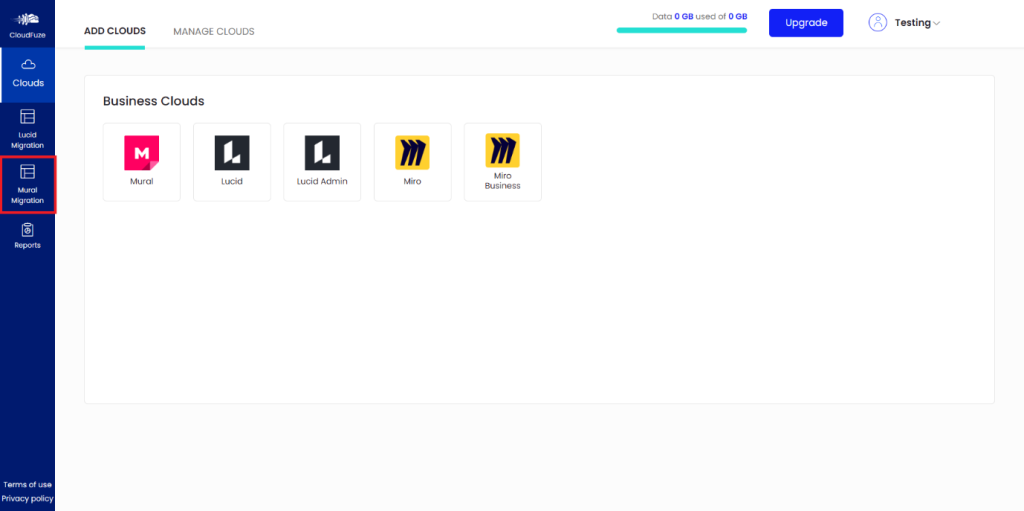 2. Select Mural from source and Miro from destination and click on Next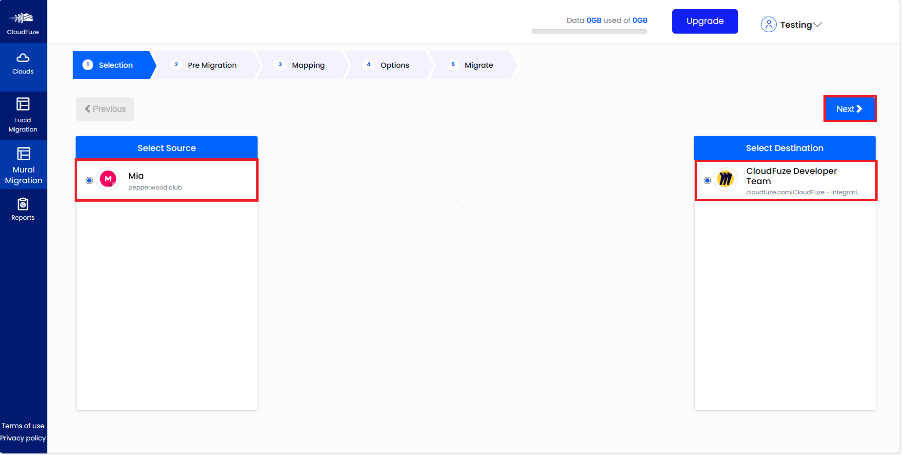 Pre-Migration
1. By default, all the metrics in the pre-migration summary will be zero. To run the pre-migration, click on the Run Pre-migration button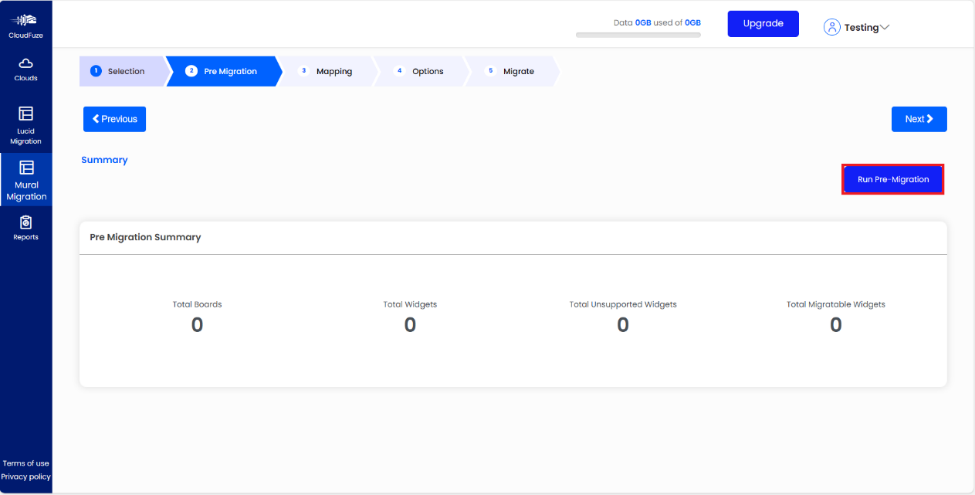 2. While migration is in progress, you can see the status as in progress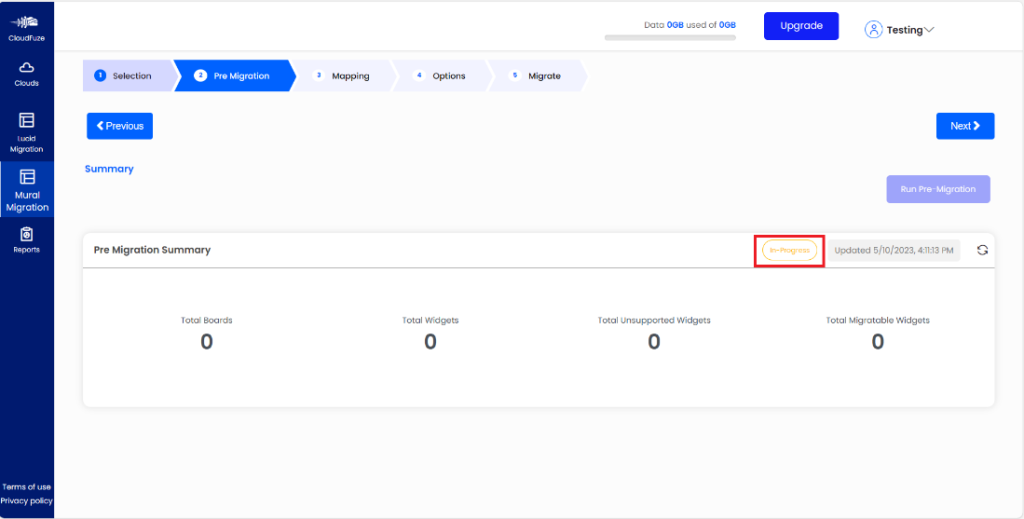 3. Once the pre-migration is completed, you can see the status of the pre-migration updated to Completed.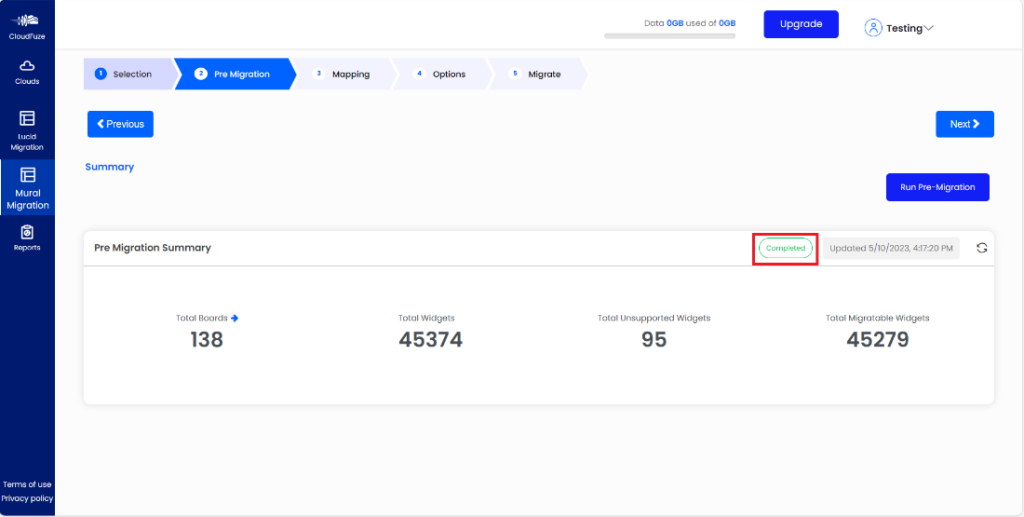 4. Click on the Total boards arrow to see the details of the pre-migration results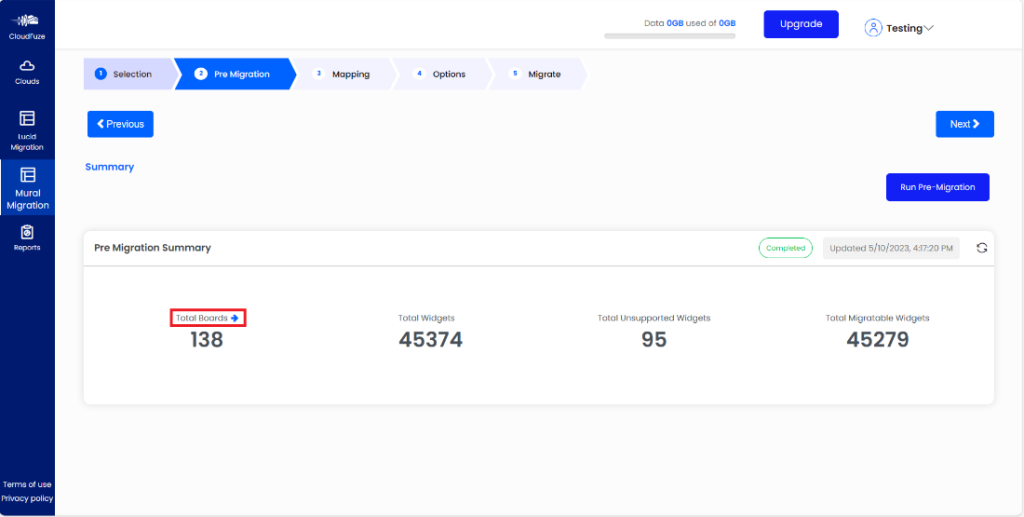 Boards selection from pre-migration
1. Select the boards that you would like to initiate the migration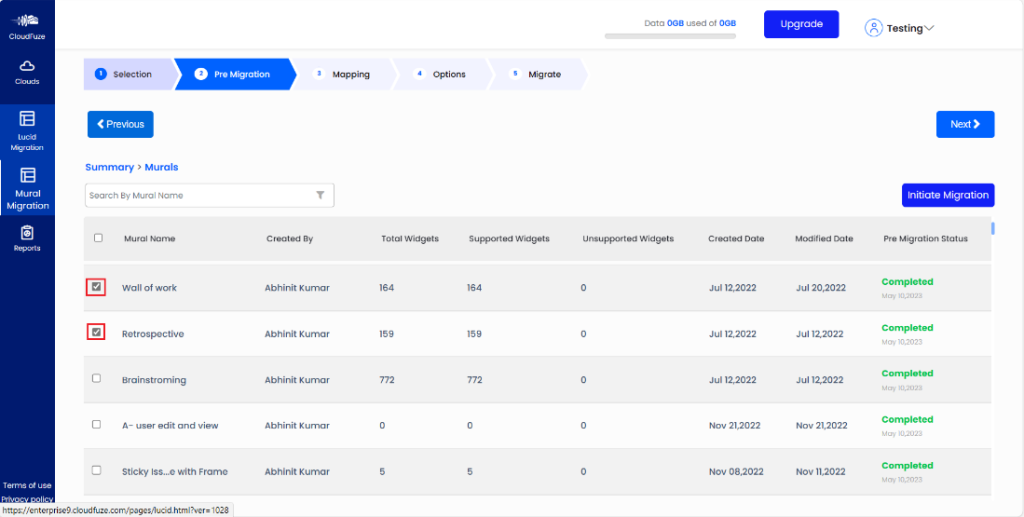 2. Click on Initiate Migration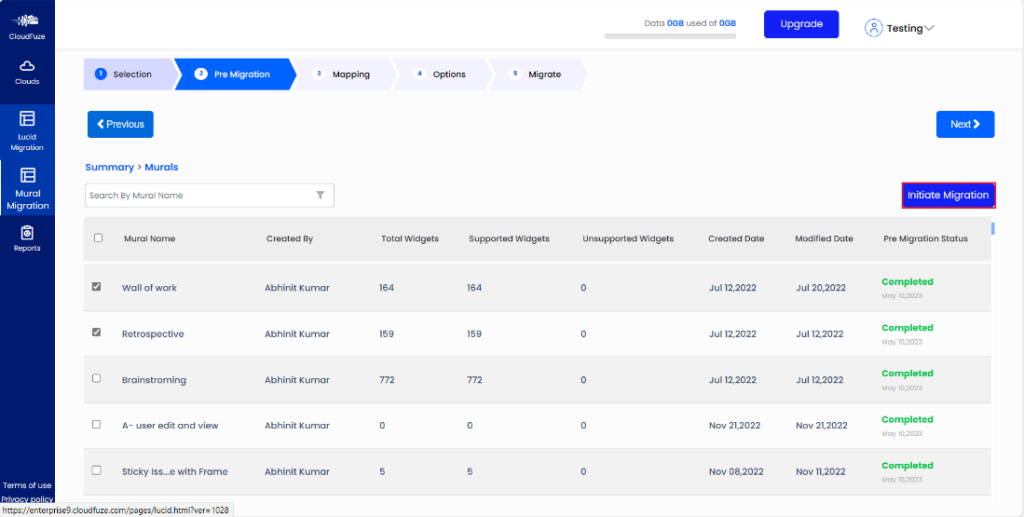 3. Select the root from the Miro. After selection, you can see the board mapping in the mapping table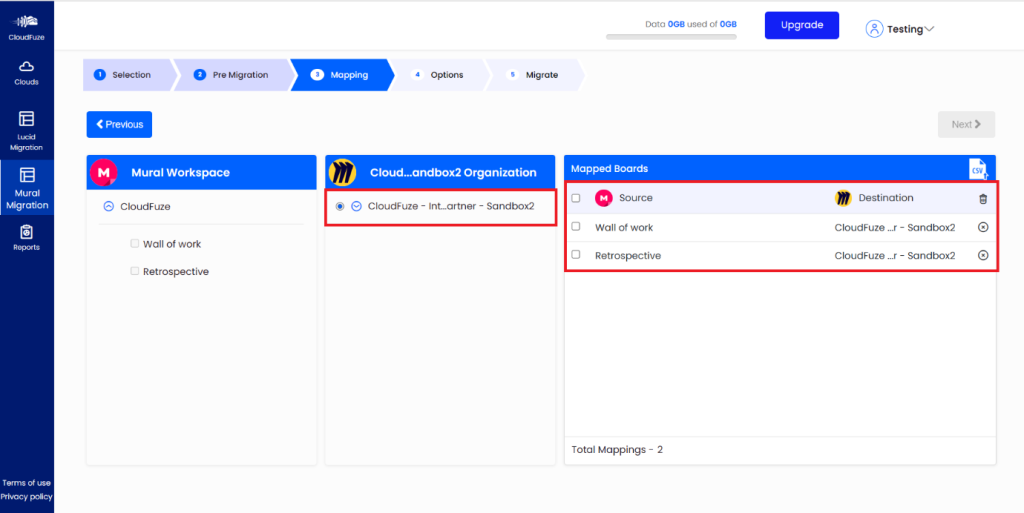 4. Select the mappings and Click on Next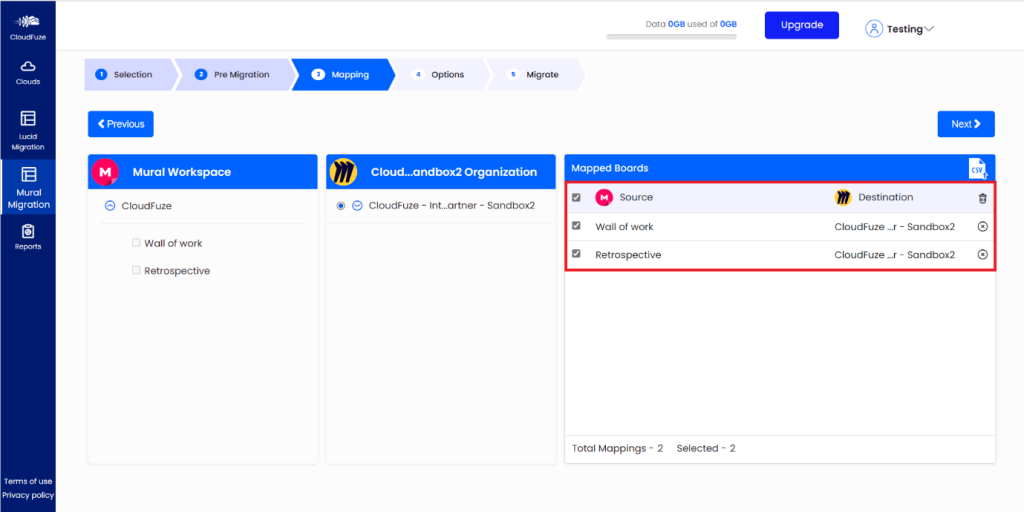 5. Toggle the buttons to Yes to migrate the collaborators (internal users) and external users. Click on Start migration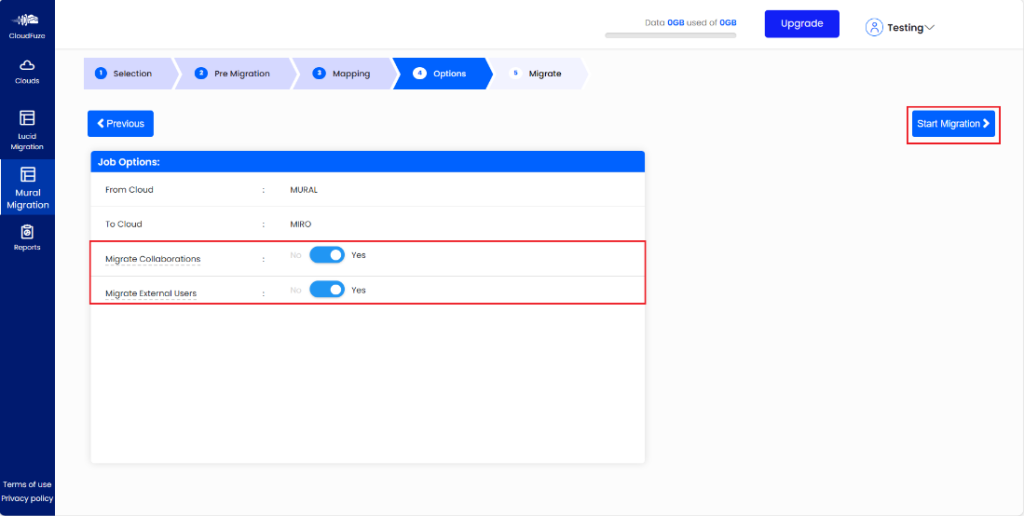 6. You will be redirected to the reports page. You can see the status of the boards that you have initiated
Mapping
Migration of Mural Boards to Miro
1. Select a Mural workspace from the source section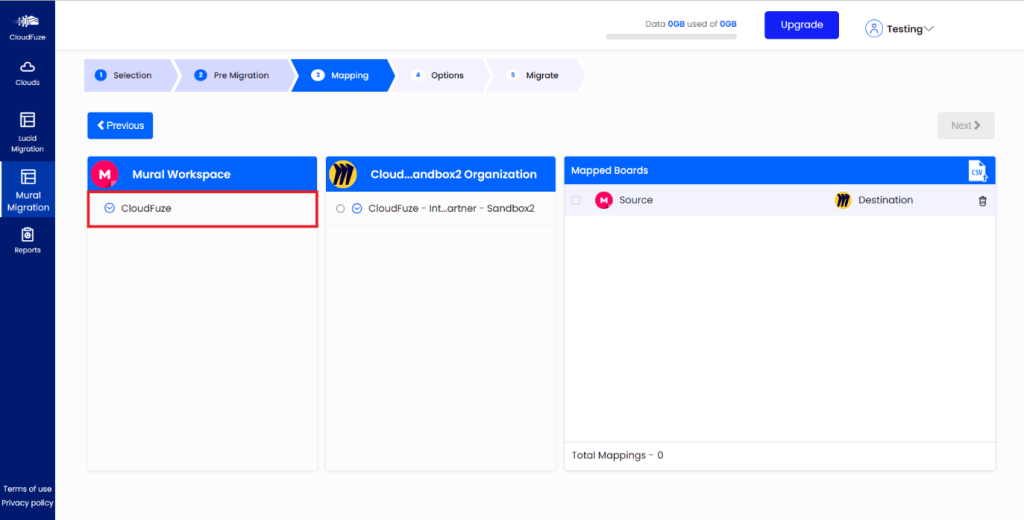 2. Select the boards that you would like to initiate the migration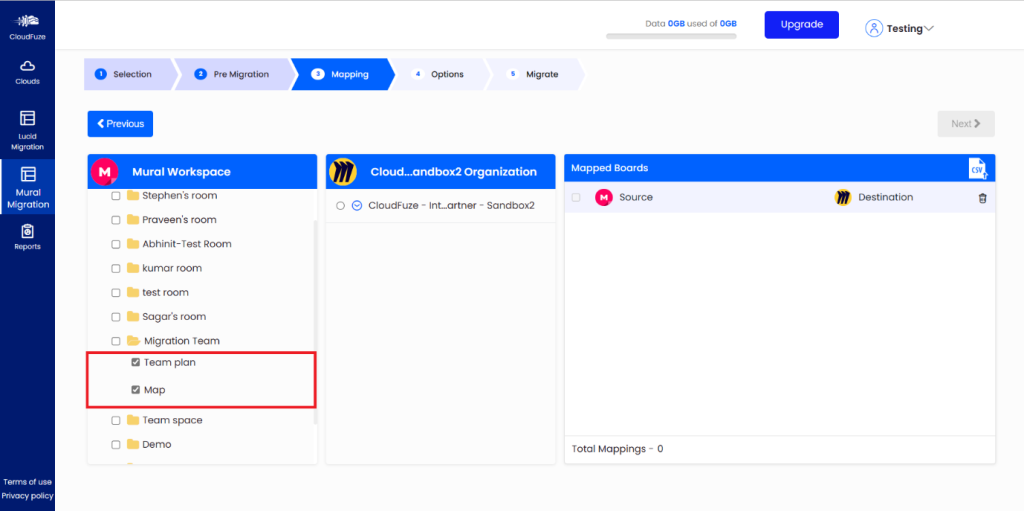 3. Select the root from the Miro. After selection, you can see the Boards mapping in the mapping table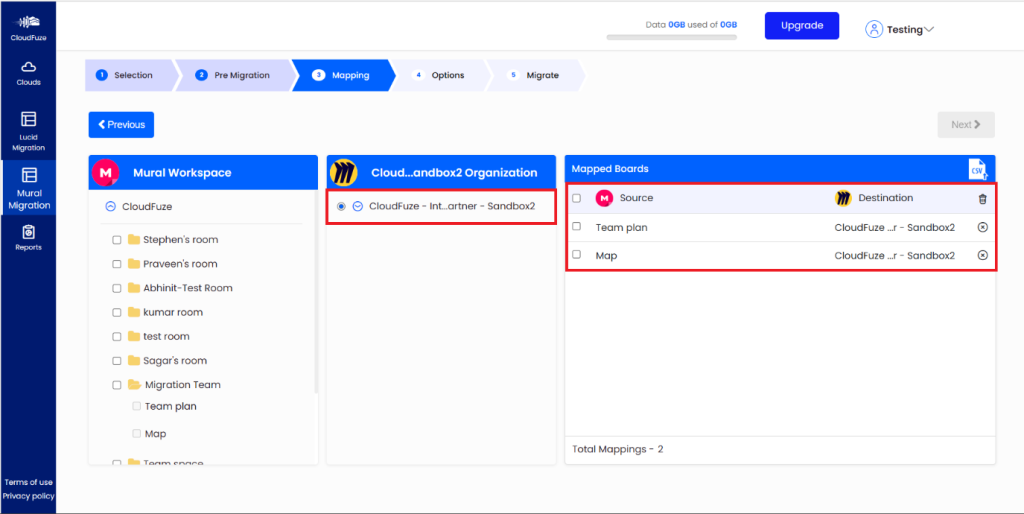 4. Select the mappings and Click on Next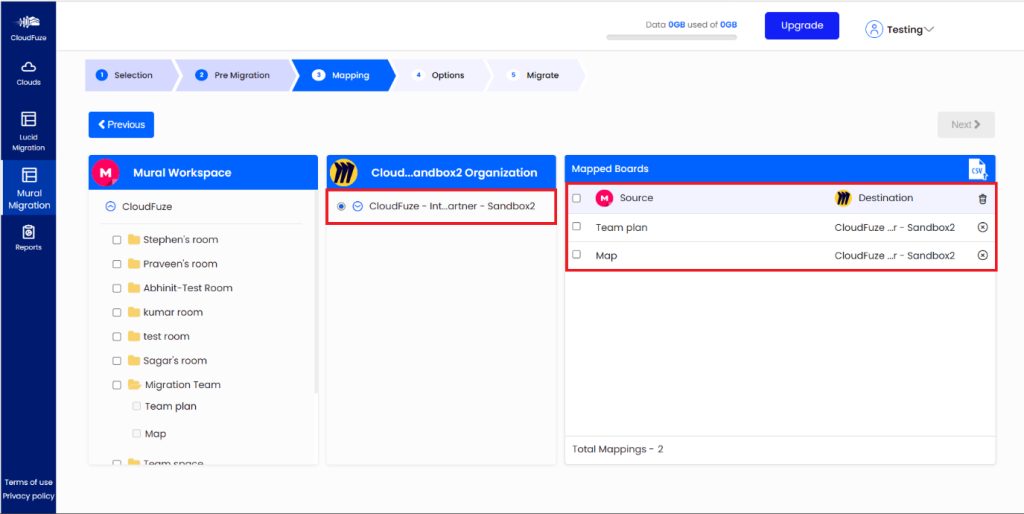 5. Toggle the buttons to Yes to migrate the collaborators (internal users) and external users. Click on start migration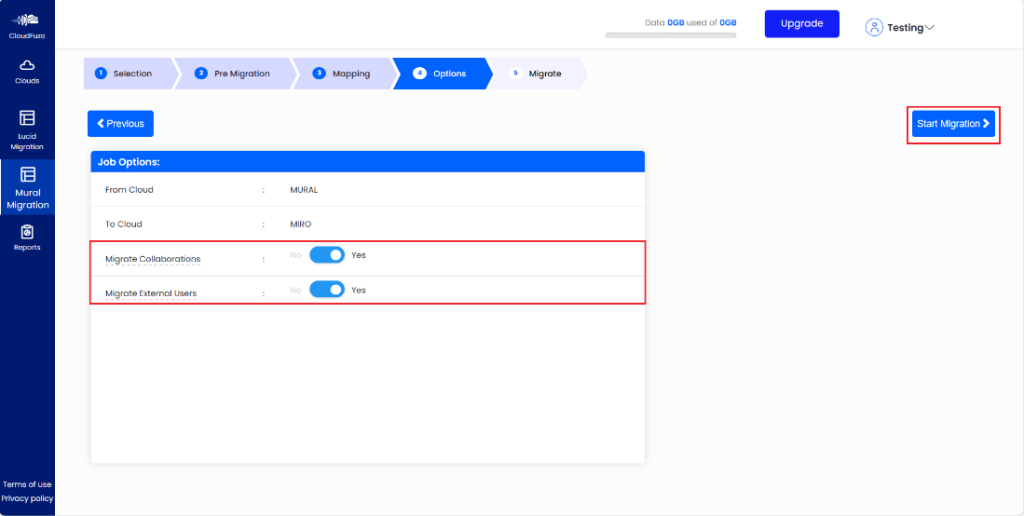 6. You will be redirected to the reports page. You can see the status of the boards that you have initiated
CSV Mapping
1. Click on the CSV button and upload the CSV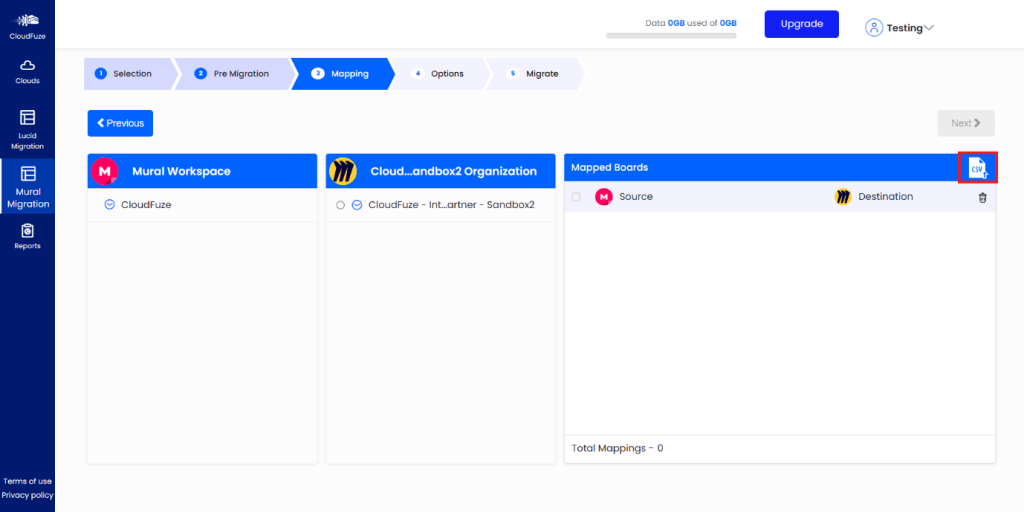 2. Once the CSV is uploaded, you can see the boards mapping in the mapping table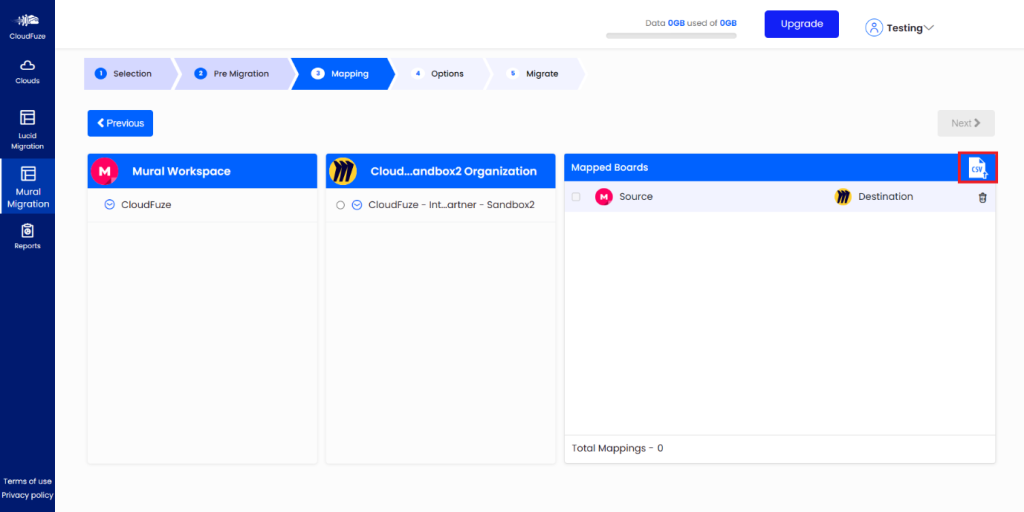 3. Select the mappings and Click on Next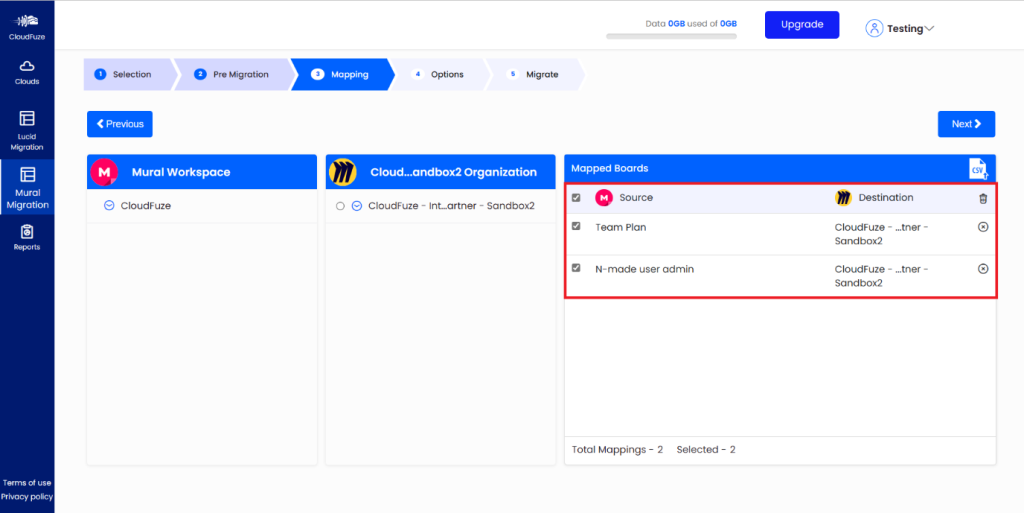 4. Toggle the buttons to Yes to migrate the collaborators (internal users) and external users. Click on start migration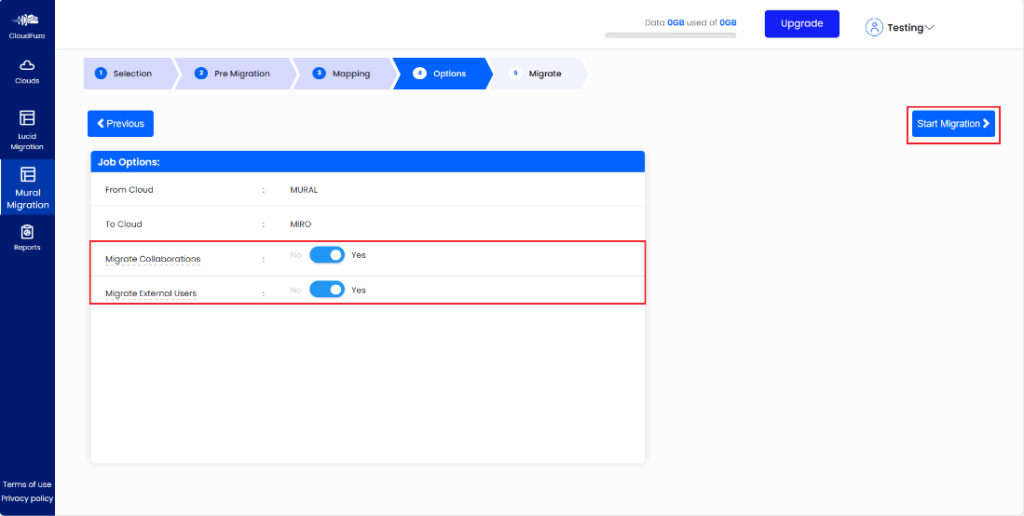 5. You will be redirected to the reports page. You can see the status of the boards that you have initiated
Migration Reports
1. The starting status of the migration is "In Queue"

2. Once the migration of widgets from Mural to Miro starts, the status will be changed to "In Progress."

3. Once the widgets are migrated to the Miro, the status will be changed to "Processed."

4. Once the migration is Processed, then reports can be downloaded by clicking on the download button