How to Avoid Data Loss During a Slack to Teams Migration
A Slack to Teams migration can lead to data loss, as it is a complex and time-consuming process and requires a well-defined strategy. The successful Slack to Teams migration requires appropriate data transfer. This means that strategies must be in place to ensure that no data is lost during your transfer from Slack to Microsoft Teams.
The article discusses the best practices that can help companies migrate data from Slack to Teams without any data loss.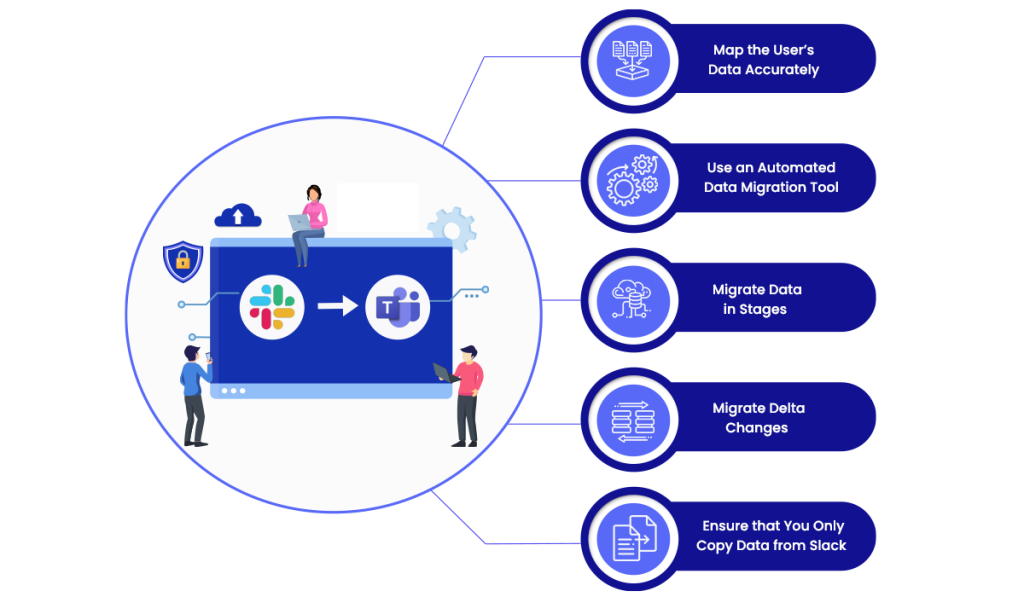 1. Map the User's Data Accurately
If migration is incorrectly mapped, the data could be miscategorized or even destroyed, leading to significant losses for the company. So, when mapping, ensure that the source data is mapped to the right user in the destination. With the help of an experienced cloud migration service provider, you can ensure a seamless migration with accurate data mapping.
CloudFuze, a trusted Microsoft migration partner, automatically maps the source cloud users to the destination cloud based on their email addresses. Also, it allows you to customize the mapping through CSV in case of any changes in email addresses.
2. Use an Automated Data Migration Tool
Choosing the automated data migration tool can save you time and resources. Despite the challenges that can arise while transferring Slack to Microsoft Teams, the right tools can make all the difference. As a result, choosing an automated Slack to Teams data migration tool will be your best option for avoiding data loss.
Automating the migration process eliminates bottlenecks and reduces human error, which could lead to data loss. With an automated migration tool, you can migrate data from Slack to Teams at once in a few clicks.
CloudFuze, a highly automated data migration tool, provides quick data transfers from Slack to Microsoft Teams with just a few clicks while minimizing errors and data loss.
3. Migrate Data in Stages
Data loss is the most significant risk when migrating data from Slack to Teams. The risk of data loss increases when moving large volumes of your business data at once. Choosing to migrate data in stages may seem tedious, but it will help you identify and solve in case of any errors during the migration.
Our dedicated migration team monitors your project closely and resolves any issues that may arise during the process.
4. Migrate Delta Changes
When migrating data from Slack to Teams, users continue using their source cloud, i.e., Slack, to communicate with the team members until all the data is available in the Teams environment. Migrating delta changes enables you to migrate the changes or any new chat/conversation since the last migration initiated. So, businesses must migrate delta changes to avoid data loss.
The CloudFuze Slack to Teams migration tool migrates the new chat/conversation in Slack during one-time migration, including the changes in direct messages and channels.
5. Ensure that You Only Copy Data from Slack
During Slack to Teams migration execution, it is impossible to predict all possible problems that could result in data loss or corruption. So, ensure that the tool you use to migrate from Slack to Teams only copies and doesn't move data eliminating it from Slack. As a result, whenever something goes wrong, you will always be able to retrieve the necessary data.
CloudFuze migration platform copies content from your Slack account and transfers it to the respective Teams account, ensuring no data is deleted from the source cloud.