Benefits of a Defined Strategy to Move from Dropbox to Google Drive
You must have a robust migration strategy before moving from Dropbox to Google Drive. You might probably incur extra work and increase your risk of getting into difficulty if you don't use an effective and well-crafted migration strategy based on best practices.
Every organization has unique needs, so you should tailor the cloud migration strategy based on your needs to accomplish your business migration goals.
The following are just a few benefits of a well-developed and defined migration strategy to transfer files from Dropbox to Google Drive.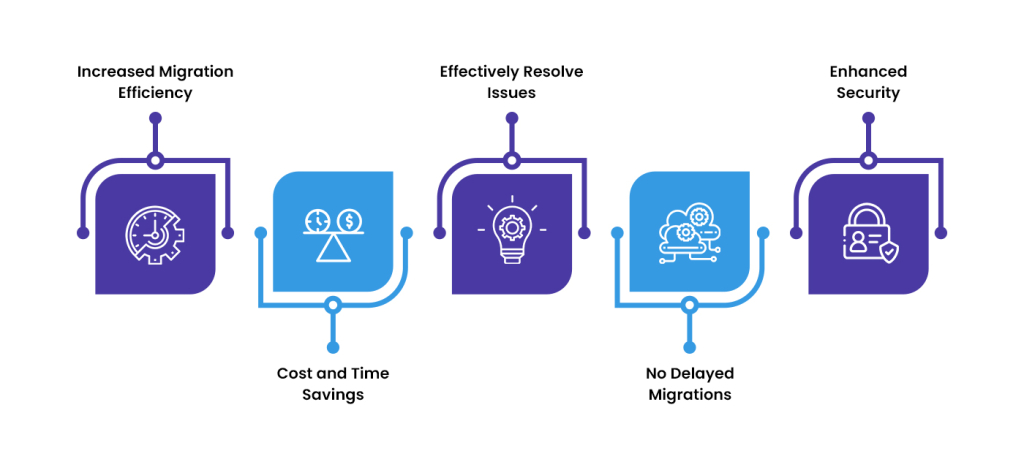 1. Increased Migration Efficiency
If your data migration is already in progress, it can be challenging to make changes. So, you should clearly define all your migration needs prior, including where you should store the data in the destination cloud, preferred format after migration, features to be migrated, etc.
Therefore, you can ensure a smooth and efficient data migration process with the right data migration plan.
Our migration team has experience in developing custom migration strategies based on business needs, making the migration process more efficient. Contact us today to see how we can help with your Google Drive migration project.
2. Cost and Time Savings
A well-defined migration strategy can reduce the impact of Google Workspace migration on your business operations. Having a business strategy can help the migration team prevent poor experiences that generate more issues than they solve. In addition to falling behind schedule and exceeding budgets, incomplete plans can cause migration projects to fail.
As a result, planning and strategizing migrations by assessing the complete source cloud data and removing unnecessary data can help to reduce the time and cost required to move all files from Dropbox to Google Drive.
3. Effectively Resolve Issues
Resolving issues is an important element of every successful migration project. A solid migration strategy in place helps manage and solve any issues during the Google Drive migration as soon and effectively as feasible.
To make efficient use of time, however, you should have a strong concept of which issues are risky and should be resolved and which may not be such a major risk.
Our migration professionals with technical expertise will continuously monitor your migration project and resolve issues immediately if any occur. Request a free demo today!
4. No Delayed Migrations
Usually, many businesses schedule the migration for off-peak hours, thinking that downtime will result in significant losses. But this does not have to be the case. Scheduling migration during an off-peak time may take more time to complete the migration than usual.
The solution is to develop a migration strategy that reduces downtime during migration. It can be done by choosing a third-party tool that adopts a streamlined approach to eliminate downtime.
You can migrate large volumes of data on dedicated servers using CloudFuze, ensuring zero downtime and completing the migration within the set timeline.
5. Enhanced Security
Transferring files from Dropbox to Google Drive might raise several security issues. However, a well-executed plan helps ensure a smooth transfer while keeping data secure.
Choosing the right Google Drive migration tool included in your data migration plan will determine how secure your migration will be. Before moving files from Dropbox to Google Drive, ensure that security measures are in place for all sensitive information that needs to be migrated.
CloudFuze is a trusted migration platform for many organizations to migrate data from Dropbox to Google Drive securely and effortlessly with high-end scalability capabilities.