How to Migrate PB/TBs of Data From Dropbox to Google Drive Seamlessly?
Moving large data sets can be time-consuming and expensive. The amount of data you're migrating from Dropbox to Google Drive significantly impacts how long it takes. Businesses that need to move large volumes of data must find a way to do so seamlessly and with the least amount of downtime possible. Here are a few things to consider when you plan your data migration.

1. Know About Google Drive API Rate Limiting
Understanding the Google Drive API throttling limits is crucial before deciding on a migration project timeframe. This helps assess how rapidly data can be transferred from your Dropbox business to Google Drive.
Google allows users to transfer up to 750 GB of data per day per user from any cloud to My Drive and Shared Drives. As a result, users with extensive data require much time to migrate. Estimating the total volume of data each Dropbox user holds will help you develop a realistic timeline.
2. Segment Your Data Before Migration
The best practice to manage several hundred TBs or PBs of data transfers from Dropbox to Google Drive involving multiple users is segmenting your data into batches.
Segregating and processing large amounts of data in separate batches can reduce migration failures and disruptions. So, IT admins should prioritize the data in batches (batch 1, batch 2, and so on) and move the most important data assets first.
Read our comprehensive guide on Dropbox to Google Shared Drive migration to understand the process better.
3. Automate the Mapping of Your User Permissions
Migrating users and their permissions from Dropbox to the appropriate ones in Google Drive is complex and time-consuming. A single mismatch in the user data can pose significant business risks. As a result, it is imperative that you choose a tool that enables you to map the users automatically and execute the migration process without writing code.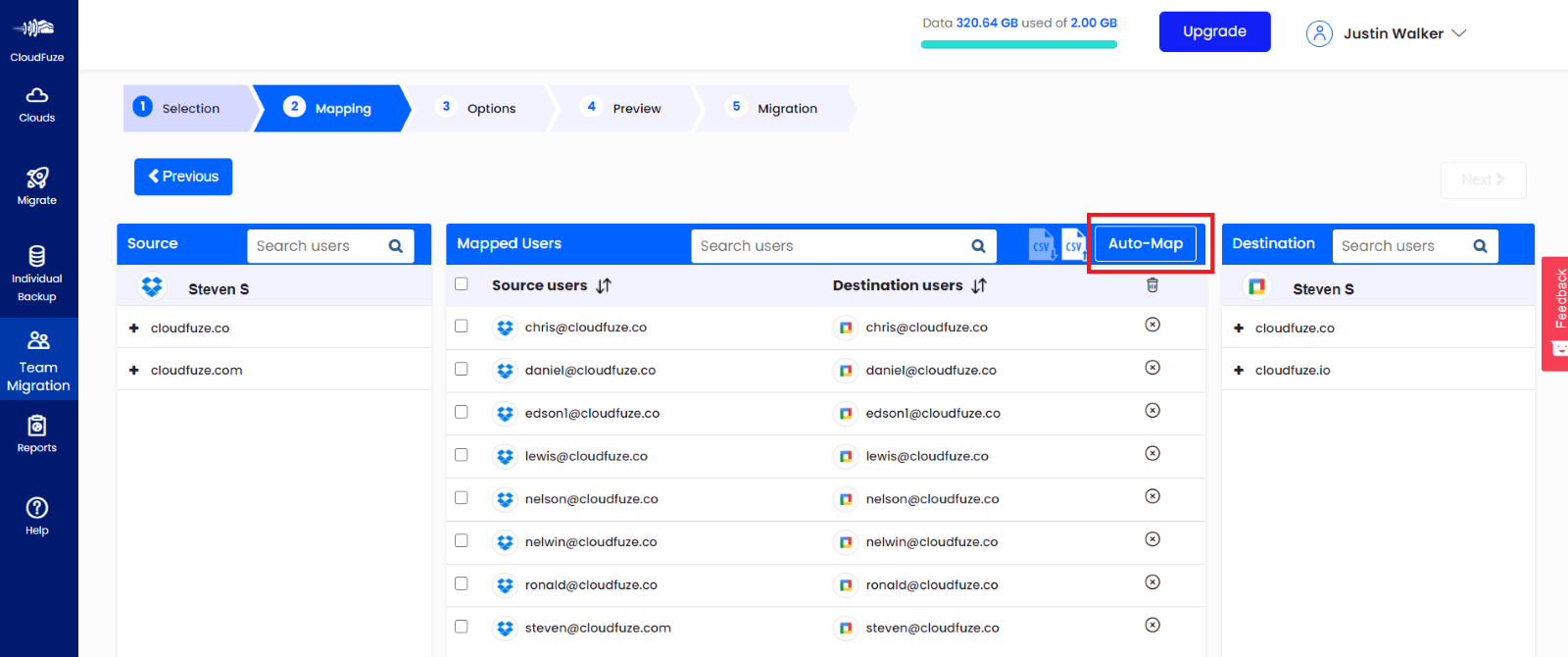 Whether migrating 100 users or 10,000 from Dropbox to Google Drive, CloudFuze can automatically map users, their data, and permissions.
Request a demo today and let our experts show you how the user mapping is done!
4. Choose a High-Speed Data Migration Tool
Several Dropbox to Google Drive migration tools are available in the market, each with different features and capabilities. The right tool helps solve complex migration issues, fastens the migration, and makes the migration process more seamless.
CloudFuze fast migration engine and cloud scalability enable you to start and complete a major migration from Dropbox to Google Drive quickly in a few days to a few weeks.
5. Get Experts' Hands on the Migration Project
A smooth and risk-free Dropbox to Google Drive migration needs an experienced specialist who understands the ins and outs of completing the migration project successfully.
At CloudFuze, our dedicated migration professionals handle the whole migration process, assuring zero data loss and no downtime. You can migrate, manage, and secure the migration process by leveraging our managed migration solutions.
With regular updates from the CloudFuze team throughout all migration phases, IT admins can relax and focus on their day-to-day business operations without interruptions.
Migrate Data From Dropbox to Google Drive Seamlessly