5 Benefits of Choosing CloudFuze as a Cloudiway Alternative
Choosing the right data migration tool is critical for your Slack to Teams migration project success. Selecting a particular tool depends on the business goals and needs. But how do you decide which tool fits best for your project?
In this article, we have compared two of the most popular Slack to Teams migration tools, CloudFuze and Cloudiway, and listed the top five benefits you get by choosing CloudFuze over Cloudiway.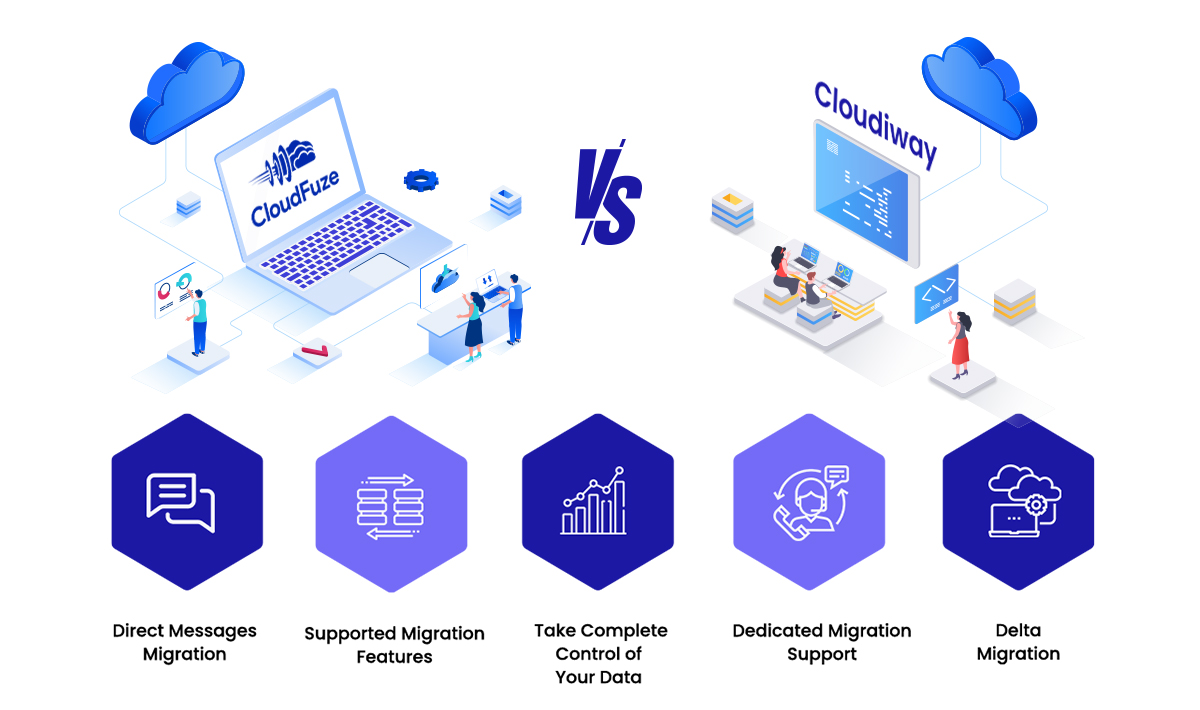 1. Direct Messages Migration
When switching from Slack to Teams, many businesses find issues migrating direct messages. Although you can easily migrate Slack channels to Teams, the challenging part comes with direct messages. Using third-party tools can help you bring Slack direct messages into Teams, but not all third-party tools or service providers will help you do this.
Comparing CloudFuze vs. Cloudiway migration tool, CloudFuze supports migrating direct messages from Slack to Teams, whereas Cloudiway doesn't. Moreover, CloudFuze has helped many businesses to move all the users, conversations, emojis, @mentions, timestamps, videos, images, and replies of all direct messages (1:1 and group chats) into the Teams chat section successfully without leaving anything behind.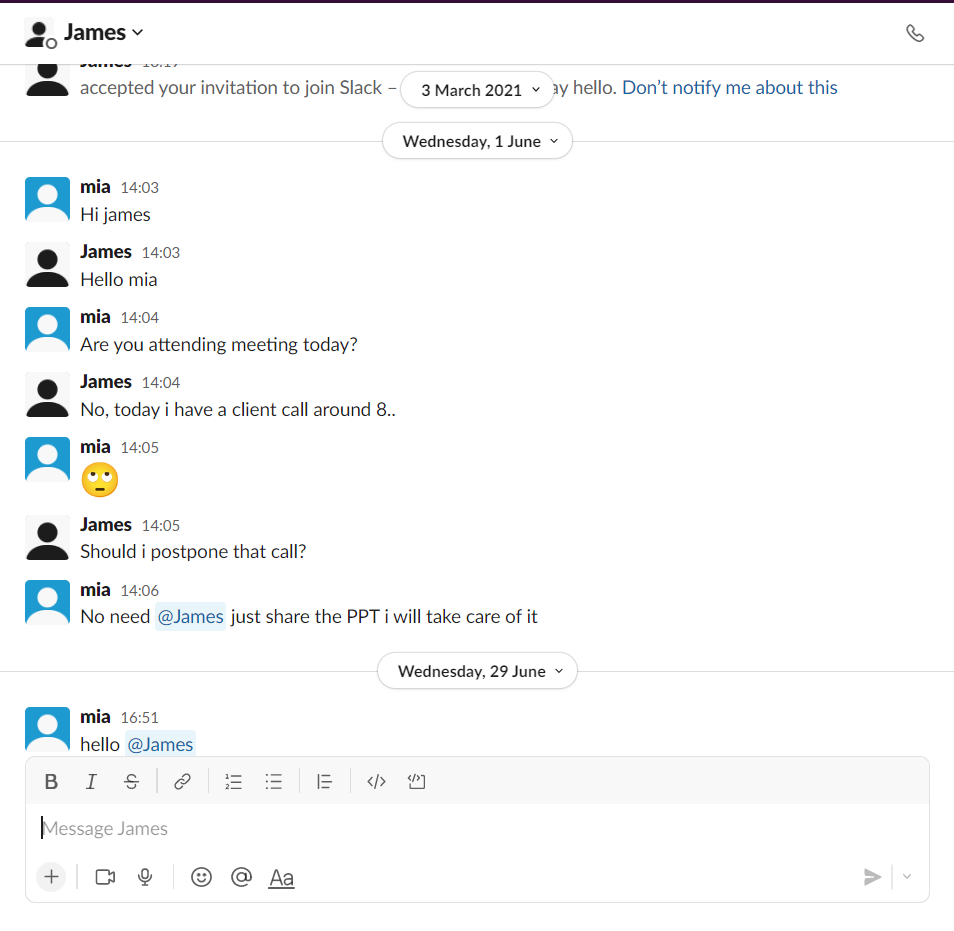 Direct Messages in Slack Workspace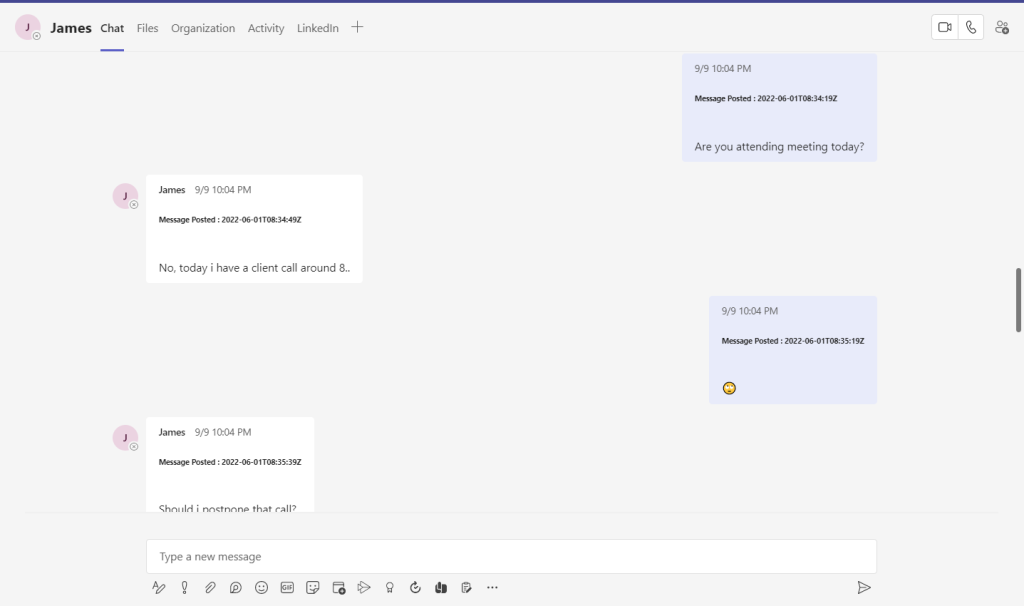 Slack Direct Messages Migrated to Teams Chat Section
Request a free demo to understand how CloudFuze maps the users and migrates the direct messages from Slack to Teams.
2. Supported Migration Features
Before you migrate data, you must decide which features you want to transfer from Slack to Microsoft Teams. For example, you can migrate almost all the Slack data to Teams, but the migration tool you choose decides what data you can transfer.
Let us see what you can migrate when you choose CloudFuze and Cloudiway migration services.
Cloudiway migrates the below data from Slack to Teams that are included only in channels (public and private):
Migrates users'
Migrates conversation's
Migrates timestamps
Migrates replies
Migrates files
On the other hand, CloudFuze supports migrating all the features of direct messages and channels (public and private) that a typical IT Admin is looking for:
Migrates users'
Migrates conversation's
Migrates emojis
Migrates @mentions
Migrates timestamps
Migrates replies
Migrates attachments
Migrates videos and images
Migrates files with sharing permissions
Compared to Cloudiway migration, CloudFuze can help businesses migrate almost everything from Slack to Microsoft Teams. Partner with CloudFuze to get started with your Slack to Teams migration today!
3. Take Complete Control of Your Data
Cloudiway's migration solution assists businesses in performing migrations through a simple SaaS interface. On the other hand, CloudFuze, in addition to offering migration as a SaaS service, allows customers to deploy CloudFuze in their own data center.
CloudFuze is one of the few cloud office migration providers that allows its software to be installed in a customer's local data center or private cloud. This feature especially benefits large organizations, institutions, and government agencies with highly sensitive information.
Moreover, CloudFuze allows you to run the migration either on CloudFuze SaaS servers, dedicated SaaS servers, or deploy it on your data centers, depending on your business needs.
4. Dedicated Migration Support
Migrating mission-critical and massive volumes of data from one cloud platform to another can be challenging and time-consuming for businesses. As a result, most companies opt to work with a trusted partner or expert, such as a managed service provider, to properly guide them through the migration journey from planning to execution.
Cloudiway's premium support is a standalone service that requires advance orders (before 48 hours). In contrast, CloudFuze 24×7 premium support is included as a standard feature of the managed migration service with end-to-end migration assistance.
Furthermore, placing an order 48 hours in advance for mission-critical support is not feasible, as this is often an urgent service that must be provided when needed.
Contact us to learn more about how our managed migration service can support your business in transferring Slack to Microsoft Teams.
5. Delta Migration
Delta migration is a feature that allows you to migrate all the incremental changes, i.e., the changes made since the last migration was initiated. The migration doesn't just happen overnight. The migration might take weeks to months, depending on the number of users, channels, and direct messages to be migrated.
Usually, when the migration is in process, users will continue using their source cloud, i.e., Slack, until all the data is available in the new cloud platform, Microsoft Teams. So, it is important to ensure that all the data, including changes, are migrated and that your destination cloud is up to date before you start.
Both CloudFuze and Cloudiway offer delta migration. CloudFuze supports delta migration for both Slack direct messages and channels, whereas Cloudiway does it only for Slack channels to Teams.