5 Mistakes to Avoid While Migrating from Dropbox to Google Drive
The benefits of migrating from Dropbox to Google Drive are numerous, from enhanced features to better agility to cost savings. From small-scale businesses accomplishing big things to huge corporations are switching to Google Workspace to work smarter, faster, and more collaboratively.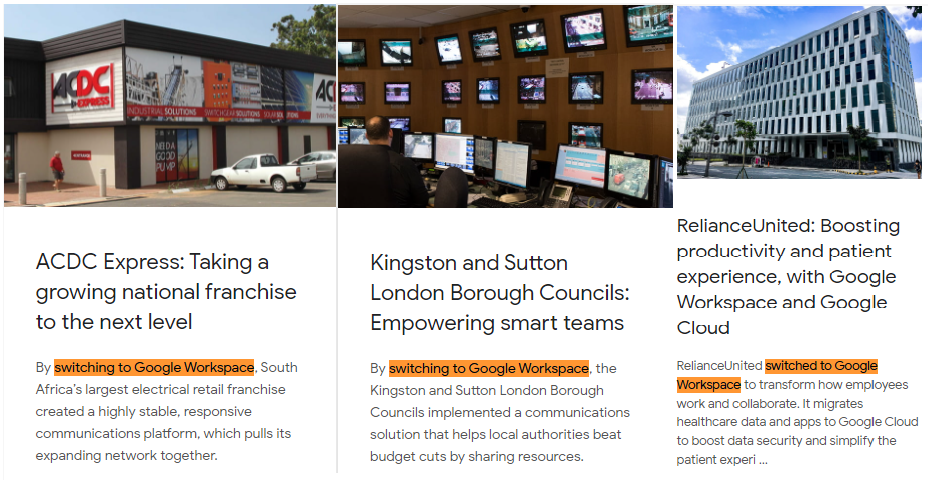 Image Source: Google Workspace 
Read a comprehensive step-by-step guide on how to transfer files from Dropbox to Google Drive.
If you are thinking of migrating to Google Drive, it's significant to learn from others' migration mistakes to ensure that your migration is as successful and cost-effective as possible.
Contact our migration analysts for a quick walk-through into the ins and outs of Dropbox to Google Drive migration as per your business requisites.
Here are the five common mistakes to avoid while switching from Dropbox to Google Drive.
1. Not conducting data analysis before the migration.
The main purpose of switching to new cloud storage is to move your business data and reap the full benefits that Google Drive offers. So, if you are looking to transfer data from Dropbox to Google Drive, you need to conduct data analysis like how many users and how much data exists at your source cloud (Dropbox) and must analyze which users and data to be migrated to the destination cloud (Google Drive).
This is because the data size you are migrating decides your business Dropbox to Google Drive migration cost. In some instances, some of your employees left the organization, and migrating their data is not essential, removing these members and their data saves your migration cost.
Data analysis before the migration also helps you to cross-verify whether the data migrated is accurate or missing anything on the destination cloud after the migration process is done. This way, you can ensure your migration from Dropbox to Google Drive is successful or not.
Login to your Dropbox admin account.
Click on 'Admin Console"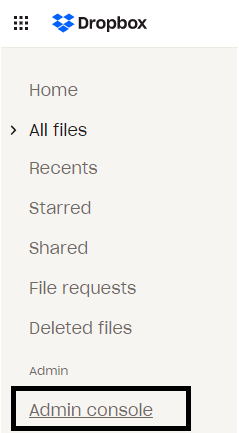 3. Click on Insights

Here, you can see the total members in your team and the space used, which is the size of the data your business holds.
You can also check who your company's members are using Dropbox account and the amount of data each member holds on their Dropbox account by clicking on the "Members" tab.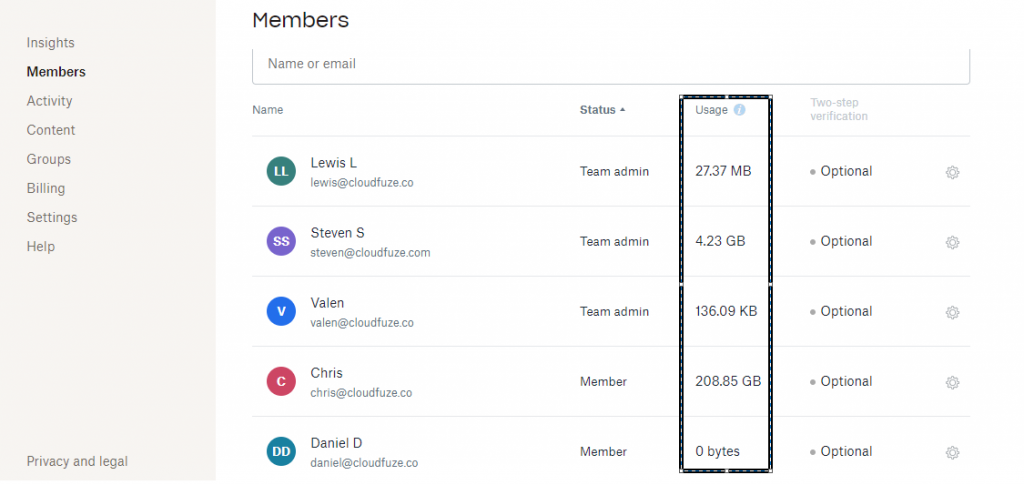 2. Assuming Both Clouds Are the Same
You may assume that every cloud storage is pretty much the same where employees/users store data and can access it anytime from anywhere, and migrating data from Dropbox to Google Drive won't be a big challenge. But this is not the fact in real-time. Every cloud storage provider develops its unique environment focusing on different functionalities for its usage.
While coming to Dropbox and Google Drive, the UIs and the file storage space completely differs between the two, as shown in the image below.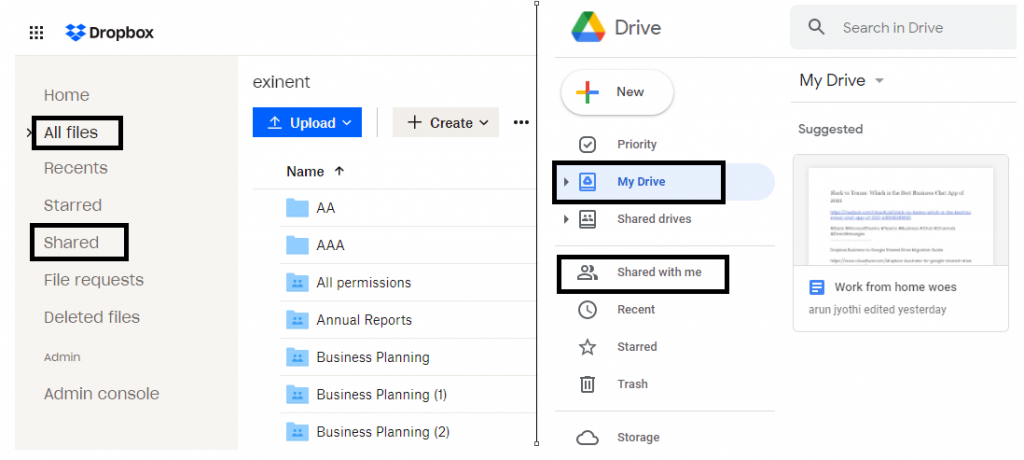 Dropbox UI and Google Drive UI 
All the files and folders you own and receive from others are stored in "All files" in Dropbox, whereas a "Shared" folder comprises the folders and files that you've invited other people, or other people invited you to view or edit.
This is entirely different in Google Drive. "My Drive" will have all the files and folders owned by you, while "Shared with me" holds all the folders and files not owned by you but that have been shared with you.
This is just one difference, and there will be many other differences specific to cloud storage. Hence, moving files and folders from Dropbox to Google Drive will be confusing and challenging. Though there are tools that make the migration smooth, it is vital that you become familiar with your new cloud storage environment and ensure your team is trained on its usage properly before you attempt to migrate your data from Dropbox to Google Drive.
Read our comprehensive guide on Dropbox to Google Shared Drive migration to understand the process better
dropbox to Google Shared Drive migration to understand the process better.
3. Wrong Choice of Migration Service Provider
Most businesses lack the necessary knowledge and expertise to move files from Dropbox to Google Drive successfully without any errors. Moreover, you can't migrate many other important features of files such as permissions, versions, timestamps, comments, and embedded links through a manual process, which is downloading and uploading files. As a result, finding the ideal cloud migration service provider or partner is pivotal to help with the necessary strategy and implementation.
There are many cloud migration service providers available in the market, and it becomes difficult to choose the best one. Selecting a service provider who understands and offers solutions to your major migration challenges from Dropbox to Google Drive is the best option.
IT leaders or business executives should engage with cloud migration service providers who understand your business needs and expectations and provide scalably and secured software or tools. Take demo sessions from the list of best migration service providers, and depending on your business needs and goals, you'll need to decide which service to choose.
4. Migrating All Data at Once
Organizations should never move their entire data at once. This is because cloud migrations can take weeks or even months, depending on the amount of data transferred from your Dropbox Business account to your Google Drive business account. If businesses try to transfer all user files from Dropbox to Google Drive at once, there are more chances of losing the crucial data. So, successful cloud migrations should be done in stages, with specific data being migrated first.
You should plan your move from Dropbox to Google Drive in stages, starting with minor or test data and then migrating your business-critical or sensitive data in stages. In this approach, if you make a mistake early on in your Dropbox to Google Drive migration, your sensitive data will not be jeopardized, and any error caused will be easy to solve by your cloud migration solution provider.
5. Forgetting About Security Aspects
Business owners or administrators should note that migrating data from Dropbox to Google Drive is not hassle-free, as your business deals with large volumes of sensitive data. Therefore, you must ensure that your data is secured before, during, and even after the migration.
You can't just trust that the cloud service provider you have chosen to migrate your data is secure. Although cloud migration service providers ensure and take complete responsibility for securing your data before and after the migration, you are also responsible for your data security. You need to have data backup and restore plans. Also, ensure that your cloud migration service provider has established a robust recovery plan, regardless of how experienced they are.
Solution for a successful Dropbox to Google Drive migration! 
The success of Dropbox to Google Drive migration is ensured by having a clear vision of what you want to achieve, visualizing the steps, and streamlining the implementation.
As an industry expert, CloudFuze has offered the best solutions to the customers by leveraging state-of-the-art technologies, tools, and strategies.
Our team of migration experts is just a click away to help you avoid major pitfalls and make your switch from Dropbox to Google Drive successful.