Why Do Your SaaS Operations Require a SaaS Management Platform?
Organizations all over the world are increasingly adopting SaaS services. Even before the pandemic, enterprises moved towards SaaS applications as part of their digital transformation initiatives.
The explosion of SaaS applications across industries of all shapes and sizes has significantly changed work styles everywhere on the globe. Experts think remote work is here to stay no matter how the pandemic changes course.
With Organizations using all kinds of SaaS apps to fill every gap and need, SaaS services will be on the rise for the near future.
However, as your business adopts additional SaaS apps, IT will find it challenging to manage and safeguard a growing portfolio of applications while simultaneously providing end-users with a best-in-class experience.
The most apparent answer to this challenge is a SaaS management platform (SMP). But today, it is essential to understand that the SaaS management platform is a critical business necessity and not a luxury for your organization.
Before emphasizing the need for a SaaS management Platform, let us first understand it.
What is a SaaS Management Platform?
A SaaS management platform is an all-in-one technology that assists IT in implementing the three fundamental SaaS operational principles (SaaSOps):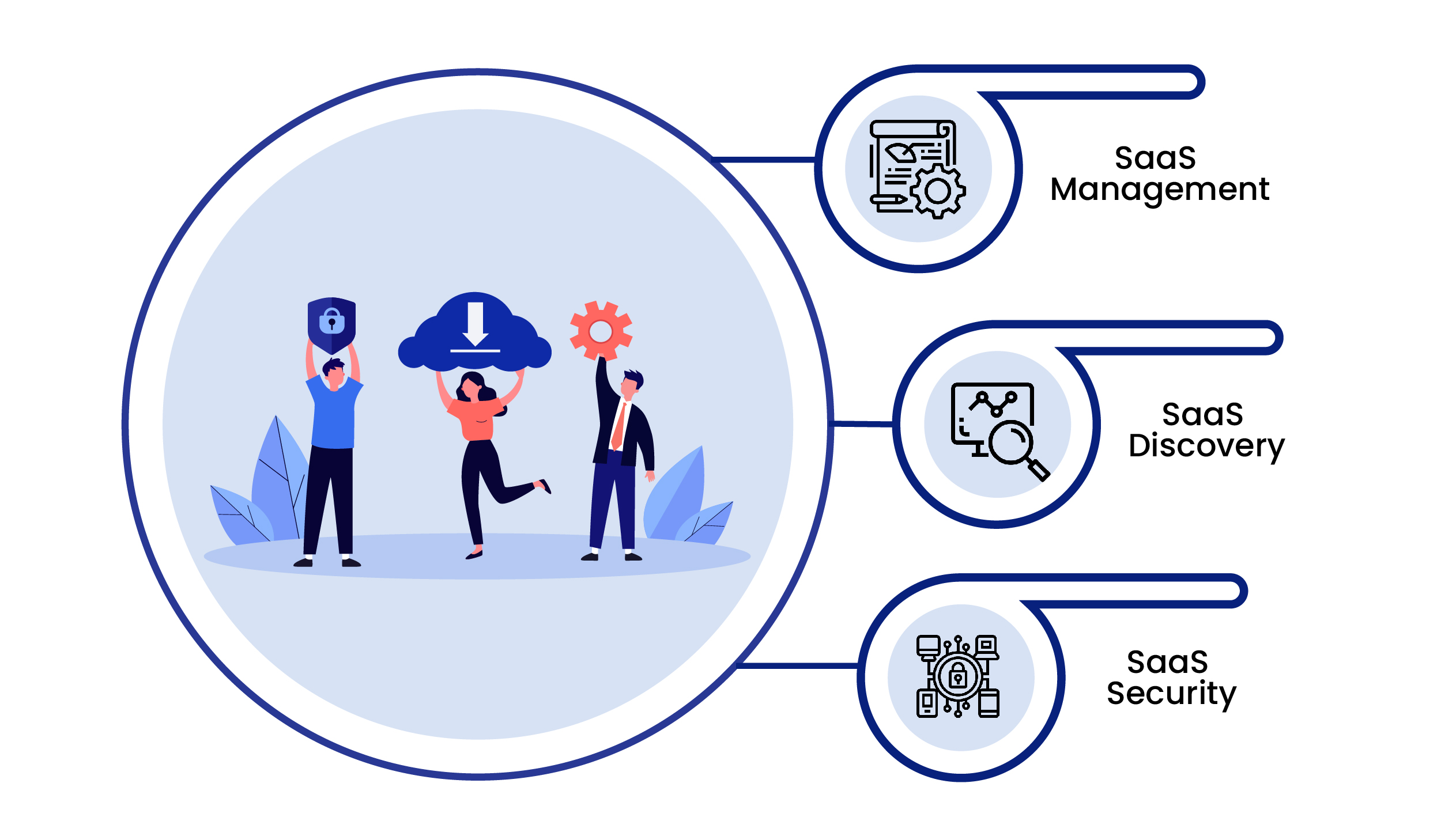 1. SaaS management
The automation and centralization of management responsibilities across a company's full portfolio of software-as-a-service (SaaS) applications is referred to as SaaS management.
2. SaaS discovery
Allowing complete visibility into all SaaS applications running in your environment.
3. SaaS security
SaaS security is the practice of identifying sensitive and proprietary data in your SaaS portfolio and actively working to reduce security concerns.
All the three practices of SaaS operations mentioned above are critical to every organization and can be carried out manually. But the explosion of SaaS apps presents some unique security challenges. For example, the manual practice of managing a vast SaaS portfolio is also prone to errors and is not a practical solution.
Why do you Need a SaaS Management Platform?
Understanding the necessity for a SaaS management platform involves evaluating the amount of manual labour that IT must perform daily.
While businesses are increasingly using SaaS apps, the IT department is struggling with how to safeguard their cloud environment.
Even though cloud applications make life easier for end-users, IT must continuously pursue a set of targets to manage and safeguard a cloud environment.
Evolving compliance requirements and legislation
Sophisticated Security breach tactics
Offboarding user error due to manual tasks across a vast portfolio of applications
It is incredibly arduous for IT employees to manage and safeguard all SaaS apps individually.
Consider the various processes involved in an employee life-cycle; Onboarding, mid-life changes, and offboarding. In the absence of a SaaS management platform, IT teams have a massive workload for executing these processes.
Let us discuss here the process of Offboarding an employee.
Offboarding
An offboarding procedure involves various steps. For example, from revoking licenses and removing access to various SaaS services, IT teams must remove the user from multiple groups, email aliases, etc.
According to Google's support page, there are seven steps for an administrator to take while de-provision a user from the Google workspace.
Wipe any mobile devices
Revoke password recovery access
Change the user's password
Revoke all Oauth 2.0 application tokens
Reset the user's sign-in cookies
Revoke security keys and app password access
Delete the user's account
These seven steps hardly scratch the surface. There are still more recommended actions to hide a user in your directory:
Hide the user in the directory
Remove from all group
Remove all email aliases
Remove from shared calendars
Move to org unit
Many more steps are critical for data security, compliance efforts, and business continuity. For example, without automation, IT teams may take 7 hours on average to offboard one single user. When manually doing offboarding, it's also subject to human error.
Building an automated workflow in the SaaS management platform guarantees that every step is taken every time you offboard a user, simultaneously removing chances of error.
Companies can reduce the time needed to offboard a user from 7 hours to just over an hour with the right SaaS management platform. This consistency and time savings level allow IT to focus on more critical tasks.
Visibility
The ease of acquisition for SaaS applications allows anybody in the organization to sign up for a new SaaS service without the knowledge of IT. It is easier than ever to expose confidential data, whether intentional or not. The existence of shadow IT makes it more difficult for IT teams to secure their enterprise data.
Conclusion
SaaS management platforms assist the organization in discovering their entire SaaS stack. This includes the unsanctioned and shadow-banned applications being used in their environment.
Organizations can better safeguard and secure their data with clear visibility into the SaaS stack.
SaaS services have numerous advantages. With a SaaS management platform, you can swiftly mitigate the drawbacks of its expanding use. While every organization is unique, SaaS management software solutions are the most beneficial alternative for companies. Securing and helping employees get the most out of their SaaS applications, SaaS management platforms prove to be the best solution to all SaaS challenges.